Neon Genesis Evangelion is such a popular series that introductions are unnecessary, but for the purposes of this blog, I'll make one anyway! It started as an anime series in 1995, and gained a lot of status as a very realistic portrayal of how traumatic it is for teenagers to actually have to shoulder the burden of fighting for humanity inside a giant mecha in an apocalyptic world.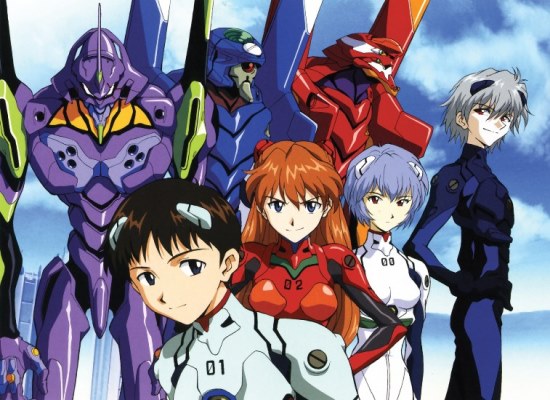 Ikari Shinji, the main protagonist, struggles with low self-esteem and depression and finally learns to accept his own self-worth by the end of the series. The female cast members, Ayanami Rei and Langley Soryu Asuka, have a huge male fanbase and are usually credited with the popular fan tropes that are still being portrayed in anime series that are made today.
The original series was so popular that a movie paralleling its events came out in 1997, titled the End of Evangelion, and several other movies, considered an expansion of the show, came out in 2007, 2009, and 2012. Their respective titles are Evangelion 1.0: You Are (Not) Alone, Evangelion 2.0: You Can (Not) Advance, and Evangelion 3.0: You Can (Not) Redo. I'm a big fan of the series, and I just watched Evangelion 3.0—it's beautifully animated, and it's wonderful to see the familiar characters on my screen again! I can't believe a series I watched as a kid in 1995 is still going strong!
As you can imagine, since it's such a popular franchise, there's a lot of merchandise being made for it. They range from poseable, scale, and prize figures to mugs and tumblers, and even jewelry and clothing. So if you're a big fan of Evangelion and want to immerse yourself in its universe, it's extremely possible to do since there's so many Evangelion themed items being made! There's even an entire exhibition of Evangelion, with rooms recreating scenes from the movies and the anime, in Fuji Q Highland, and it's very appropriately called Evangelion World. Amazing!
A huge chunk of the merchandise comes from companies doing collaborations with Evangelion. Some of the more memorable one includes All Nippon Airways, Schick (yes, there are Evangelion razors!), phones made by Sharp and released by NTT/Docomo, Uniqlo, Hello Kitty, and Casio. Casio has been a long-time collaborator, actually, going as far back as 2008. Casio G-Shock often creates limited edition models, with the color schemes often taking their cue from the characters in the show—the 2008 versions, for example, has a white color based on Ayanami Rei's plugsuit, while the other is based on the Evangelion Unit 01's purple color. The latest two versions, released in 2010, are based on Langley-Soryu Asuka's and the Eva Unit 01's color scheme.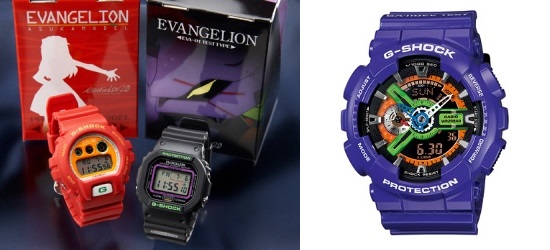 If you're worried about not being able to find stores that import them to where you live, worry no longer! FromJapan can get them for you. You can use the keywords "エヴァンゲリオン g-shock" and find the watches retailed from Rakuten, Yahoo!Japan and Amazon—they even have the older 2008 models available!