Let's be honest, there's something alluring about fantasy and fairytale villains. The dark magic, the sense of danger – not to mention that everyone loves a bad boy! Disney and Aniplex explore this love of wickedness in their new mobile game, Twisted Wonderland.
The game has a cast of colorful characters who all reside at Night Raven College, a prestigious four-year academy that teaches the magical arts to only the most talented of students. Black Butler creator Yana Toboso was lead character designer for the project, taking inspiration from Disney's most iconic villains.
Read on to find out more about the characters of Twisted Wonderland and some awesome Japan-exclusive merch from the series – enjoy!
This article was updated in June 2020 to add some new items!
Disney Twisted Wonderland Dormitories
Heartslabyul Dormitory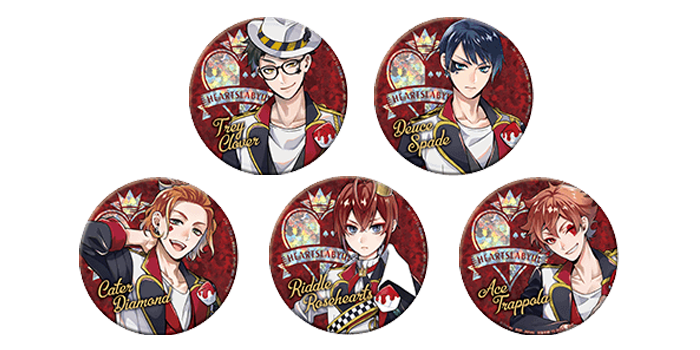 The Heartslabyul Dormitory is inspired by the unpredictable and cruel Queen of Hearts from Alice in Wonderland. Five students reside at Heartslabyul Dormitory – Riddle Rosehearts, Deuce Spade, Ace Trappola, Trey Clover, and Cater Diamond.
Savanaclaw Dormitory

The Savanclaw Dormitory has three members – Leona Kinscholar, Ruggie Buchi, and Jack Howl. The dormitory is inspired by the jealous and vengeful Scar from The Lion King.
Octavinelle Dormitory

The Octavinelle Dormitory is inspired by the sea witch Ursula from The Little Mermaid. Three students take residence at the Octavinelle Dormitory – Azul Ashengrotto, Jade Leech, and Floyd Leech.
Scarabia Dormitory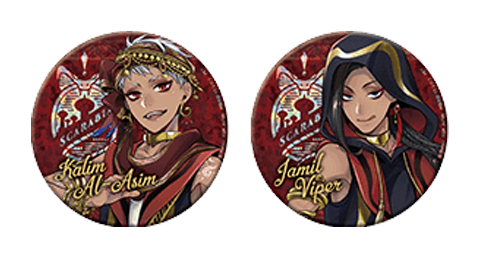 The Scarabia Dormitory has just two students – Kalim Al-Asim and Jamil Viper. The dormitory is inspired by Jafar, the sinister sorcerer from Aladdin.
Pomefiore Dormitory
The Pomefiore Dormitory is inspired by the jealous and vindictive Evil Queen from Snow White and the Seven Dwarfs. Three students reside at the Pomefiore dormitory – Vil Schoenheit, Epel Felmier, and Rook Hunt.
Ignihyde Dormitory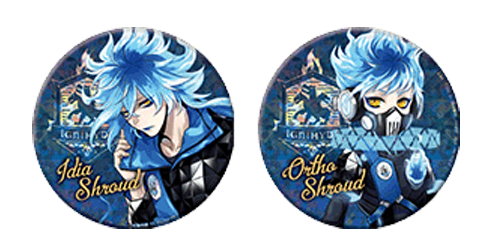 The brothers Idia Shroud and Ortho Shroud are members of the Ignihyde Dormitory, which is inspired by the world of Hercules. The dormitory is based on the King of the Underworld, Hades.
Diasomnia Dormitory

The Disomnia Dormitory draws inspiration from the world of Sleeping Beauty and inspired by the evil fairy godmother, Maleficent. Four students make up the dormitory – Malleus Draconia, Lilia Vanrouge, Silver, and Sebek Zigvolt.
Night Raven College Staff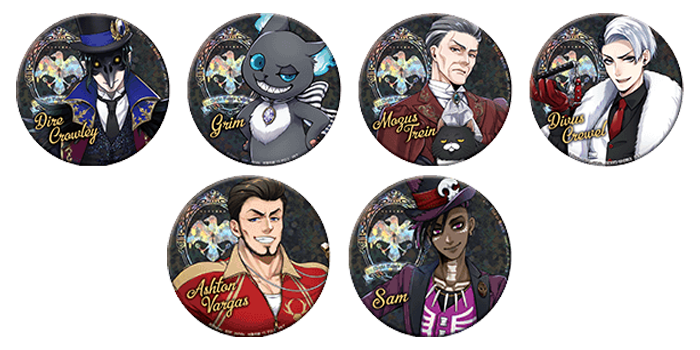 Night Raven College is also home to esteemed educators who teach the art of villainy and magic to the budding black mages. Dire Crowley is the headmaster of the school, with Divus Crewel, Grim, Mozus Trein, Ashton Varfas, and Sam all providing magical support to the students of Night Raven College.
Disney Twisted Wonderland Wafer Cards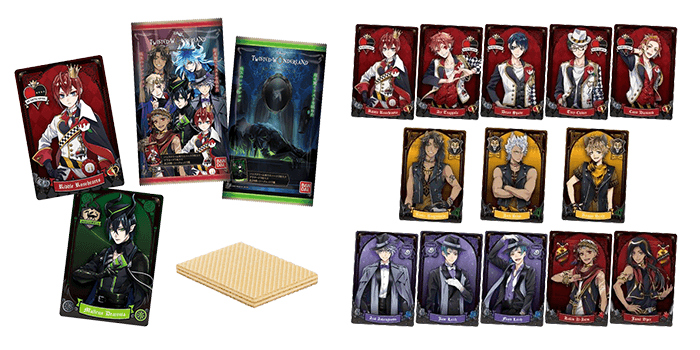 Bandai Candy brought out its first batch of Disney Twisted Wonderland wafers back in May and proved so popular that a re-release was scheduled almost immediately. Each foil pack contains a delicious wafer and a trading card featuring one of the students of Night Raven College.
Disney Twisted Wonderland Acrylic Stands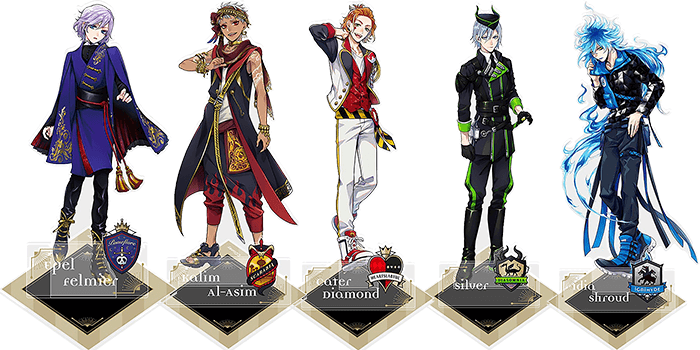 These gorgeous acrylic stands of the students in their dormitory uniform were released back in May, selling out almost immediately. The acrylic stands were re-released in early June, so eager Twisted Wonderland fans had a second chance to get their hands on these awesome villain-inspired collectibles.
Disney Twisted Wonderland Ichiban Kuji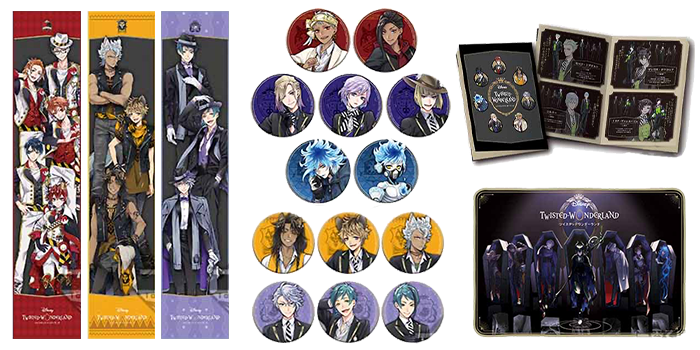 The otaku lottery Ichiban Kuji released a gorgeous selection of items that could be won across Japanese convenience stores to celebrate the release of the Twisted Wonderland mobile game. The collection features pin badges, towels, and blankets – all featuring stunning illustrations of the villains!
Disney Twisted Wonderland Disney Store Japan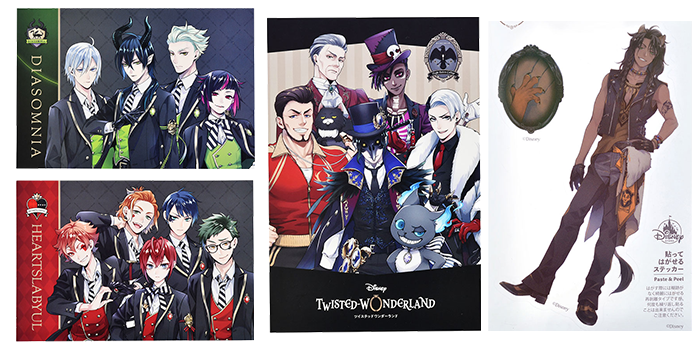 Disney Store Japan have released their own collection of Twisted Wonderland goodies including stickers, postcards, and clear files which feature gorgeous illustrations of Night Raven College students and staff!
Browse the full Disney Store Japan Collection here.
Disney Twisted Wonderland Namco Prize Pin Badges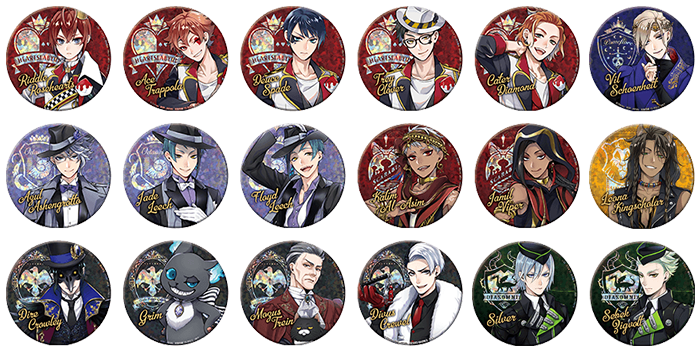 Collect all of your best boys with this collection of Twisted Wonderland prize badges by Namco! The first wave of the series has the students and staff of Night Raven College wearing their standard outfits and the upcoming release of pin badges features the villains wearing their alternate costumes.
Get your hands on wicked Disney Twisted Wonderland goodies with FROM JAPAN
Do you want to show your love for all of your best bad boys with some merch? Unfortunately, you can only find Twisted Wonderland merch in Japan, but that doesn't mean you can get your paws on some! With a proxy shopping and bidding service like FROM JAPAN, you can get all manner of Japan-exclusive goodies sent directly to your door. Come over to the dark side with FROM JAPAN!