Introduction
Whether you're a casual fan or a full-on Brony/Pegasister, these My Little Pony figures are sure to be a hit amongst everyone. Brought to you by the American toy company Hasbro and Japanese figure company Kotobukiya, this collaboration follows on from the other BISHOUJO figures, with illustrations by artist Shunya Yamashita.
This series is based on the My Little Pony: Equestria Girls film, in which the ponies go through a magic mirror to become human girls. However, unlike the film, these figures feature both human and pony versions of each Friendship is Magic character. Each figurine is intricately sculpted and highlights unique details of every pony's personality.
The Figures
Twilight Sparkle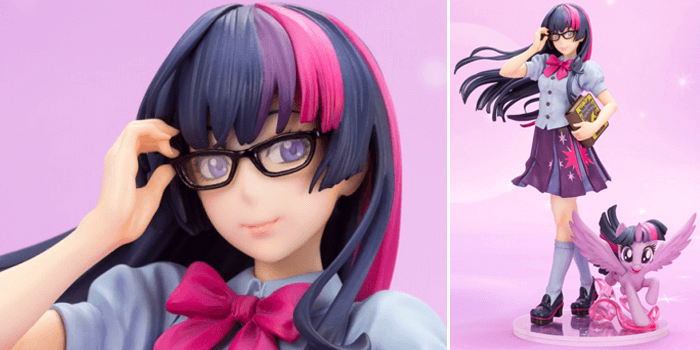 Twilight Sparkle's figure features her human character in a cute and stylish school girl outfit. With the Elements of Harmony in one hand and her glasses perched on her face, these little details only add to her delightfully intellectual charm.
The Twilight Sparkle pony rests at the figure's feet, with both versions showing off their signature long pink and purple hair flowing in the breeze. What's not to love about this adorable bishoujo figure?
Fluttershy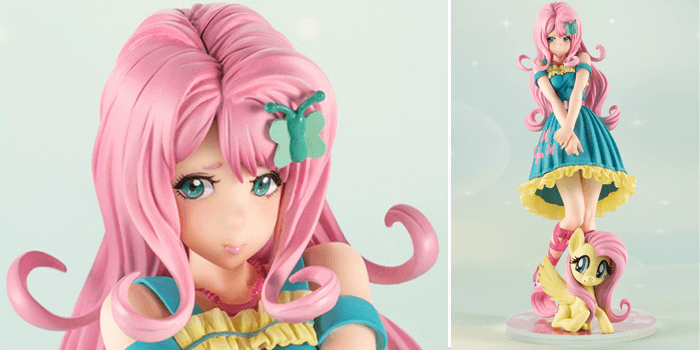 This figure really emphasises Flutteryshy's shy and timid nature with a cute pigeon-toed pose that matches both human and pony characters. The pony's signature cutie mark of three pink butterflies is reflected on the bishoujo's dress as well as an adorable butterfly hairpin.
Fluttershy represents kindness and this is the perfect embodiment of that, with human and pony figures practically radiating her tender, loving nature! From their long pink hair to their kind, gentle eyes, this bishoujo figure is a perfect choice.
Rarity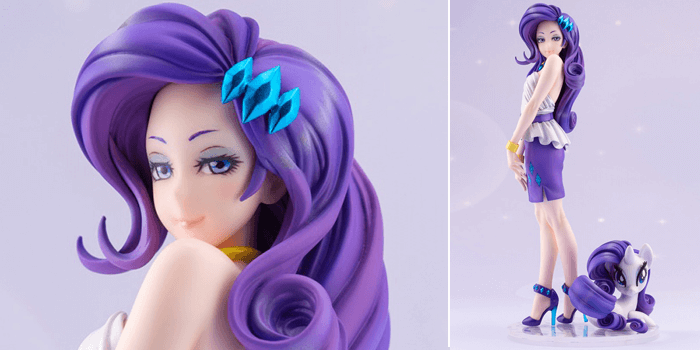 The next figure in the series is Rarity, the ultra-glam pony that represents generosity. In a stylish outfit and high heels, her cutie mark, a trio of diamonds, is shown in her hairpin and the glamorous necklace around her neck.
Rarity's pony stands out from the other figures with a pearlescent colouring and both figures feature thick fluttering lashes that stand out compared to the other ponies. Rarity is the most elegant and chic figure out of the bunch, for sure.
Rainbow Dash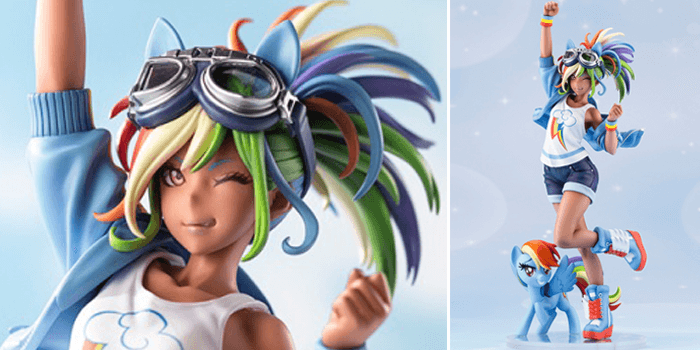 Rainbow Dash's sporty and tomboy nature is perfectly embodied in this figure. Both human and pony are shown in a dynamic action pose that really shows off the character's personality. Best of all, the hi-top sneakers with added wings will enable her to dash away at the speed of light!
With attention to details like Rainbow Dash's iconic rainbow hair and her signature cutie mark adorned on her top, this bishoujo figure is a sure-fire hit!
Applejack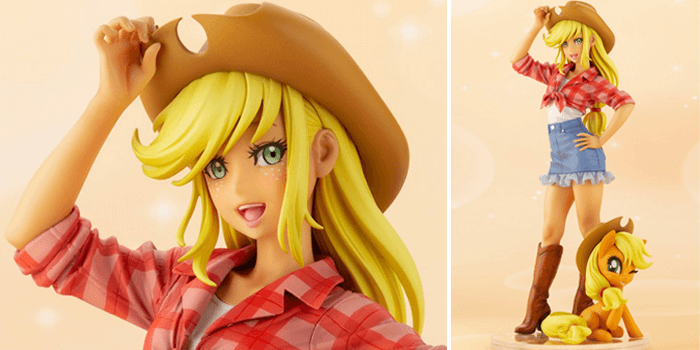 Fans of the hardworking and honest Applejack are sure to love this figure. A warm smile and cute freckles adorn the bishoujo's face, showing off her kind-hearted nature. Applejack's apple cutie mark is shown on both her denim skirt and her cowboy boots, accentuating this figure's attention to details.
The Applejack pony has a cheeky wink and smile, and with their matching cowboy hats, the southern charm really shines through in both the human and pony Applejack figures. Yeehaw!
Pinkie Pie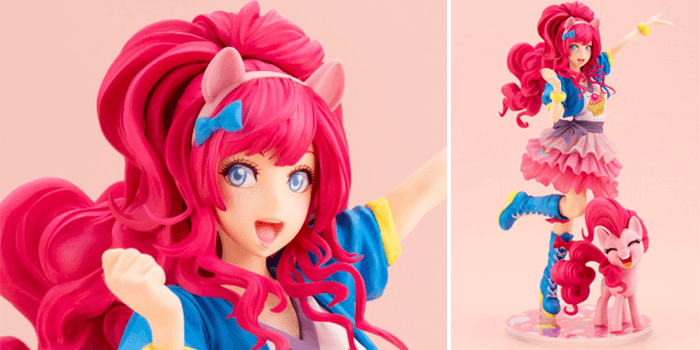 For the cutest and sweetest pony, Pinkie Pie is your girl. Wearing a 'kawaii' outfit with a frilly skirt that shows off her balloon cutie mark, she wouldn't look out of place in the stylish streets of Tokyo!
Both human and pony versions of Pinkie Pie have bright pink flowing hair and a wide, happy smile that is sure to bring a smile to your face too! This figure really proves Pinkie Pie is the pony that is most known for spreading hope and joy.
Sunset Shimmer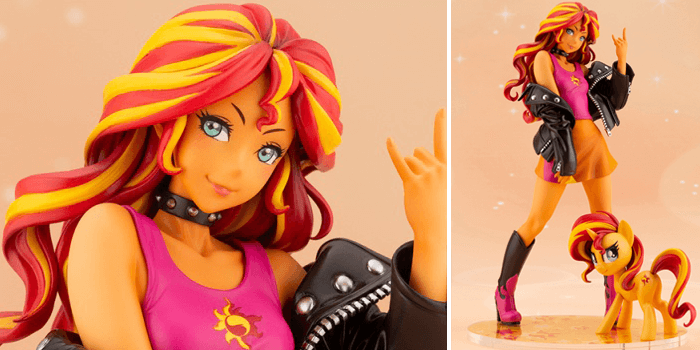 A character who first made her appearance in the Equestria Girls film, Sunset Shimmer is the renegade student who fled Canterlot to pursue her own path. Wearing a leather biker jacket and a spiked choker, her rebellious nature adds to the charm of his figure.
With Sunset Shimmer's cool pose and the pony's mischievous smirk, she is definitely the coolest bishoujo figure out of the whole group!
Princess Luna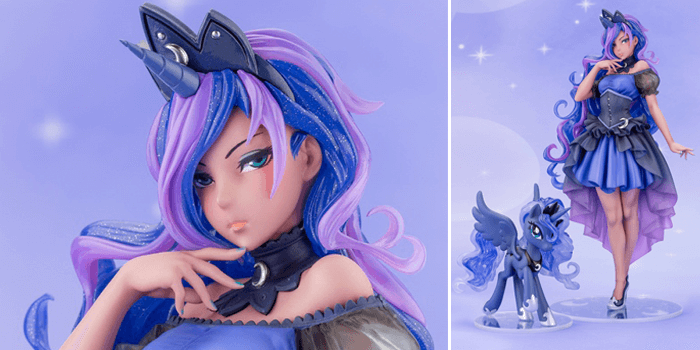 Make way for royalty, Princess Luna is here to join the bishoujo lineup! The theme of 'night' is carried throughout the design, from her elegant flowing dress to the moon motifs dotted around both bishoujo and pony.
What really makes Princess Luna stand out is the shimmery hair, painted with glitter to add sparkle and life to the figure. Better yet, the pony's mane also glitters, sparkling like the beautiful night sky! For a beautifully graceful figure, the Princess Luna bishoujo figure is a perfect fit.
Ordering with FROM JAPAN
If you have your eye on one or more of these ponies, then purchasing via FROM JAPAN is the best way! You can order straight from the source and buy the rare ponies that you won't be able to find in your local stores.
FROM JAPAN's powerful combined search engine searches through all available online retailers to find your desired product. Whether it's from an auction site or a regular shopping site, getting your Applejack or Rainbow Dash figurine couldn't be simpler!
So what are you waiting for? Make an account with FROM JAPAN and your figure should be with you in no time. For more information, check out our Usage Guide or Q&A section.