It's February, which means it's that time of year again… time to give your Granblue Fantasy best girls some Valentine's Day love! Every year CyStore holds their Valentine's Day event where you can send your favorite Granblue Fantasy characters some chocolate. In return, you'll get a thank you from your favorite in the form of a message card that features a full-color illustration and heartfelt message.
As Cystore only accepts customers with a Japanese address, you will need the help of a proxy service like FROM JAPAN in order to participate in this event. Read on to find out how you can share your love with your Granblue Fantasy best girls for Valentine's Day 2021!
How to order chocolates for the Granblue Fantasy Valentine's Day event on CyStore
Step 1. Go to the CyStore Valentine's Day event page.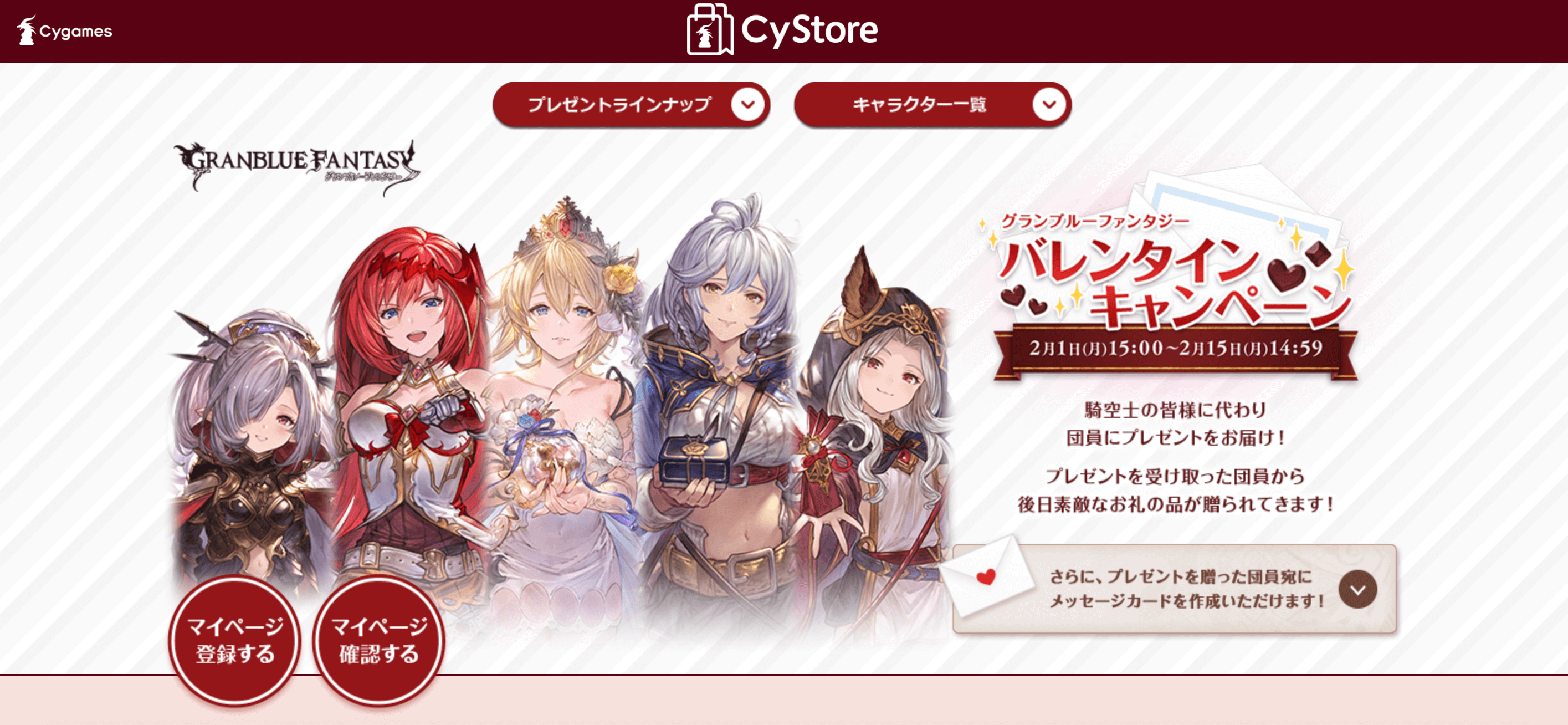 You can find the event page here.
This year's event runs from February 1 to February 15, 2021 – with CyStore taking orders for the event until 14:59 JST on February 15. Please be aware that you will not receive any chocolates as part of this campaign. Your thank-you card will be sent to you by the FROM JAPAN team at a later date.
Step 2. Select the name of the character you want to send chocolate to.
Scroll down the page until you reach the section of the site as pictured below: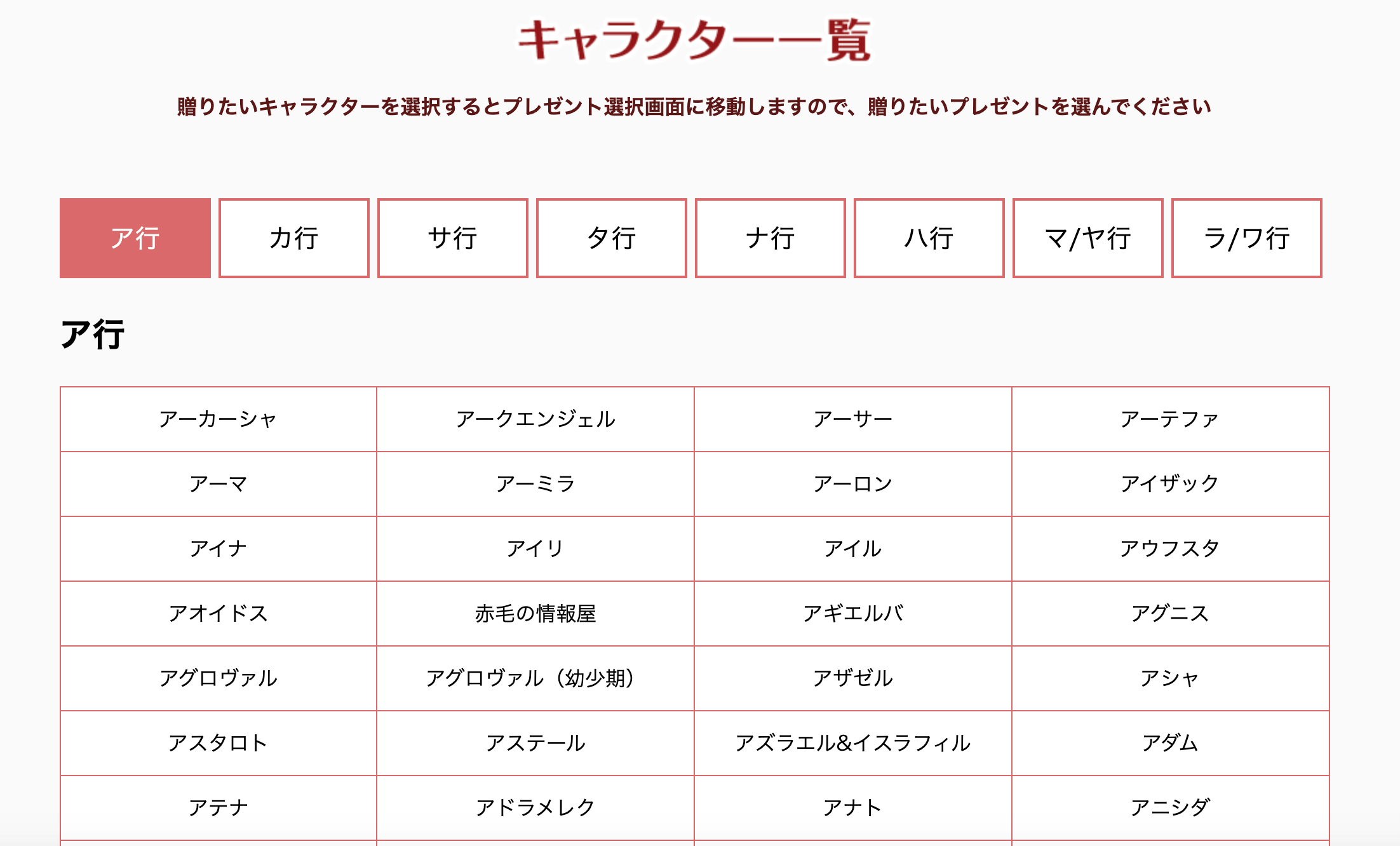 This is the list of names of characters that you can send chocolates to. You will receive an illustrated card of the character that you select.
You can run the site through Google Translate to get a rough idea of the character's names, however be aware that Google Translate can often be inaccurate. There are also guides made by fans online that include the Japanese names for all the available characters, and which section of the list they are in. If you have any issues at this point – please don't hesitate to contact our Customer Service team.
Step 3. Go to the character's designated chocolate page and check the details.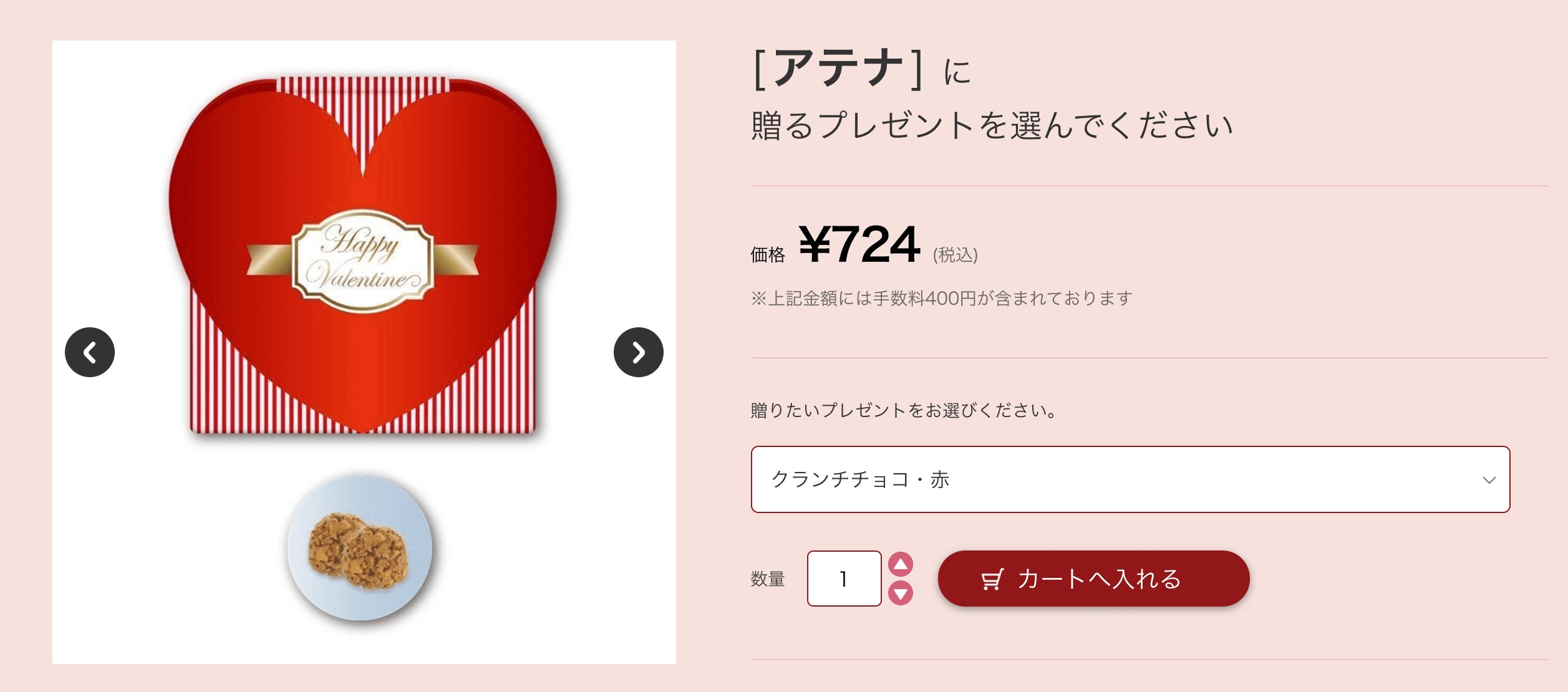 This product page is for Athena (アテナ) and here is where you can select which chocolate you would like to send. You can choose from the following chocolates:
クランチチョコ・赤 – Crunchy Chocolate red
クランチチョコ・青 – Crunchy Chocolate blue
クランチチョコ・茶 – Crunchy Chocolate brown
クランチチョコ・緑 – Crunchy Chocolate green
クランチチョコ・黄 – Crunchy Chocolate yellow
クランチチョコ・紫 – Crunchy Chocolate purple
ハートえびせんべい – Heart-shaped shrimp rice crackers
プティコーフル – Petit Gaufres
ハートチョコ – Heart-shaped chocolate
クレープコロレ– Crepe Colorée
ボンボンショコラ – Bonbon Chocolat
You will not receive the chocolate you select – you will receive a fully-illustrated thank-you card from the character that you sent a Valentine's Day chocolate to.
You can also choose to send cat food to the Young Cat (猫), where Cat Food (キャットフード) will be the default selection. CyGames will make a donation to an animal charity for each Young Cat gift purchased.
Step 4. Make an account with FROM JAPAN, select your chocolate and copy and paste the URL of the page into FROM JAPAN's search bar.
Please make sure you have selected your desired chocolate before you copy and paste the URL. It is very important that you send the URL of the selected chocolate, as this means our shopping staff will be able to place the order as quickly as possible.
Copy and paste the URL as in the image below:

Step 5. Fill out the "request a price quote" form.
Here is an example of a completed price quote form.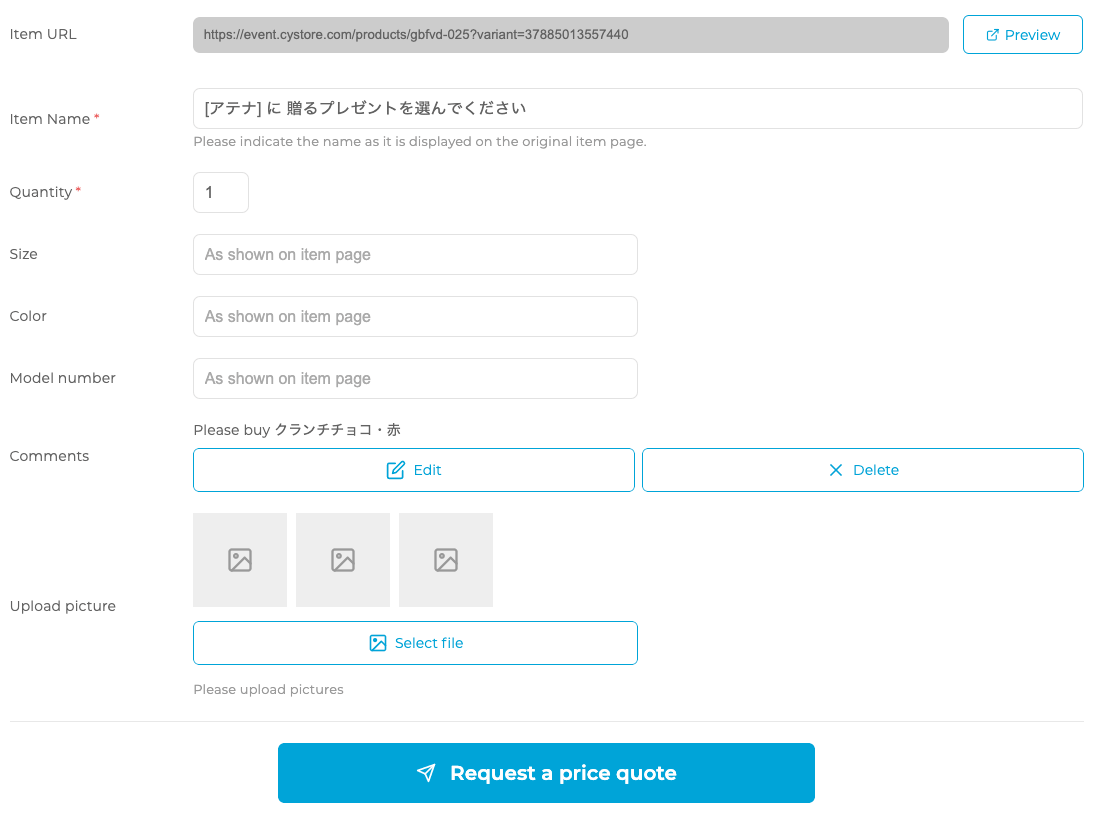 Copy and paste the product name as it appears exactly into the "Item Name" field.
To make it as easy as possible for our shopping staff, please indicate the type of chocolate you would like to send to your character in the comment section. You can copy and paste the chocolate name from the list above. This is very important as the price of chocolate differs from type to type and we cannot proceed with the order until we know exactly which chocolate you would like to buy.
For every individual chocolate you would like to send, you will have to complete a separate price quote form.
Step 6. Pay your Charge 1 payment and wait for your items to arrive at our warehouse.
Step 7. Send your shipment instructions and pay for Charge 2.
Once all of your orders have arrived at our distribution center, we will wait for your shipment instructions about which items you would like to be shipped together and your preferred shipping method. The Charge 2 invoice includes international shipping and domestic shipping, as well as the fee for our Product Protection Plan. The expected shipment date for the items is May 2021.
Before making your first order with us, we recommend that you read our Usage Guide or contact our Customer Service team with any questions you may have.
If you're interested in other CyGames merch, then check out our guide on how to order from CyStore here. Celebrate Valentine's Day with your CyStore best girls with FROM JAPAN!