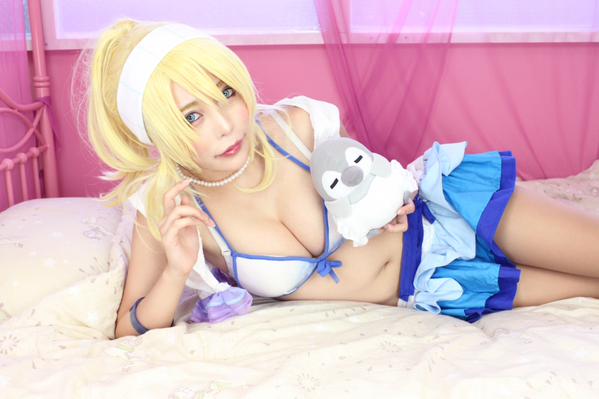 Cosplay (or "costume play") costumes is one of Japan's biggest trends, where fanboys and fangirls wear costumes based on their favorite anime and video game characters. As an art form and hobby, cosplay costumes has spread around the world, and, today, cosplayers regularly attend conventions called "Cons," where they meet others in costume, gather for photoshoots, participate in contests, and make unforgettable memories.
While some cosplayers like to sew their own costumes and build their own props, many do not have the time, knowledge, or resources to do so. For those who want to purchase the highest end of cosplay costumes quality, or those who wish to get their lenses, wigs, clothing, and other accessories straight from the homeland of cosplay costumes, Japan offers some of the best cosplay costumes goods in the world.
Cosplay Costumes Shops in Japan
Regardless of what you're searching for, there's a cosplay costumes shop in Japan that sells it! Wigs and contact lenses are especially well-crafted in Japan. Many wigs are heat- and wash-resistant and crafted from smooth, matte, synthetic hair instead of a glossy, fake-looking hair fibers. If you're uncomfortable styling a wig yourself, many of these wigs come pre-styled, and some cosplay costumes shops even offer to cut and shape your wig for you for an additional fee.
Here are ten cosplay costumes shops in Japan that we highly recommend. All of these shops have online storefronts, but don't ship internationally; the good news is that online services like FromJapan can purchase these goods for you and get them delivered to your door!
Super Groupies

Super Groupies is our pick for all-around character-related gear: shirts, shoes, bags, hair accessories, dresses/skirts, tops, legwear, and more! (check out Tralala's Sailor Moon collaboration). While it's more of a stylish fashion brand than a cosplay costumes hobby shop, Super Groupies is perfect for Otaku who want to show off their fandom love without being too obvious about it (and who want to wear their "undercover cosplay costumes" everywhere they go!).
Gee! Store (Cospatio Authentic Shop)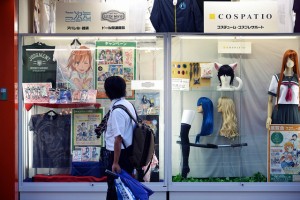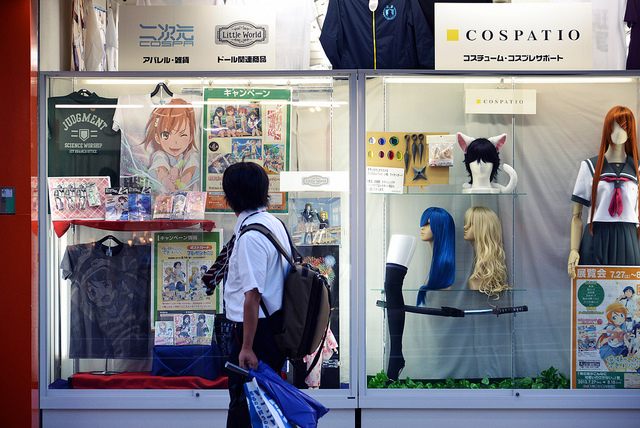 Whether you're starting out on your first cosplay costumes, or working on your tenth, Gee! Store offers a variety of merchandise to both beginners and masters—from full-sized costumes, to dying tools and materials for hand-making props. They also accept custom-made cosplay costumes orders, though these can be very expensive! If you're merely looking to buy a T-shirt to show off your love for anime, then Gee! store and cospa also sell a variety of outer clothing available for purchase through their international online storefront. Unfortunately, their cosplay costumes accessories are not so easily available to those outside Japan.
ACOS/Animate Cosplay Costumes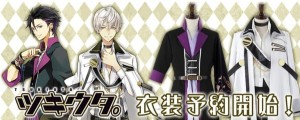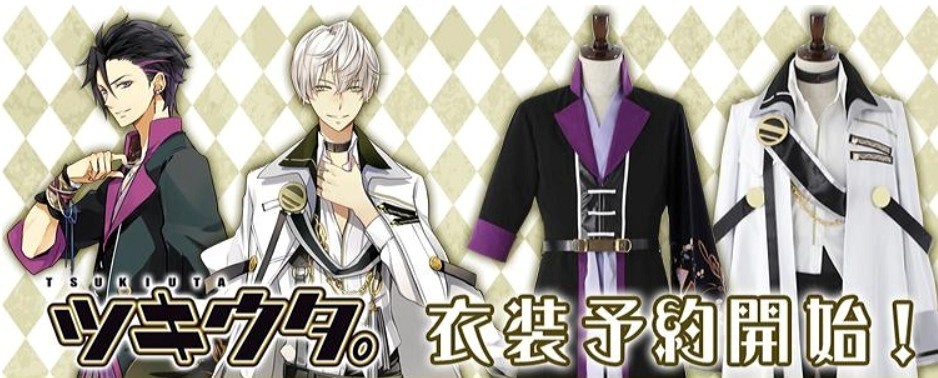 If you're a beginning cosplayer, then ACOS is the ideal place to make your first cosplay costumes purchase. They offer franchise-favorite, quality clothing for a price that won't break your budget. In addition, they also sell wigs, makeup, shoes, and even unique products like fake cigarettes and violins to make your cosplay costumes stand out. For all your cosplay costumes needs, ACOS is your "one-stop cosplay costumes shop!"
Maple Wigs


While Maple Wigs does offer some cosplay costumes, props, and lenses, it is most famous around Japan for its high-quality wigs and costume facial hair. From Gothic and Lolita curls, to hair extensions, Maple sells it all… and even offers some touch-up and styling services!
J-Costume
If you're looking for full-body, elaborate costumes, then J-Costume is well worth your time. Unlike some other sellers, J-Costume also sells a large stock of previously-worn, or "used," clothing, props, wigs, and accessories—perfect for the quality-seeking Otaku on a budget.
Mitsubado – Second Hand Costumes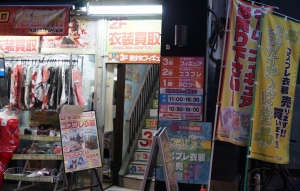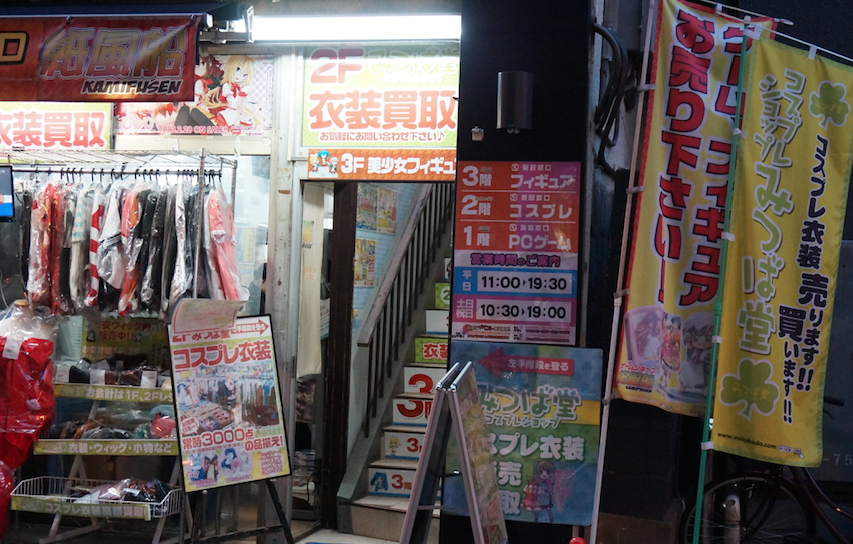 If you're looking to create a cosplay costumes on a budget, then Mitsubado is a great place to start! It offers a variety of professionally-crafted, secondhand products, ranging from full costumes, to shoes, to swords and other crafted props. With Mitsubado, you can put together any cosplay costumes imaginable… at a fraction of the price.
Candy One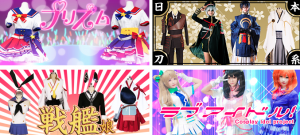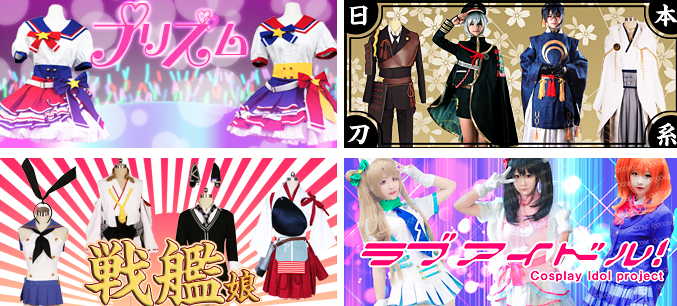 Slightly pricier than some of its secondhand alternatives, Candy One is one of the most wide-ranged cosplay costumes stores in Japan, offering nearly every shade of wig and multi-franchise costumes—both from current, popular series, and less popular series. Candy One carries products from several other cosplay costumes companies as well, so the selection is very well-represented. In addition to some of the most excellent costumes and wigs, Candy One also sells specialty items, such as colored lenses and costume jewels.
Airily Wigs


Numbered among the best companies to purchase cosplay costumes wigs from, Airily sells some of the softest, most pseudo-realistic hair in the Otaku realm. Over twenty unique styles come in nearly every color imaginable, guaranteeing you will be able to find the perfect shade for your character of choice. Additionally, Airily sells beautiful lenses in over twenty-five different colors. However, due to each countries' different regulations, FromJapan may not be able to assist you with ordering lenses. So, please check your country's policy first.
Harukaze Wigs (Layeredme)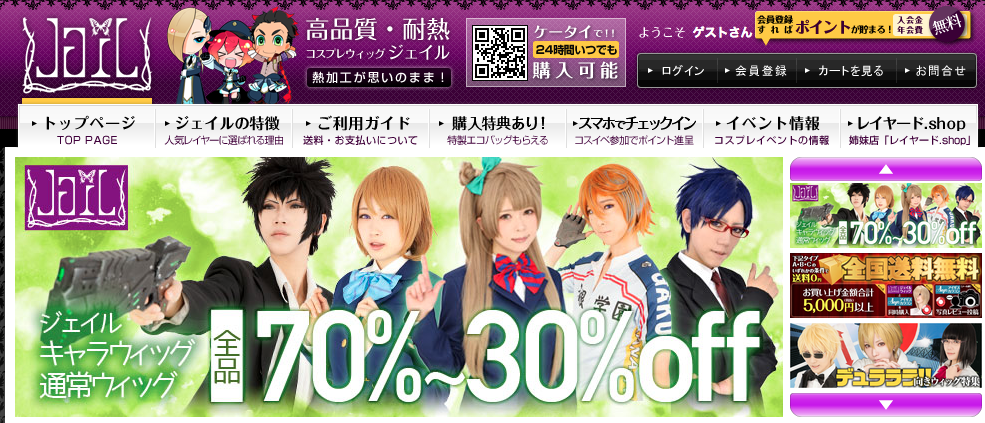 Harukaze runs on the more expensive side of wigs, but they offer unique, individually customized wigs for nearly every character from every popular anime and video game series imaginable—Attack on Titan, Black Butler, Naruto, Final Fantasy, Persona—you name it! Most all of their wigs have specialized netting and/or reverse hairlines in order to create an accurate, natural look. Buyers praise Harukaze for its comfortable fit, easy care, and accurate styling.
Buying Second Hand
If you're trying to build a costume on a budget, many secondhand stores in Japan can lend you a helping hand. Secondhand stores are sellers that offer used goods for a discounted price. Mitsuba is one of the most highly recommended and reputed secondhand cosplay costumes stores in Japan, but there are many others, including J-Costume and Lashinban.
Secondhand stores sell everything from full-body costumes, wigs, and shoes, to props of all shapes and sizes; these are much more affordable than purchasing the same items and accessories new, and many secondhand stores even offer discounts and other special promotions periodically. If money is tight, then secondhand sellers are wise places to shop.
Conclusion
Whether you're picking up your first cosplay costumes, or getting ready to start on your tenth, Japanese cosplay costumes stores have something unique to offer you.
Remember, though, that while these websites have online storefronts, they don't ship internationally. The good news is that you can use the FROM JAPAN shopping service< to find whatever wigs, clothing, shoes, props, and contact lenses that you need… and have them delivered to your door! Again, please check with your country's policy in regards to contact lenses**