What is Spy x Family?
With its manga first published in March 2019 and its anime adaptation first aired in April 2022, Spy x Family has already resonated with a large number of fans in just two years. The anime, in particular, is proving to be popular both in Japan and abroad, with fans getting reeled in by the series' unique story.
For those unfamiliar, the story of Spy x Family revolves around an agent who goes by the alias "Twilight" from the fictional nation of Westalis. In order to help him track Donovan Desmond, an influential person from their rival nation of Ostania, "Twilight" pretends to be a family man so he can gain access to Desmond's children's school, and follow Desmond there.
To do this, he pretends to be Loid Forger, marries a woman named Yor Briar, and adopts an orphan girl named Anya who he enrolls in the same school Desmond's children go to. But the twists don't end there — unbeknownst to Loid, Yor is actually a professional assassin, while Anya is gifted with the ability to read minds. What ensues a peek into this faux family's everyday life, which is both intriguing and heart-warming at the same time.
Introducing the Spy x Family Main Characters
Loid Forger / "Twilight"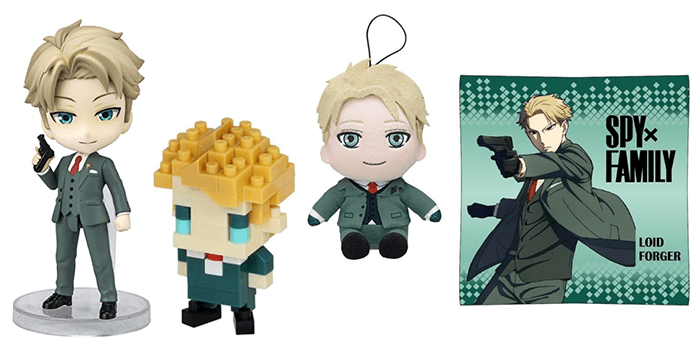 Loid Forger is at the center of Spy x Family's story and is the reason why we're getting this unusual false family in the first place. Loid is an extremely talented spy who has a wide range of skills and techniques that he has mastered using. Outside of his work, Loid appears to have a softer side, such as when he interacts with his false family.
Anya Forger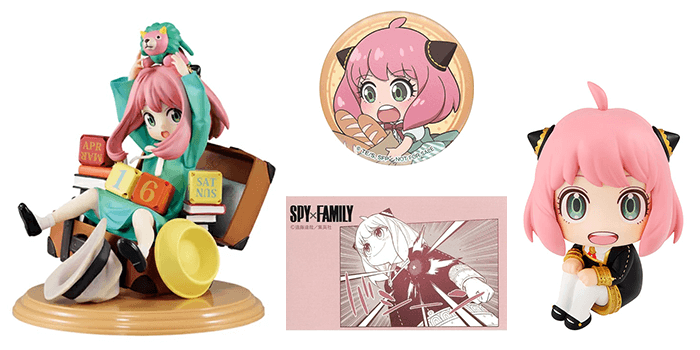 Arguably everyone's favorite character from the series, Anya Forger is a precocious orphan who has talents and abilities that go above other children her age. Her main ability is being able to read people's minds, which she used to read Loid's mind and learned that he needed to adopt a six-year-old.
Despite how impressive her talents might seem, she has been ostracized for them and has a history of ending up being returned to the orphanage due to her adoptive family not getting along with her. Once she learned of who Loid truly is, she jumped at the opportunity to be adopted by him in the hopes of finding her long-awaited loving family.
Yor Forger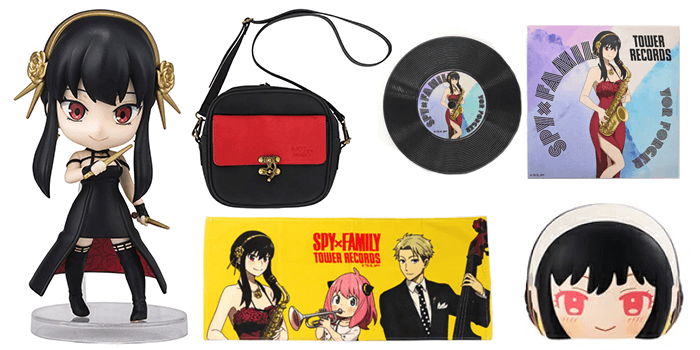 Last but definitely not the least, we have the professional assassin turned fake wife and mother, Yor Forger. Also known as "Thorn Princess", this code name reflects part of her personality, appearing mainly as quite an aloof and straightforward person.
Towards her fake family, Yor shows a softer, more maternal side and we even get a peak into her mind that she also deals with insecurities at not being able to fulfill her mother role very well. Regardless, Yor tries her best and the series follows her improvement.
How can I buy Spy x Family merch from Japan?
Spy x Family is still a relatively new series, but the good news is that it's also very popular in Japan so lots of anime merch companies are taking advantage of the series' popularity and are releasing Spy x Family merch left and right. If you want to get in on that, we're giving you an easy-to-follow guide so you can get start growing your own Spy x Family merchandise!
Step 1: Find the item you want to purchase through our powerful search engine.
FROM JAPAN's search engine brings you results from different Japanese websites where you can buy Spy x Family merchandise from. To search for Spy x Family merch from our site, you can simply click the "Search for Spy x Family Merch" button below, or click the buttons above for individual characters' merch.
Due to the variety of these sites, you can get all sorts of items — from cute figures of the family to smaller items like keychains and pens, and even stuff for cosplay and Japanese versions of the manga, like the ones you can see in the image below.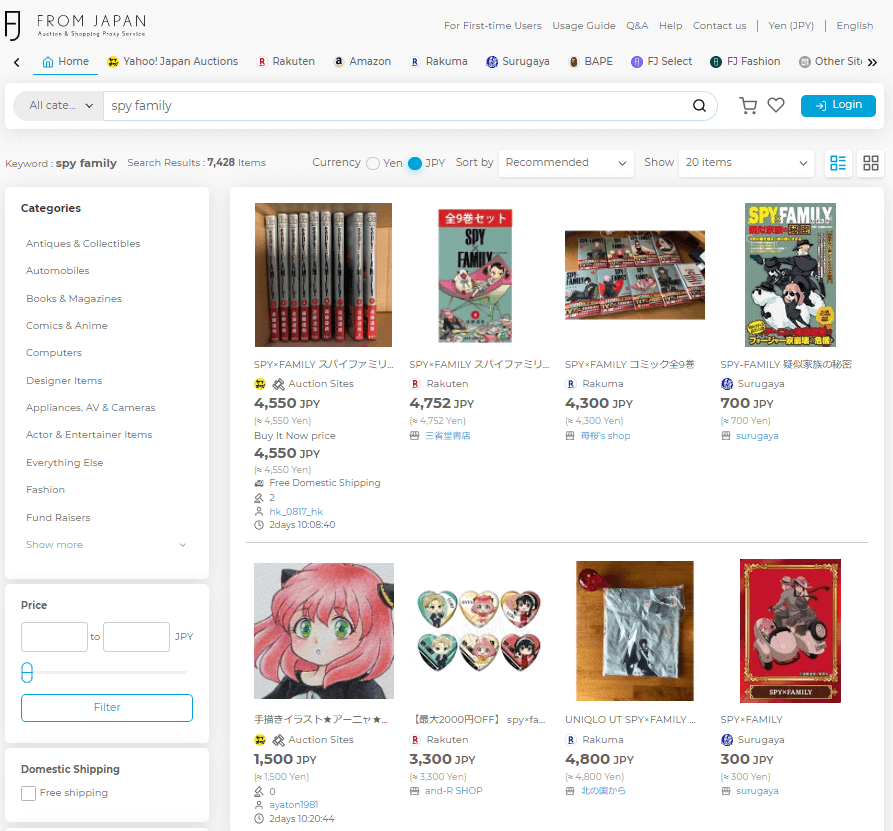 You can also apply search filters from the left-hand side of our site, so you'll only get items from a certain category, or under a certain price if you'd like. Some items you can purchase directly, while some you'll have to bid for. You can check out our Usage Guide for more details!
Once you decided on your items, it's time to proceed to the next step!
Step 2: Check the Details of Your Item.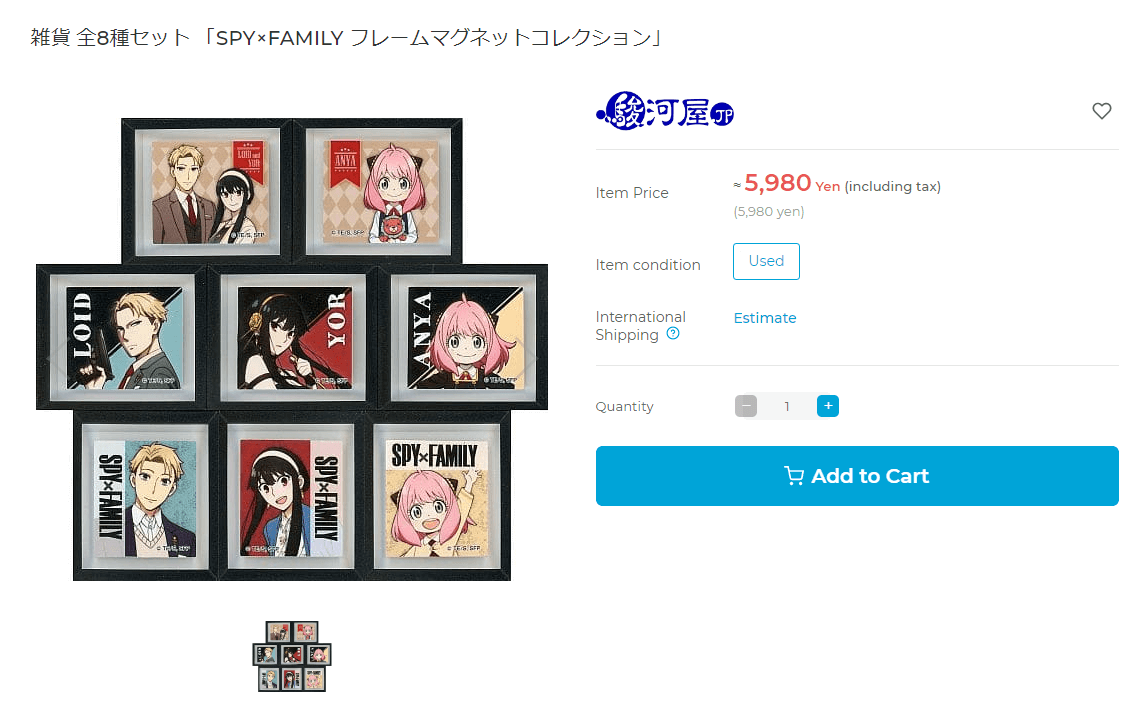 Let's use this full collection of framed-style Spy x Family magnets that feature the main characters altogether. If you click on the item listing for the item you want, you'll be taken to a page that looks similar to this.
First, you will see details such as the price in Japanese yen and the item condition (in the case of items from Surugaya, items tend to be used but will be in brand new-looking condition).
You can also get an estimate of how much international shipping will cost, but for the actual cost, you will get that information from our Customer Service Team after placing an order.
Next, if you scroll down the page, you will come across a box that says Description. If you click on the drop-down button and click 英語, you'll get an automatic English translation which will tell you all the details included by the shop about the item.
Step 3: Add the Items to Your Cart and Pay for Charge 1.
After going through the product page and confirming that everything looks good, simply click on the Add to Cart button and you'll be prompted to pay for Charge 1.
Step 4: Items Arrive at Our Distribution Center for Shipment Instructions
Once that's settled, your items will be sent to our Distribution Center and upon arrival, we will contact you for to ask for your preferred shipping instructions.
If you have other things you have your eye on, you can order them separately and have them stored in our warehouse for up to 45 days for free! This gives you the option to save on your shipping fee if you have them shipped together.
Step 5: Pay for Charge 2.
Once we've confirmed your shipping instructions, you'll be sent a Charge 2 invoice which contains the details for domestic and international shipping charges, as well as the fee for our Product Protection Plan.
Step 6: Shipping.
After the Charge 2 payment, your items are prepared for dispatch. We dispatch all items within two working days to ensure that you receive your items speedily.
Step 7: Arrival.
You've just scored some Spy x Family items straight from Japan! We hope you enjoy your new items and your shopping experience just as much as you enjoy Spy x Family.