Japanese Game Center Crane Game Prizes – From figures to plushies!
Japanese arcades, known locally as "game centers," can be found in almost every city in Japan, identifiable by the constant whirring and flashing lights of the arcade machines inside. One of the biggest draws to Japanese Game Centers are crane games, sometimes called UFO catchers, as they're full of exclusive prizes that you can't find anywhere else. In fact, these UFO catches are so popular that in recent years crane game apps such as Toreba and Akiba Catch have popped up, attempting to recreate the experience of a Japanese game center.
Since prizes found in crane games are often made solely for the machines, meaning that the items inside are not for general purchase. Popular prizes include figures and plushies featuring favorites from the anime, manga and gaming world!
Read on to get the ins and outs of the most popular lines of game center prizes and to find out how you can get your hands on these exclusive items without having to make a trip to Japan. Enjoy!
Bandai Spirits
Bandai Spirits has been in the game center prize game for years, operating under the name Banpresto before the company's dissolution and rebranding by Bandai Namco in 2019. Bandai Spirits boasts some of the most well-known lines of game center-exclusive prizes, featuring beloved characters from a range of media.
Q-Posket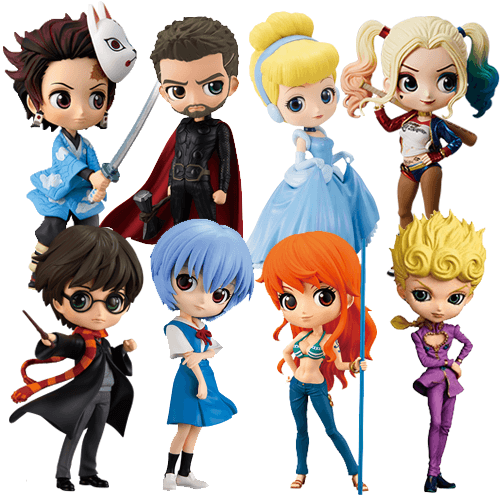 Q-Posket is a range of prize figures known for their adorable takes on fan-favorite characters, turning them into doe-eyed cuties! Popular Q-Poskets have included chibi-fied versions of characters from series such as Harry Potter, JoJo's Bizarre Adventure, Disney, One Piece, the Marvel Universe, Evangelion, and Batman. For those who want some pocket-sized posket action, check out the teeny-tiny Q-Posket Petit collections.
Glitter & Glamour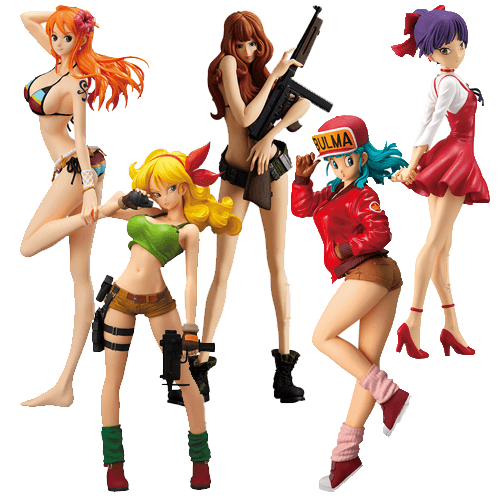 This series of prize figures showcases the sexier side of Shonen heroines, featuring some of the hottest babes from beloved series such as One Piece, Dragon Ball, Lupin III, and GeGeGe no Kitaro. The figures in this series are often have a beautiful pearlized finish, which is where the "Glitter & Glamour" line gets its name.
EXQ Figures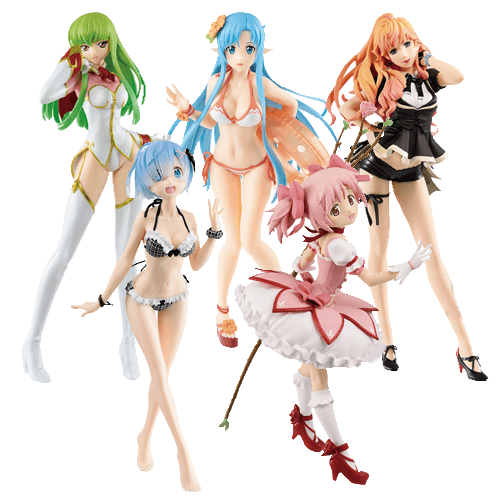 Bandai Spirit's EXQ series is known for producing figures of the highest quality with each product in their line reflecting an incredible eye for detail. EXQ figures are known for their excellent textures that really bring the characters to life. Characters from popular series such as Love Live!, Macross, Idolmaster, Re:Zero, Madoka Magica, and Code Geass have all had an EXQ makeover, creating some of the most sought-after prize figures ever!
Sega
If you have ever been to Tokyo, then you will have probably seen one of the many Sega game centers that host the latest and greatest of arcade amusements. Sega doesn't just have their own game centers, they also create a wide variety of of their own exclusive prizes with everything from figures to plushies!
Sega Premium Figures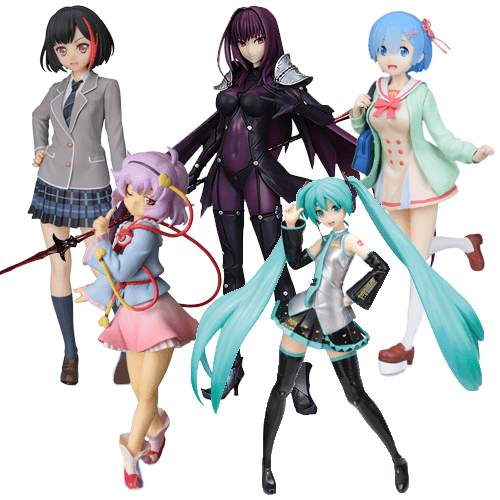 Premium by name, premium by nature! Sega's Premium Figure line showcases a wide range of beautifully detailed prize figures from a variety of beloved anime and video game series. Sega has released hundreds of figures under the Premium Figure name where you can see BanG Dream!, Fate/Grand Order, Vocaloid, Re: Zero, Love Live!, Touhou Project, and more characters transformed into gorgeous figures!
Sega Super Premium SPM Figures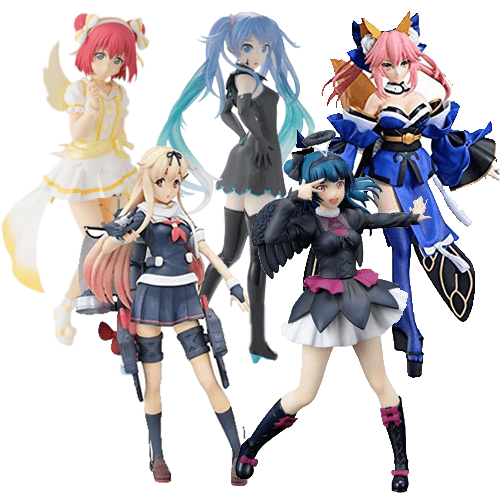 Sega's SPM line of Super Premium figures are a range of high-quality figures that feature more detailed and intricate designs compared with other prize figures on the market. You can find your favorite Kantai Collection, Fate, Love Live!, and Vocaloid characters in their Super Premium form in this beautiful line of prize figures.
Nesoberi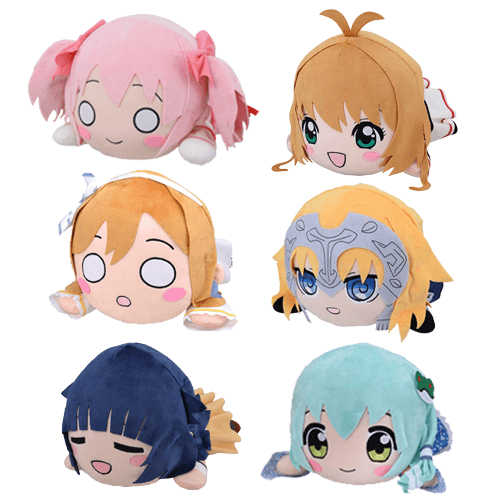 Nesoberi is a range of adorable stackable plushies featuring all of your favorite characters chibi-fied! Nesoberis come in a range of sizes, from mini-sized mascots to the Tera Jumbo Nesoberi plushies which are a whopping 100 cm in length! Nesoberi plushies are so popular that they have even inspired a mobile game named Puchiguru, starring characters from the Love Live franchise in their Nesoberi form.
FuRyu
FuRyu is another major player in the prize figure game, producing some of the most sought-after prize figures in Japanese game centers!
SSS Figures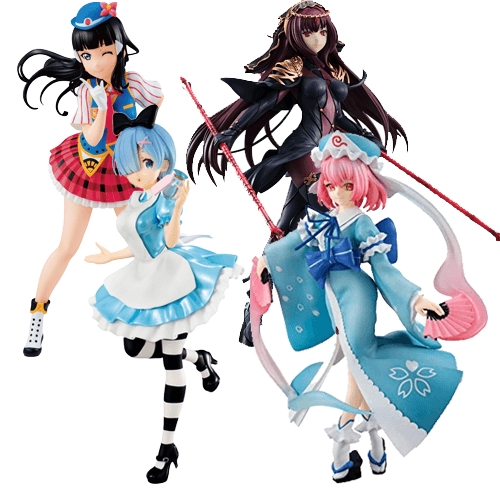 SSS Figures by FuRyu take anime and gaming favorites and transform them into gorgeous prize figures. Characters from popular series such as Re:Zero, Fate/Grand Order, Love Live!, and Touhou Project have been made into beautiful SSS Figures, often wearing special costumes exclusive to the collection.
Hikkake Figures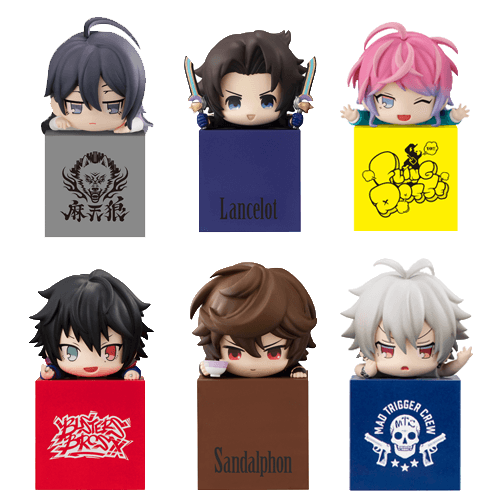 Hikkake Figures are adorable mini-sized models that perch on flat surfaces, meaning you can have your best boys and girls by your side while you work or study! The collection currently features the Hypnosis Mic rappers and warriors from Granblue Fantasy, and we're excited to see what other characters will get the Hikkake makeover next!
Noodle Stoppers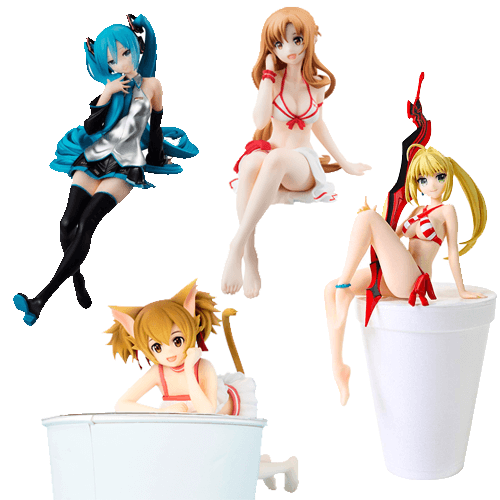 Noodle Stoppers by FuRyu have your favorite characters keep your instant noodles cooking by keeping the lid of the cup held firmly down by their weight. How helpful! If you're not a fan of ramen, no need to worry, as your can perch your Noodle Stopper just about anywhere. You favorite Sword Art Online, Touken Ranbu, Fate/Grand Order, and Vocaloid characters have all been transformed into Noodle Stoppers meaning your lunch time is about to get a lot more fun!
How to Buy Japanese Game Center Prize Figures and Plushies with FROM JAPAN
Although all of the lines listed above are exclusive to Japanese game centers, that doesn't mean you can't get your hands on the prizes. Many avid crane game players put their loot on sites such as Yahoo! Auction and by using a proxy bidding service like FROM JAPAN, you can score awesome prize figures and plushies from the comfort of your own home. Get searching for game center prizes now and win every time with FROM JAPAN!