My Teen Romantic Comedy SNAFU, also known as My Youth Romantic Comedy Is Wrong, As I Expected, and often referred to as OreGairu, is a coming-of-age tale about the pessimistic and misanthropic Hachiman Hikigaya, who is forced to join the Soubu High School Service Club in order to improve his social skills. Through reluctantly participating in the club activities, he meets the frosty Yukino Yukinoshita and happy-go-lucky Yui Yuigahama, and the three begin their misadventures in solving the personal problems of the students of Soubu High.
To celebrate the upcoming release of the third and final season of the series, we've rounded up our top picks of OreGairu merch – enjoy!
General My Teen Romantic Comedy SNAFU (OreGairu) Merch
My Teen Romantic Comedy SNAFU (OreGairu) Ichiban Kuji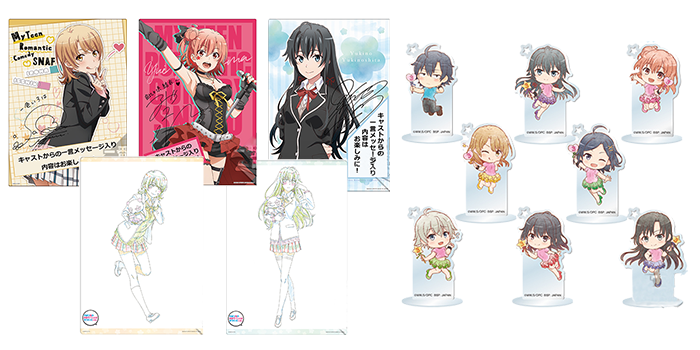 OreGairu had their first Ichiban Kuji collection in late 2019, which featured acrylic boards of Yukino, Yui, and Iroha with each voice actress' signature, acrylic stands, art boards with genga-style illustrations, and much more! To celebrate the start of the third season of the hit anime, the series has teamed up with the otaku lottery again to bring out more awesome OreGairu goodies! You can expect the new OreGairu Ichiban Kuji collection to hit convenience stores around Japan from April 4, so keep your eyes peeled!
My Teen Romantic Comedy SNAFU (OreGairu) Nesoberi Plushies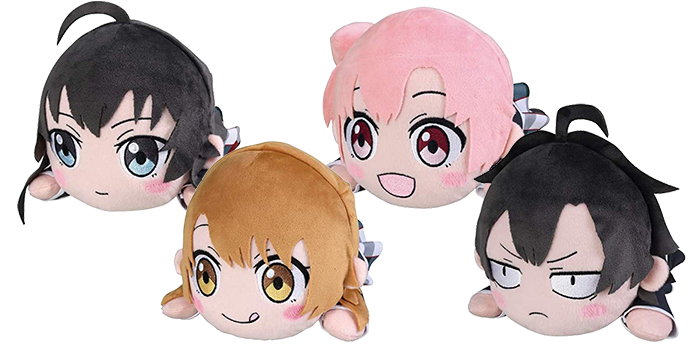 Ever wanted to hug your favorite OreGairu characters? Now you can with these totally adorable OreGairu Nesoberi plushies! Hachiman, Yukino, Yui, and Iroha have all been transformed into adorable stackable Nesoberi plushies, each measuring 30 cm from head to toe and around 16 cm high. The Nesoberi plushies are currently available for pre-order, so make sure to add them to your OreGairu collection today!
My Teen Romantic Comedy SNAFU (OreGairu) Acrylic Stand Keychain Mascots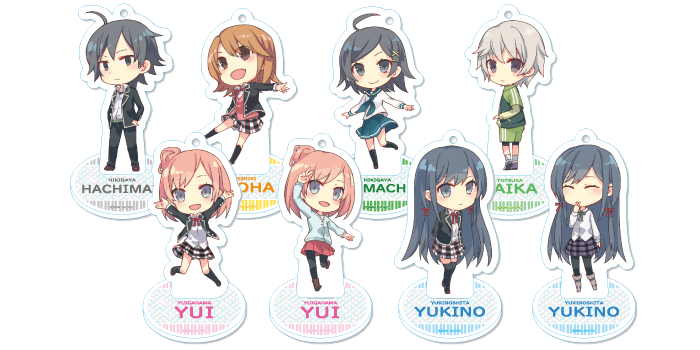 These super-cute acrylic stands feature all your OreGairu best girls (and boy) drawn in an enchanting chibi style. But these aren't your regular acrylic stands – they can also double as keychain mascots by adding a ball chain through the hole at the top of the stand. Whether you choose to display your OreGairu biases on your shelf or take them with you on your adventures, they'd make an excellent addition to any fan's collection!
My Teen Romantic Comedy SNAFU (OreGairu) Figures
Yukino Yukinoshita Kotobukiya 1/8 figure and Yui Yuigahama Kotobukiya 1/8 Figure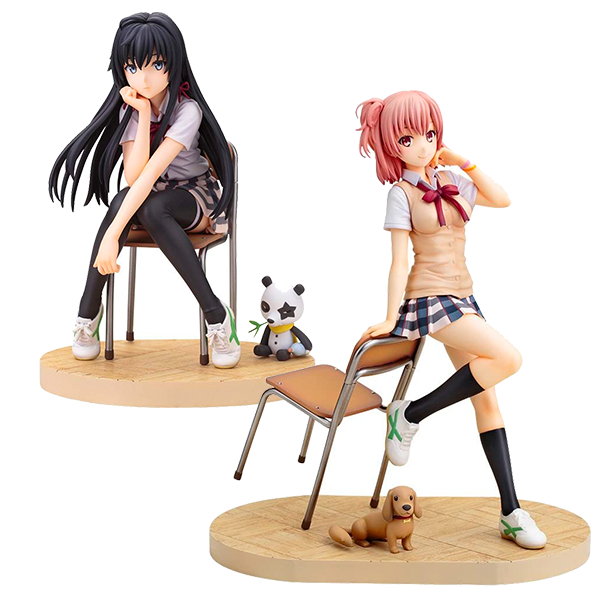 The expert sculptors at Kotobukiya have lovingly recreated Yukino and Yui in a classroom scene with these gorgeous 1/8 scale figures. Both Yukino and Yui's unique personalities shine through in these figures, with Yukino solemnly looking into the distance and Yui giving a playful smile. Kotobukiya are planning to release more figures of OreGairu faves, revealing figure prototypes of Yukino, Yui, and Iroha at the Winter Wonder Festival 2019, with the pre-order period expected to begin later this year.
Yukino Yukinoshita Shiromuku 1/7 Figure and Iroha Isshiki Shiromuku 1/7 Figure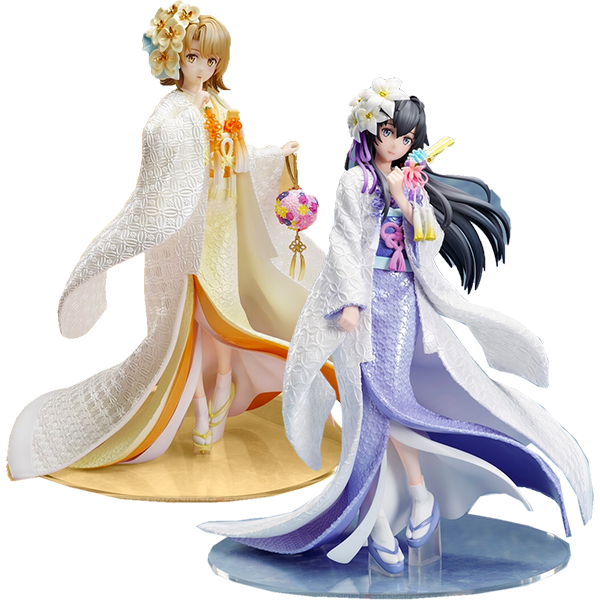 If you've ever dreamed of marrying your OreGairu best girl, look no further, as FuRyu have announced stunning 1/7 scale figures of Yukino and Iroha wearing the Japanese wedding kimono, a Shiromuku. Great care has been taken to faithfully recreate the complex pattern on the Shiromuku coat worn by both of the girls, who both look stunning in traditional dress. Both figures have a very limited release, so if you missed the pre-order period your best bet of scoring one of these beauties is to try your luck on the second-hand market once they come out.
Yukino Yukinoshita: Kimono Ver. Figure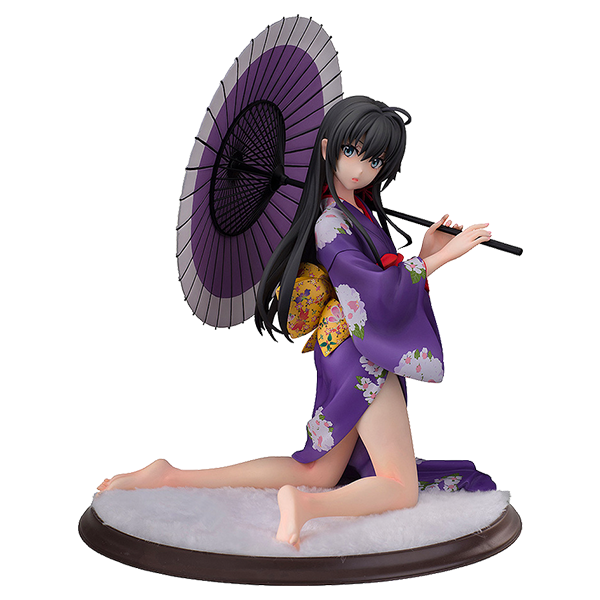 Yukino looks ravishing in this 1/6 scale figure, dressed in a delightful purple kimono complete with matching parasol. With Yukino's piercing blue eyes and graceful demeanor, you'll never tire of admiring this dark-haired beauty once she's added to your collection.
Yui Yuigahama: Bunny Ver.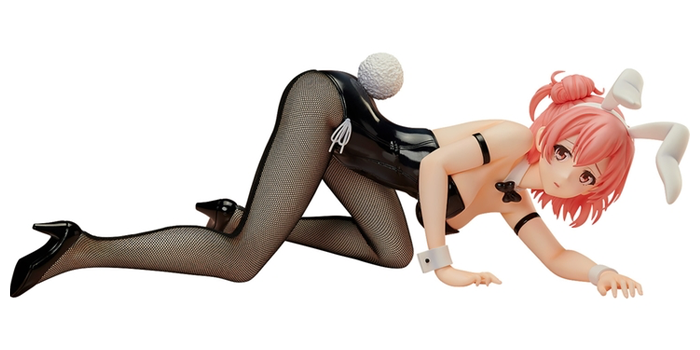 Dressed in a bunny costume, the usually brash Yui gives a coy look in this gorgeous 1/4 scale figure. From the net tights made with real fabric to the glossy black bodysuit, Yui looks every part the alluring bunny girl in this stunning figure.
Buy My Teen Romantic Comedy SNAFU (OreGairu) Merch with FROM JAPAN!
Do you want to get your hands on these awesome OreGairu goodies? Unfortunately, many of the items of this list are only available in Japan. But that doesn't mean your shopping has to be a SNAFU too! By using FROM JAPAN's proxy bidding and shopping service you can get an array of Japan-exclusive items shipped directly to your door. Enjoy your otaku shopping with FROM JAPAN!