Kaiju movies are indisputably one of the biggest phenomenons to come out of Japanese pop culture. 1954's 'Godzilla' is the film that brought the world of giant monsters to an international stage and spawned a successful franchise of films, TV shows, books, and merchandise.
What is S.H. Monster Arts?
While his title as the one true "King of the Monsters" will never change, Godzilla's design has seen some changes with each new movie that comes out. On top of that, these movies have also introduced the world to a roster of other legendary kaijus that are just as fear-inducing as Godzilla is.
S.H. MonsterArts is a Japan-made collection of high-quality figures that depicts many of these Godzilla and kaiju designs. This collection is a favorite amongst true kaiju fans because of its extensive lineup, well-made quality, and fully movable characteristics. They have figures of Godzilla from all of the main movies and even special edition figures you won't find anywhere else.
In this article, we'll talk about our top 6 S.H. MonsterArts figures, why we think they're special, and how you can buy them directly from Japan.
Top 6 Godzilla and Kaiju Figures from S.H. MonsterArts
Godzilla vs. Kong (2021)
To start off the list, we have figures from the most recent addition to the Godzilla franchise: Godzilla vs. Kong (2021). The Godzilla figure was created using references from the movie and was sculpted & colored by one of Japan's most renowned Godzilla sculptors, Yuji Sakai. Godzilla's dorsal fins are colored with metallic paint to give off a glowing appearance.
King Kong, on the other hand, was intricately sculpted by animal sculptor Shinzen Takeuchi to make the giant monster's texture and body parts appear realistic. The figure comes with a detachable axe based on the weapon Kong uses in the movie.
King Ghidorah Special Color ver.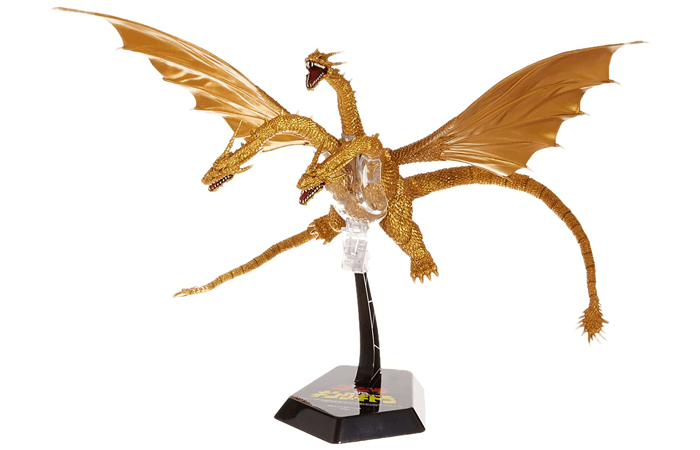 The three-headed flying kaiju King Ghidorah is ready to wreak havoc and look good while doing it too. This Special Color ver. figure is based on how the kaiju appears in the illustrated theatrical release poster for 1991's 'Godzilla vs. King Ghidorah'.
In the poster, King Ghidorah has a lively golden-orange color and this beautiful figure fully captures that. The figure also comes with a stand and additional attachments for customizable poses, but is well-balanced enough to stand on its own.
Mechagodzilla (1974) and MFS-3 Type 3 Kiryu Mechagodzilla (2002)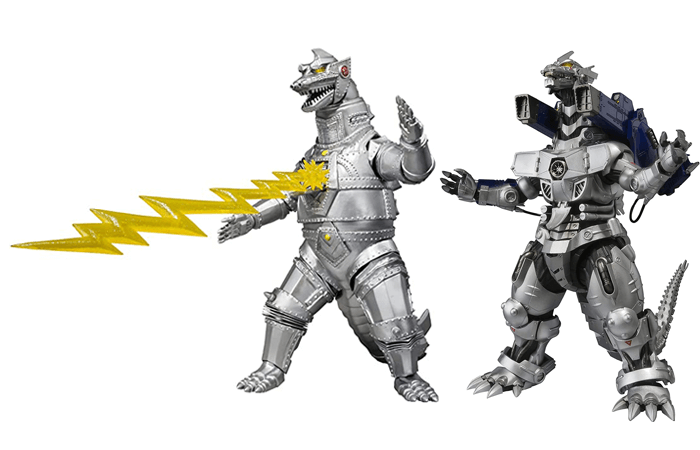 Although these figures come from different movies, they both represent pivotal eras for Godzilla's mechanical counterpart. The Mechagodzilla 1974 figure (left) is based on the kaiju's very first appearance in the franchise. It even includes a detachable part that lets you recreate one of its abilities, the high-powered electromagnetic Cross Attack Beam.
On the right is MFS-3 Type 3 Kiryu Mechagodzilla from 2002's 'Godzilla Against Mechagodzilla'. Also known as Kiryu for short, this version of Mechagodzilla is a redesign for the millenium era. It comes with detachable shoulder missiles and captures all of the intricacies of Mechagodzilla's design from the movie.
Godzilla feat.EVA-01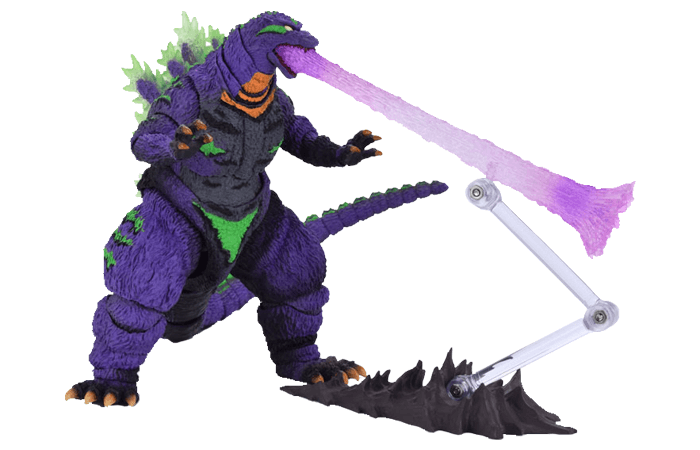 This brightly colored figure was a special collaboration to celebrate the 20th anniversary of the Neon Genesis Evangelion anime. Fans of Evangelion will recognize the iconic color scheme of the Evangelion Unit-01 on Godzilla, including the small pops of bright orange and lime green. They even recolored Godzilla's fearsome atomic breath to beautifully match the overall purple color.
Mothra & Rodan (2019)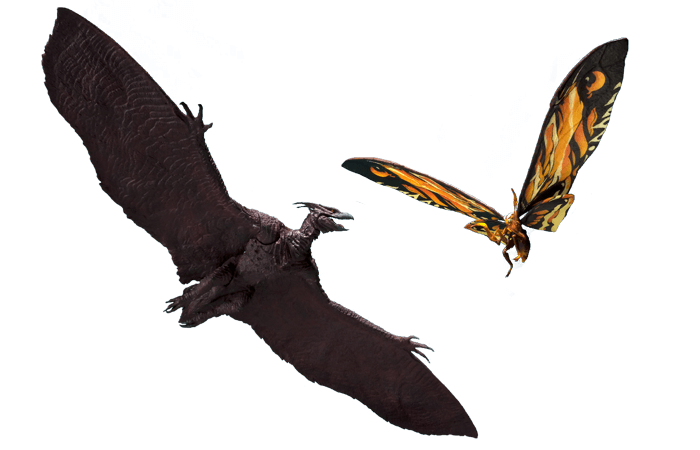 Next up, we have two other powerful flying kaijus. This figure set takes inspiration from the appearances of Mothra and Rodan in the 2019 Hollywood movie, 'Godzilla: King of Monsters.' These figures take into account the finer details in Rodan's skin and vividness in the colors of Mothra's wings from the recent movie. Both of them come with clear plastic stands to make displaying them easier.
Godzilla (1954)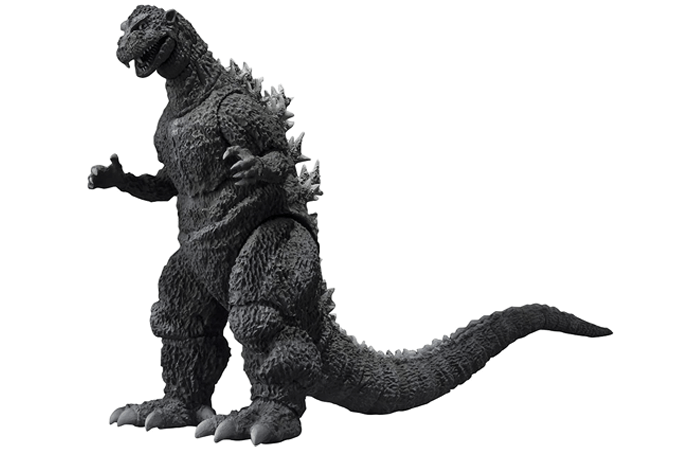 We can't end this list without paying tribute to the OG kaiju that started it all: the very first Godzilla. Although more recent iterations might look bigger and scarier, the original Godzilla design was a testament to the innovation of early filmmakers despite limited technology.
S.H. MonsterArts' Godzilla (1954) figure stays true to how the monster originally appeared in the film. You can see creases in its texture to represent how the very first Godzilla was made from a suit that was worn by actors. You can also see other details which went on to dictate the essentials of future Godzilla designs, like its long tail, sharp claws and spiky dorsal fins.
Buy S.H. MonsterArts Kaiju and Godzilla Figures using FROM JAPAN
Because of the work and detail that goes into the S.H. MonsterArts figures, some of them were only sold for a limited time or were only made available within Japan. But just like Godzilla who doesn't let anything stand in his way, you too shouldn't let that stop you from getting figures you have your eye on.
FROM JAPAN is a proxy company that acts as an intermediary between you and online Japanese retailers, to help you get your hands on exclusive and limited edition figures and other merchandise. You can get started by taking a look at all the other S.H. MonsterArts figures available by searching for them below.