Since the debut of its one-shot pilot chapter in August 1997, Naruto has spanned over seventy volumes and seven hundred chapters as a manga franchise. It's no wonder that, with over 200 million copies sold, Naruto has become the third most popular manga series in the world, just behind the likes of One Piece and Dragon Ball.
The overwhelming success of the Naruto series resulted in an anime adaptation, multiple animated films, and a plethora of merchandise—the most popular of which are the Naruto figurines and action figures.
In commemoration of the series' ending, let's take a look at the best of the franchise's figurine lines, examining some of the most detailed, masterfully crafted, and must-have pieces to add to your Naruto collection.
Megahouse – Naruto G.E.M. Series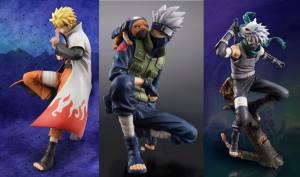 Built at an estimated 1/8 scale, Megahouse's G.E.M. Series line stands alongside Tsume and Gecco in its attention to detail and character accuracy. Proportional sculpts maintain the constructs of the character, realistic textures—from flexible, soft cloth to rough, chiseled tree bark—add a physical believability, and glossy bases emblazoned with each character's name and emblem add structural support while, at the same time, giving each piece a unique collector's flair. Additional heads and removable clothing provide some room for customization, allowing collectors to display these figurines however they like best. The current G.E.M. Series lineup includes Anbu Kakashi, Naruto, and Sasuke, with Itachi, adult Naruto, and Hokage Kakashi scheduled for release in 2015. Check out From Japan's current selection of Naruto G.E.M. Series figures.
Megahouse Naruto – Collective File DX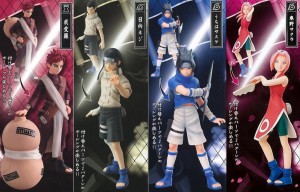 Originally released from 2005-2006, the Naruto Collective File DX series showcases six characters—Naruto, Sasuke, Sakura, Temari, Gaara, and Neji—prior to their three-year aging in Naruto Shippuden. Initially selling for about $30.00 USD on average, these figurines boast attractive sculpts and two or three interchangeable arms and props each, making them a rather wholesome purchase for the price. As the Collective File DX line was an exclusive released over eight years ago, however, the rarity of these figurines has since raised their individual prices, setting them anywhere from $40-$200 USD. From Japan has a number of these Collective File DX for sale.
Gecco Naruto – 1/6 Scale PVC Statues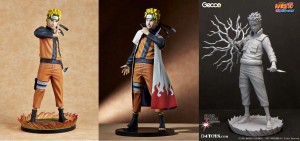 Gecco offers the ultimate in poseable Naruto statues. Larger and more expensive than the Megahouse G.E.M. Series, Gecco figurines contain three interchangeable heads, six arms, and four toes, allowing for a wide-range of customization. A relatively new addition to the Naruto scene, Gecco released its first figure—Naruto Uzumaki—in the fall of 2014, and produced a secondary statue of Naruto in the 4th Hokage's coat as a Comic Con 2014 exclusive. Gecco has since revealed a prototype for a Kakashi Hatake statue, which will be released in the spring of 2015.
Banpresto Naruto- High Spec Coloring Figure + Shinobi Relations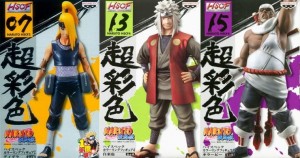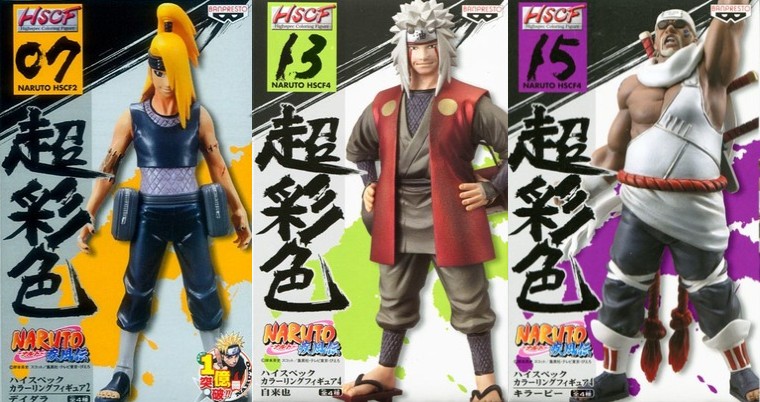 Banpresto has developed two significant lines of Naruto figures—the High Spec Coloring Figures (HSCF) and the Shinobi Relations line.
Banpresto is ideal for collectors with a limited budget who are looking for a figurine or two of their favorite Naruto characters. The High Spec Coloring Figures line currently offers nineteen unique figures (with only a few repeat characters) making it a great line for collectors seeking specific, under-represented characters like Madara, Jiraiya, and Killer Bee. Crafted from inflexible PVC, these figures stand around five inches tall in fixed poses and require some simple assembly (snapping the upper and lower body together at the waist). Most figures in this line range from $20-$50, though some can be as expensive as $120.

The Shinobi Relations line offers a nearly identical variety of characters, only with more detail (and slightly taller, at six inches). Structurally, the Relations line is also crafted from inflexible PVC, but figurines in this line come in one, solid piece and are supported by a thick, triangular stand. Figures are intended to be "paired" with one other specific figure (Naruto with Minato, Sasuke with Itachi, and so on). This line is on-going, with the latest Relations pair being adult Naruto and Hinata, modeled after their appearances in the upcoming Naruto: The Last movie.
PLEX – Ultimate Modeling Collection + Door Painting Collection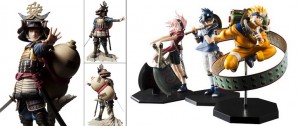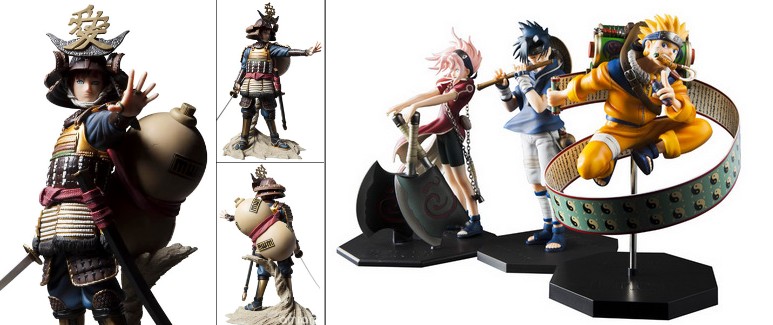 The PLEX Door Painting Collection features three Naruto statues—young Naruto, Sasuke, and Sakura, as they appear in the franchise's beginning. Based on an official artwork by Masashi Kishimoto, this trio of figures is considerably large at a 1/7 scale and are as nostalgic as they detailed. This is a must-buy set, especially for fans of the original manga and Kishimoto's artwork.
Even more detailed is PLEX's single Naruto figure in its Ultimate Modeling Collection line—Kazekage Gaara. Also a 1/7-scale figure standing at twelve inches tall, Gaara, garbed in his Kazekage regalia, is a highly detailed collector's piece that comes with a hefty price tag—over $120.
Tsume – X-tra + High Quality Statues (HQS)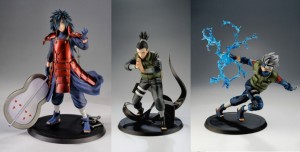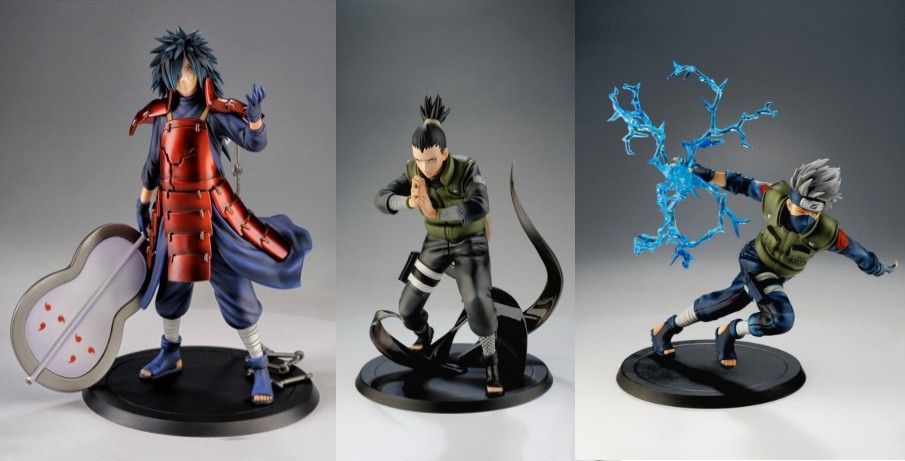 Rivaling the G.E.M. Series line with its character-encapsulating sculpts and fine detail, Tsume features two prominent Naruto lines—the X-tra line, dedicated to 1/10 smaller-scale figures with a premium quality; and the High Quality Statue (HQS) line, 1/8 larger-scale figures crafted from resin or polystone and released in only a limited quantity.
The X-tra series figures include Naruto, Pain, Kakashi, and Sasuke. Fan-favorite characters Shikamaru, Orochimaru, and Madara are scheduled for release within the next year.
HQS statues include Gaara, Sakura, Deidara, and Itachi. Sold in limited, numbered quantities, these statues understandably come with a large price tag of several hundred dollars.
If you love Naruto and love to collect, then these high-quality figurines are the ideal way to enhance your trove of memorabilia. That being said, if character replicas aren't your "ninja way," there's a slew of other Naruto merchandise out there for you to discover—keychains, weapons, clothing, umbrellas, and more HERE.