We've searched the "tall grass" for the most popular Pokemon gashapon and created this list of collectibles worthy of adding to your Pokedex of playthings. Select your starter and pin on your Gym Badge, because these wild gashapon have appeared—and you'll want to "catch 'em all!"
Pokemon Gashapon Figures
1/40 Scale Real Pokemon Figures XY

For Pokemasters with a penchant for scaled-down sculptures or the XY generation, Takara Tomy's Real Pokemon Figures (currently in its fourth series) are the perfect way to upgrade your collection. Each colorful Pokemon is proportionally sized at 1/40 scale according to its official Pokedex height entry, from tiny Froakie to the legendary Xerneas. Complementing the impressive details of these figures, Pokeball bases allow you to attractively display the Pokemon teams, rivalries, and evolutionary spectrums of your choice.
Pokemon Get Collections Candy Figures

Cleverly hidden within one of five different Pokeball-shaped capsules, Pokemon Get Collections Candy Figures feature over 110 miniature mystery monsters to catch for your collection, including fan-favorites from Pokemon the Movie XY&Z. The line recently celebrated its 5th anniversary as a Takara Tomy gashapon exclusive, and with a flavored hard candy packaged alongside each Pokemon, you can "power up" your day with a sweet treat while you decide how to display your cute critters.
Pokemon Center Gashapon Ditto Transforms! Figures

Sold exclusively at Pokemon Centers in Japan for a brief time, these limited-edition Ditto Transforms! Figures are a rare prize worthy of your Pokedollars. Featuring the adorable antics of the doppelgänger Ditto, each capsule includes a little likeness of the expressive purple amoeba and his copycat Pokemon counterpart.
Pokemon Teacup Time Mascots

Bandai's Pokemon Teacup Time Mascots blend Japan's culturally steeped appreciation for tea with a single-serving size of precious Pokemon. Whether you prefer chamomile with a splash of Charmander or Eevee Earl Grey, you're sure to savor all the tasteful details of the "porcelain" Pokeball cups and their removable mascots.
Pokemon Ghost Collection

Is Gengar or Litwick your spectral sidekick of choice? With Takara Tomy's creepy-cute Pokemon Ghost Collection, palm-size poltergeists from Pokemon XY&Z are just a gashapon away. With only five ghouls to grab, this line is ideal for completionist collectors of any experience level.
Pokemon Movie 20th Anniversary Pikachu Collection

In the world of Pokemon, Ash's hat has become nearly as iconic as Pikachu himself; and like the little electric mascot, it's also seen plenty of evolutions over the past 20 years. The Pokemon Movie 20th Anniversary Pikachu Collection merges these significant symbols into seven wonderful wind-up toys. Choose the most nostalgia-inducing ball cap and then crank up Pikachu's cute paws to watch him waddle away to his next adventure in Kanto. Also, be sure to check out our list of other popular Pokemon 20th anniversary collectibles here!
Pokemon Key Chains
Pokemon Rubber Mascot Key Chains

A Pokemon trainer is always prepared with a trusty Pokemon at his or her side—and thanks to the
Pokemon Rubber Mascot Key Chain gashapon series by Bandai, your faithful fantasy monsters can hitch a ride on your key ring, phone, or bag, no matter where life (or your Pokemon Go) takes you. The black rubber background makes the line art of each character stand out for an attractive, bold look. Series 5 releases September 2017 and features fan-favorites like Pichu, Togepi, and Umbreon.
Pokemon Sun & Moon Tsumande Tsunagete Mascot Key Chains

How might your favorite Pokemon react if you scooped them up by the scruff or tail: Startled? Excited to explore? Playing off the Japanese words "tsumande" (pinch) and "tsunagete" (connect), Bandai's Pokemon Sun & Moon Mascot Key Chains are the perfect example of how one simple idea can have as many possibilities as there are Pokemon. Use the additional metal eyelet screwed into each character to click your collection together and form a chain of kawaii creatures that's sure to catch the attention of classmates, coworkers, and—most importantly—other Pokemasters.
Other Fun Pokemon Gashapon
Pokemon Gashapon Slot Machines

Pokemon's recurring "gambling" gimmicks have long been the target of censoring, so much so that Game Corners have either been removed or significantly altered in the most recently released Pokemon titles—and this only makes the Pokemon Gashapon Slot Machines line all the more appealing to collectors. More than being a timestamp in Pokemon's somewhat controversial history, these miniature slot machines are fully functional, rewarding lucky players with a gold-colored coin should they get all their Pokemon in a row.
Mini Mini Pokemon Gashapon Machine
Takara Tomy orders Gashapon Machine to use "Minimize"—it's super effective!
…At least that's how you might imagine these 1/12-scale Mini Mini Pokemon Gashapon Machines were created. Packed with all the pieces and stickers you need to construct a lifelike vending machine, a turn of the knob results in a tiny capsule rolling forth into your awaiting fingertips. Pop them open to see which Pokemon is your prize!
Pokemon BIG Monster Ball

Ever wonder how giant Pokemon like Wailord fit into those palm-size Pokeballs? Perhaps they'd have a bit more wiggle room in Bandai's BIG Monster Ball—the supersized blow-up ball that doubles as a boxing toy. Just loop the ring around your finger and bop away for hours of satisfying play. But don't limit the fun to just its intended use—these inflatable gashapon also make ideal party favors, decorations, and poolside playthings.
Pokemon Mini Figure Clips

Pokemon Mini Figure Clips feature 11 dozing and doting designs cleverly crafted for realistic depth—giving the adorable Pokemon the appearance of hanging over the edge of whatever they're attached to. Perfect for stationery, décor, or holding homework together, these clips will have you declaring "I choose you!" with every use.
Pokemon Kanto Gym Badges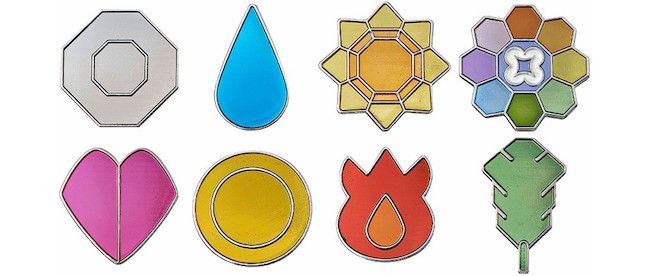 Prove you're worthy to enter the Pokemon League with these nostalgic Kanto Gym Badges, crafted from metal for an authentic and accurate finish. Whether you prefer to proudly pin them to your shirt or collect them in a stylish badge case, you're sure to convince challengers that you're training to "be the very best, like no one ever was."
Where to Buy Pokemon Gashapon
You don't have to "travel across the land, searching far and wide" for authentic Pokemon products. With FROM JAPAN, you can get these Pokemon gashapon and more delivered right to your door—no Pokeballs required!