The history of Sailor Moon — the world's best loved magical girl!
Since it first debuted as a manga in 1991, the iconic Sailor Moon series has been influencing generations of fans for 30 years. When Sailor Moon creator Naoko Takeuchi first came up with the concept of what would later become a hit series, she was inspired by her love for the Super Sentai series and astronomy. Once she proposed the idea to her editor, the theme of the girls wearing sailor uniforms was added, and together with her other influences, Takeuchi brought forth a series full of joy and beauty.
One year after the manga was first published, the very first Sailor Moon anime adaptation was broadcast in 1992. The anime is credited with the worldwide spread of the popularity of Sailor Moon, and many fans saw the themes featured in the show — girl power, beauty, friendship, and magic — as highly inspirational. With the variety of personalities exhibited by the Sailor Guardians themselves, it became easy for fans to relate to their favorite Guardian, leading to a unique connection between the fans and the series that you won't find anywhere else.
The Sailor Moon 30th Anniversary Project
Loyal fans are in for a treat with the Sailor Moon 30th Anniversary Project! In addition to the debut of a new logo specifically made for this commemoration, the Sailor Moon series is teaming up with several brands in Japan to release the widest range of Sailor Moon merchandise that we've ever seen!
You can see a few examples of some of our favorite new merchandise to come out of from this below:
Sailor Moon 30th Anniversary x Universal Studios Japan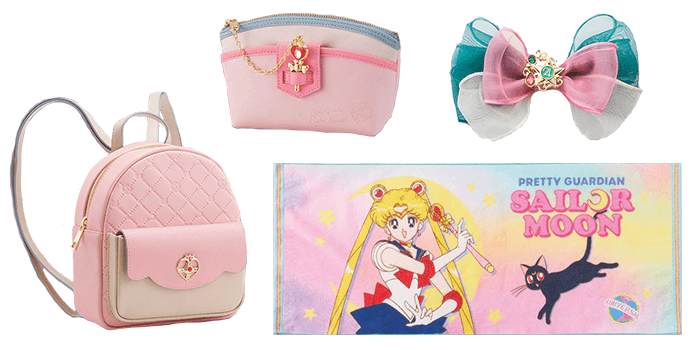 Universal Studios Japan is celebrating the anniversary of Sailor Moon in more ways than one! For six months from March 4 to August 28, 2022, they're having a 4D Sailor Moon movie event where fans can enjoy Sailor Moon like they've never seen before.
During this time, they're also selling exclusive Sailor Moon items for the fan that likes to express their love for the franchise in practical but cute ways. Some of the items you'll find include smartphone pouches, decorative spray bottles, and hair clip sets featuring the colors of the Sailor Guardians! All of them look extremely elegant, so make sure you don't miss out on them!
Sailor Moon 30th Anniversary Multi Carry Fragrance All-purpose Balm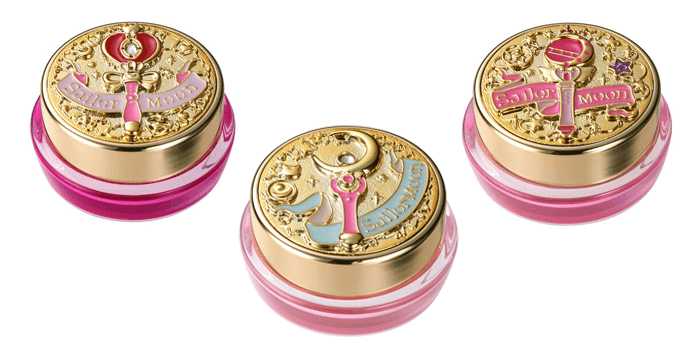 With three beautifully engraved designs to choose from, the Sailor Moon Multi Carry Fragrance solid perfume will have you smelling lovely and feel like a Sailor Guardian too. You can use this solid perfume to dab directly on to your skin, and because of its' composition, the scent often lasts longer than typical spray perfumes would. You can choose between refreshing soap, clean citrus, and sweet floral scents.
Sailor Moon 30th Anniversary – Sailor Moon Eternal Q Posket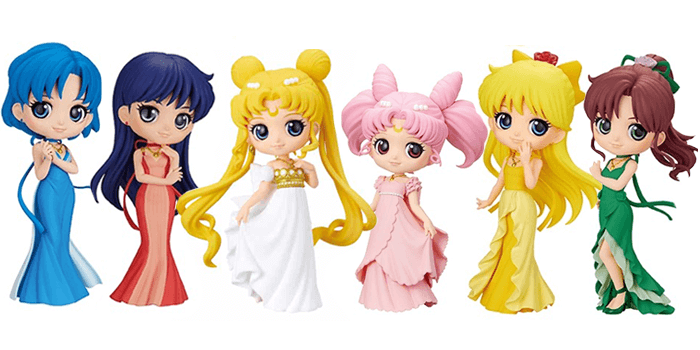 If it's your first time encountering them, the Q Posket series of figures are fun-sized figures that stand at about 5-6 inches tall. This series has featured many pop culture icons, and this time around, the Q Posket figures for the Sailor Moon anniversary has all the Sailor Guardians all made up in stunning gowns. Fans will be glad to see each of the guardian's signature hairstyles and colors still fabulously represented in these figures.
Sailor Moon 30th Anniversary – YumeChikku Luna Mega XL Plushy
Last but not the least, we have the super cute Luna in mega XL plushy form! This plushy stands at an impressive 31cm (12 inches), and here, Luna also comes with a yellow, pink, and blue-colored cape. If you've always wanted your own companion like how Luna was in the series, this adorable plushy is the next best thing!
How can I get the Sailor Moon 30th Anniversary merch if I don't live in Japan?
The Sailor Moon 30th Anniversary goodies can be hard to get if you aren't in Japan, especially since many of them are being released through physical stores in the country. But there's no reason for you to miss out on these limited-edition Sailor Moon merch! They're currently available through FROM JAPAN!
FROM JAPAN is a proxy shopping service that gets Japan-exclusive items for you and ships them out to dozens of countries around the world. Members of FROM JAPAN get exciting perks such as regular sales and campaigns, free storage of up to 45 days, and a responsive Customer Service team. We're trusted by thousands of customers worldwide — lots of whom have been using our services for many years.
If you're new to our site, we're explaining how you can get the Sailor Moon Anniversary merch you have your eye on in just a few clicks through our quick guide below.
Step 1: Find items from the Sailor Moon 30th Anniversary Collection through FROM JAPAN's powerful search engine.


Our search engine combines results from a variety of online stores in Japan, so there's no need for you to go through them one-by-one. If you know what you're looking for, simply type in the item's name or brand in Japanese and you'll get dozens if not thousands of item listings pop up.

If you want to see other Sailor Moon Anniversary merch that we haven't include above, you can click on the button below to take you to the search results specifically for items included in that collection.
Step 2: Check the Details of Your Item.

Once you find the items you want, look through the details shown on the product page including the photos, the product price, and on the bottom half of the page, you will see a text box for the Description. Clicking on 英語 for English will give you an automated translation.

Step 3: Add the Items to Your Cart and Pay for Charge 1.
Step 4: Items Arrive at Our Distribution Center for Shipment Instructions
Step 5: Pay for Charge 2.
Step 6: Shipping.

After the Charge 2 payment, your items are prepared for dispatch. We dispatch all items within two working days to ensure that you receive your items speedily.

Step 7: Arrival of your Sailor Moon items!
---
And that's it! You're ready to get your hands on some really lovely Sailor Moon merch. To learn more about FROM JAPAN, visit our Usage Guide for more information on our services. Happy shopping!