Whether Hayao Miyazaki's masterpieces have provided you with magical childhood memories or instilled a lifelong passion for Japanese anime culture, the genius and studio who brought us Totoro, Kiki, and Ponyo have set a very high bar for what Japanese animation can achieve both in storytelling and artwork. Keeping playful pace with this catalog of acclaimed films, Studio Ghibli figurines condense award-winning artistry into an appealing array of high-end collectibles designed for fans of all ages. And while we can only skim the surface of merchandise available in Japan, we've put together a list of fan-favorite Studio Ghibli figurine collections based on Miyazaki's most popular films.
Studio Ghibli Figurines
Nausicaä of the Valley of the Wind Figurines
Though not an official entry in the Studio Ghibli theatric canon, Nausicaä of the Valley of the Wind deservedly earns a place on this list as the catalyst for the studio's founding. Nausicaä figurines pay homage to the full spectrum of the series, including many creatures exclusive to the original manga penned by Hayao Miyazaki. From the multi-eyed Ohmu to tiny Teto the fox-squirrel, you can recreate the diverse ecology of this post-apocalyptic world in your collection. And don't forget a replica of the high-flying heroine herself—whether soaring through the clouds on her glider or tromping into the toxic jungles on her trusty mount, Horseclaw.
Castle in the Sky Figurines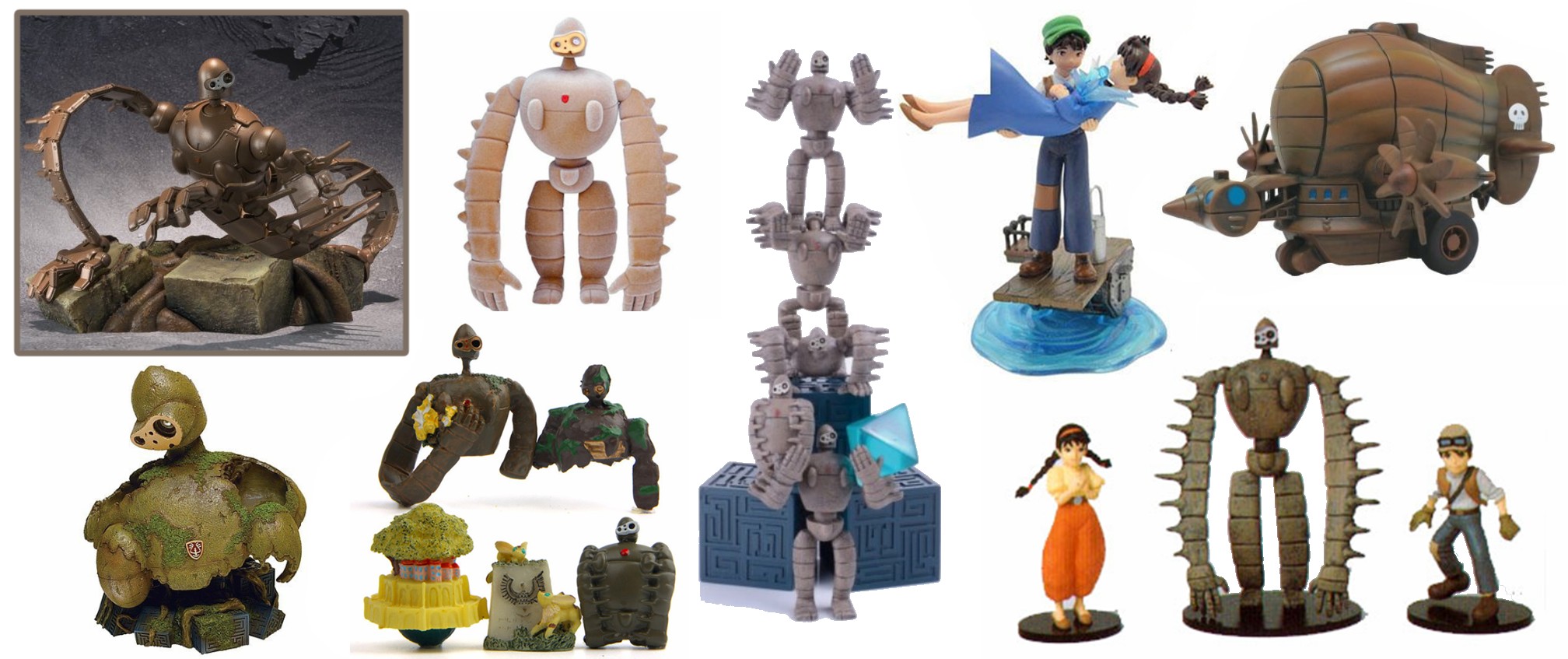 The ancient automaton robots of Laputa won audiences' hearts with their lopsided goggles, lanky appendages, and sympathetic demeanor. The Castle in the Sky collection assembles these gentle giants into a range of figurines as long as their arm span—from limited edition sculptures with light-up effects, to pocket-sized trading figurines. Miniatures of the lead characters Pazu and Sheeta, along with replicas of iconic aircraft, provide everything you need to begin your nostalgic return trip to the remnants of the legendary floating castle in the sky.
My Neighbor Totoro Figurines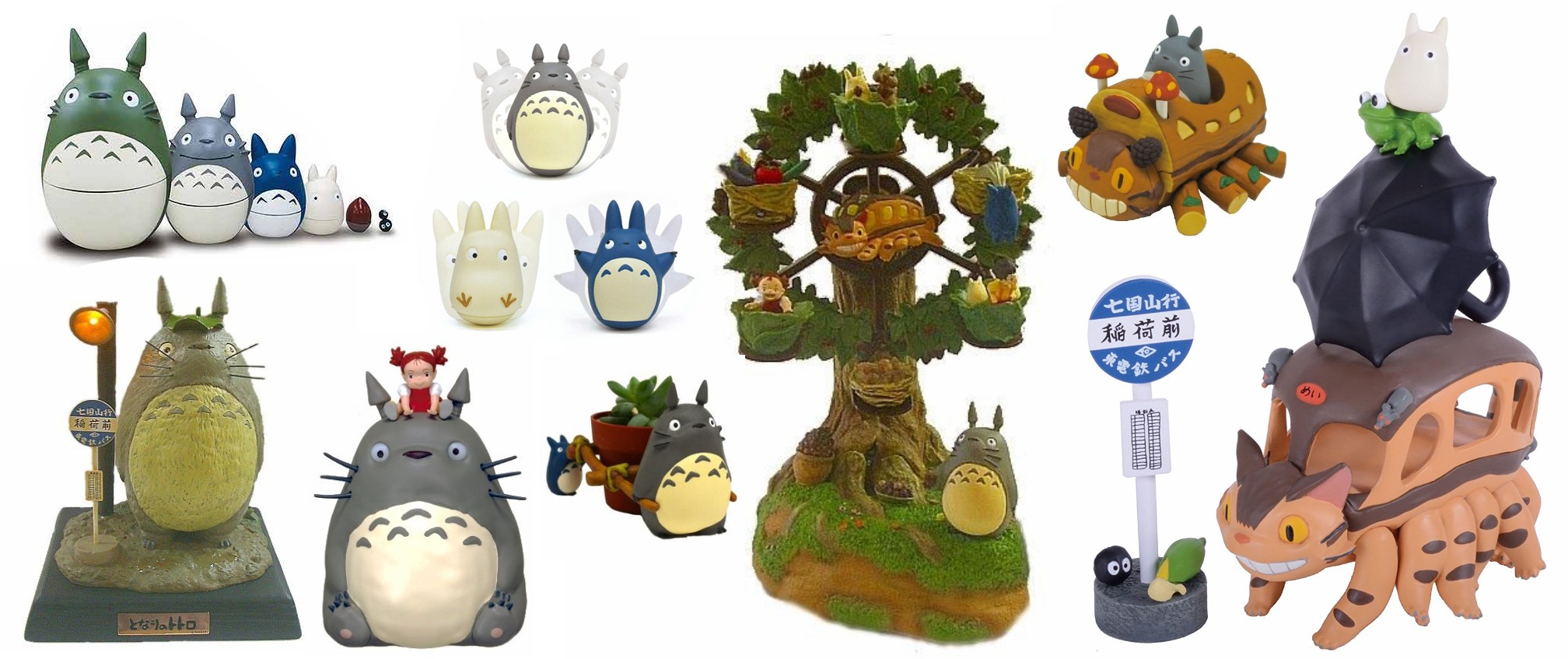 Capture the childlike world of wonder from Miyazaki's most timeless film with a collection of My Neighbor Totoro figurines. These captivating collectibles bundle in enough cuddly variety to rival young Mei's imagination, featuring everything from nesting dolls to music box Ferris wheels. Many of these peaceful forest guardians are available in durable PVC, making them perfect for playtime, while others are crafted from delicate polystone, bringing nostalgic scenes like the iconic Totoro bus stop to life for adult collectors.
Kiki's Delivery Service Figurines
Kiki's Delivery Service figurines will deliver the film's childish innocence, charm, and magic to any witch-in-training's (or collector's) menagerie of merch. While the namesake heroine has her fair share of articulated dolls, statues, and mini figurines, her cat companion Jiji also gets first-class collectible treatment, with a plethora of kawaii timepieces, finger puppets, planters, cup-clingers, and other feline fineries.
Porco Rosso Figurines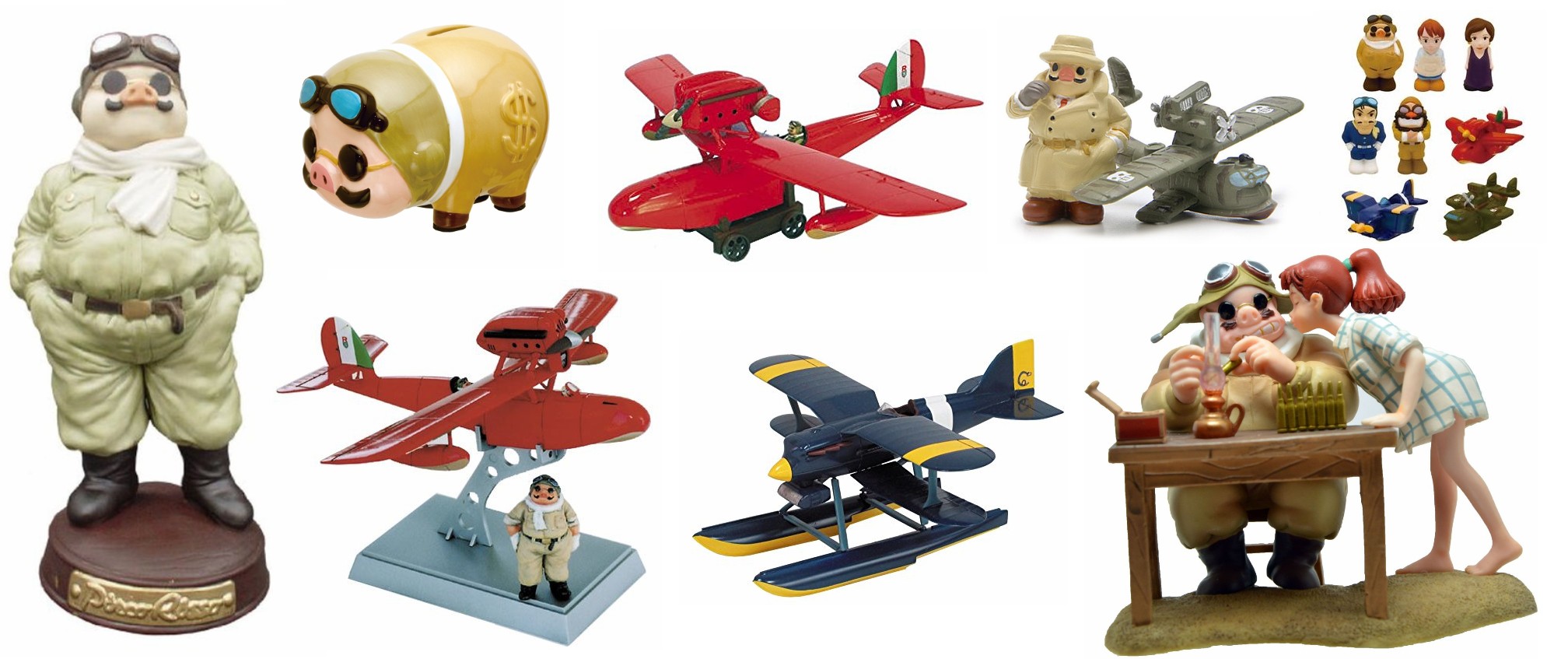 It's no surprise that Studio Ghibli's film about an ex-fighter ace and his spunky mechanic has a line of model kits to its name, allowing fans to build their own miniature Savoia S.21 or Curtiss R3C-0. In addition to do-it-yourself kits, Porco Rosso figurines take inspiration from the film's comedic overtones to create sight-gag merchandise (like a piggy bank of its portly pilot) and distill humorous scenes from the film into collectible form.
Princess Mononoke Figurines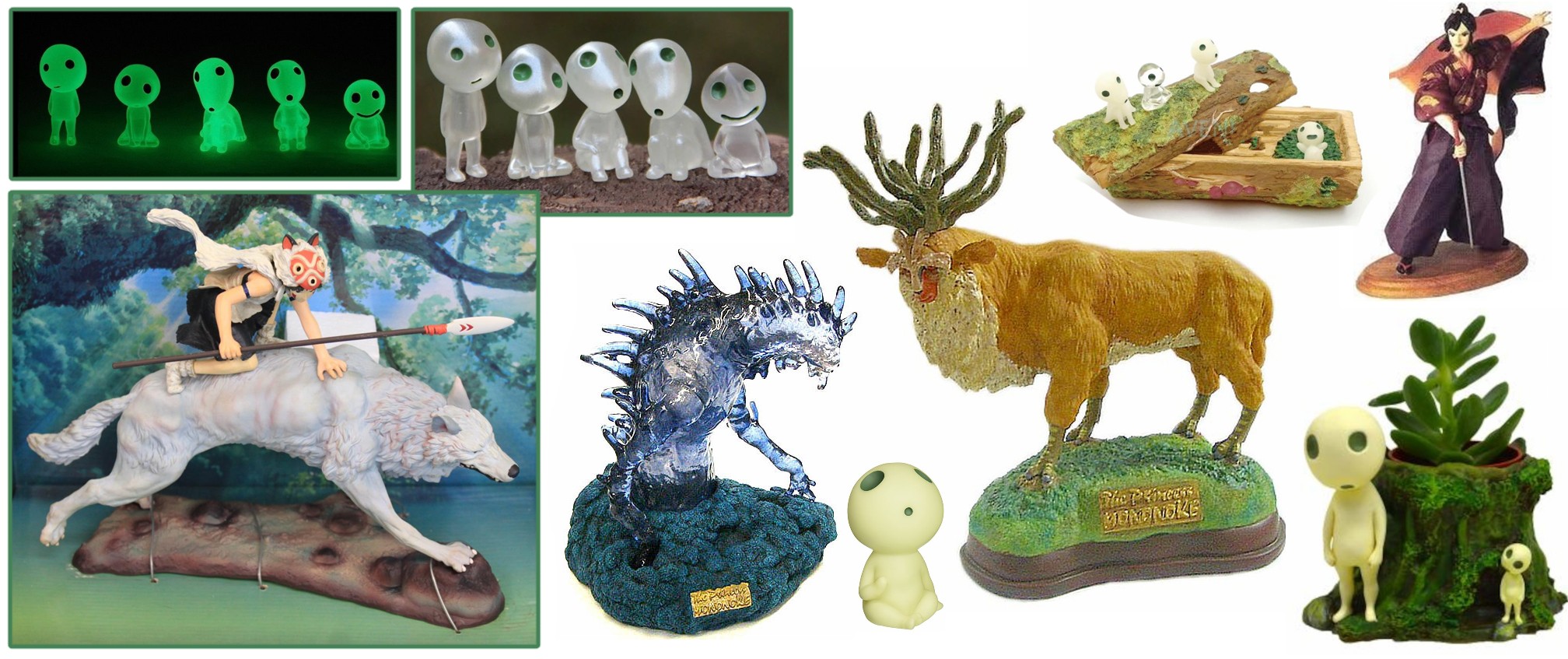 Paying homage to the mystical nature of Hayao Miyazaki's darkest film, Princess Mononoke figurines are primarily comprised of highly detailed, large-scale sculptures crafted with the adult collector in mind. The eerie yet adorable kodama spirits are particularly popular, with woodland dioramas and individual glow-in-the-dark figurines available, but most of the dramatis personae are paid tribute with a detailed replica of their own. Masterful designs, numbered plaques, limited edition runs, and even special LED effects make Princess Mononoke among the most coveted Studio Ghibli figurines to collect.
Spirited Away Figurines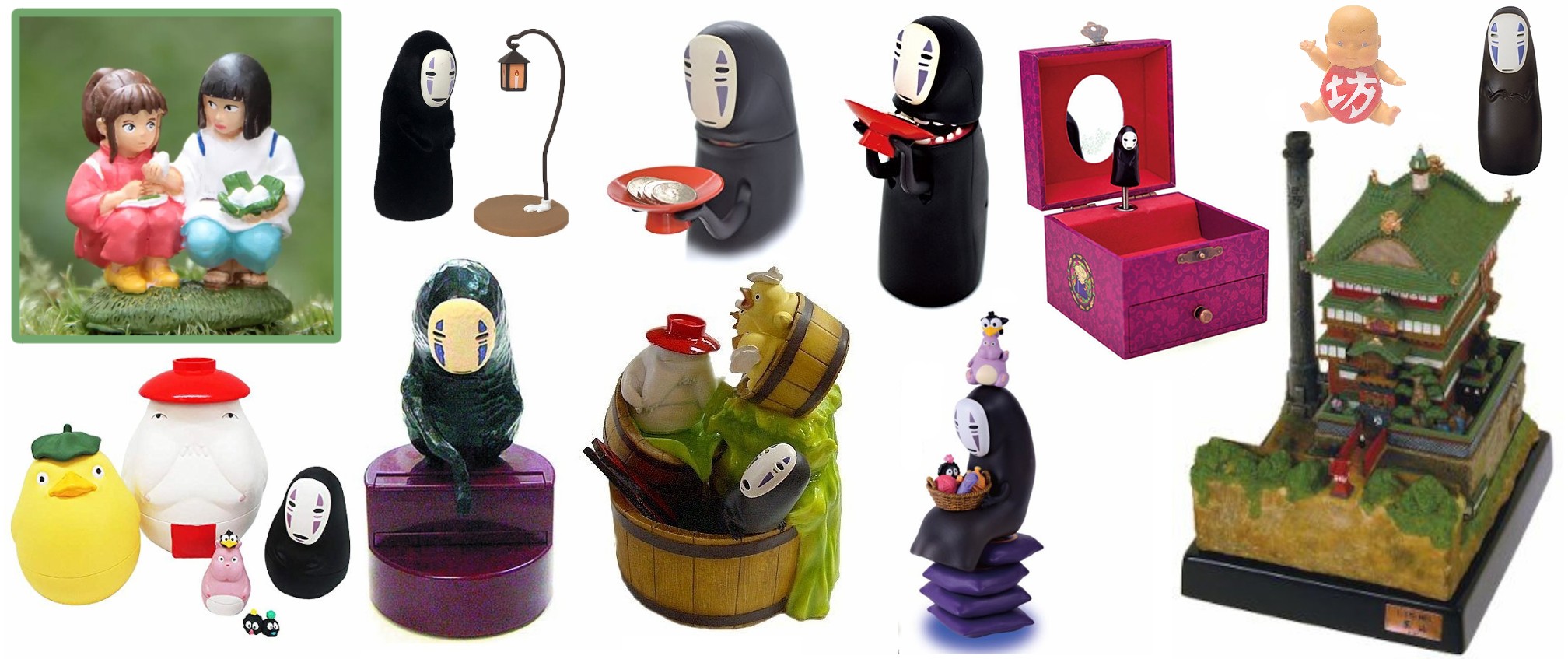 The hungry No Face steals the spotlight in Japan's array of Spirited Away figurines. In addition to the standard collectibles available across Studio Ghibli's classic masterpieces, Spirited Away also includes some innovative figurines, like a coin-devouring No Face bank and (because he's a deceptively generous spirit) a toothpick-handing dispenser. Whether you have a penchant for iconic scenes, scaled-down architecture, or character miniatures, you're sure to inspirit your collection with memorabilia as magical as its film counterpart.
Howl's Moving Castle Figurines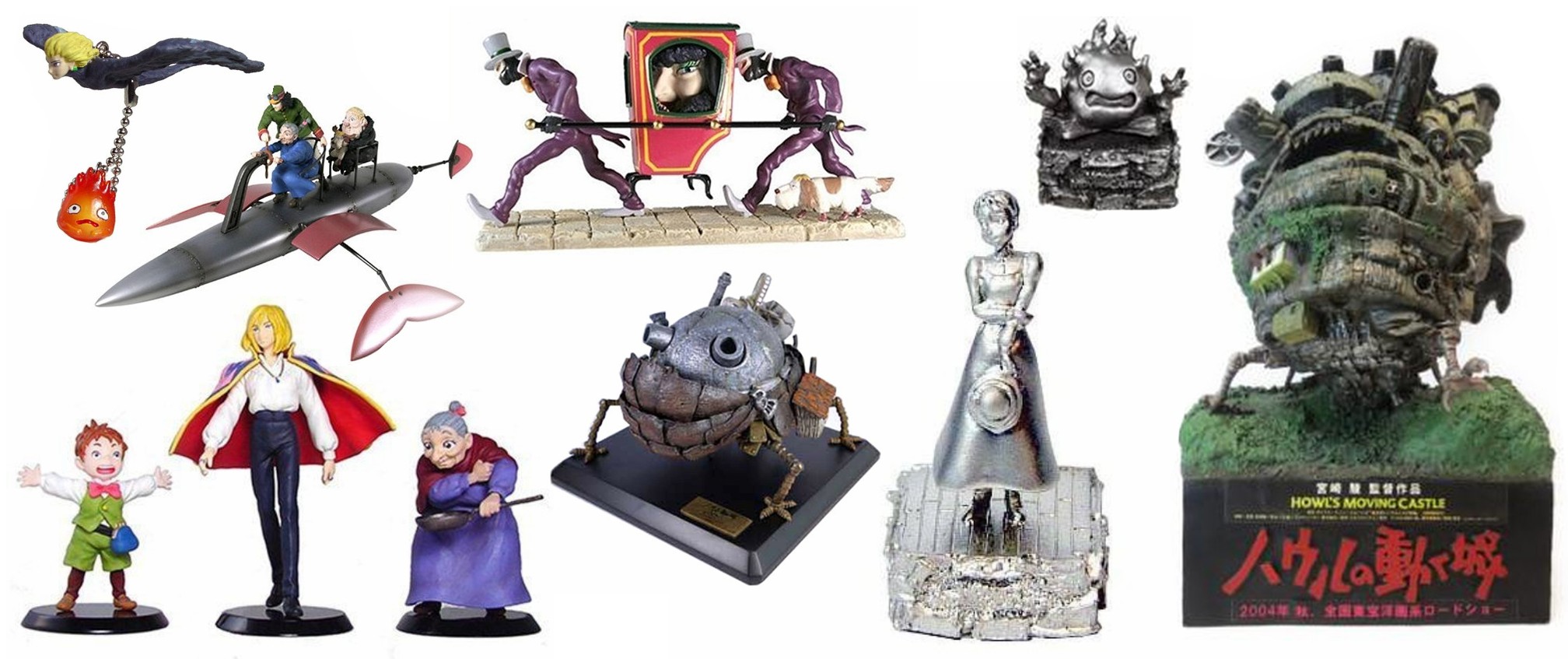 Japan's collection of Howl's Moving Castle figurines perfectly replicates the film's fusion of rugged steampunk and idyllic fairy-tale genres. The titular castle is by far the most popular figurine, available in numerous incarnations, including limited edition die-cast replicas, resin relief sculptures, and even miniatures with LED furnace effects. Of course, no ramshackle castle can be complete without a colorful cast of characters to call it home, so be sure to consider the sweeping range of dioramas, scene recreations, and figurine key chains also available. A collection's a heavy burden, after all.
Ponyo Figurines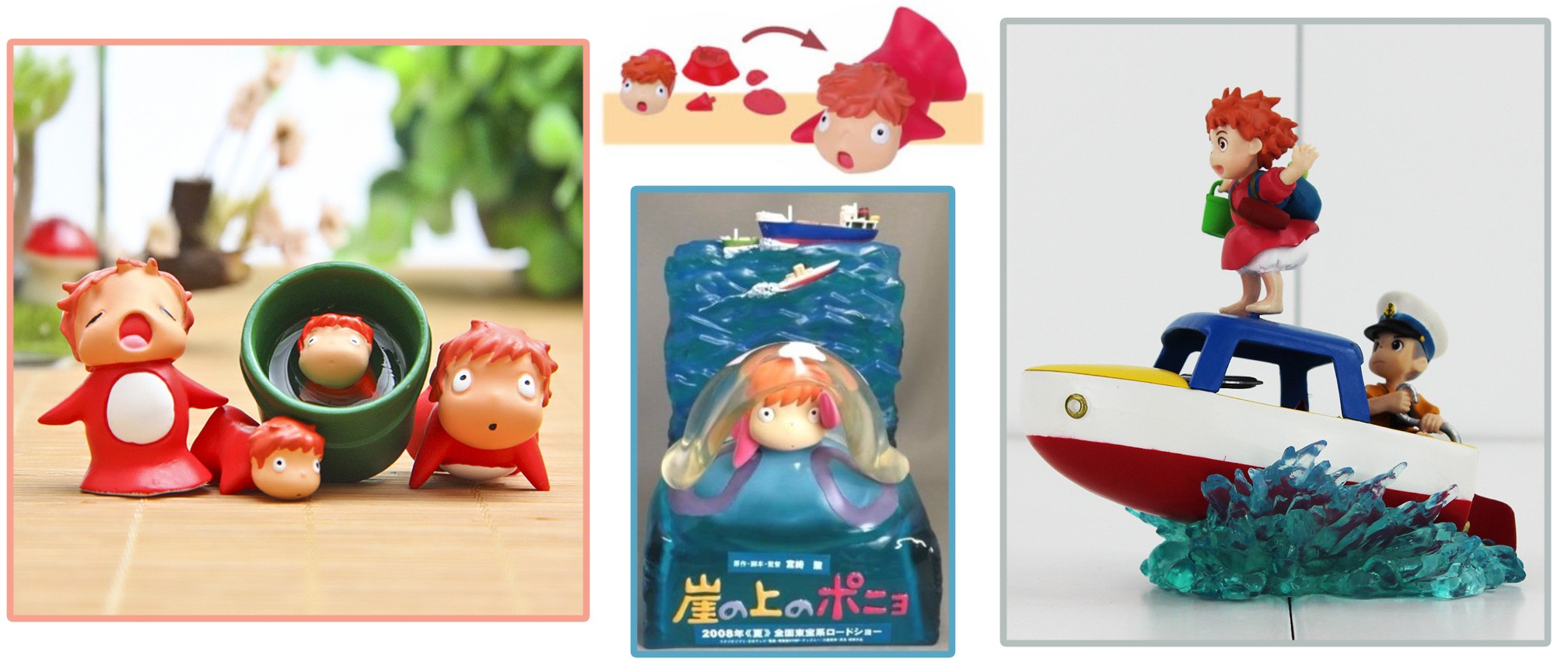 As one of Studio Ghibli's most endearing films, Ponyo splits its figurine merchandise between fix-posed, adult-oriented sculptures best suited for your display case, and trading-sized playthings perfect for splashing around in the tub. The magical fish girl has a figurine for every stage of her evolution—from spawn to human—and each tadpole-sized toy puts her adorable sighs and bright eyes of wonder on full display. A shoal of individual character miniatures exist, making Ponyo figurines perfect for collections of any size (so long as you're careful to keep your ham sandwiches out of reach).
Where to Buy Studio Ghibli Figurines
You don't have to work in a bathhouse, break a curse, or save a species of colossal invertebrates from extinction in order to bring home the cinematic beauty of Hayao Miyazaki! Expand your Studio Ghibli figurine collection with FROM JAPAN and have these nostalgic Japanese collectibles delivered to your door with the efficiency of a Calcifer-powered castle.