Since the launch of the Pokemon anime series in 1997, Japan's shelves have been rife with cute merchandise. Toys, stationary, clothing—you name it, it's been done. You can take Pokemon home with you, and you can even choose to eat him! Pokemon products still big business to this day in Japan, especially when it comes to Japanese candy and snacks that you just can't get in any other country.
The Pokemon Easter Egg: Unlocking a Japanese Chocolate Mystery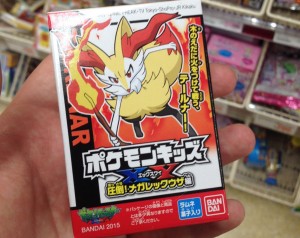 Our snack journey begins with tiny, mysterious boxes, available in most Japanese supermarkets. The concept is based on a popular European snack called Kinder Surprise, but with a Poke-tastic twist! Each box is embossed with the name Pokemon character X and Y and is adorned with a picture of Pokemon from the latest anime series. Inside the box is a chocolate oval, a sort of pokemon easter egg, tasty, sweet and perfectly sized. Of course a pokemon chocolate egg is a delicious idea in itself, but the real magic comes from within: There is a capsule with a surprise inside! The surprise is different depending on which size of egg you buy. In the smaller and cheaper egg you get a phone strap with a small Pokemon model attached. In the larger and more expensive egg you can expect to receive a larger Pokemon toy model, ready to display on your shelf or just to play with! With so many different Pokemon to collect, this is one snack that you'll want to keep coming back to.
Pokemon Cookies & Candies: Showing you the Wafer
If you want even more chocolate but are more into cookies and biscuits, then you might give Choco Wafers a try. Each handy pack has 5 wafers filled to bursting with delectable milk chocolate, perfect for grazing on the go!


If you've still got a sweet tooth but chocolate isn't your thing, fear not: Gummy sweets with Pikachu's face line the shelves, just waiting to be Pika-chewed! These Pokemon Gumi come with grape, peach and pineapple flavours. However, the fun comes from mixing! If you mix pineapple with grape, then you end up with a pear flavour. Peach and Pineapple gives you Mango, and Grape and Peach will give you a strawberry taste sensation! It sounds odd but give it a try and you'll surely be impressed! If you just want to collect the prize inside, you can find them here.
Pokemon Ramen Noodles: A slurping good time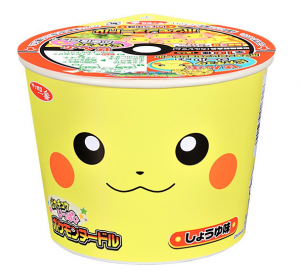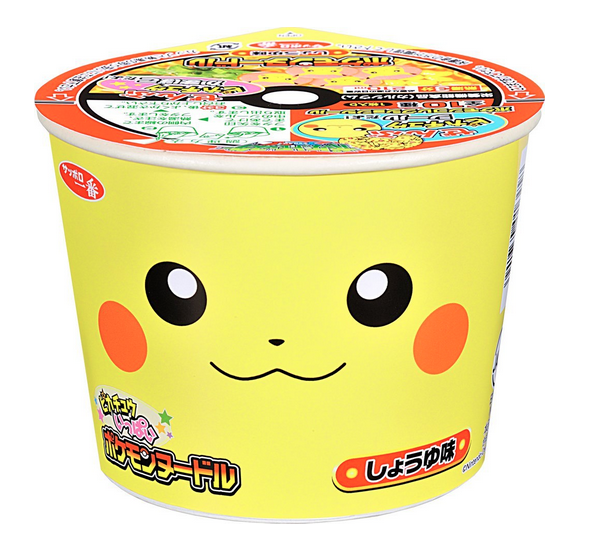 If you're looking for something more savory than sweet, the new Pokemon ramen noodles (instant ramen cup, available since April) come highly recommended. Available in both seafood and soy flavours, these special cups are Pikachu-styled in every aspect. Both cups feature him not only in their design, but also within the broth itself. Floating around next to the noodles are slices of kamaboko – fish sausage – styled into Pikachu's face! If you've ever wanted to turn cannibal in a Pokemon game, then this is the closest you'll ever get! In addition there are also other pokemon designs as well.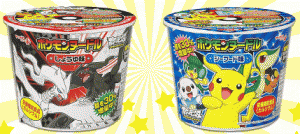 Also included is a bonus packet of stickers, so you can keep the Pikachu theme going in your room without having to keep dirty ramen cups on your shelf. Compulsive collectors beware: There are ten different stickers in all, so keep slurping!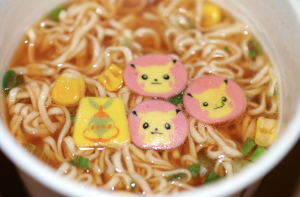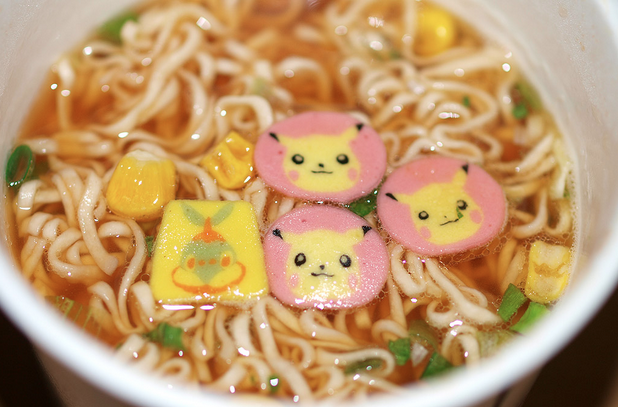 Pokemon Curry & Rice Topping (ochazuke): Ready in a Hot Minute
Japan also loves curry, so it's natural that Pokemon would want to join in too. Filled with pork, potato, carrots, corn and onions, Pokemon curry isn't the hottest curry you'll ever taste, but it's extremely creamy and delicious! Simple to make, it just needs a minute in the microwave or 5 minutes in boiling water to be ready. Serve it with rice fresh from your rice cooker and you've got a Poke-tastic meal!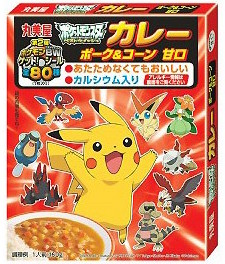 For a more traditional snack, try sprinkling on the fun with different flavors of Pokemon rice topping, fifteen packs per box. With tastes like vegetable and chicken, you can transform your bento lunch from plain rice into a Pokemon taste sensation. Just grab a Pokemon-styled sachet and shake it on top of your plain rice. It's not the sweetest snack in the world, but if you're a Pokefans looking for a subtle and cool way to mix lunch and your favorite monster, then you absolutely can't go wrong here.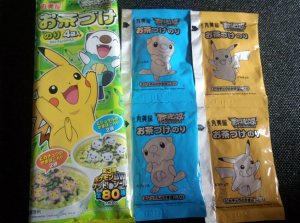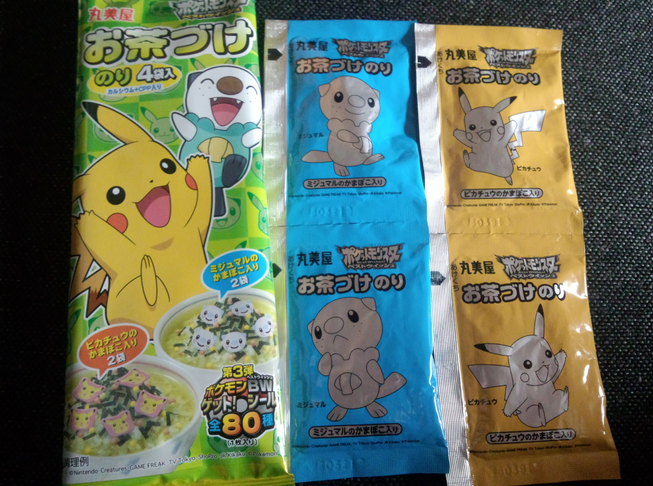 Pokemon Pork Sausages: Best Snack Wiener or Loser?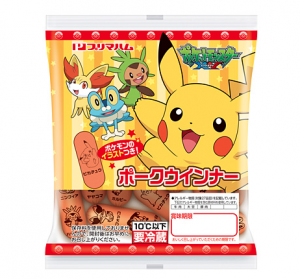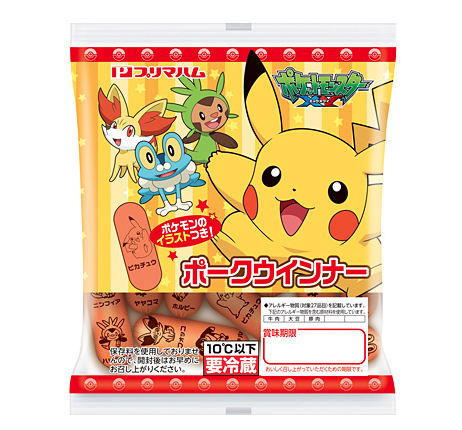 Although you will not be able to order these from overseas, some groceries in Japan have been selling Pokemon XY pork wiener sausages. These cute mini wieners have pokemon printed on the outside. Of course, the ink used is edible and food safe! These might just be a little too cute to eat…
Pokemon Drink: A Fizzy Fan Favorite
What better way to wash down all these cute confections than with a Pokemon drink? Ramune is a fizzy drink in Japan, extremely popular in part due to its unique design. The glass bottle has a slim neck and a glass marble in the top. To drink one, you must push the marble into the glass, which begins the carbonation process. As soon as the marble is dunked, the liquid fizzes up and is ready to drink! Whilst there are many flavors available in some shops, the main flavor you'll find is lemonade. This is a nice taste already but, in the summer months when Japan is scathingly hot, it's not only a comforting drink, but a cool statement when your particular Ramune bottle is covered in Pikachu imagery! Pokemon versions of Ramune bottles are not only awesome to drink out of, but nice to keep. As they're made of glass you can keep them for a long time, holding marbles or even flowers inside.
Over the years there have been many other different Pokemon snacks and – for as long as the games and anime keep coming out – there will always be some new Pokemon snacks on the horizon. Even if you're not in Japan right now and are a Pokemaniac raring to try one of these delights, then by the time you arrive there will still be Pikachu-based snacks to discover and digest!