This blog post is guest written by one of our One Map by FROM JAPAN team members, Ariel!
All About Sailor Moon
We all know that Japan is the motherland of Anime and Manga, and very year new series are being released, although, once in a while, it comes that precious gem from an inestimable value and success. Sailor Moon  (美少女戦士セーラームーン) or Pretty Guardian Sailor Moon by Naoko Takeuchi is one of those gems that doesn't need a lot of introduction.
Whatever age, gender or generation you are, we believe that you may already know about this anime/manga. The story plot might look simple, but it won't fail to capture your smile and make you fell in love for the series. Usagi Tsukino, the main character of the story, is a schoolgirl with a cute sailor uniform, she may be little clumsy, but she has a big heart, she will found out to have special powers and with the help of her sailor soldier, she will fight the enemy in search for a magical artifact, the Legendary Silver Crystal.
The success of the manga was followed by another huge success of the anime series, the movies, live-action and merchandise, and finally, in 2014, after 22 years from the first aired TV series in Japan, the new series, Sailor Moon Crystal, was released. Those many years that felt like a second, when, watching again the adventures of the pretty Guardian Sailor, transported you back in time!
Because if, even my inner child was happy, somehow we all come to realize that Sailor Moon has just celebrated the 30 years anniversary and for the special event a lot of collaboration items are being released, and you shouldn't miss them!
---
Best 3 Sailor Moon 30th Anniversary Collaboration Items
Sailor Moon x 3 COINS Collaboration
3 Coins is a Japanese chain specialized in home/accessories items, the price is usually 300 yen (330 yen tax included), however big or special items can cost a little more. You can think of 3 Coins, as an upgraded version of the 100 yen stores, where the quality of the items is better, but the price is still very competitive!
On June 3rd, 3 Coins has released the cutest collaboration with Sailor Moon and the items, sold in the first sales period went sold out pretty fast, however, don't worry!, because on July 1st the second sales is scheduled, and you will have the chance to purchase these items thanks to One Map Service!
In this special collection you will find cute mugs, plates, glass, mirrors, cases, umbrella, towels and more!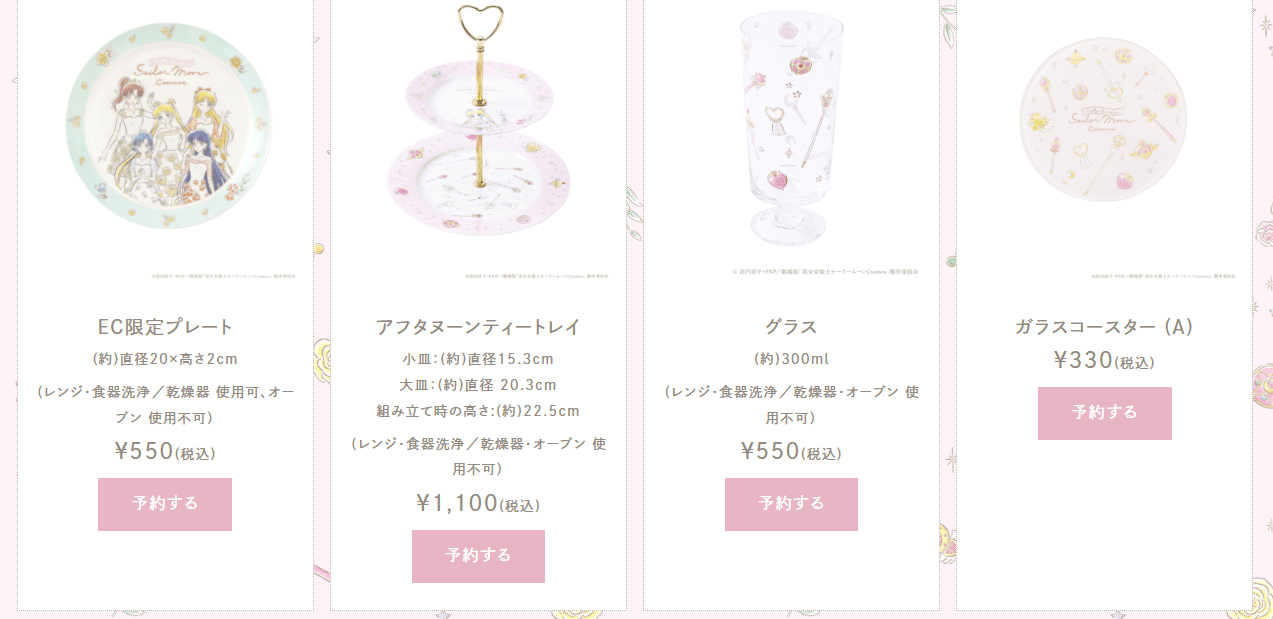 Items will be on sale on the official website, PAL closet of 3 Coins X Sailor Moon Collaboration from July 1st. You missed the second sales period? No worries!! One Map can help you to purchase these items on Mercari, Rakuma and more!!
Sailor Moon x MAYLA Collaboration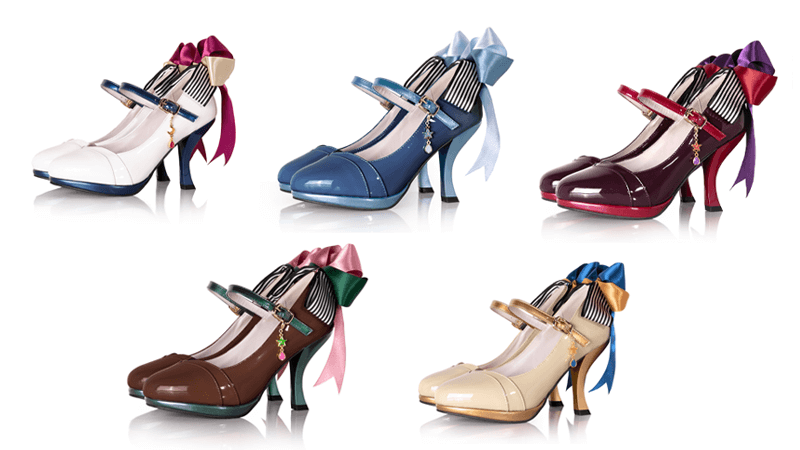 Mayla is a Japanese fashion brand that have a lot of anime collaborations and for the Sailor Moon 30th year Anniversary they have released special shoes inspired of the Pretty Guardians! Attention to detail for these items, it's what it makes them special: from the sole to the ribbon accessories and even the box! More information can be found on the official website.
Don't miss the chance to be in "the same shoes" of the pretty guardians and be fashion at the same time! One Map can help you to purchase these items and ship them to you!
To order these items, you can copy and paste this item page URL to the One Map search bar. Then, make sure to specify which type of shoes you want from the options below when placing your custom order. Copy and paste the Japanese name of the pair of shoes you like into the Manual Price Quote Request form that appears on our website.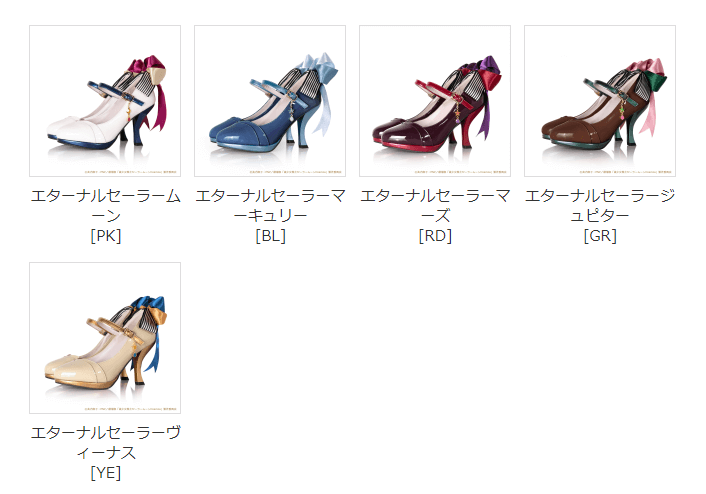 Then, also make sure to measure the size of your feet correctly since Japanese shoe size measurement is different from other countries. Input the correct shoe size (choose the size closest to your feet from between 33-40 in the chart below) into the price quote form. You can also attach a photo of the specific shoe design you want to make it clearer to our shopping staff!

Sailor Moon x Liquiem Collaboration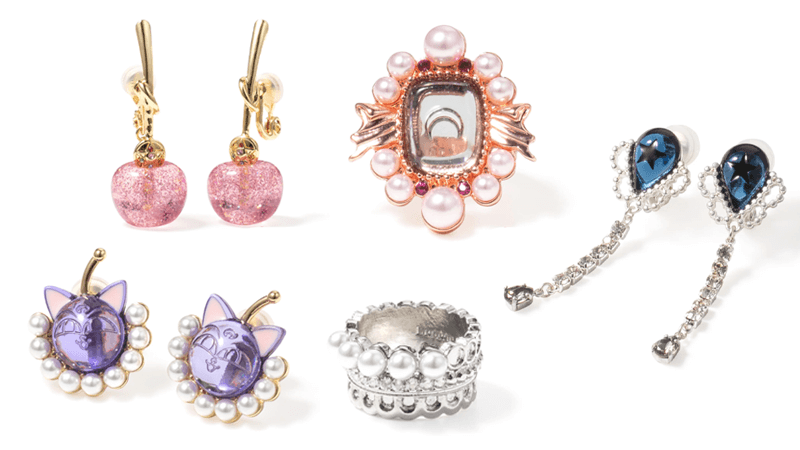 Liquem is a Japanese jewelry brand and for the Sailor Moon 30th Anniversary they also have released a special collaboration collection and, as excepted, it was very cute!
You can check and purchase these items from their official website through One Map or from other sites, you will simply need to search for "Liquem Sailor Moon" in our website and you will find a good selection of these cute accessories!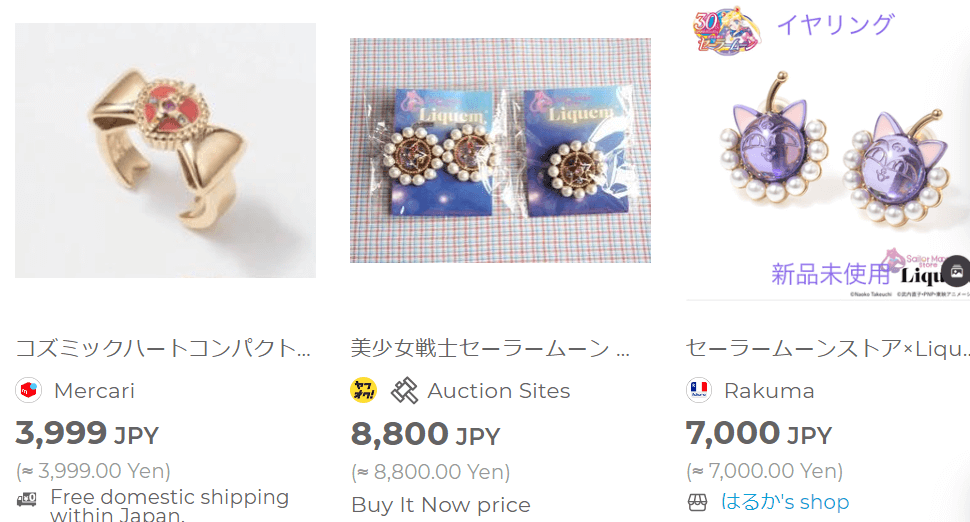 Search for Sailor Moon x Liquiem items
Sailor Moon might be one of the most remembered anime among all the titles, but for some people is also a nostalgic and precious childhood memory of those times when we were dreaming on meeting our Luna, a cute black cat, that could have turned our lives upside down and make all of our magic dreams come true!
Even if reality has been different, we believe that this anime still has a special spot in people's heart and purchasing a Sailor Moon item can mean something more.
Let us, One Map, give you more than an item, let us ship you a precious memory!
Ariel