If you haven't seen Spirited Away, then you'd better plan a movie night, pronto! The award-winning, critically-acclaimed film by the legendary Studio Ghibli literally broke Japan's box office record for the highest grossing movie of all time, and is considered the most successful film in Japan's history.
Much like Lewis Carroll's Alice's Adventures in Wonderland, Hayao Miyazaki's Spirited Away takes a small girl on a mystical journey of self-discovery and adventure. And now you can capture the magic of this animated classic at home. From finger puppets and puzzles, to cosplay and iPhone cases, there's enough Spirited Away merchandise to inspirit your own adventure.
Spirited Away Finger Puppets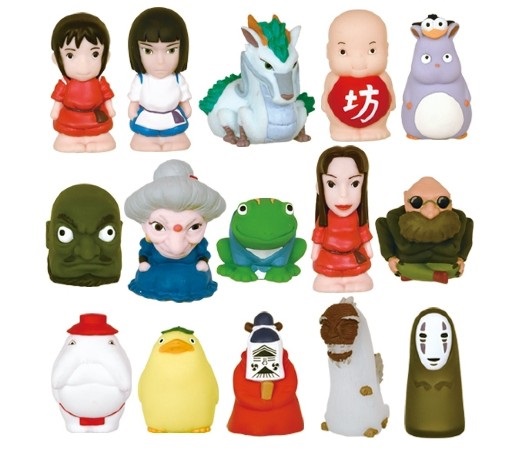 Studio Ghibli has a long tradition of releasing finger puppet sets based on many of their landmark films—from Castle in the Sky and My Neighbor Totoro all the way up to Ponyo. Spirited Away finger puppets are no exception. Considered a highly desirable collectible, the hard-to-come-by complete set comes packed in a bathhouse-imprinted box with 15 unique puppets inside, including Chihiro and an array of different spirits like Haku, Yubaba and No Face.
Even if you're "too old" to play with toys, these finger puppets make for a unique collector's piece in an ever-expanding line of Ghibli merchandise. As a bonus, they double as the perfect way to introduce the youngest members of your family to the mystical world of Spirited Away.
No Face Toothpick Dispenser
 (Uploaded to YouTube by ゆき後輩チャンネル)
This isn't your average toothpick dispenser; it is instead perhaps one of the most unique pieces of Spirited Away merch that you are likely to come across. The No Face toothpick dispenser not only perches the iconic spirit above the toothpick box, as though to guard your precious stash of toothpicks, but he also hands them to you! Simply push down on his head and he'll grab a toothpick and lift it up to you.
The next time you feel a bit like the gluttonous No Face after a good meal, sit back in your chair, unbutton the top of your pants, and grab a toothpick—you're in good company.
Spirited Away Puzzle Collections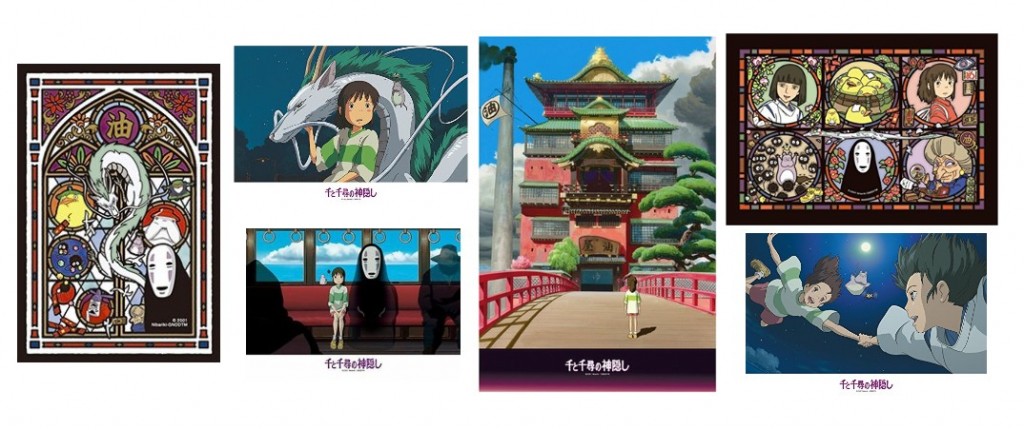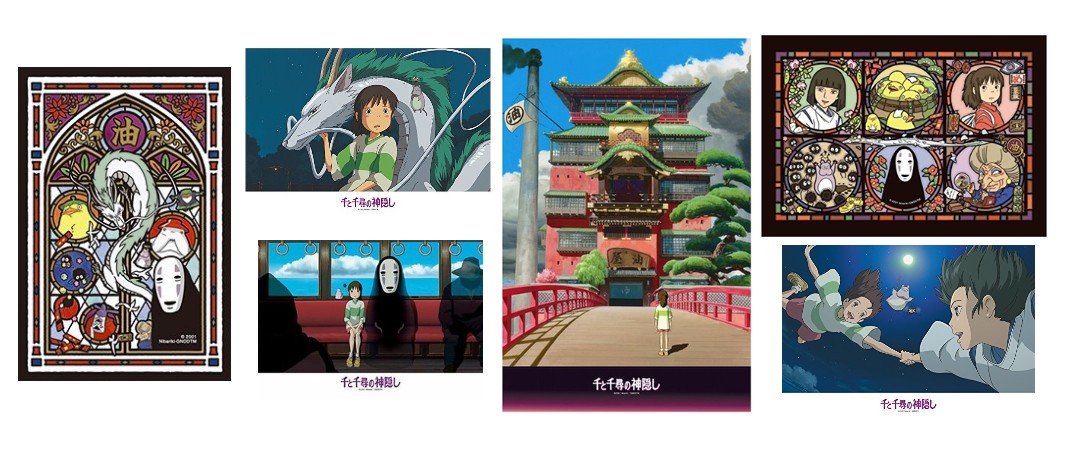 A Spirited Away puzzle is the perfect collectible for a rainy afternoon. Choose from a favorite screen shot or stained glass collage and then while away the hours with a warm blanket and a cup of hot tea. When you're done, glue the puzzle together and frame it, or pull it apart for another go.
No Face iPhone 6 Case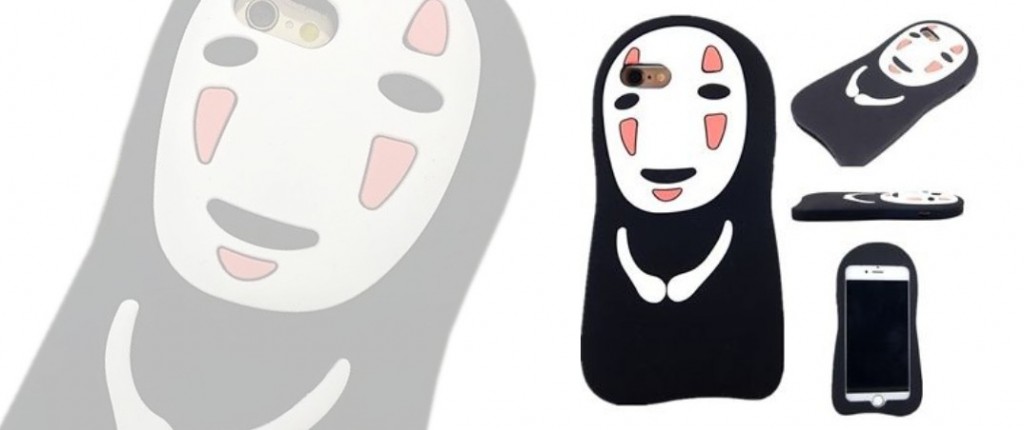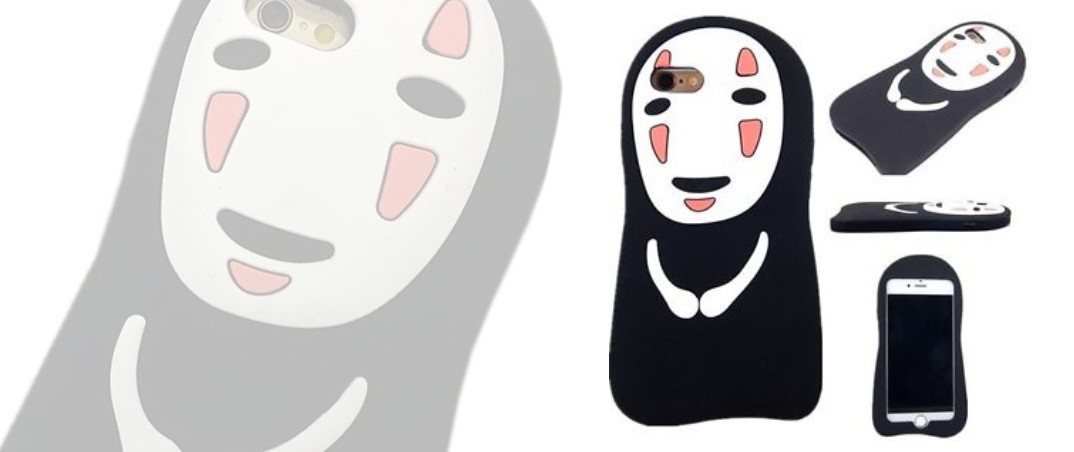 Finally, you can take No Face everywhere you go. He'll offer your iPhone protection in exchange for your kindness. Dirt and grime resistant, the No Face iPhone 6 case comes in a soft silicone wrap that hugs your iPhone for maximum security. This is one piece of Spirited Away merch that you'll be sure to use every day.
Spirited Away Plush Toys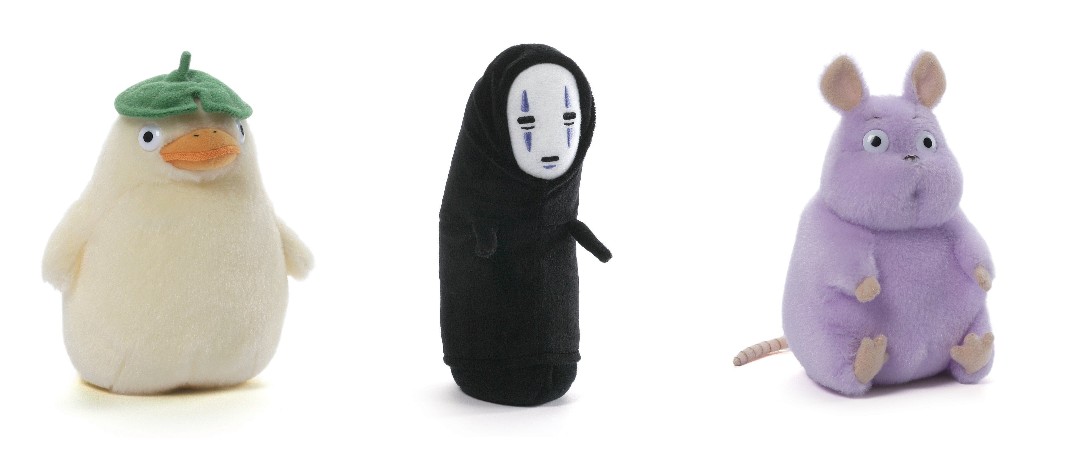 With all the wonderful Spirited Away merchandise out there, it may be easy to forget the basic pleasures of embracing a stuffed version of your favorite character. When it comes to the most adorable Spirited Away plush toys, it's a three-way tie between the ultra-huggable spirits, Ootori-sama, No Face, and Boh. Place them around your bedroom, living area, or even bathroom (these spirits love their bath houses, after all!), to add some charm to your home.
Spirited Away Washi Tape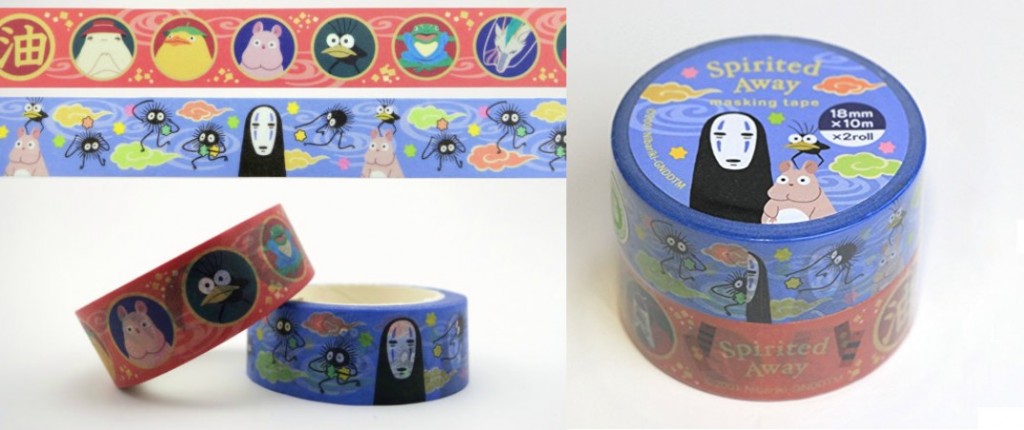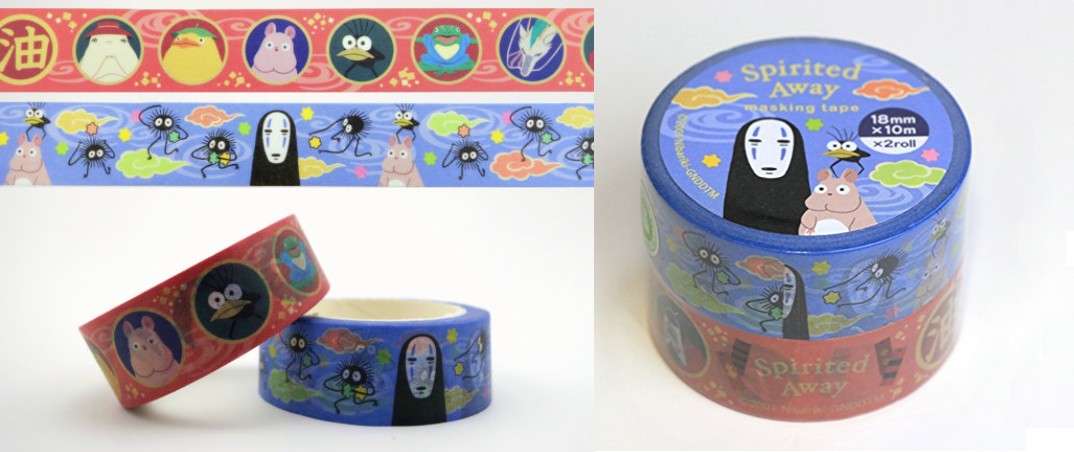 If you're new to washi tape, then head over to our washi tape article and learn how to transform ordinary household objects into oh-so-kawaii decorations! Essentially, washi tape is much like masking tape, only sturdier and without the adhesive goo, making it perfect for all types of crafts—photos, scrapbooks, folders, notebooks, even smartphone cases. Studio Ghibli sells washi tape based on many of their franchises, but their Spirited Away washi tape is especially charming, featuring No Face and the iconic soot sprites, among other bathhouse spirits.
Spirited Away Playing Cards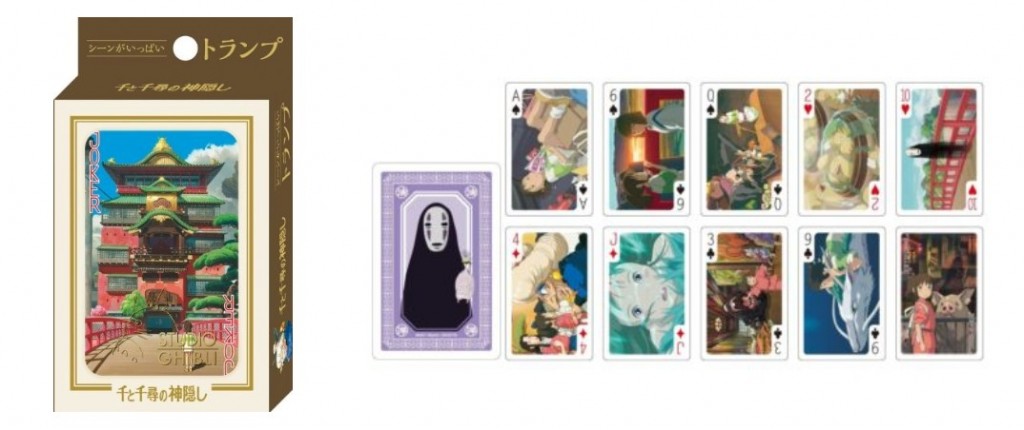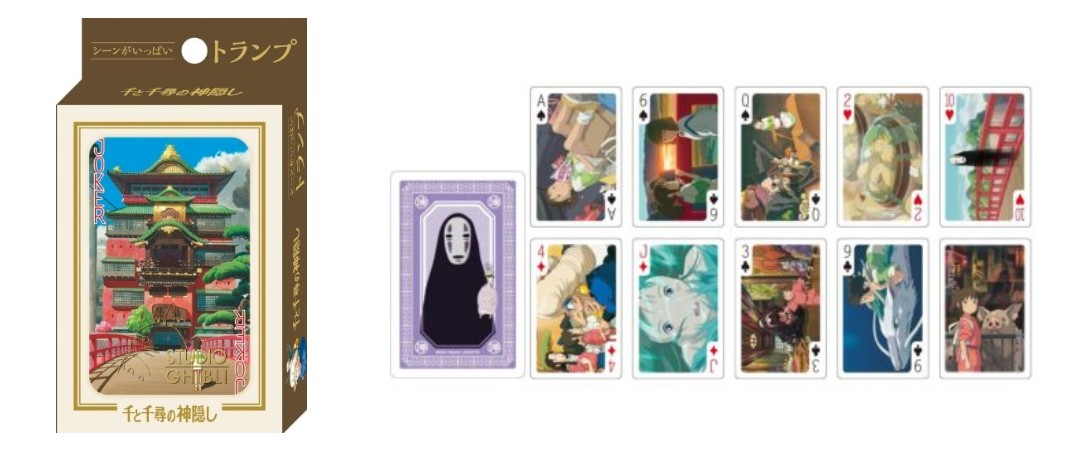 Spirited Away playing cards are a great way to bring Miyazaki's amazing artwork into your favorite card game. Whether you prefer hearts, go fish, poker, or solitaire, you'll be reminded of your favorite scenes and characters with each draw and discard. Diversify your deck with the magic of Studio Ghibli!
Spirited Away Paper Craft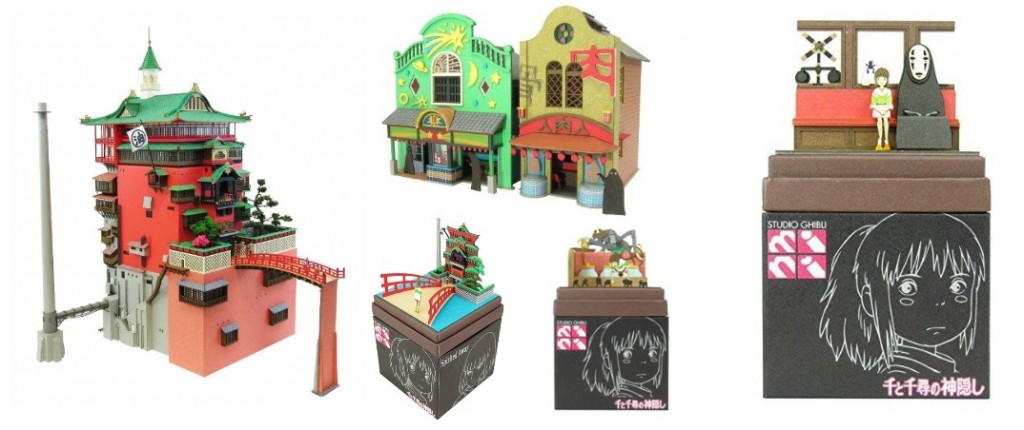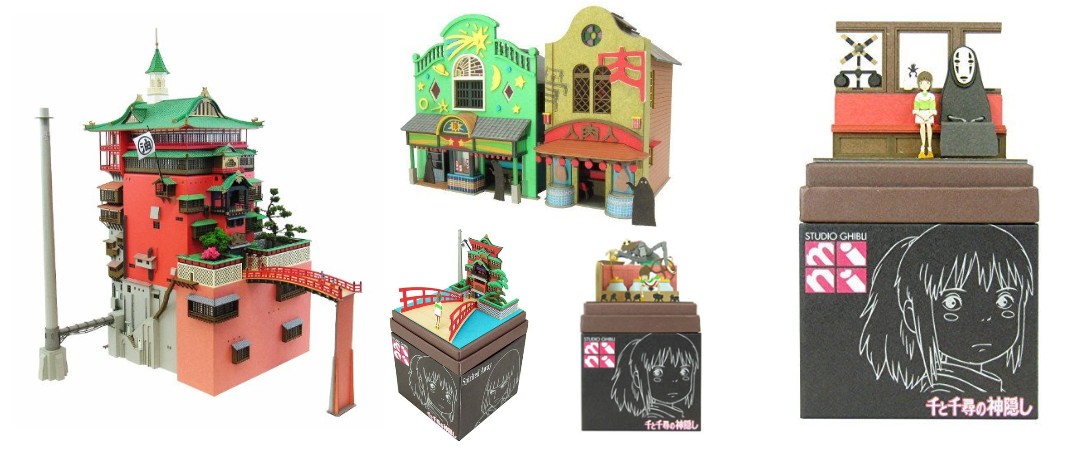 The art of paper craft can be traced back to the 6th century AD, when origami began circulating in Japan. Today, the art form has evolved into a hobby said to relax the mind and stir creativity. Many Spirited Away paper craft sets have been released, including recreations of iconic scenes (Chihiro and No Face on the ocean railway train, Chihiro meeting Kamaji in the boiler room, and Chihiro crossing the bridge to the bathhouse), but the most coveted set is the 1/150th-scale paper craft bathhouse. Each set carefully replicates the fine details of the film, including miniature characters.
No Face Cosplay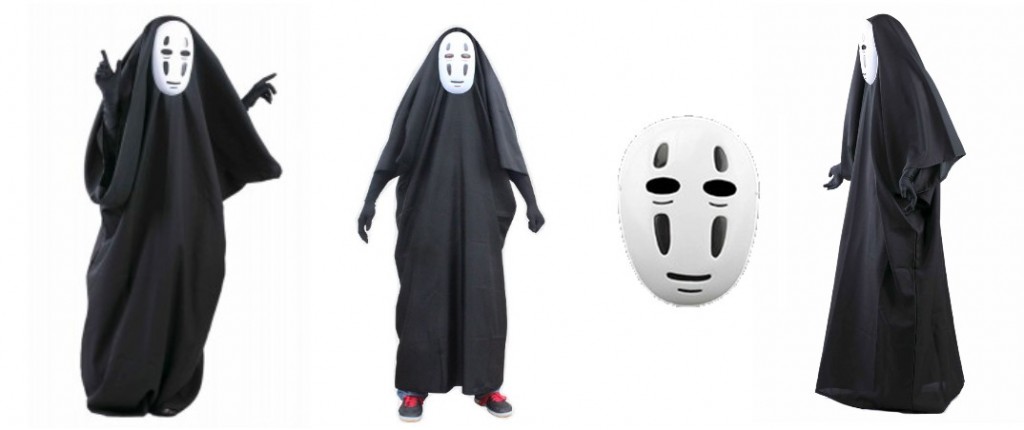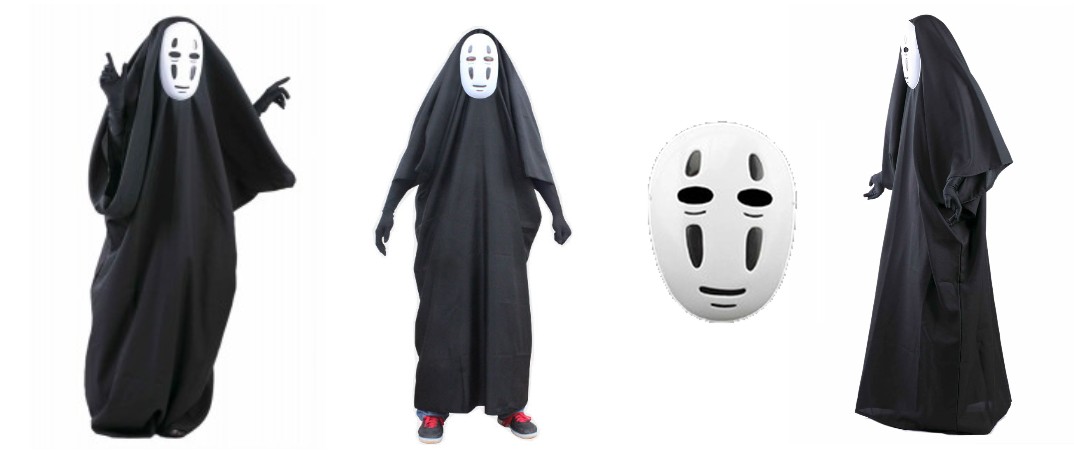 If love to dress up as your favorite characters and you're a huge fan of Spirited Away, then No Face cosplay is the way to go. Not only is the No Face costume simple and affordable, but it also allows you to maintain an aura of mystery at the Con scene—nobody will know who you are underneath that black cowl and mask! Purchase the entire costume or just the mask if, perhaps, you want to create your cloak and cowl by hand.
Where to Buy Spirited Away Merchandise
The most authentic and limited edition Spirted Away merchandise comes direct from Japan, where the largest fan base for Studio Ghibli films exists; but like the hard-to-find anime collectibles featured here, they are often difficult to obtain if you live outside the country. FROM JAPAN's online proxy and shipping services make ordering and shipping from Japan a breeze, so sign up today and let our knowledgeable team help you get the collectibles you want!