If you like your seinen series with a side of coffee, cannibalism, and the supernatural, then Tokyo Ghoul is a tasty treat you'll crave over and over again.
Manga readers got access to the series in 2011, but Tokyo Ghoul has come a long way since its first chapter. Today, fans can experience the haunting story through its two-season anime adaptation, ongoing manga publication in the Weekly Shonen Jump, three light novels, two video games, and an upcoming live-action film (in 2017).
Whether you've been following Kaneki since his pre-ghoul days, or are just now jumping into ghoul-infested Japan for the first time, these 10 products from Japan are sure to satisfy your hunger for more Tokyo Ghoul.
Designer Jewelry
If you're a ghoul, keeping your identity hidden can be a matter of life and death. Fortunately, Tokyo Ghoul fans don't have to be quite so secretive about their obsession with the series. If you're looking for a chic way to express your fandom love, or just want keep it a bit more "undercover," then you can't go wrong with jewelry.
Tokyo Ghoul Watches

Sleek and subtle, these water resistant Tokyo Ghoul watches display time in eerie LED lighting, making them haunting collector's pieces, even when night falls. Only those who dare to get close enough will notice Kaneki's grinning mask surrounded by red spider lilies (pictured center).
Tokyo Ghoul Rings

Just as one ghoul can identify another by scent, a Tokyo Ghoul ring is sure to make other fans identify you as one of them. Kaneki and Touka's masks might look like generic gothic jewelry to casual passersby, but other otaku are sure to recognize Uta's impressive craftsmanship instead. Rings come in different sizes, so be sure to measure your finger before you buy!
Otaku Obsession
Like Kaneki learning to embrace his unique human/ghoul nature, otaku should learn to embrace their obsessions as a special part of who they are. Whether you're on the go or lounging at home, these five items are sure to whet your ghoulish appetite and leave others in no doubt that you are the top ghoul in town!
Tokyo Ghoul Dakimakura

Also known as "hug pillows," dakimakura were once considered parody items before being adopted by the otaku community. Today, anime fans purchase body-length pillows of their husbando or waifu to snuggle with on cold nights. Unsurprisingly, Tokyo Ghoul dakimakura feature all the fangirls' favorite heartthrobs, from Tsukiyama to Kaneki.
Tokyo Ghoul Button Badges

Tokyo Ghoul button badges might be the most flexible way to express your fandom love. You can pin them just about anywhere—from your shirt to your backpack—and find artwork of all your favorite characters, husbandos, and waifus. If you collect enough, you can even use them to create your own ita bag—the ultimate fandom bag that you can carry to show the world you're the biggest Tokyo Ghoul fan.
Chara Toria Rubber Trading Clips

This six-piece Tokyo Ghoul rubber trading clip set showcases five fan-favorite characters with soft, chibi-styled appearances. Careful attention to detail captures each character's unique personality (and captures them inside little display bottles for safe keeping). Look closely to notice key items from the series, such as the Anteiku sugar cubes in Kaneki's bottle, or the blood-stained handkerchief draped over Tsukiyama's rosy enclosure. Keep them all for yourself, or gift some to a special friend.
Tokyo Ghoul Luggage Tags

Going to an out-of-state Con? Finally taking that dream vacation to Japan? You can set out on the right foot with a Tokyo Ghoul luggage tag to identify all your must-have belongings. With an adorable Kaneki, Tsukiyama, or Suzuya keeping track of your luggage, you'll never have to worry about twiddling your thumbs at the baggage claim carousel.
Tokyo Ghoul Pouches & Bags

Like people, ghouls live busy lives as they try to blend into society, attend college, hold jobs, and manage relationships. Anything can happen out in the world, so it's best to be prepared. With a Tokyo Ghoul pouch or bag, you'll have a secure place to store and access your wallet, phone, cards, and other essentials with ease. And because you take your necessities everywhere you go, you're likely to attract even more Tokyo Ghoul fans who catch sight of your familiar, zipper-masked bag.
Cosplay Essentials
Nothing quite shows your love for a character like stepping into their shoes for a day. Years after its anime release, Tokyo Ghoul still has a strong cosplay presence at Cons in Japan and abroad. The 2017 live-action film is sure to reignite interest in the series, so don't miss out on your chance to participate in the hype at your next Con experience. Here are three essential cosplay items that are guaranteed to make your next costume the real deal.
Tokyo Ghoul Mask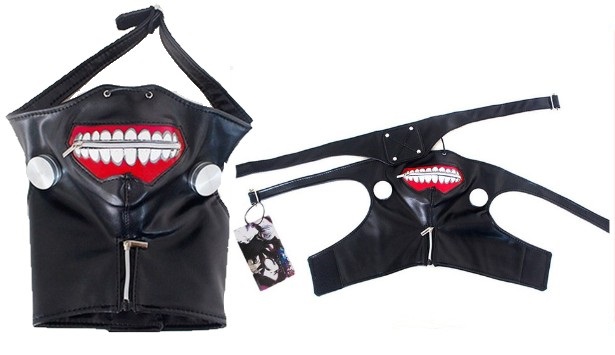 Kaneki's mask is Tokyo Ghoul's most recognized symbol, even among non-anime fans. The zipped-closed mouthpiece and metal-studded jaw give off a mysterious and intimidating aura. Whether you're looking to "mask" your own identity at your next Con experience, or simply want others to easily pick you out of the crowd, you can't go wrong while wearing Uta's most iconic masterpiece.
Tokyo Ghoul Café Uniforms

While a lot of cosplayers go for more ghoulish cosplay options, the Anteiku Café uniform is an underrated choice that's not only stylish but also ideal for an easy-to-assemble Tokyo Ghoul group cosplay. Carry around a steaming cup of coffee to make your performance come alive. And if you get the chance to visit Tokyo, be sure to visit Museum Cafe&diner—the real-life coffee shop that inspired the second Anteiku location, the :re café.
Tokyo Ghoul Hair Pins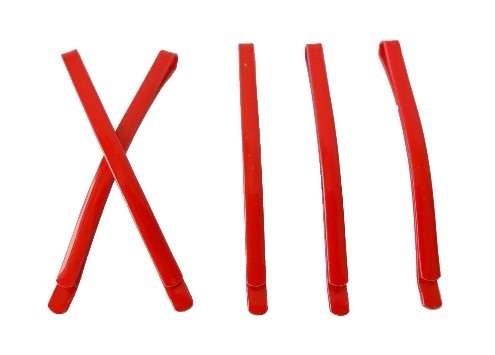 Suzuya is one of Tokyo Ghoul's most popular characters, drawing fans in with his complex psychology, tragic backstory, and intriguing appearance. One item that no Suzuya cosplay can be without is his red hair pins, which match the crisscross stitching on his arms and neck. Buy them for an easy "finishing touch" to your cosplay that works double-time to keep your wig out of your eyes.
Where to Buy Tokyo Ghoul Merchandise
Just as a ghoul can expect a great cup of coffee on the house at Anteiku, you can expect great deals on a variety of Japan-exclusive Tokyo Ghoul merchandise at FROM JAPAN—the proxy and auction service that delivers straight to your doorstep. If you see something you love—don't hesitate. There are plenty of hungry ghouls on the prowl ready to gobble up this must-have merchandise, so snatch it up before it goes out of stock!