If you've ever witnessed the awe-inspiring wilderness of Japan, it should be easy to understand what inspires the camping retailer, Snow Peak. Japan is one of the most beautiful countries in the world. It has one of the most unique geographies of any nation thanks to its archipelagic nature and special wildlife. Adorning Japan's many islands are stunning, towering mountains. These have the world-famous snowy peaks that inspired Snow Peak's name. Founded by locals of the mountainous Niigata Prefecture, Snow Peak aims to bring people closer to the outdoors. They create and sell high-quality gear that is sure to take any camping trip to the next level. In the 60 years since its founding, Snow Peak has continuously improved their products to exceed modern standards while remaining affordable. No matter where your next camping trip will be, some Snow Peak gear will definitely enhance the experience. Here are some of the best Snow Peak products that you will want to buy straight from the source.
Snow Peak Titanium French Press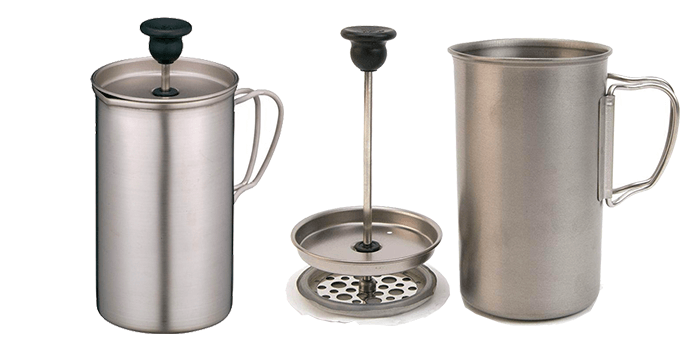 Any veteran camper knows that camping requires a lot of energy. Many people depend on canned coffee or energy drinks to keep up with the demands of their hikes. Coffee lovers should know there's a way to enjoy the outdoors without sacrificing the quality of their favorite drink. Snow Peak's Titanium French Press gives campers an easy and portable way to make fresh coffee, even in the middle of the woods. The press can hold three cups of coffee but weighs in at less than seven ounces. That means you can fit it right in your camping pack. Its durable titanium composition will prevent wear and tear and keep your drinks hot for long periods of time. All you'll need for a fresh cup of joe is the press, your favorite coffee grounds, some water, and a campfire or portable stove.
Snow Peak Titanium Mug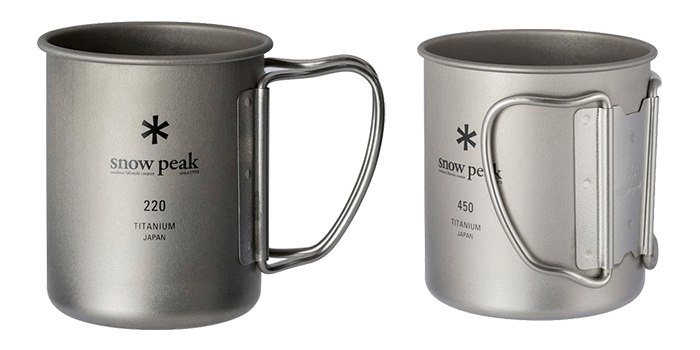 Snow Peak's Titanium Mugs are the perfect complement to their French press. These are perfect for when you're camping with a group and you want to share your fresh cup of coffee. These come in a range from 200 ml to 600 ml, and you can even get stacking sets. Just like the French press, they're insulated and ultralight, making them suitable for all drinks, hot or cold. You can get them in the standard titanium color, or you can opt for something more colorful. Blue, green, and purple options will bring some style to your trip while making the mugs hard to lose. Add-ons like silicon lids let you customize your camping gear even more.
Snow Peak Titanium Spork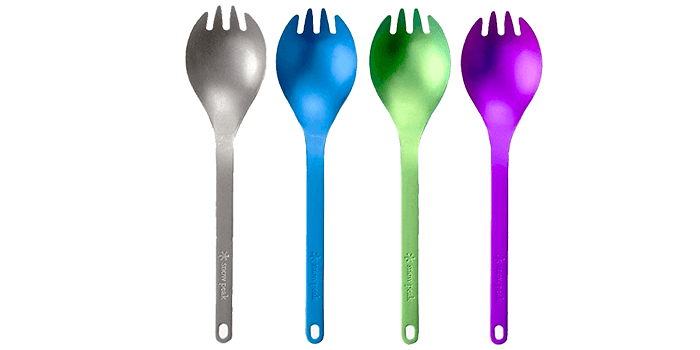 You've prepared your drinks, but don't forget about the food. Long-term trips can easily become cluttered with all the cookware. Plus, juggling spoons and forks can be confusing and cause some unnecessary stress. Fortunately, you can halve your gear by instead using Snow Peak's Titanium Sporks. These have the same lightweight but durable quality as the previous products, and they take up even less space. Choosing the spork will free up more space to pack more important items, like the actual food. Also with the titanium, blue, green, and purple options, you can tailor your camping set to feel unique to you. And of course, you don't have to limit your spork use to just camping trips. Many buyers find themselves now reaching to their Snow Peak sport for every meal, even at home. This is a multi-purpose investment that is well worth the little money you'll pay.
Snow Peak Outdoor Clothing and Gear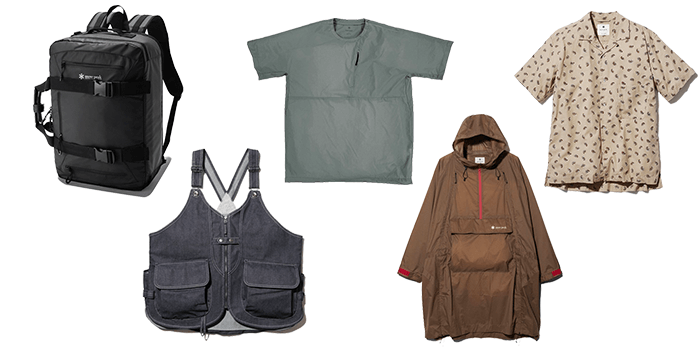 There is so much more in the Snow Peak catalog than can be listed. Among all their products is a huge section dedicated to outdoor clothing and gear. Here, you'll find apparel that's not only practical, but stylish too. They have products that will suit any and all camping styles. For warmer trips, you might want to order some of their lightweight linens, or perhaps wading shorts to be ready for lakes and rivers. For colder ventures, choose among insulated pullovers, parkas, and more. Stay dry with quick-drying caps and heavy-duty raincoats. It's not just clothing, too. You can find backpacks, boots and shoes, and even accessories for your dog. Their inventory is always updating with items featuring the newest technology and the newest styles.
How to Buy Snow Peak with FROM JAPAN
Snow Peak is a proud Japanese company that has been serving Japanese hikers and campers for decades. However, that means their products are still difficult to find abroad. Luckily, proxy services like From Japan are ensuring that you can get these products no matter where you are. By using FROM JAPAN, you can guarantee your ordering authentic items straight from the source in Japan. Order all your gear in just four easy steps:
Step 1. Go to Snow Peak Japan's official homepage or search "スノーピーク" (Snow Peak).
Step 2. Check the details of the item.
Step 3. Create an account with FROM JAPAN and copy and paste the URL of the item page into FROM JAPAN's search bar or add the item from the search results to your cart.
Step 4. Hit search and complete the order form.
You're done! While you wait for your order to arrive, browse all the other authentic Japanese products on the FROM JAPAN. You'll find pop culture collectibles, streetwear, and even some Japan-exclusive snacks. There's so much more to explore, so check it out now!