What Is Larme Kei?
First introduced in the 2012 debut of the Japanese fashion magazine LARME, larme kei combines sweet, soft innocence with maturity and intelligence. The magazine caters to young, sophisticated women who read, enjoy art and history, and travel. Larme kei is not recognized as an actual style subculture in Japan, instead called girly (ガーリー) fashion, but has gained popularity around the world under the name larme kei and continues to uphold a loyal and enthusiastic customer base. LARME continues to produce new looks that embody their original style, combined with currently trending fashion statements to maintain relevance.
Most notably, the LARME magazine is responsible for creating the distinct makeup style that larme kei is partially known for. The word "larme" in French means "tears," and those replicating the styles of LARME use techniques to create doe-like, dewy makeup with soft, blushing cheeks. Larme kei makeup avoids traditional bold colors and harsh lines in favor of subtle, diminutive, and innocent themes. Makeup for larme kei is often paired with long, false lashes and cosmetic contact lenses to create this signature look of innocence, focusing on wide, soft eyes and neutral tones.
Get the Larme Kei Look
Though there is no official brand name designer for larme kei fashion, there are several fashion companies that produce styles which meet the larme kei definition:
RoseMarie Seoir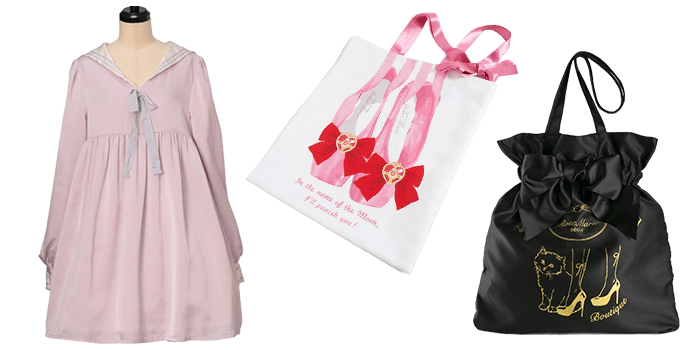 Characterized by sweet lace, ruffles, pom poms, and chiffon, RoseMarie Seoir adds the delicate touch that larme kei relies on. Best described as vintage romance meets French countryside, their designs emphasize soft, girly themes and doe-eyed innocence. Common elements in RoseMarie Seoir designs include lacy Peter Pan and pilgrim-style collared necklines, delicate floral prints, gingham, and soft colors, frequently adorned with plush furs, velvet, lace, and ribbons. RoseMarie Seoir's frilly aprons, kitten heel pumps, baby doll dresses, and plentiful bows add a dash of delicacy and sweetness to any larme kei look.
EATME

EATME's signature blend of feminine-meets-business couture capitalizes on classic British fashion statements to lend structure to otherwise delicate and sweet elements. Plaid or tweed material, patent leather harness belts, and simple yet stunning hardware are all essential to EATME's look, and are often paired with sheer blouses, ribbons, and lace to create a mature, yet ladylike, fashion statement. This winning combination gives EATME designs a place in larme kei as the bridge between sophistication and youthful girlishness, with a not-so-subtle dash of businesslike functionality.
Honey Cinnamon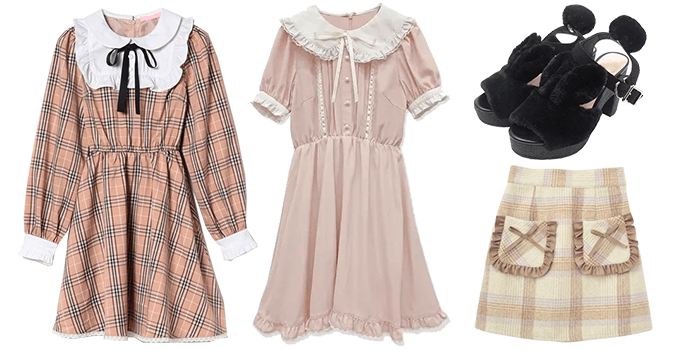 Honey Cinnamon lives up to its name with designs that create an elegant and charming style that is both sweet and warm. Pearls, ribbons, faux fur, sheer fabric, and lace are cornerstones of the brand's signature look, along with delicate knits, sailor collars, and attractive plaid prints. Honey Cinnamon designs run the gamut between vintage and innocent to modern and bold, but always maintain a proper, worldly appearance which makes them perfect for larme kei. Most notably, Honey Cinnamon's harness-style belts are a signature part of larme kei and are frequently featured on many of their skirts and dresses.
KATIE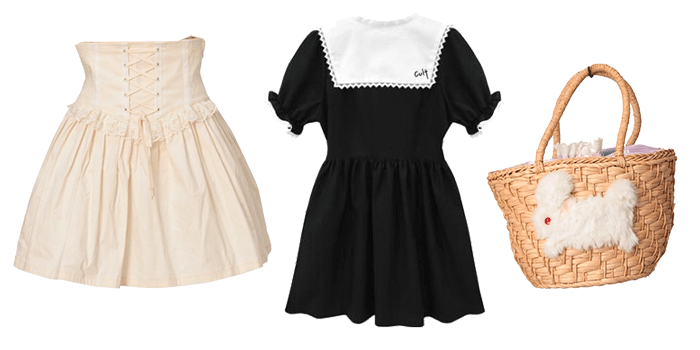 For nearly 25 years, KATIE has been producing unique clothing and accessories that speak to the duality of "prettiness and strength" in women. Their signature looks are both comfortable and cute with a sassy, modern streak which makes them stand out among the rest. Pretty knits, pastel colors, frills, and ruffles are flawlessly combined with 90's-inspired denim, modern sneakers, and graphic tee shirts to create a style that is both timeless and versatile. KATIE designs fit right in with larme kei, whether as coordinating accessories or as the foundation of the look.
SwanKiss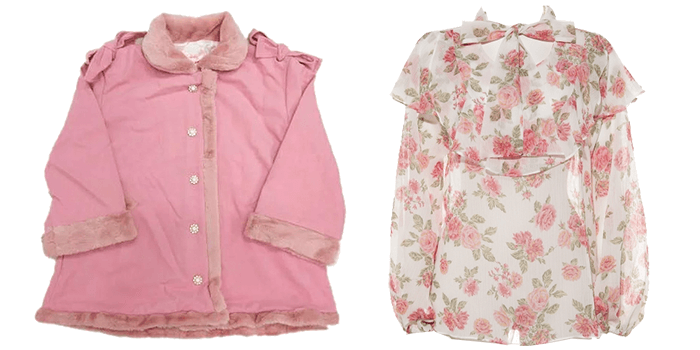 Lovely, elegant, vintage, classic– these are all words that wholly describe SwanKiss as a brand. Straight out of a vintage glamour look book, statements from this designer are a testament to the timelessness of women's fashion from the 1930s and '40s. Dainty knits, lace, tweed, patent leather, rhinestones, and pearls create looks that are effortlessly sophisticated with a twist of youthful innocence. From quilted purses and statement headbands, to belted pumps and lacy bell-sleeved blouses, SwanKiss designs epitomize the soft, classic look that larme kei is known for.
Ank Rouge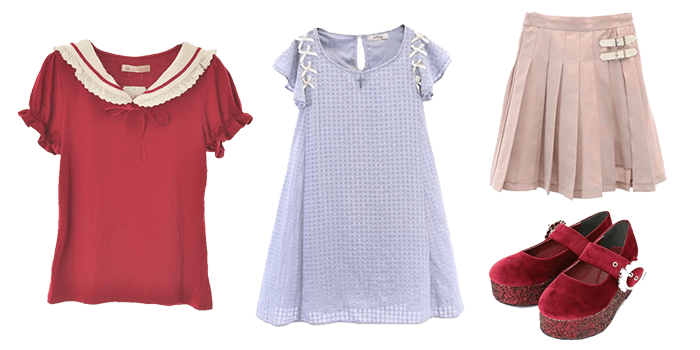 Though larme kei does not have its own flagship brand, Ank Rouge produces designs that fit effortlessly within the style's definition. Ruffled collars, puffed sleeves, ribbon bows, pleated skirts, and satin blouses by this ladylike brand are the embodiment of the sweet side of larme kei. Ank Rouge accessories include iconic larme kei pieces, such as berets, oversized bows, delicate jewelry, and sophisticated pearls, to round out the look. Though their designs err on the side of extreme femininity, Ank Rouge pieces are the perfect complement to any larme kei outfit.
Discover and Purchase Larme Kei Fashion With FROM JAPAN Proxy Shopping Service
Whether you are building a brand-new look for yourself or searching for additions to your current wardrobe, FROM JAPAN proxy shopping service can make your Japanese fashion dreams a reality. Visit us today to get all the best high-end larme kei-style accessories, clothing, and shoes delivered right to your doorstep.