Sylvanian Families (known as Calico Critters in North America) is a collection of distinctive and adorable animal figurines with unique homes, accessories, and furniture. The series of flocked plastic critters were designed and manufactured by Japanese toy company Epoch and quickly gained popularity around the world from the series' initial release in 1985.
Sylvanian Families toys and sets soon became a popular collector's item, due to the line's attention to detail and irresistible cuteness. Keen Calico Critters collectors can be found scouring local flea markets and eBay to tick pieces of their wishlists. But, there is an even better way to get your hands on rare and exclusive Sylvanian Families – buy straight from Japan!
How to Buy Sylvanian Families Using FROM JAPAN
Unfortunately many Japanese stockists of Sylvanian Families and online secondhand retailers do not ship overseas or accept non-Japanese payment methods. But by using FROM JAPAN's proxy bidding and shopping service you can buy Visvim at domestic prices and gain access to Japan's treasure trove of secondhand dealers and auction sites such as Yahoo! Auctions Japan.
Using FROM JAPAN's powerful combined search engine is the easiest way to find secondhand Sylvanian Families sets – all you need to do is search "シルバニアファミリー" (Sylvanian Families) in our search bar and results from Yahoo! Auctions and multiple Japanese shopping sites will appear! If you can't find the item on our site, you can add any item from a Japanese site to your cart by simply copying and pasting the URL of the product into the search bar. Once you've made an account with FROM JAPAN, you can proceed with completing your order. Check out our step-by-step guide below for more information:
Find the item you want to buy.
Check the details of your item.
Create an account with FROM JAPAN and copy and paste the URL of the item page into FROM JAPAN's search bar.
Hit search and complete the price quote request form.
Wait for your FROM JAPAN price quote.
For more information on FROM JAPAN's service, please check our usage guide and Q&A pages.
Popular Sylvanian Families Sets and Families
Sylvanian Families are delightful and wholesome toys that integrate contemporary and modern design elements. Some of the real treasures from the line include:
Cosy Cottage Starter Home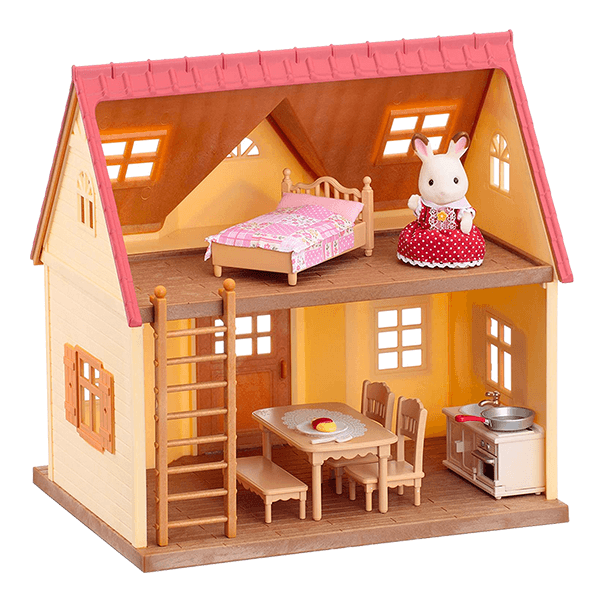 The superb cottage starter home is built with precision, and the craftsmanship is difficult to encapsulate. It contains a vintage twist and contemporary art incorporated in the design elements. This set contains an exemplary red roof, ladder, beige bricks, and rare gem accessories.
Clothes and colors are unique and are only available in this set. The furniture included such as fridge set, desk set, phone table, among others looks real. Additionally, there is inclusion of a delightful rabbit mother clothed in a beautiful apron with outstanding checked patterns. Since the set has a busy family, it is perfect for those who are new to the world of Sylvanian Families and for Calico Critters veterans alike.
Meerkat Family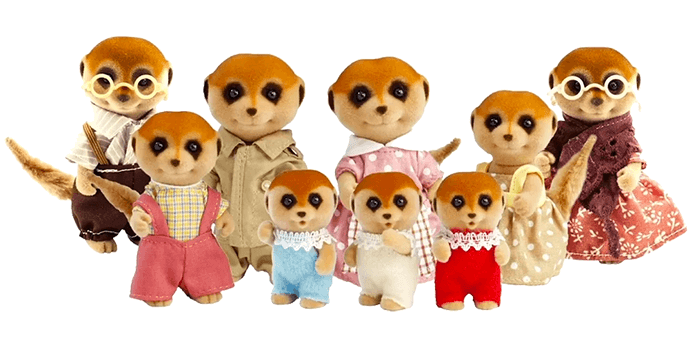 The meerkat family comes with four collectibles that include a father, mother, sister, and brother. Father and mother are approximately six centimeters in height, and together with children, are dressed in fabric clothing.
All four pieces contain cute, dark beady eyes which spark interest in children. This piece was released in 2016 by the brand and has managed to stimulate endless imagination in kids.
Elephant Family

The elephant family is among the most sought-after items in Japan and globally. These Sylvanian Families items are more than ordinary toys; they represent different personalities and have unique names. The set contains four pieces; the father, mother, brother, and sister. Since they are dressed in removable fabrics, maintenance is quite hassle-free. The iconic elephant family is a trendy set for new generation children.
Start your Sylvanian Shopping with FROM JAPAN
Whether you are new to collecting these cute critters or a long-time member of the Sylvanian Families community, there's no better place to start finding your dream pieces than straight from the source itself – Japan! Start your Sylvanian Families shopping with FROM JAPAN today!