The history of Comme des Garçons
Established in Tokyo in 1969, Comme des Garçons is a Japanese brand that's been making waves since its inception. It traces its roots to founder Rei Kawakubo's anti-fashion styles, deconstructed garments, and the heavy usage of black and grey colors — the last of which led to early fans of Comme des Garçons being dubbed as "The Crows".
Thanks to its success in Japan, the brand expanded to France with its debut in a Paris fashion show in 1981, and the opening of its first Paris boutique one year later. Initially, Parisian fashion experts criticized the Comme des Garçons collections for being quite different from what was en vogue in France at the time.
However, the brand continued its unusual fashion direction throughout the 90's, and found enough success by the time 2004 rolled around to split the company into selling handmade garments in France and selling non-handmade garments in Japan, Spain, and Turkey. After taking on fashion designers that have become influential in their own right, Comme des Garçons has evolved its styles to include more easy-to-wear fashion and more colors in the modern day — including the instantly recognizable heart design designed by Filip Pagowski.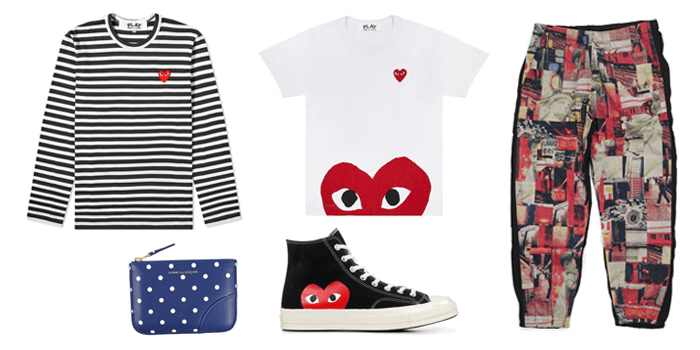 Who is Rei Kawakubo?
Rei Kawakubo (川久保 玲) is the trailblazing founder behind Comme des Garçons and Dover Street Market. She was born in Tokyo in 1942, and although she never formally studied fashion, she has always seemed to have had creativity inside her: Kawakubo took a degree in 'the history of aesthetics' and worked as a stylist for a few years.
At the young age of 24, she started making her own clothes and took the first steps in what would lead to the establishment of Comme des Garçons in Japan. Despite the eccentricity of her early designs, she gained popularity amongst like-minded people in her home country. Fast forward to 1981, Kawakubo debuted her designs in Paris then proceeded to open her first Paris boutique just one year later. Today, Comme des Garçons has its headquarters both in Tokyo, Japan and Paris, France.
In 2004, she founded Dover Street Market with her husband Adrian Joffe. It serves as a one-stop retailer for high-end fashion lines, naturally including Comme des Garçons and all their product lines along with other complementary brands such as Gucci, Céline, Loewe, Nike, and Supreme, to name just a few.
What type of Comme des Garçons products are out there?
Since the brand was first established, Comme des Garçons has released a handful product lines, each with their own character. Today, we won't be discussing all of them but we will be talking about a few of the most popular ones we think you should know about.
Comme des Garçons Play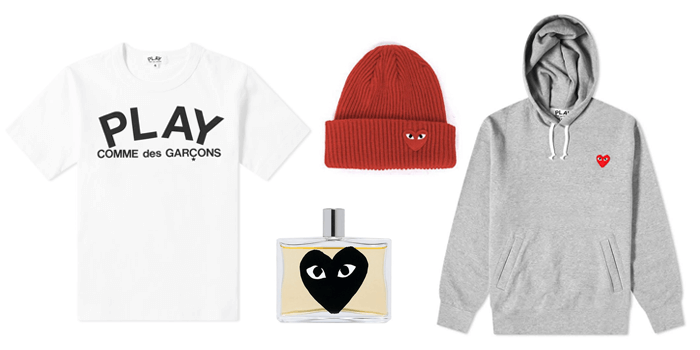 Arguably the line that's become most synonymous with the brand in modern times, Play is Comme des Garçons' spin on an affordable, basics fashion line. You'll recognize it from anywhere thanks to Polish designer Filip Pagowski's red heart logo with oversized eyes.
Play was described by Adrian Joffe as "the antithesis to design" with products based on "based on prototypical forms." This resulted in simple, straightforward clothing with lower price points that opened up Comme des Garçons to a much wider audience.
Comme des Garcons Junya Watanabe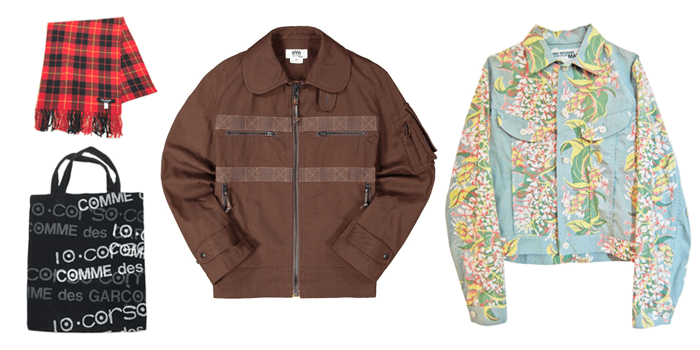 Junya Watanabe was hired as a patternmaker for Comme des Garçons during the early 1980s when the brand was starting to disrupt the Paris fashion industry. He continued to work under Kawakubo's wing until finally, he launched his own eponymous womenswear line under Comme des Garçons in 1992, followed by a menswear line in 2005.
While Watanabe adopted Kawakubo's penchant for using unconventional materials in their designs, the two are still unique from each other in that while Kawakubo prefers intentionally broken tailoring, Watanabe's creations adopt a more structured, neater form.
In addition to the main product line, you might also come across products labelled under eYe Junya Watanabe MAN Comme des Garçons, which served as the outlet for their collaborations with other brands like New Balance, Lacoste, and Levi's.
Comme des Garcons Homme / Homme Plus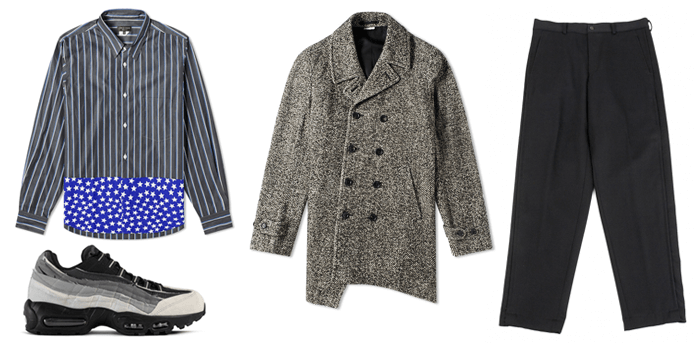 The designs under the Homme and Homme Plus lines are born out of Kawakubo's vision for Comme des Garçons' menswear after she decided that she wanted the brand to branch out from women's fashion in the 70s. The word "homme" directly translates to "man" in French, simplifying what you can expect from these product lines with just one word.
Homme is currently headed by Junya Watanabe for the Japanese market, while Homme Plus is designed by Kawakubo herself for Comme des Garçons boutiques elsewhere in the world. Both lines continue with the nonconformist style that the brand is known for, as evidenced by the use of elongated and asymmetrical patterns, along with the unusual combination of fabrics.
How to buy second-hand Comme des Garçons using FROM JAPAN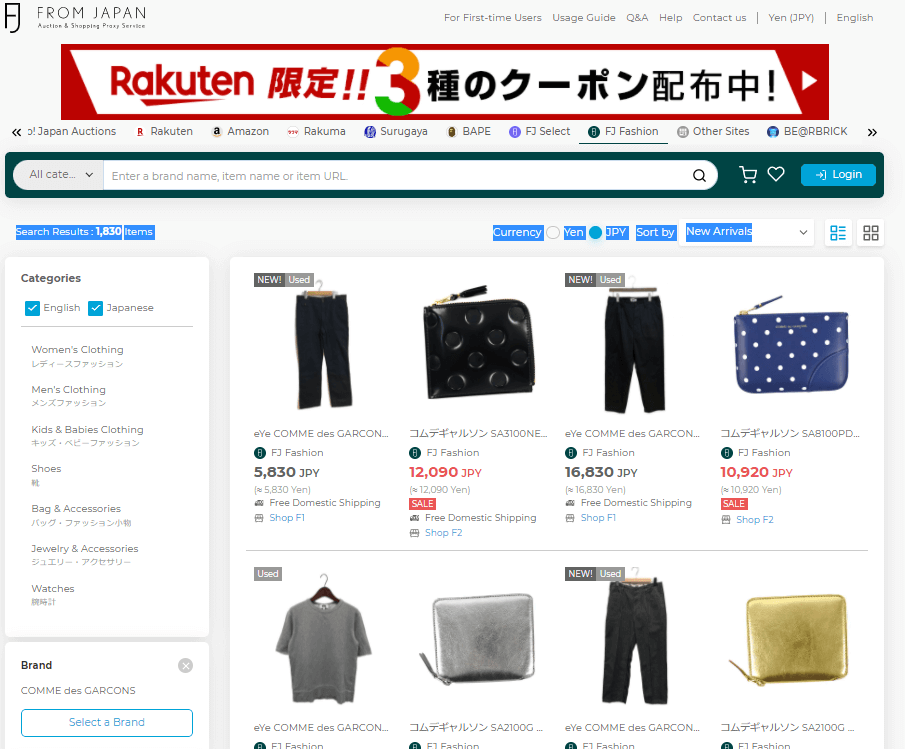 FJ Fashion is a section of our website dedicated to luxury and high-end brands. Since the listings shown here are from established secondhand stores in Japan, you can rest assured that the products you're looking at are authentic. In addition, since secondhand stores in Japan can be quite meticulous when it comes to the quality of items they accept, many of these items are also either unused or lightly used. You'll learn more about how to check the product's condition in Step 2.
If you're new to the site and want to learn how FROM JAPAN works, we have a handy Usage Guide with all the information you need to know.
Step 2. Check the item's details.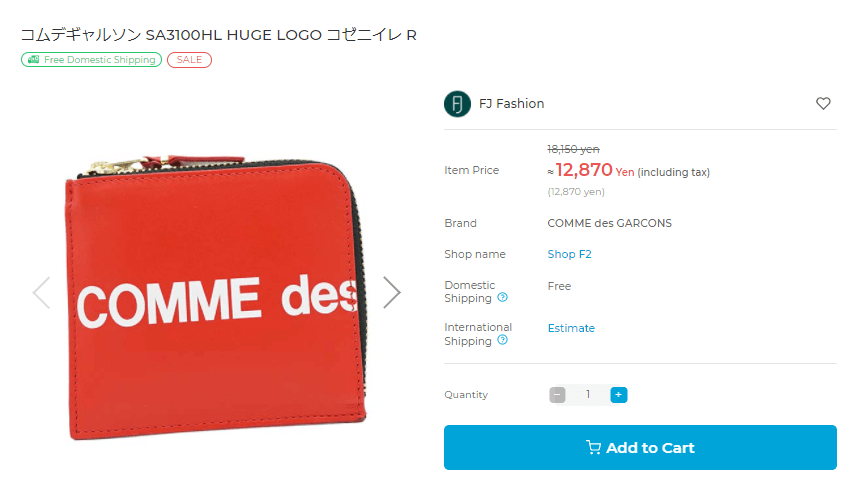 In this example, let's use this bold-colored coin purse with Comme des Garçons' logo. Once you click on the product you're interested in getting, the page that will greet you should look similar to this.
Aside from the product price on the righthand side, if you scroll down, you will see a section that says "Description". In order to know what it says, click on the drop down button and choose 英語 for English. Once you do, you'll get a Google translated version for you to read through before purchasing.
You can also get in touch with our Customer Service team if you encounter any issues along the way.
Step 3. Add items to your cart and pay for Charge 1.
Once you've checked the item's details and are happy to proceed with your purchase, simply add the item to your cart and proceed with your order. You will be prompted to pay for the Charge 1 payment at this point.
Step 4. Products arrive at our distribution center, ready for shipment instructions
When your items have arrived at our distribution center, you will be asked to provide shipment instructions on how you want to receive your items. Items can be stored for free in our warehouse for up to 45 days, which can save you some money if you're ordering multiple items from us!
Step 5. Pay for Charge 2.
After receiving your shipment instructions, we will send the Charge 2 invoice which includes the cost of domestic and international shipping, as well as our Product Protection Plan, which serves as insurance for added safety to your items.
Step 6. Shipping.
Once you pay for Charge 2, we dispatch your item within two business days. This excludes holidays and peak seasons.
Step 7. Arrival of your orders.
Lastly, all that's left is the arrival of your orders, and just like that, you just bought yourself some amazing Comme des Garçons items!
Why use FROM JAPAN?
FROM JAPAN combines years of experience with our powerful search engine and trusted sources to provide a wealth of incredible vintage fashion, bags and accessories. We open up your shopping experience to make items that would otherwise have only been exclusive to Japan available to you from anywhere in the world. We hope you enjoy your shopping using FROM JAPAN!