From Cinderella to High School Musical, Monsters Inc., Hannah Montana… The list is endless! It goes without saying, Disney is just one of those brands that needs no introduction. Disney is a big part of our global culture and Japan is no exception. Tokyo Disneyland opened in 1983 and 40 years on, it's still going strong. But seeing as none of us are going to Tokyo any time soon, Disney Store Japan is the next best thing! There are some super cool Japan-exclusives like Goofy & Max yukata, Mickey Mouse geta sandals, and Donald Duck handheld fans that just need to be bought!
Read the article below for a full breakdown of how to shop at Disney Store Japan.
How to buy from Disney Store Japan
As the Disney's online store in Japan does not ship outside of the country, you will need to use a proxy shopping service like FROM JAPAN. FROM JAPAN makes it super easy to buy and pre-order a whole range of Japan-exclusive items!
Step 1. Go to Disney Store Japan's official homepage.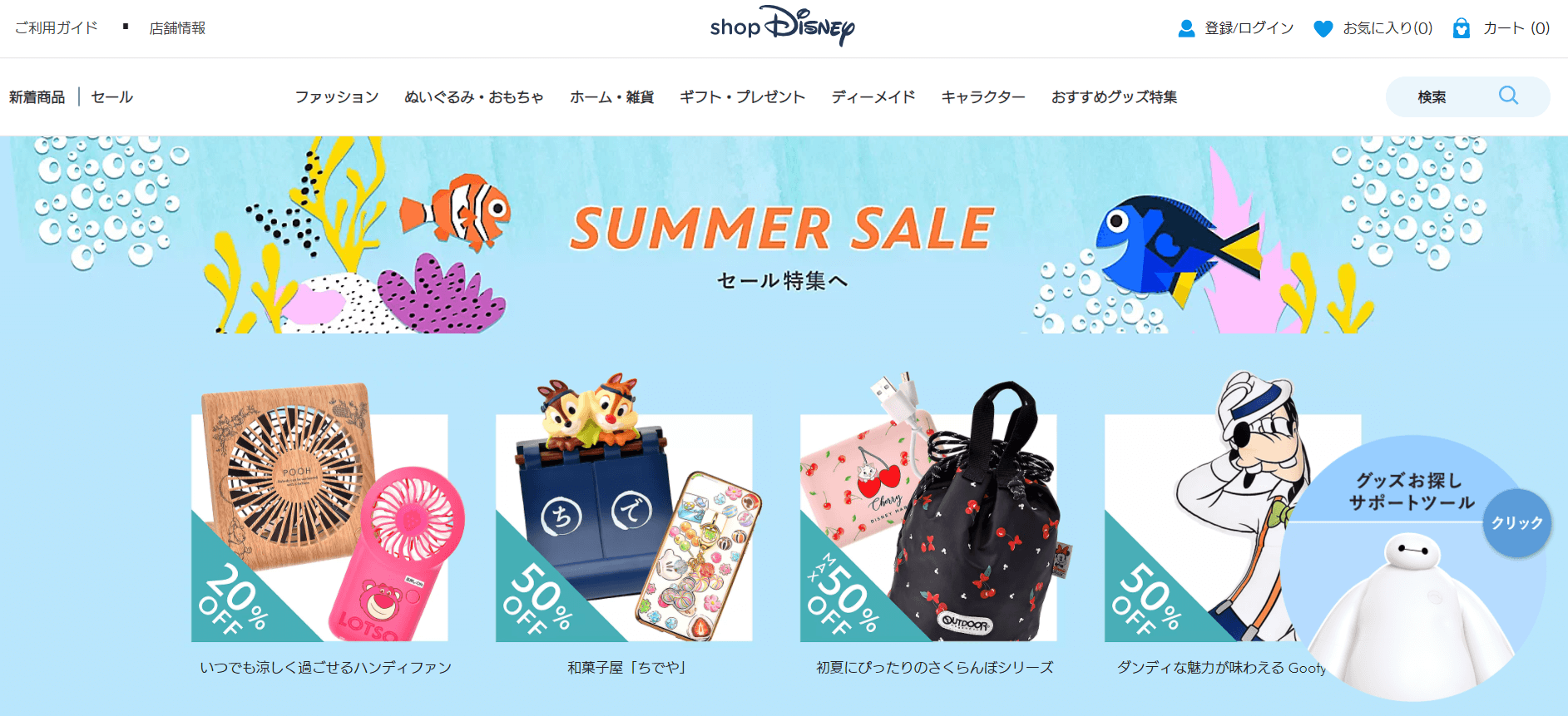 Disney Store Japan's homepage is great because it is full of pictures—a must when you don't speak Japanese! You can use Google Translate, or if you have a really specific query about something on the site, you can contact FROM JAPAN's multilingual Customer Service team who will help with any language troubles you may be having.
Step 2. Get searching!
There are quite a few ways to search for an item on the Disney Store Japan website. If you are just browsing, scroll away! The homepage has a lot of pictures, so you always know what you are clicking on.
If you are trying to do a more targeted search, the top bar allows you to search by character (キャラクター), fashion (ファッション) or plushies and toys (ぬいぐるみ・おもちゃ). You can also make use of the magnifying glass on the top right hand corner. Click through and a small window that looks just like this will open up: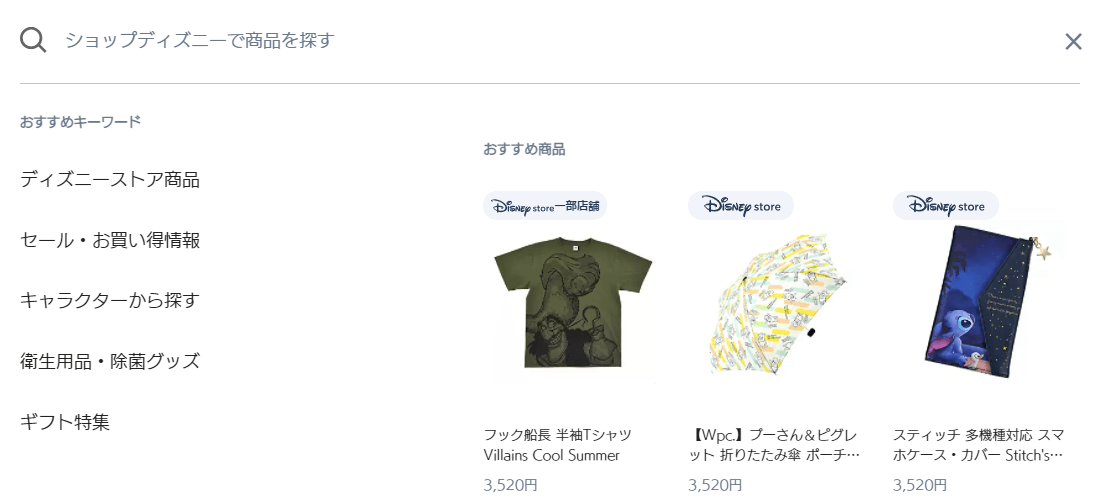 Click on the search bar. Before you say anything, you can type in English and get relevant hits, so no need to worry about Google translate just yet. If, for example, you wanted to see all the Disney Store yukata, you just type the word 'yukata' into the search bar and you will get something that looks a bit like this: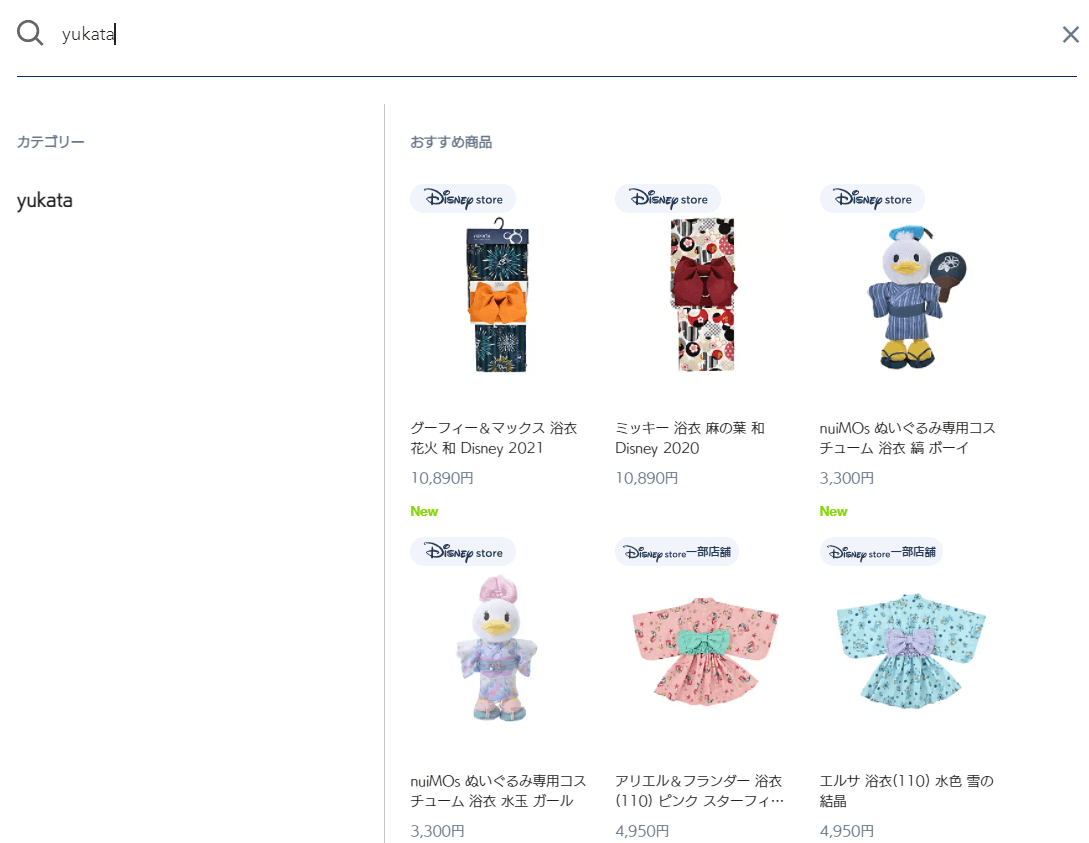 Scroll through and click on whatever takes your fancy.
Step 3. Check out the item details.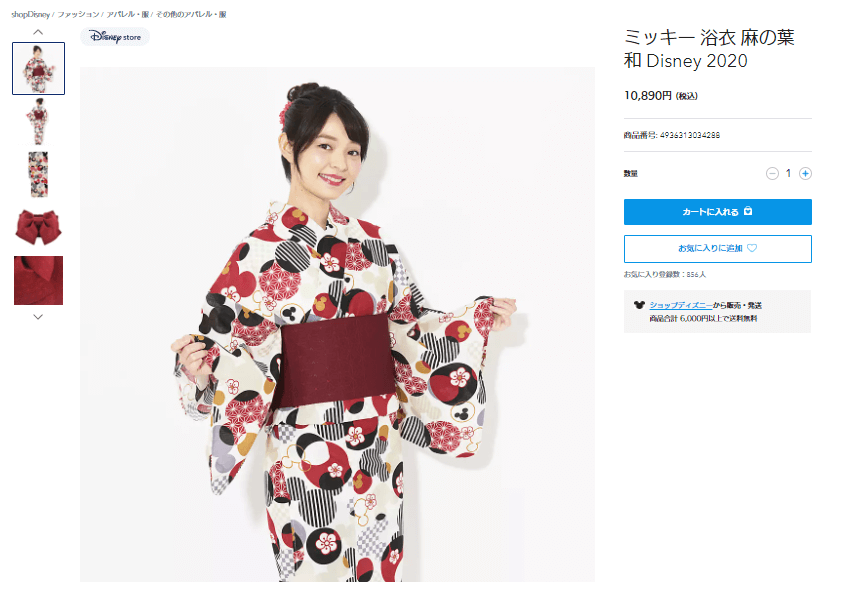 Make sure to review the item details (sizing, composition, pricing etc.) before placing an order with FROM JAPAN. It is really important that you pay attention to the prices when shopping on a Japanese website. Disney Store Japan includes VAT in the price of the item, but it is normal for Japanese retailers to calculate tax separately.
Step 4. Create an account with FROM JAPAN and then copy and paste the URL of the item page into FROM JAPAN's search bar.
Double-check all of the details for your item before you place your order. Then, copy the URL of the item and paste it into FROM JAPAN's search bar like below:

Step 5. Hit search and complete the order form.
Once you've hit the search button, you will be taken to our price quote request form where you will have to fill in the details of your order. Below is an example of a completed form: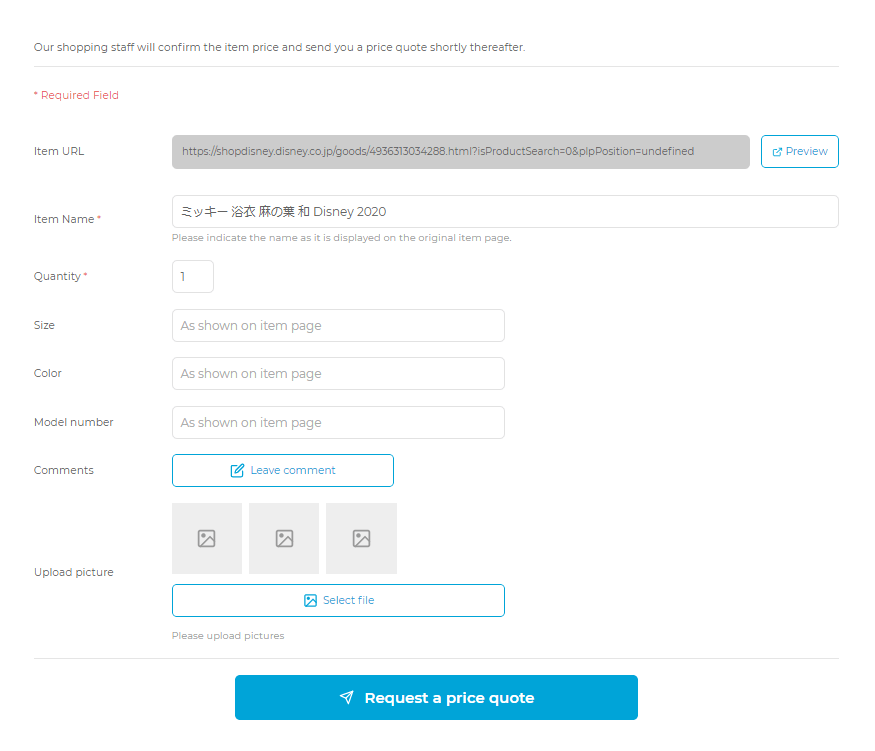 You will need to fill in the name of the item exactly as it appears on the site and provide the desired quantity. Make sure to fill in the fields about your preferred size, colour, and design if applicable because we need this information to process your order. Feel free to leave a comment if there's any extra information you would like to pass on. Don't forget to double-check all the details before sending!
Once we've processed your price quote request, our Shopping Team will send an invoice with the cost breakdown. If you are planning to buy multiple items from Disney Store Japan, you will need to request a separate price quote for each item.
After you have received all invoices and Charge 1 has been paid, your items will be shipped to our distribution centre. Once all your items have arrived at our warehouse, you can choose how you would like your order to be packaged and select your preferred shipping method. At this point, you will be sent to the Charge 2 payment page. Charge 2 includes international and domestic shipping fees, our Product Protection Plan fee.
We recommend that you check out our usage guide for more information about our process. If you have any more questions about how to use our service, our Customer Service team will be more than happy to help. Enjoy shopping at Disney Store Japan with FROM JAPAN!