Why buy secondhand Patek Philippe watches from Japan?
With the demand for luxury items in Japan comes a number of secondhand stores that carry all brands and all sorts of luxury items. In Japan, it's really common to find unopened, unused or used but still great quality luxury items, and the best thing is, even if they're in mint condition, they're sold for a fraction of the price of brand new items!
Luxury watches are one of the most treasured items that people have in Japan. And with all of the components that make up an intricately made luxury watch, secondhand stores in Japan have to take the utmost care in inspecting the watches that come their way to make sure they'll be in excellent working condition and still look great too.
Secondhand Patek Philippe watches sold in Japan are no exception. This luxury Genevan brand might not be as popular as Rolex, but their quality is immaculate and there is a market for their secondhand watches in Japan. If you're already a Patek Philippe fan, or you're someone who's looking to get your first Patek Philippe watch, buying them from Japan will ensure that they'll be in excellent quality while being cost effective too.
So if you're ready to take that dive, we're giving you an easy-to-follow, step-by-step guide on how to order secondhand Patek Philippe watches in Japan using FROM JAPAN!
Step-by-Step Guide on Buying Secondhand Patek Philippe watches from Japan
Step 1: Browse FROM JAPAN to find the perfect Patek Philippe watch for you.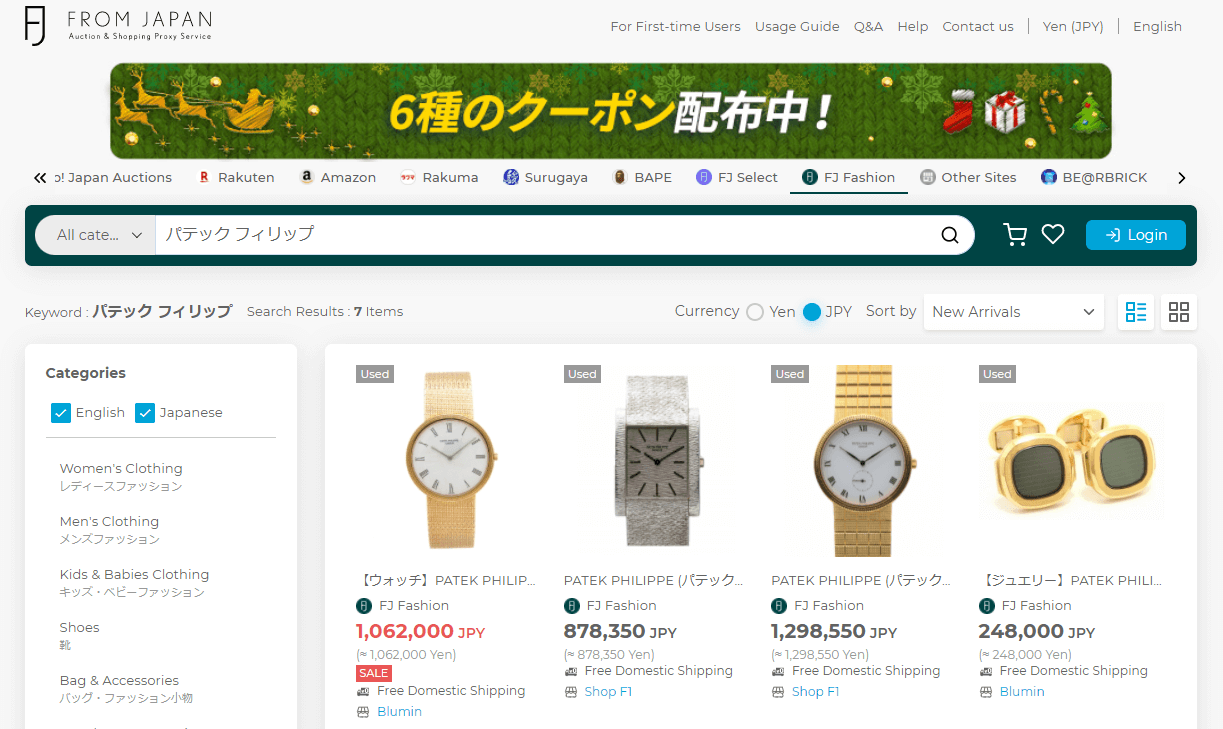 The Japanese word for Patek Philippe is パテック フィリップ, so when you open up the FROM JAPAN homepage, you can just copy and paste that directly on to our powerful search engine and you'll be greeted with the results from different shopping sites in Japan that carry Patek Philippe watches.
To ensure that you'll be getting authentic Patek Philippe watches (since unfortunately, fakes still exist even in Japan), we recommend using our FJ Fashion page. FJ Fashion is curated to only show items from secondhand stores that are highly trusted and established in Japan.
Step 2: Pick out your Patek Philippe watch and go over the item details.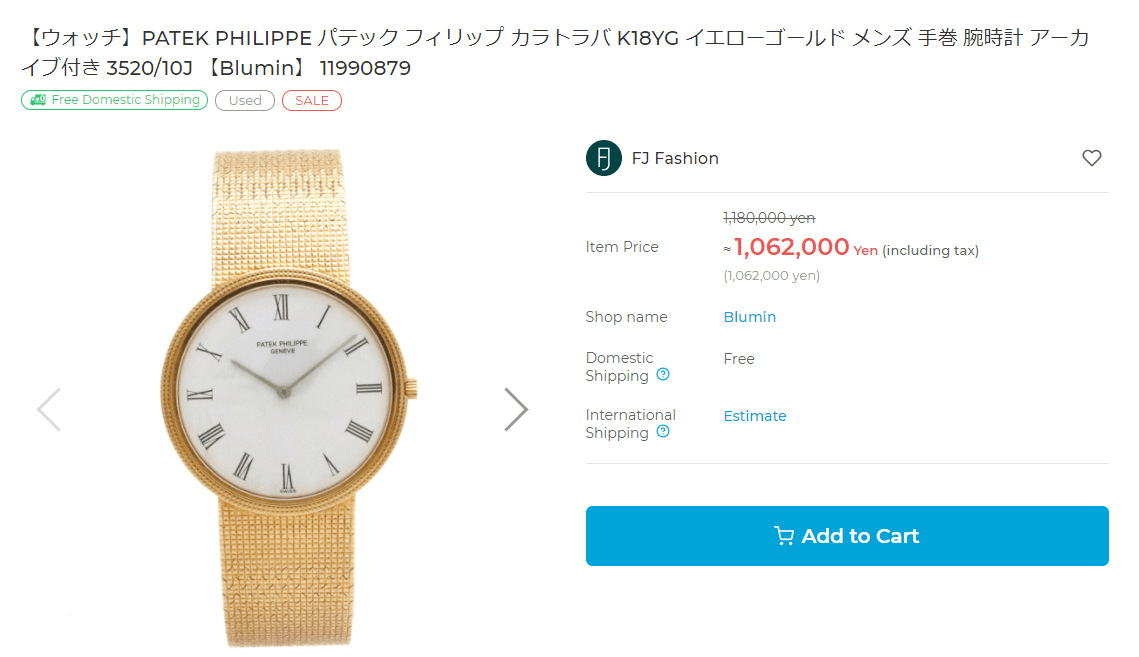 Upon clicking on a product listing, you'll see more details including the price, images of the product, and on the lower half of the page, you'll also see a lot of text written in Japanese. This is the item description taken directly from the secondhand store selling the watch. Fortunately, there is a handy Google translate tool you can use on the page. Click the drop down arrow and find 英語 for an English translation.
If you've clicked on a few of the item listings, you might have noticed a box at the top of the product page like the ones in the image below. In this case, so that you can make sure your watch will get to you if you're living outside of Japan, we recommend making use of the Google translate function for the "Description" at the bottom of the page and reading through it thoroughly.
In some cases, the keyword for prohibited items that was picked up might have just been a part of the product name, or from a different word, but the watch doesn't have the prohibited component itself. So we highly recommend reading through to avoid any mishaps with shipping.

Step 3: Add the Items to Your Cart and Pay for Charge 1.
Once you've confirmed that your Patek Philippe watch can be shipped to your country without any problems, add it to the cart and pay for Charge 1. If you have not signed up on the site, you will be prompted to do so at this point. You can pay through Credit Card, Deposit, FJ Points, or PayPal.
Step 4: Items Arrive at Our Distribution Center for Shipment Instructions
When your items have arrived at our distribution center, our Customer Service team will get in touch with you to confirm your shipment instructions. Items can be stored for free in our warehouse for up to 45 days, which you can take advantage of if you're ordering multiple items from us!
Step 5: Pay for Charge 2.
After receiving your shipment instructions, we will calculate the shipping fees and send you a Charge 2 invoice.
Step 6: Shipping.
Shipments are dispatched within 2 business days, excluding peak seasons and holidays so you can rest assured knowing you will receive your items speedily.
Step 7: Arrival.
And just like that, you are now a proud owner of a Patek Philippe watch from Japan! We're sure you'll enjoy styling your new watch with your outfits or just adding it to your collection!
If you're a first time user, we recommend going over Usage Guide to familiarize yourself with how FROM JAPAN works, or if you have any issues placing an order or questions about shipping, feel free to get in touch with us!
We hope you found this guide helpful, and happy shopping!