All information is accurate as of time of publication. Updated on July 2022.
Lashinbang is one of the best second-hand otaku stores in Japan, with its stores full of preloved anime, manga, and gaming goodies! The Lashinbang chain has several stores across Japan, as well as an online store full to the brim with all things otaku.
You can find a mix of official merch and a range of doujinshi and other fan-produced items. As Lashinbang specializes in the buying and selling of second-hand anime and gaming goods, you can find rare and hard-to-find items at reasonable prices!
How to buy from Lashinbang
Unfortunately, Lashinbang does not ship outside of Japan or accept non-Japanese payment methods, meaning that if you live abroad you're going to need the help of a proxy shopping service like FROM JAPAN. But have no fear – FROM JAPAN makes it easy to buy a whole range of Japan-exclusive items. Check out the article below to see how easy it can be to get your hands on all sorts of awesome anime and gaming goodies from Lashinbang with FROM JAPAN!
Step 1. Find the item you want through our FJ Select Lashinbang page.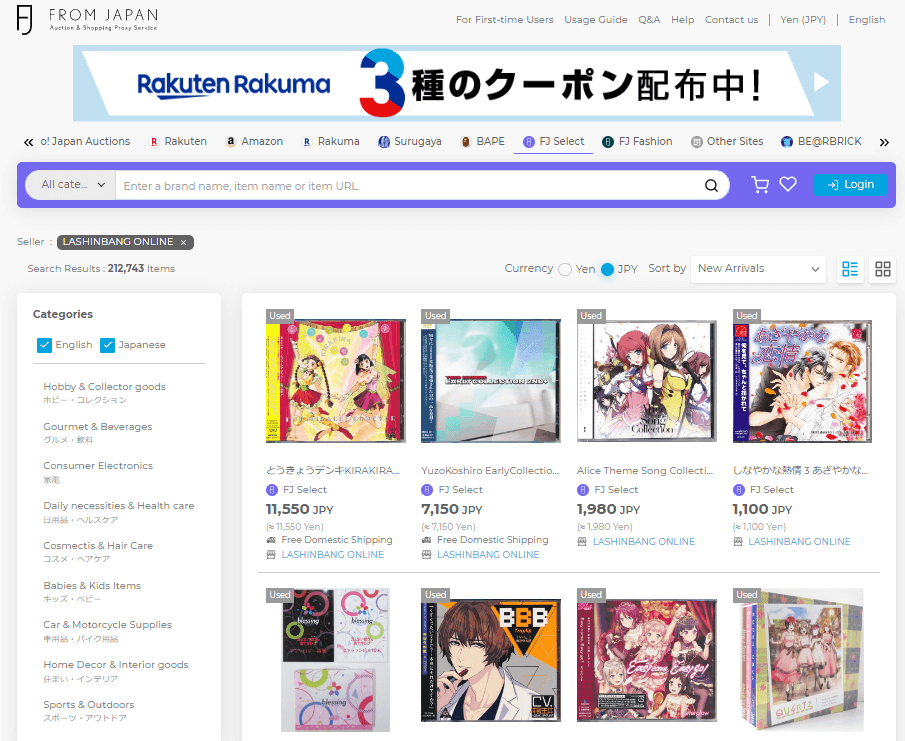 Lashinbang's items can now be easily found and ordered directly through FROM JAPAN!
You can browse for items through the Lashinbang page on our site or if you have a specific anime, game, character, or manga in mind, you can input their Japanese name into the page we linked to see what results you'll get.
You can find all sorts of items on Lashinbang — it's basically a shop made for otakus! So once you find something you want, let's proceed to the next step.
Step 2. Check the item details.
Before placing your order with FROM JAPAN, we can't stress enough how important it is to check and confirm the item details before completing your purchase so you know what you'll be getting.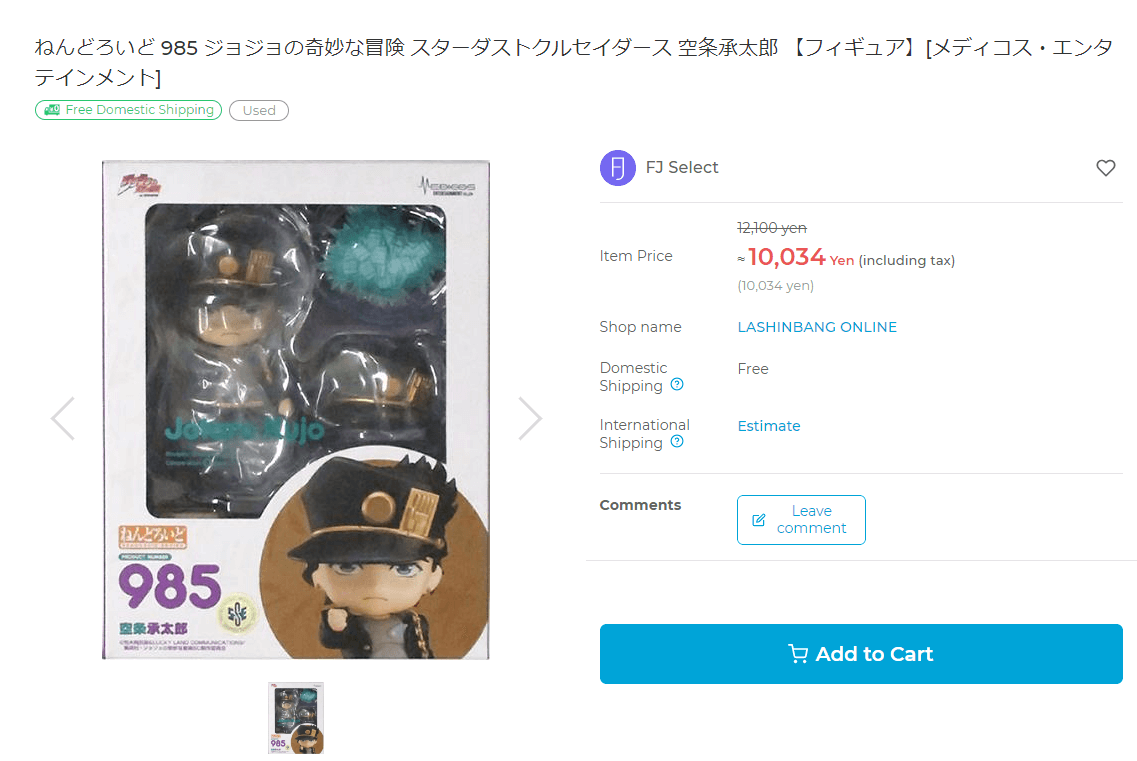 Let's say you want this Nendoroid of Jotaru Kujo from Jojo's Bizarre Adventure. You can see details such as the item price (which is even on sale right now!) and a link where you can get an estimate of the International Shipping.
But in order to get more details about this item, you will need to scroll down to where it says Description. You'll see that it's in Japanese but don't worry – simply click the drop down button and find 英語 and click on that for an automated English translation.
If you have any questions or queries about a certain item, don't hesitate to get in contact with our Customer Service team.
Step 3: Add the Items to Your Cart and Pay for Charge 1.
Once you've gone over the item listing and are happy with what you're about to buy, click on the Add to Cart button and you will be prompted to pay for Charge 1.
Step 4: Items Arrive at Our Distribution Center for Shipment Instructions
Next, your items will be sent to our Distrubution Center. Once they've arrived, we will contact you for shipment instructions to get the item to your destination. If you'd like to purchase multiple items at different times, they can be stored in our warehouse for up to 45 days for free, so you can then choose to have them all shipped to you together and save on your shipping fee.
Step 5: Pay for Charge 2.
Once we've confirmed your shipping instructions, you'll be sent a Charge 2 invoice which contains the details for domestic and international shipping charges, as well as the fee for our Product Protection Plan.
Each item you buy will be insured against seller non-delivery and loss/damage. Please note: Some item categories do not qualify for compensation. Find out more about ineligible items Customer Service team. Enjoy your otaku shopping with Lashinbang!
Disclaimer: In our experience, 18+ doujinshi can be exported from Japan. However, this is subject to Japanese Customs policy and discretion. Please be aware that each country or region's customs body defines rules and regulations for what material can be imported. FROM JAPAN does not review individual destinations' import regulations. Please be aware that issues regarding customs regulations are not covered by our Product Protection Plan.