All information is accurate as of time of publication.
Lashinbang is one of the best second-hand otaku stores in Japan, with its stores full of preloved anime, manga, and gaming goodies! The Lashinbang chain has several stores across Japan, as well as an online store full to the brim with all things otaku. You can find a mix of official merch and a range of doujinshi and other fan-produced items. As Lashinbang specializes in the buying and selling of second-hand anime and gaming goods, you can find rare and hard-to-find items at reasonable prices!
How to buy from Lashinbang
Unfortunately, Lashinbang does not ship outside of Japan or accept non-Japanese payment methods, meaning that if you live abroad you're going to need the help of a proxy shopping service like FROM JAPAN. But have no fear – FROM JAPAN makes it easy to buy a whole range of Japan-exclusive items. Check out the article below to see how easy it can be to get your hands on all sorts of awesome anime and gaming goodies from Lashinbang with FROM JAPAN!
Step 1. Go to Lashinbang's official online store.

Once you reach Lashinbang's official online store (make sure it's not their main website), you can get started on your otaku shopping!
You may have noticed that there's no option to change the language on Lashinbang's site. You can run Lashinbang through Google Translate in order to get a basic understanding of the site. For more specific Japanese language-related questions, you can contact our multilingual Customer Service team.
Step 2. Get searching!
There are several ways you can begin your search on Lashinbang's online store. If you know the Japanese for a particular series, item, or character then you can use the search bar at the top of the page, as pictured below:


Below the search bar you can find the list of categories, which translate to the following:
男性向け – Doujinshi and fan-made items aimed at male audiences. You can find a lot of hentai and doujin products unsuitable for minors in this category, but there are some items in this genre that are suitable for a general audience.
女性向け – Doujinshi and fan-made items aimed at female audiences. This category is mainly comprised of doujin items featuring male pairings, with plenty of yaoi and BL (boys' love) doujinshi. You can expect a lot of 18+ material in this category, however you can also find many items that are not sexually explicit.
グッズ – "Goods", or general merchandise. Within this category you can find several subcategories such as フィギュア (figures), 抱き枕カバー (dakimakura covers), タペストリー (tapestries), 缶バッジ・ラバーストラップ・キーホルダー類 (pin badges, rubber straps, key rings etc.), and その他 (others.)
映像・音楽 – Video and music. You can find anime and gaming related DVDs, Blu-rays, and music CDs in this category.
書籍 – Books. You can find manga, novels, photo books, and other printed publications in this category.
金券類 – Collectible gift certificates and tokens, including prepaid cards and stamps. FROM JAPAN can only ship empty prepaid cards, and we may refuse shipment if we cannot determine the value of the card. As a policy, FROM JAPAN cannot ship stamps, gift certificates, money, or any other item that can be exchanged for something of monetary value. You can find more details on prohibited items here.
衣装 – Apparel and cosplay. You can find anime and gaming related apparel, accessories, cosplay costumes, wigs, and dolls in this category.
One more way to search for products on Lashinbang is through their list of featured products, which you can find underneath the categories bar.

The page lists the latest arrivals on the Lashinbang online store, collections of items from popular series, and themed collections making it a great place to start your otaku shopping!
Step 3. Check the item details.
Before placing your order with FROM JAPAN, we can't stress enough how important it is to check and confirm the item details before completing your purchase. Let's take a look at a typical product listing on Lashinbang.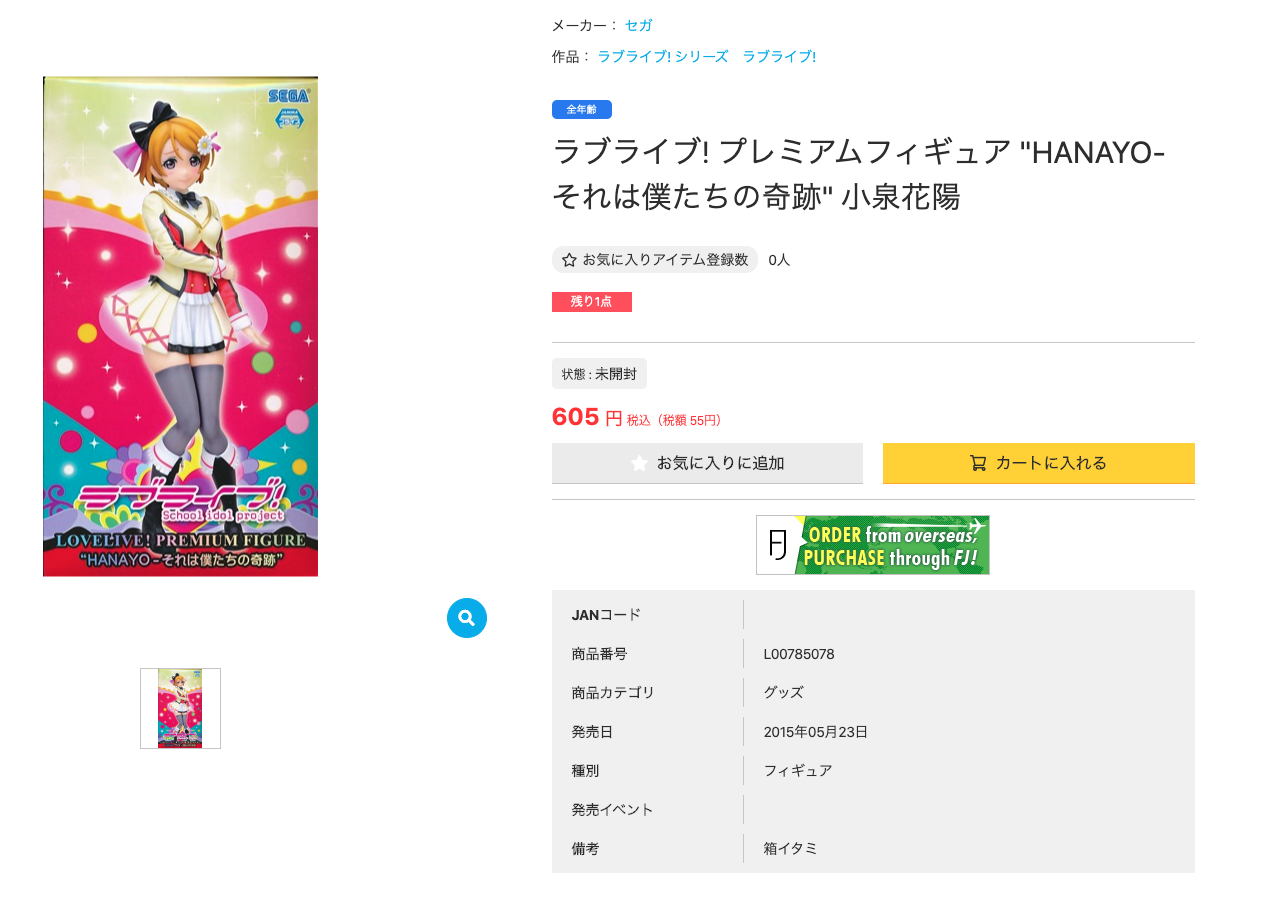 Here you can see the price of the item is 605 yen (including tax). As Lashinbang deals in pre-owned products, the listing will also list the condition (状態) of the item. Here the condition of the figure is listed as 未開封 (unopened), meaning that the figure should be in good condition and will arrive in the box. However, in the notes (備考) section of the listing, it says "箱イタミ" which indicates that there is some damage to the box. Further information on the condition of the item will always go under this 備考 section, so make sure to check it thoroughly before going through with a purchase.
If you have any questions or queries about a certain item, don't hesitate to get in contact with our Customer Service team.
Step 4. Create an account with FROM JAPAN and copy and paste the URL of the item page into FROM JAPAN's search bar.
Once you've checked all the item details, it's time to add it to your FROM JAPAN order! All you need to do is copy and paste the URL of the item page into FROM JAPAN's search bar as pictured below:

Step 5. Hit search, confirm the item details and request a price quote.
After hitting enter, you will be taken to our price quote request form where you can fill out the details of your order. Here's an example of a completed form: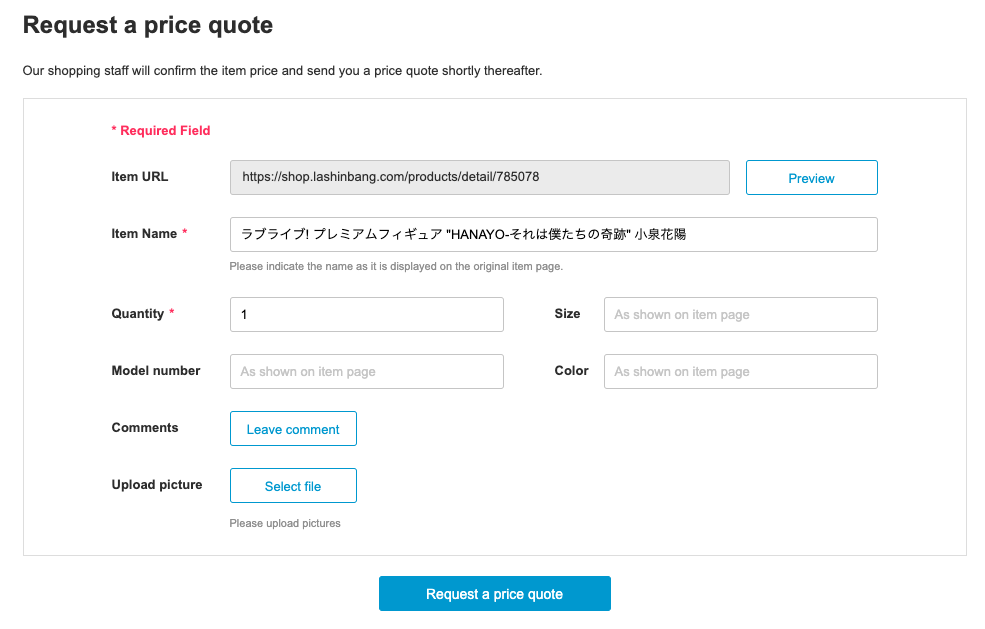 You should write the item name exactly as it appears on the site and provide the desired quantity of the item. You can also leave us a comment with any extra information you would like us to know in the comment field. Don't forget to double-check all of the item details before sending it to us!
Once we've processed your price quote request, our Shopping Team will send an invoice for the cost of the item. If you are planning to buy multiple items from Lashinbang, then you will need to request a separate price quote for each unique item.
Once all of your invoices have arrived and you have paid Charge 1, your items will be shipped to our distribution center. After all of your items have arrived at our warehouse, we will wait for your shipment instructions regarding what items you would like shipped together and your preferred shipping method. At this point, you will be sent to the Charge 2 payment page. Charge 2 includes international and domestic shipping fees, as well as the fee for our Product Protection Plan. Each item you buy will be insured against seller non-delivery and loss/damage. Please note: Some item categories do not qualify for compensation. Find out more about ineligible items Customer Service team. Enjoy your otaku shopping with Lashinbang!
Disclaimer: In our experience, 18+ doujinshi can be exported from Japan. However, this is subject to Japanese Customs policy and discretion. Please be aware that each country or region's customs body defines rules and regulations for what material can be imported. FROM JAPAN does not review individual destinations' import regulations. Please be aware that issues regarding customs regulations are not covered by our Product Protection Plan.