How to buy from the Parco Online Store
Parco is a chain of department stores with over 60 years of history in Japan. It's popular among people who shop for high end Japanese and foreign brands, and they have everything from apparel and food products to more specialized hobby and lifestyle items.
They also have consistent pop-up stores that sell limited edition items, and they also hold lots of collaborations with brands. For example, Parco collaborated with Super Mario to release new styles of wallets, watches and loungewear with Super Mario motifs. Their website, Parco Online Store, also makes it convenient for those who can't visit their branches in Japan.
No matter what your preferences are, you're sure to find something that will appeal to you on Parco Online Store. In this article, we'll help you get your hands on that using FROM JAPAN!
Step 1. Go to the Parco Online Store official homepage.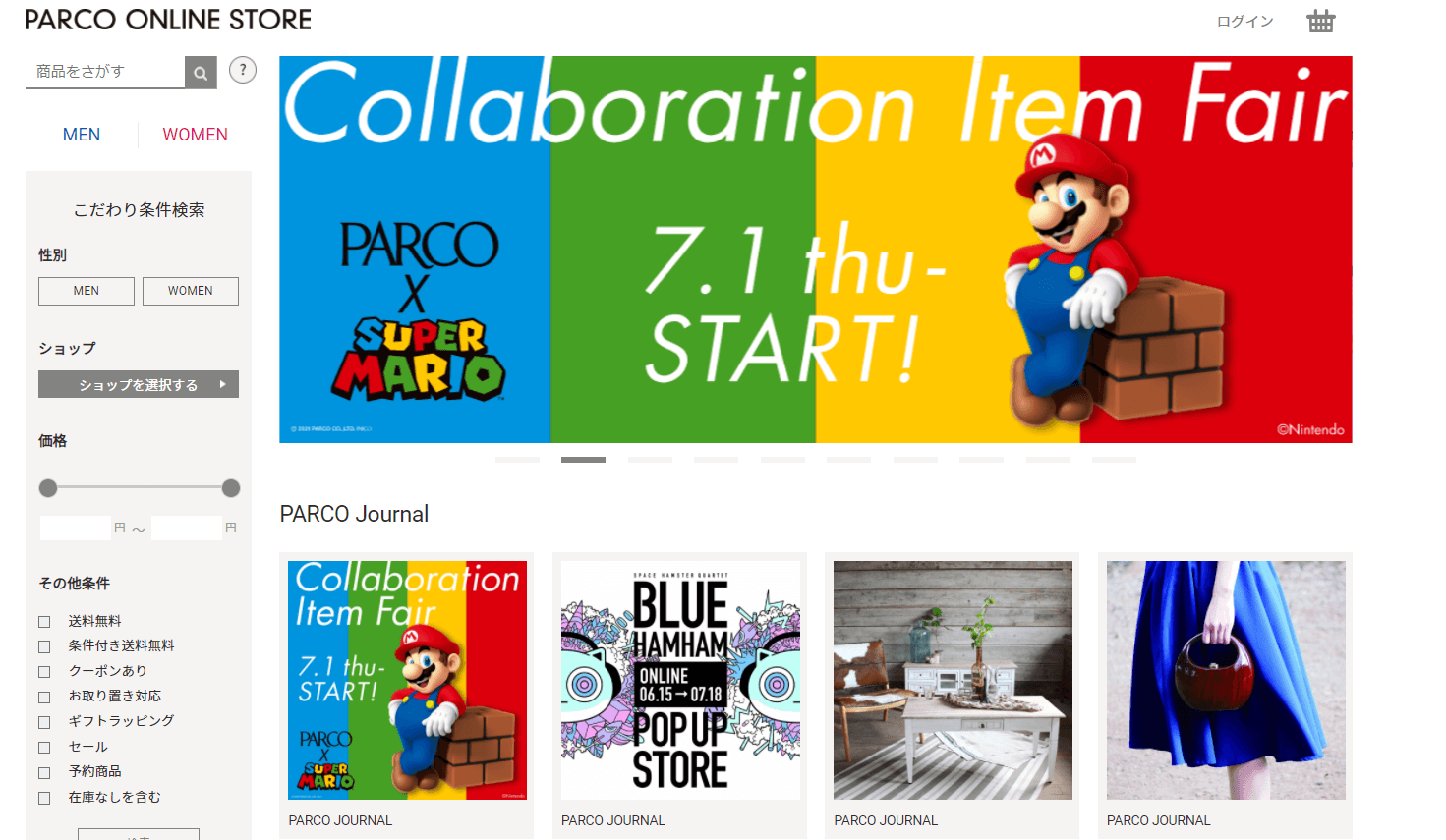 On the Parco Online Store homepage, you can browse through tons of products in different categories. And since Parco has a new pop up store almost every month, they also have a Pop-up Shop website where exclusive and limited edition products can be bought online.

Step 2. Get searching!
The portion of the main Parco Online Store homepage that you want to focus on is the left hand side. A search bar at the top left corner lets you input a product name or brand, and below that, you can further refine your search through different filters.
The main filters they have are for "Men" and "Women", shop names (clicking on "ショップを選択する – Select a shop" will open up a long list), and price (under "価格 – Price" you can input a minimum and maximum price).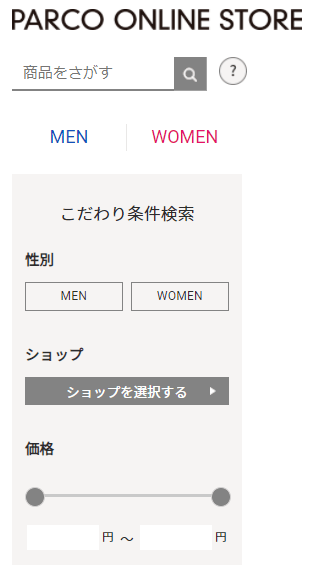 The other thing you want to focus on is the カテゴリー (Categories) portion of the website. There are lots of categories listed under here, and since the category names are short, Google Translate can provide you with a good idea of what each one is.
On the other hand, Parco Online Store's Pop-Up Shop website is a bit more straightforward with browsing through the items. You will only see the pop-up shops that are currently active. Each shop has images of products so you can see what kind of stuff they have, and next to "開催期間 – Event period" you'll see until when the pop-up shop is active. Clicking on the "商品一覧へ" button will take you to the pop-up shop's product listing page.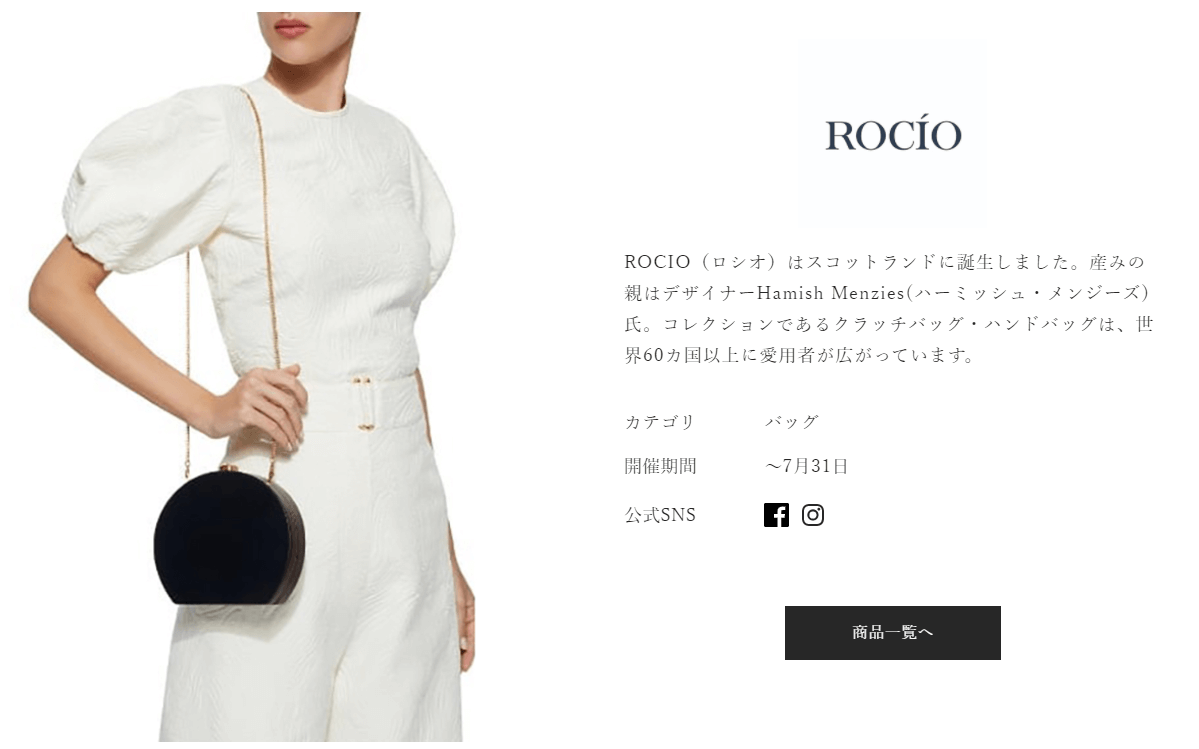 Step 3. Check out the item details.
Once you've picked out something you want to buy, it's time to look at the item details. Luckily, the item details page for both the main Parco Online Store website and the Pop-up Shop website have the same layout.
In this example, we'll be using this collaboration t-shirt between J Balvin and contemporary Japanese artist Takashi Murakami.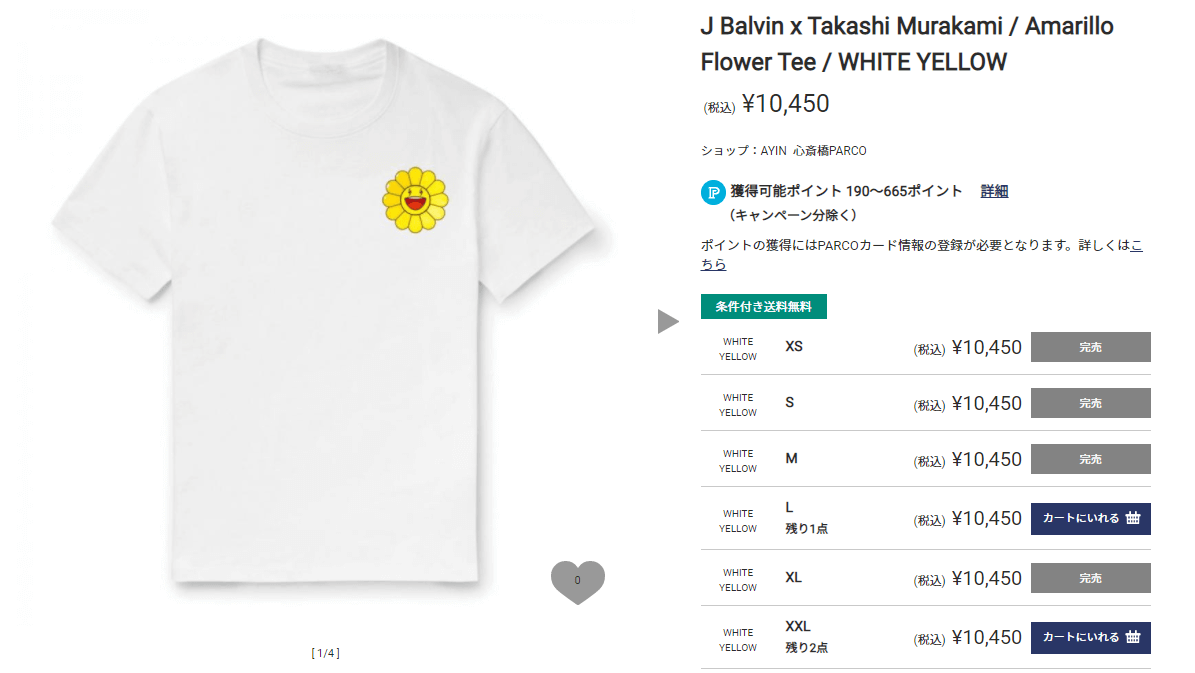 On the right side, you'll see the product name, the price (this automatically includes the Japanese consumption tax), and the different sizes for the shirt. You'll notice on this image that there are grey buttons with "完売", this means that that size is currently sold out.
For the L and XXL sizes, since they're still available, the button says "カートに入れる – Add to my cart". However, you'll also see "残り1点" and "残り2点", this means "Only 1 item left" and "Only 2 items left" respectively, so we better get this fast!
Step 4. Create an account with FROM JAPAN and then copy and paste the URL of the item page into FROM JAPAN's search bar.
Once you've double-checked the details of your item, it's time to place your order! All you need to do is copy the URL of the item from Parco Online Store and paste it into FROM JAPAN's search bar.

Step 5. Hit search and complete the order form.
Clicking on the search button will take you to our price quote request form where you will have to fill in the details of your order. Below is an example of a completed form.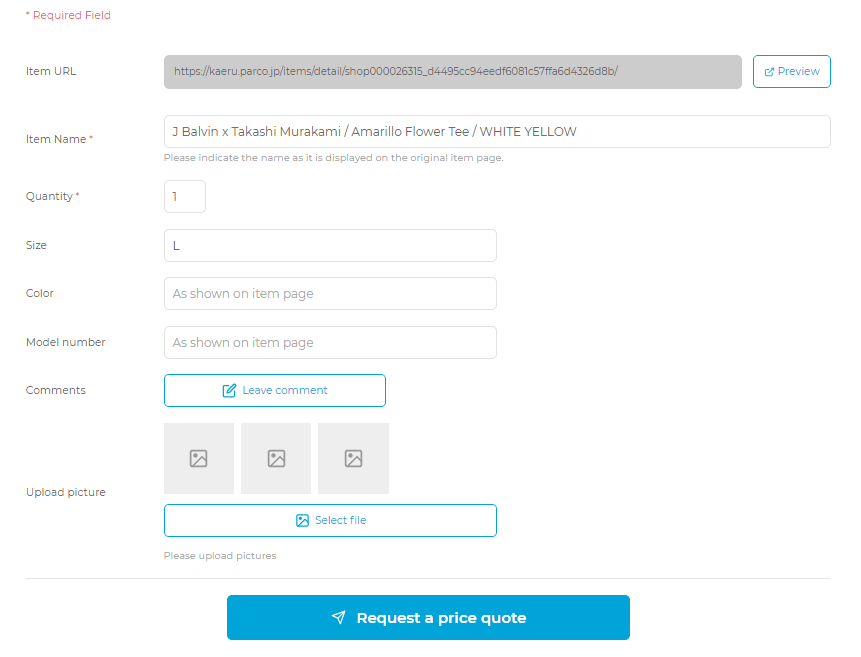 You need to fill in the name of the item exactly as it appears on the site. For names originally in Japanese, you need to copy-and-paste the Japanese name.
Next, fill in the quantity of items you want to order. If an item has different sizes or colors, make sure to fill these in as well because we need this information to proceed with your order. You can also choose to upload images of the item if you wish to do so.
Lastly, you can leave us a comment if there's any extra information you wish for us to know. Don't forget to double-check all the details before sending it to us! Please also note that for items with very little stock remaining like in this example, the item might get sold out before your price quote request goes through.
If your item is still in stock and we've processed your price quote request, our Shopping Team will send an invoice with the cost breakdown of the item. If you are planning to buy multiple items, you will need to request a separate price quote for each individual item.
After you have received all invoices and Charge 1 has been paid, your items will be shipped to our distribution center. Once all your items have arrived at our warehouse, you can choose which items you would like shipped together and select your preferred shipping method. At this point you will be sent to the Charge 2 payment page. Charge 2 includes international and domestic shipping fees, as well as the fee for our Product Protection Plan.
Step 6. Wait for your Parco Online Store order to arrive!
Now that you've placed your order, all that's left is to wait for it to arrive!
In the meantime, we recommend that you check out our usage guide for more information about our process. If you have any more questions on how to use our service, our Customer Service team will be more than happy to help. Happy shopping!