What is Rakuma?
Established in 2012, Rakuma (then known as "Fril", which is still used in the URL) was Japan's first mobile marketplace app, focusing on fashion and beauty. Mercari may be the biggest name in the Japanese smartphone marketplace world, but Rakuma is vying for that crown. With over 10 million app downloads and counting, Rakuma is here to stay. Whether you're interested in Japanese streetwear, kawaii Harajuku fashion or luxury brands, you can find tons of great deals within the thousands of listings on the site.
If you want to start shopping on Rakuma but find it difficult to navigate the site in Japanese, then look no further. In this shopping guide, we will take you through how to search for items or brands, and even how to order on Rakuma without a Japanese address or credit card with FROM JAPAN's proxy service!
How to shop on Rakuma
Let's start with the simplest way to find an item – the good old search bar! Don't worry if you have zero Japanese language skills. Even putting a brand name in English fetches many results and you can jump onto related items from there. Look at all the suggestions that came up just from typing in BAPE!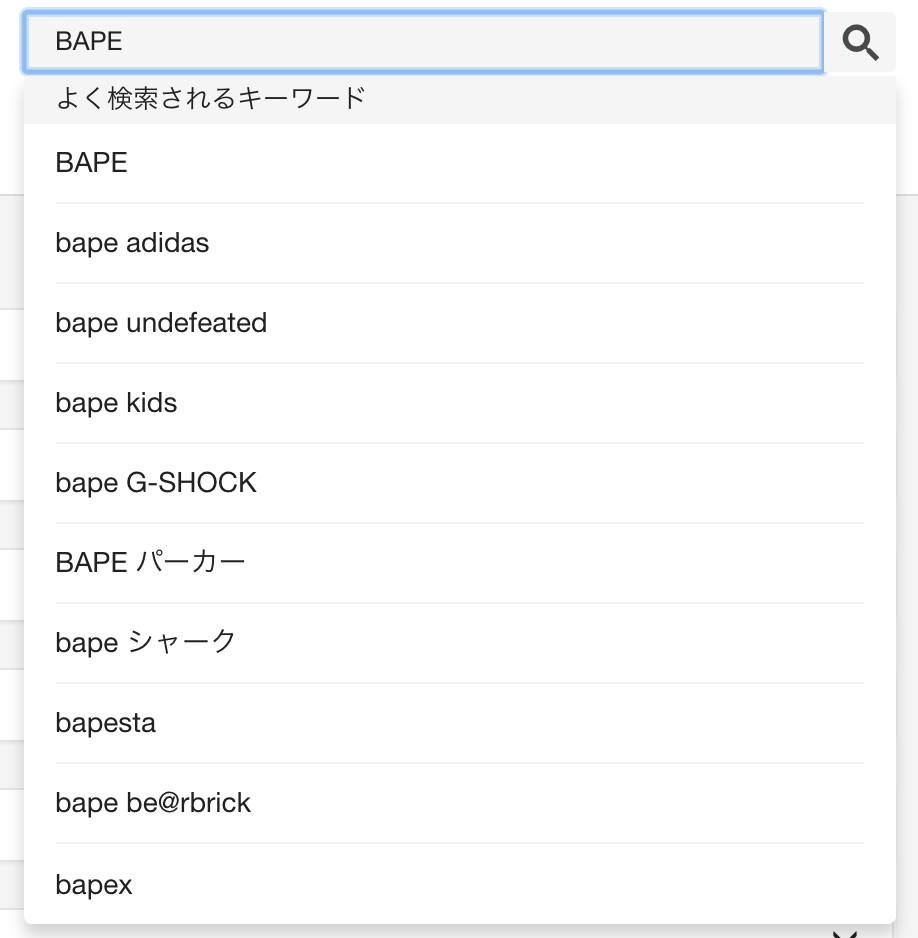 The results of your search will look like the picture below.

From here you can click through to get more info on the items or click the heart icon to add to your favorites. Sold out items are clearly labeled with red banners. So far, so simple!
We also recommend that you look through Rakuma's extensive brand directory.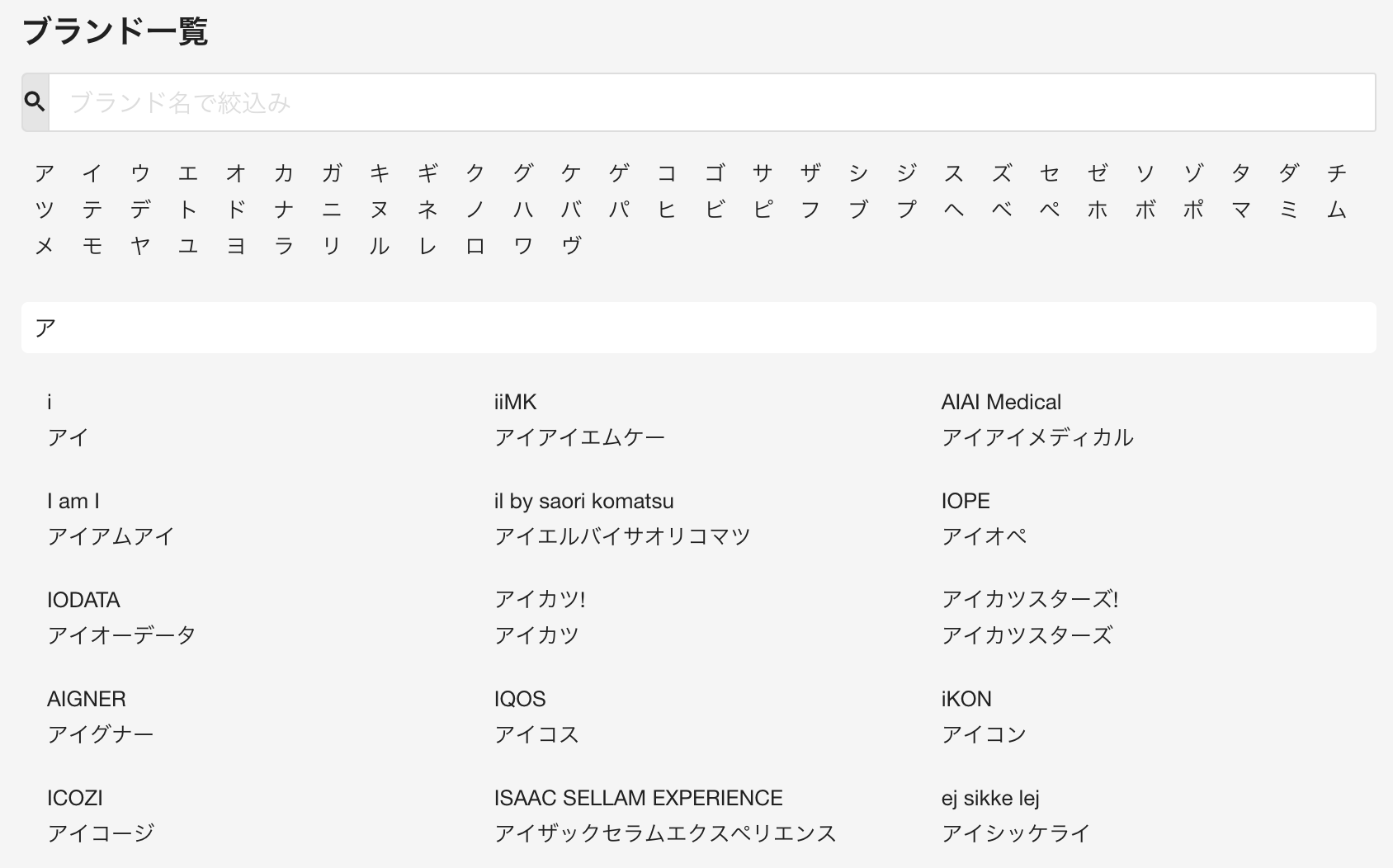 The brands are listed alphabetically and have their names written in both English and kana. While Rakuma is best known for fashion and beauty, they have a wide range of product categories so you may find some brands outside of the fashion world listed here too.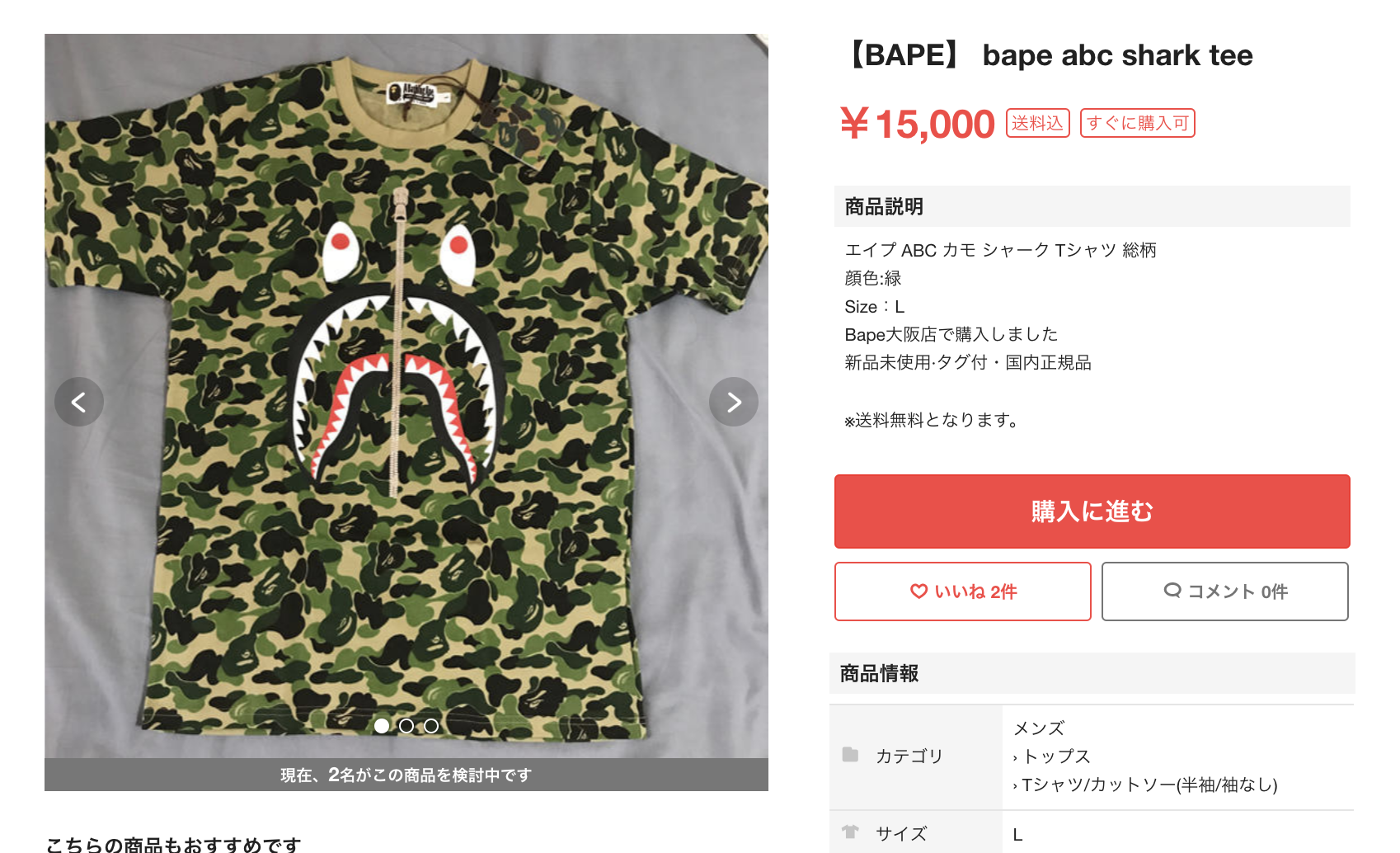 Once you click through to your preferred brand, these five headings can narrow down your search even more.
すべて: Everything
新品: New items
中古: Second-hand items
コーデ: Popular outfits
値下げ: Reduced price items
The first three headings are pretty self-explanatory, so let's take a closer look at the last two. The コーデ tab shows several outfits with popular items while 値下げ lists items that have recently gone down in price.
Now, onto the product listings! They'll look a little something like the picture below: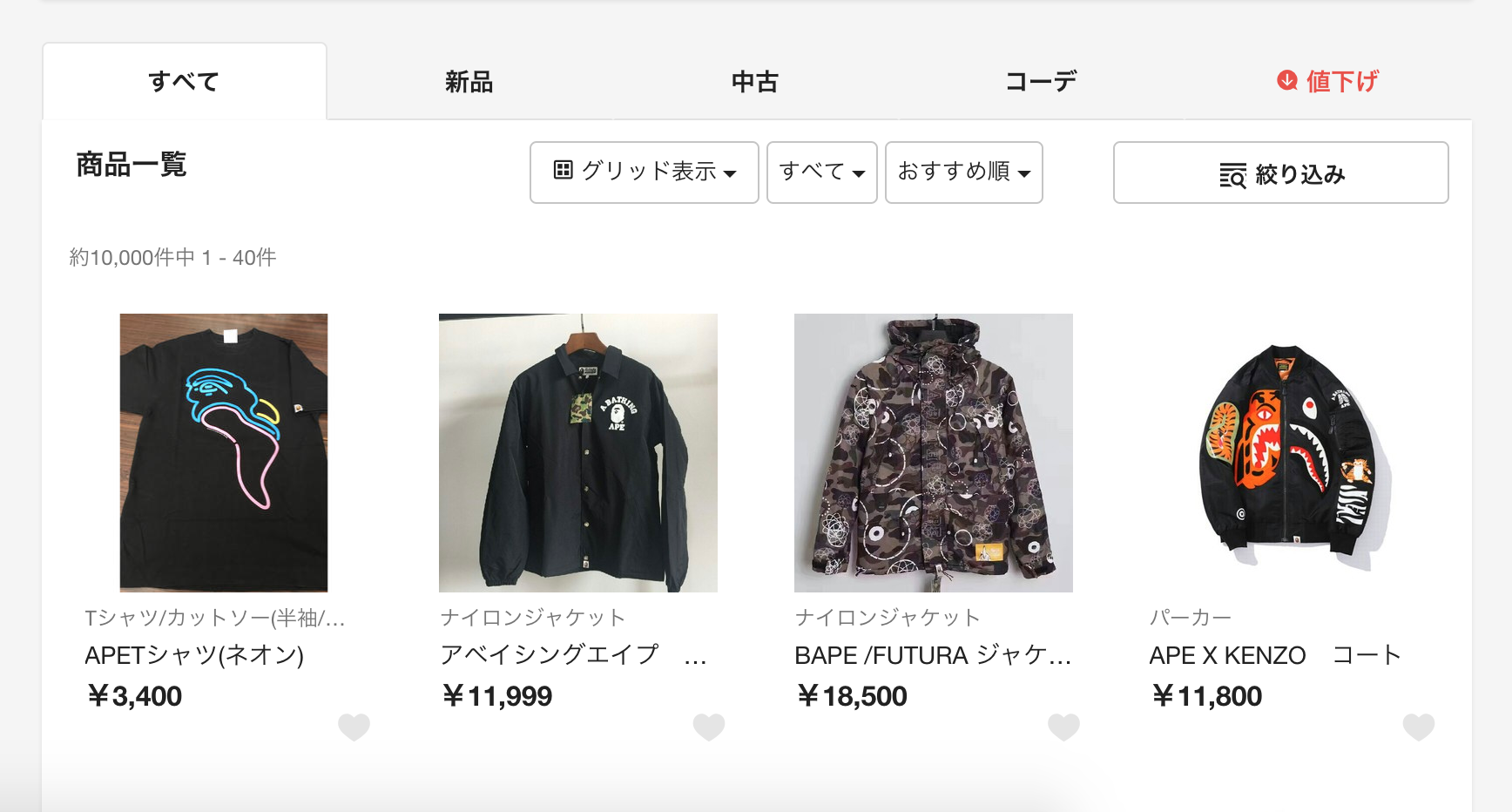 Beside the price, you'll see 送料込 (domestic delivery included), but that isn't always a given, so make sure to double check.
Next thing to check is the すぐに購入可 (instant buy) heading. For those of you buying within Japan, if the listing doesn't have this option then you will have to directly contact the seller to show your interest in the item. However, if you are purchasing the item through our proxy service, we will handle all of the negotiations with the seller for you! The seller may have other interested buyers when an inquiry is made, so you might need to be patient as they make their decision. If the seller is happy with what they see, they'll give the thumbs up to continue on with the purchase.
Now, for the most important part of the listing, the product information. Our Customer Service team can take you through the Japanese, but here's the info we think you should be 100% sure about before going through with the purchase.
サイズ: Size
ブランド: Brand Name
商品の状態: Item Condition
発送日の目安: Shipping Date Estimate
We also can't stress enough how important it is to check the seller's feedback before going through with a purchase. If a new user with no feedback is selling Louis Vuitton bags for ¥2000, it's best to be very wary of them. With online shopping, especially with these marketplace shopping sites, it's best to remember the phrase "If it seems to good to be true, it probably is".
One last thing to note is that most sellers have a strict "no returns, no exchanges" policy, so it's best to keep that in mind before you commit to any purchase. If you're unsure about anything on the product listing, feel free to ask our Customer Service team before placing your order.
How to buy from Rakuma with FROM JAPAN
Unfortunately, Rakuma's service is limited to those who have a Japanese address, but that doesn't mean that your location should limit your shopping. When you use FROM JAPAN's proxy service, you'll get help with Rakuma's entire buying process and so you can score some great deals on Rakuma! Ordering items from Rakuma is really simple with FROM JAPAN. Just paste the URL of the item you want to buy in the search bar on our homepage to add it to your order. We'll do the rest from there so you can relax while waiting for your Rakuma items to arrive! Check out our FAQ page or contact our Customer Service team directly for more details about our service. Happy shopping on Rakuma! ⭐