For over 40 years, Capcom has been coming up with games that are loved by generations of fans. Their games are just as diverse as their audience — whether you're a classic gamer who grew up playing games like Street Fighter or Mega Man in the arcades, or a new fan playing the latest releases of famous franchises like Resident Evil or Monster Hunter — there's a Capcom game for everyone.
How to buy from the Capcom Online Store
No matter what type of fan you are, the Capcom Online Store has got you covered. Their website features all sorts of merchandise for some of their most popular series, including merch from their latest games, like the highly anticipated addition to the Monster Hunter series, Monster Hunter Stories 2: Wings of Ruin.
If you're ready to dive into the world of Capcom merchandise (or add more to your collection if you already have one!), this guide will help you get them straight from Japan. Now you don't have to worry about missing out, even on those Japan-exclusive and limited edition Capcom items!
Step 1. Go to Capcom's official homepage.
When you open the Capcom Online Store homepage, you're greeted with exciting images for some of the games that Capcom is releasing new merchandise for, like the previously mentioned Monster Hunter Stories 2: Wings of Ruin and Resident Evil Village.
A quick glance at these banners can give you an idea of what items are available on the Capcom Online Store, and although the website doesn't have an English version, we'll guide you through things to make it easy for you to get your hands on the merch that you want.
Step 2. Get searching!
There are a few ways to find items on the Capcom Online Store. The top portion of the site has a short English translation to show you what each tab is about. The "Game Titles" and "Special" tab shows some game titles in English and the game logos so fans can easily recognize them.
Switching over to the "Recommends" and "Categories" tab will show you how they made the site for a Japanese audience — but you shouldn't let that stop you! We've made a quick guide in English. From here, you can freely browse the items listed until you find something that catches your eye.
Recommends (Recommendations):
Categories:

If you already know what item you want, the best way to find it is to take the Japanese name of the game or character you want to buy a product of, and copy-and-paste it into the search bar that appears when you click on the magnifying glass icon on the top right portion of the site. Once you find an item you like, click on the item listing and proceed to the next step.
Step 3. Check out the item details.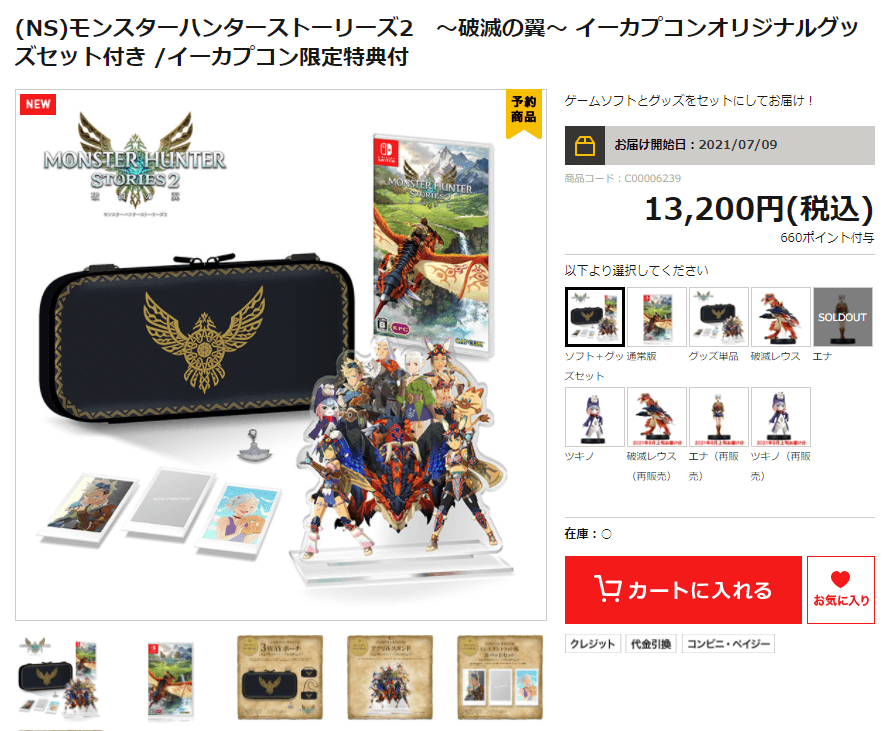 In this example, we'll be using this Monster Hunter Stories 2 merch set for the Nintendo Switch. The set comes with a copy of Monster Hunter Stories 2 for Switch, a Monster Hunter pouch, an acrylic stand with some of the game's characters, and pins styled to look like instant photos.
Although the page is in Japanese, the good thing about the Capcom Online Store is that they clearly list the product's details, making it easy to copy-and-paste them into Google Translate. This page shows you the price (which automatically includes the 10% Japanese consumption tax), the estimated date for when they will start delivering the product within Japan, and a short description. For sets like this, the page also lists all the items you'll get.
Some terms you need to look out for are the following:
カートに入れる – This means that the product is currently available. Items that are sold out will have "SOLD OUT" written in English.
予約商品 – "Items for Reservation." These items have not been released yet, so you are reserving them for yourself until they are. The product details page sometimes lists the release date, but you might also find this on the top right portion under お届け開始日 (Start date of delivery).
Step 4. Create an account with FROM JAPAN and then copy and paste the URL of the item page into FROM JAPAN's search bar.
Once you've double-checked the details of your item, it's time to place your order!
All you need to do is copy the URL of the item from the Capcom Online Store and paste it into FROM JAPAN's search bar. If you're ordering a set item, the item page also sometimes displays individual items to choose from, so make sure that you have the set item selected before copying the link.

Step 5. Hit search and complete the order form.
Clicking on the search button will take you to our price quote request form where you will have to fill in the details of your order. Below is an example of a completed form.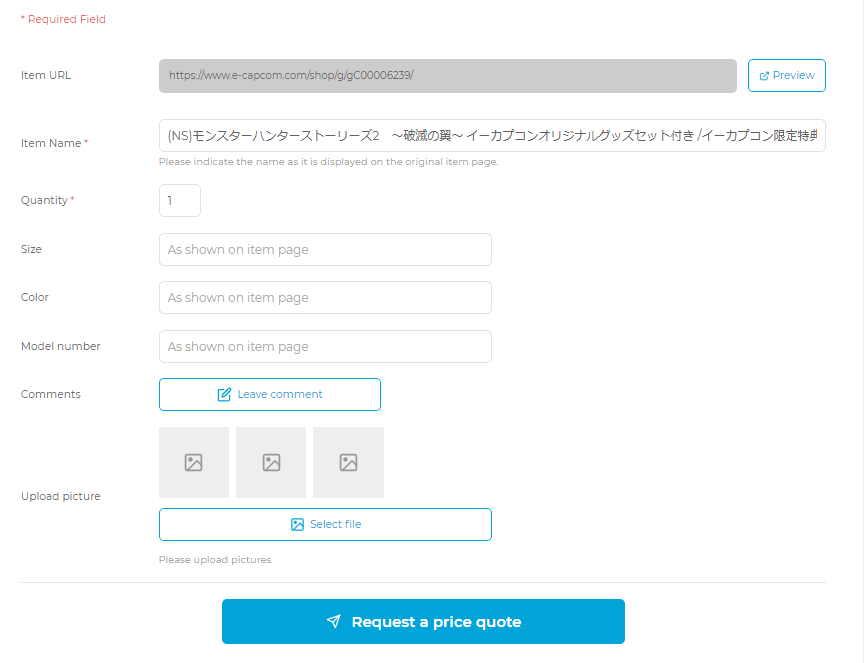 You need to fill in the Japanese name of the item exactly as it appears on the site and fill in the quantity of items you want to order. If an item has different size or color options, make sure to fill these in as well because we need this information to proceed with your order. You can also choose to upload images of the item if you wish to do so.
Lastly, you can leave us a comment if there's any extra information you wish for us to know. Don't forget to double-check all the details before sending it to us!
Once we've processed your price quote request, our Shopping Team will send an invoice with the cost breakdown of the item. If you are planning to buy multiple items, you will need to request a separate price quote for each individual item.
After you have received all invoices and Charge 1 has been paid, your items will be shipped to our distribution centre. Once all your items have arrived at our warehouse, you can choose which items you would like shipped together and select your preferred shipping method. At this point you will be sent to the Charge 2 payment page. Charge 2 includes international and domestic shipping fees, as well as the fee for our Product Protection Plan.
Step 6. Wait for your Capcom Online Store order to arrive!
Now that you've placed your order, all that's left is to wait for it to arrive! For the "Items for Reservation" we mentioned earlier, these will need extra time to get to you since they haven't been released in Japan yet.
In the meantime, we recommend that you check out our usage guide for more information about our process and fee structure. If you have any more questions on how to use our service, our Customer Service team will be more than happy to help. Enjoy your shopping on the Capcom Online Store with FROM JAPAN!