If coming from Western countries, Japanese clothing sizes can be perplexing. While a girl may usually wear a size small in the U.S. (a size 4/UK size 8), in Japan they wear a large! And "one-size" (as in one-size-fits-all) almost never fits a Western girl, unless it's a hat of course! While this can be a blow to the ego, at the end of the day it's not the number on the tag that matters, but how you look and feel while wearing the clothes.
Understanding Japanese Clothing Sizes for Women
Japan uses a different sizing system than Western countries, so the first step is to compare Western sizes to Japanese sizes. Generally speaking, US sizes are five sizes larger than women's sizes in Japan. For example, a size 4 in the US would be a size 9 in Japan. A US size 12 is a Japanese size 17, which is considered plus-size. For UK sizes, it is even easier to convert; simply add one to the UK size to get the Japanese size. For example, a size 8 would become a size 9. These sizes are used in Japan for things like dresses, jackets, and blouses. Pant sizes are generally labelled using a waist measurement, in centimeters. For example, a 28 inch waist is 71 centimeters. However, sometimes sizes are measured in increments of two, so the aforementioned size 71 would actually be a size 70 or 72.
Some stores, however, just use "small," "medium," and "large" for both pants and tops. These sizes can vary a lot store to store, but expect to size up at least one size, especially if you have bigger hips or bust. At trendy stores like those at Shibuya 109, many items are available only in one size. This makes finding the right fit very tricky if one is anything but the average sized Japanese girl. But there is good news! Stores have finally recognized the demand for more sizes, and some items are now available in large sizes. For example, PUNYUS by WEGO is based around the concept of "all-sizes" instead of "one-size." The brand sells clothes up to 6L (about a US size 16).
Women's Shoe Sizing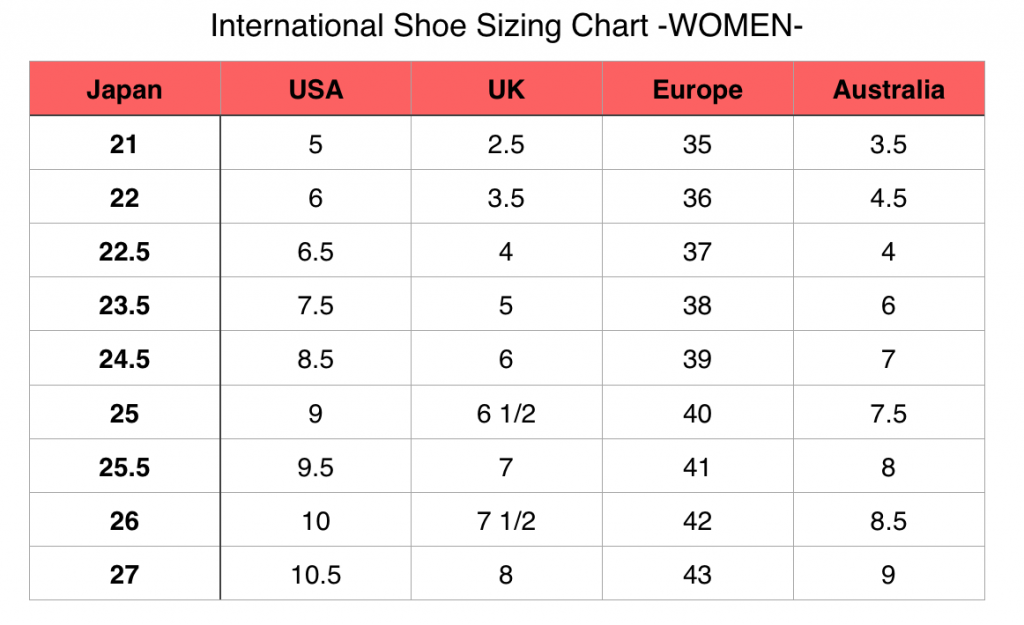 Finding shoes is fairly simple, as the sizes are just the measurement of the length of your foot in centimeters. A US size 8 (UK size 6) would be a size 24.5 or 25 in Japan. Unfortunately, it is very difficult to find women's shoes in sizes larger than a 25, except at specialty stores. Japanese shoes also tend to fit a bit more narrowly than Western shoes, which can be either a blessing or a curse depending on foot shape. At some stores, sizes are listed not in centimeters but as S, M, L and LL (sometimes LLL). An S is about 23cm, an M about 23.5 cm, L about 24 cm, LL about 24.5 cm, and a LLL 25cm (sometimes 26cm). Also, there is a section called "model size" (モデルサイズ); that is code for large size shoes (over 24 cm). It makes sense actually; tall women with model-like figures also have larger feet. So don't think it means having big feet, think of it as having model size feet!
Bra Sizing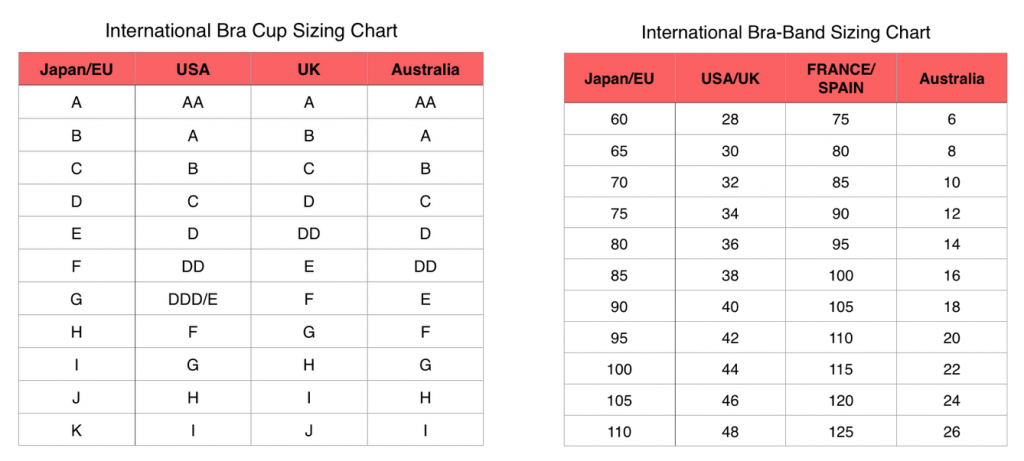 Bras are another tricky area for foreign women; Japanese women tend to be less busty overall, and also prefer padded and lacy styles which aren't always very comfortable. Bras in Japan are measured with a combination of cup size and under-bust size (the band size). Take the under-bust measurement with a measuring tape to get the band size. A size 32 in the US works out to be a size 70 in Japan. A 34 is a size 75, a 36 a size 80, and so on. For cup size, size up one whole cup, sometimes two. So a 32A becomes a 70B, a 34B becomes a 75C, and so on. Try a couple sizes on and see what feels right. The largest cup size found in many stores is a D, or size E in Japan.
Men's Clothing Sizes in Japan

For men's shirts and collars, a US size 14 would be a Japanese size 36. For each half-size, the Japanese size goes up by one, so a US size 14.5 is a Japanese size 37 and a US size 15 is a Japanese size 38.  Men's coats and suits are generally labelled just with small, medium, and large. A US size 34-36 is a size small, a US size 38-40 is a size medium, a size 42-44 is a size large, and a 44-46 is an extra-large. Pants are measured by waist size in centimeters. A 28 inch waist is about 71 centimeters. A 32 inch waist is about 81, a 36 inch waist is 91.
Men's Shoe Sizing
Men's shoes are also measured in centimeters, but there are more sizes and they tend to be wider than the women's shoes (though still on the narrow side). At most stores, shoes up to a size US 10/UK 9.5 will be available, which is a size 28 in Japan. Larger size shoes can be found at big shoe stores and online.
Children's Clothes in Japan
Japanese children's clothing sizes are usually labelled by the height of the child in centimeters. A size 60 would be a child that is 60cm tall (up to 3 months in age). A size 70 is up to 6 months, size 80 up to one year, size 90 up to two years, size 95 up to 3 years, size 100 3-4 years, size 110 5-6 years, and size 120 7-8 years old. I may be necessary to size up depending on the height, weight, and chest size. Uniqlo's online store sells children's clothes up to 160cm. Now that you are armed with your size information, go boldly in to the world of Japanese clothing. You may not always find all the sizes and styles you want, but like Tim Gunn always says, make it work!
Of course, if you use our shopping service, you will be able to find second hand clothing. Most the time, second hand clothing on auction sites have never been worn either!