Intro
If you're a sneakerhead then you will definitely know all about the iconic Nike Foamposites. Whether you're a casual collector or looking for that holy grail, buying from Japan is a great way of finding those rare Foamposites Pros or Ones to add to your collection. If you want to find out the best method for purchasing these online, read on ahead to learn how to access the Japanese sneaker market for that Holy Grail.
History of Foamposites
Labeled "the shoe of the future," the Nike Air Foamposite One and Nike Foamposite Pro both made their groundbreaking debut in 1997. With its futuristic silhouette, high price tag, and never seen before construction process, they soon went on to become some of the most recognizable models in sneaker history.
Unlike most other sneaker models made up of different fabric parts, Foamposite technology differs in that the shoe starts off as a 'liquid foam' poured into a $750,000 mold. This means the shoe is made up of one piece that wraps around the foot, ensuring a better fit and support as well as a more durable shoe.
Although the Foamposite designs are quite divisive for some sneakerheads, it would be wrong to say they're not iconic. These are some of the most sought-after sneakers and for any serious sneaker collector, they're a must-have for any hypebeast's collection! If that sounds like you, keep reading below for our easy guide.
How to buy Nike Foamposites with FROM JAPAN
1. Find the item you want to buy.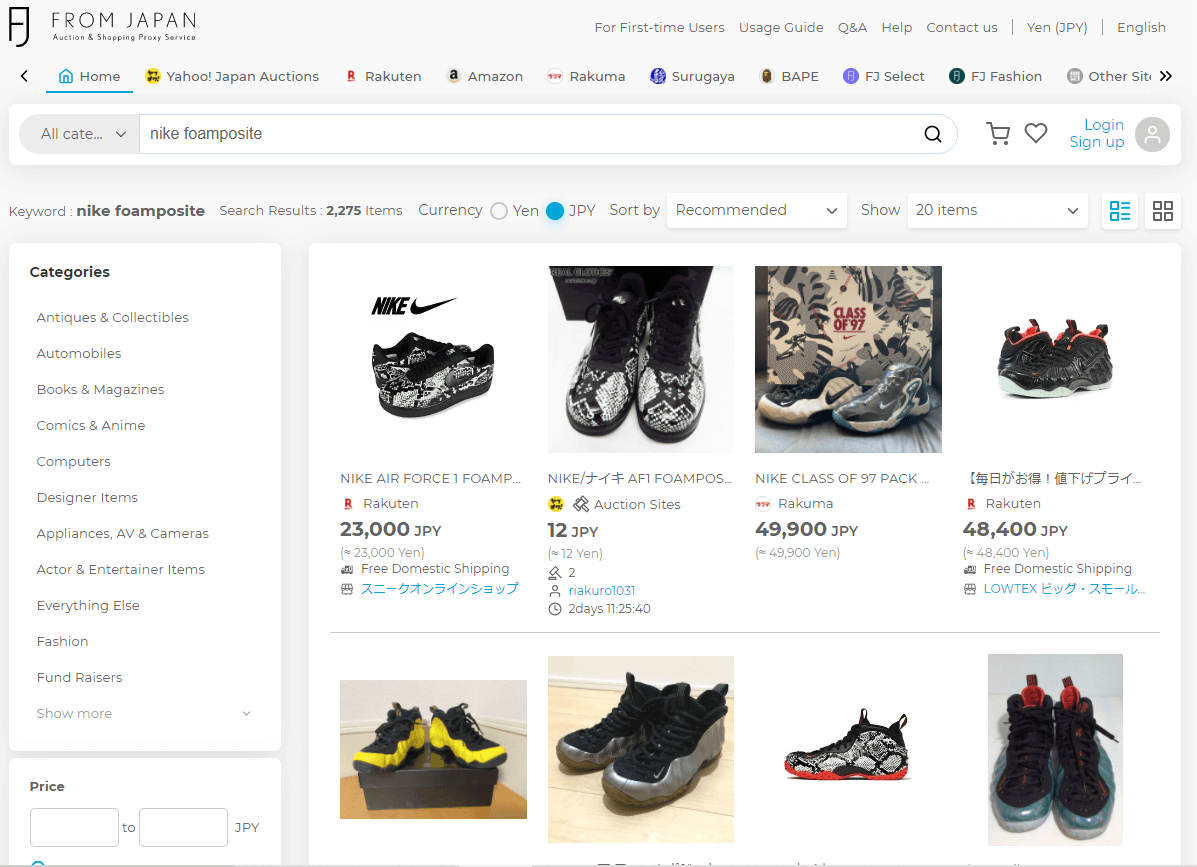 The first and foremost step is finding your shoes. If you're browsing then you can simply search for 'Nike Foamposite' and select from full the range that comes up. Our website gives you several options from Yahoo! Auctions Japan, to Rakuten and Rakuma, so you are sure to get plenty of results.
If you have your eye on a specific pair of Foamposites from an outside source, you can even copy and paste the product page URL from that website into our search bar. That way you can use FROM JAPAN to do all the hard work for you!
2. Check the details of your item.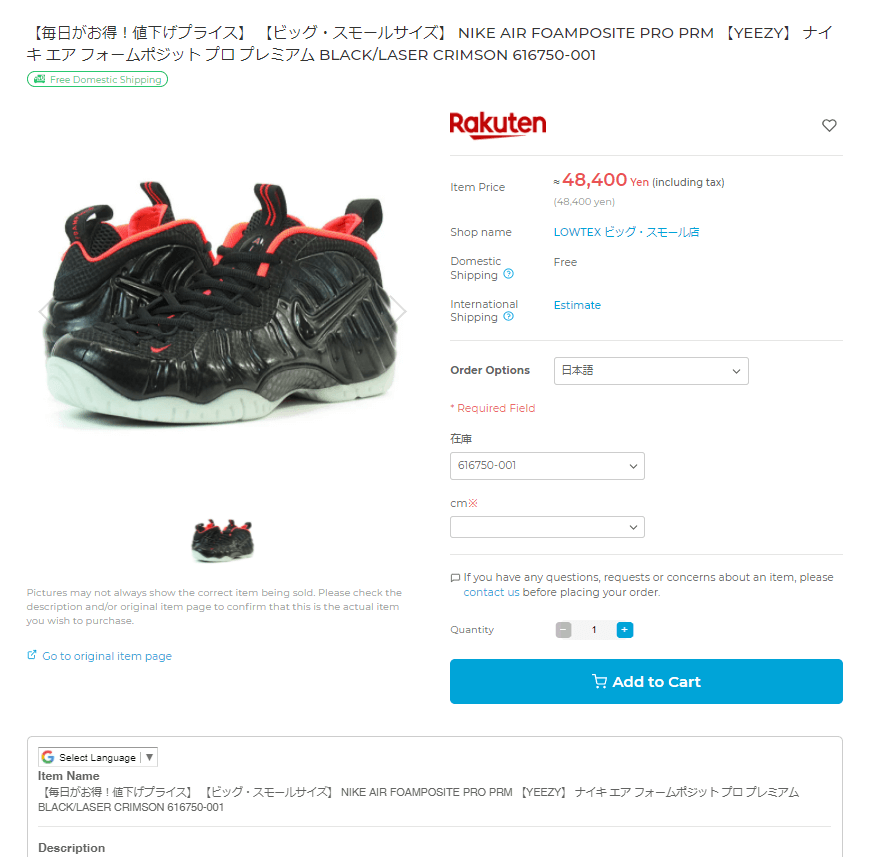 One of the most essential things, before you buy, is to check the listing for all the small details. Although the items on Japanese secondhand sites are generally high quality, secondhand items often mean things like labels or original packaging are missing.
This might not matter to some of you but for those who are concerned, make sure to read the description to check what is included with your shoes!
3. Add items to your cart and pay for Charge 1.
Once you've selected your ideal pair of Nike Foamposites, simply add the item to your shopping cart to order/bid for your shoes and pay for Charge 1.
4. Items arrive at our distribution center ready for shipment instructions.
When your items have arrived at our distribution center, we will ask for your shipment instructions.
Items can be stored for free in our warehouse for up to 45 days, which is handy if you're ordering multiple items from us!
5. Pay for Charge 2.
Once you have given your shipment instructions such as a delivery address, we will calculate the shipping fees and send you a Charge 2 invoice.
6. Shipping.
Shipments are dispatched within 2 business days, excluding peak seasons and holidays so you can rest assured knowing you will receive your items speedily.
7. Arrival.
Enjoy your brand new Nike Foamposites and show them off with your latest fit!
Why Buy From Japan
Given how hard it may be to find your dream pair of Foamposites on sites such as Stockx or GOAT, being able to access the Japanese market is a great way to broaden your search. Using FROM JAPAN you can access Japanese auction sites such as Yahoo! Auctions Japan as well as marketplace apps like Rakuma. Not only are you increasing your chances to find a great deal, but the condition of the sneakers via these sources are also usually at a very high standard.
So what are you waiting for? Go to FROM JAPAN today and start shopping for your favourite Nike Foamposite models!