Why Buy Dior from Japan?
Dior is one of the most famous, iconic, and stylish brands on the globe. Whether you have the Dior handbag slipped under your arm or on your fingertips or just a pair of Dior shoes, you'll stand out from the crowd. Ever since Christian Dior founded this brand in 1946, it has become a popular choice for many people all over the globe.
Essentially, people value Dior items, whether it's just a watch or other jewelry, perfume, handbags, and more. All Dior items are high-quality items since they follow strict control throughout the production process. Moreover, any Dior item you need is available in various colors and styles to suit any situation, and they guarantee elegance for any occasion.
What's the Value of Buying Second-hand Dior from Japan?
Even if you don't have a hefty budget to purchase your next Dior outfit or handbag, or you want to save some money, you can still own one of Dior's products. By turning to the second-hand market in Japan, you get these items at a favorable price and in top-notch condition. Due to the huge popularity of the Dior brand in Japan, the luxury company has even opened up new stores in recent years to cater to the demand. Established second-hand stores are also increasing day by day and are known to sell items in perfect condition.
So if you've been trying to search online for the best place to shop for Dior second-hand products, Japan has it all. Even better, you can make your order for that leather bag or jewelry through FROM JAPAN at the comfort of your home and have peace of mind that you'll get the exact delivery at your doorstep. But how do you purchase beautiful Dior goods on this platform? Read on as we take you through the steps of making your next Dior order with One Map by FROM JAPAN!
How to buy Second-hand Dior from Japan
Step 1: Find the Item You Want to Purchase.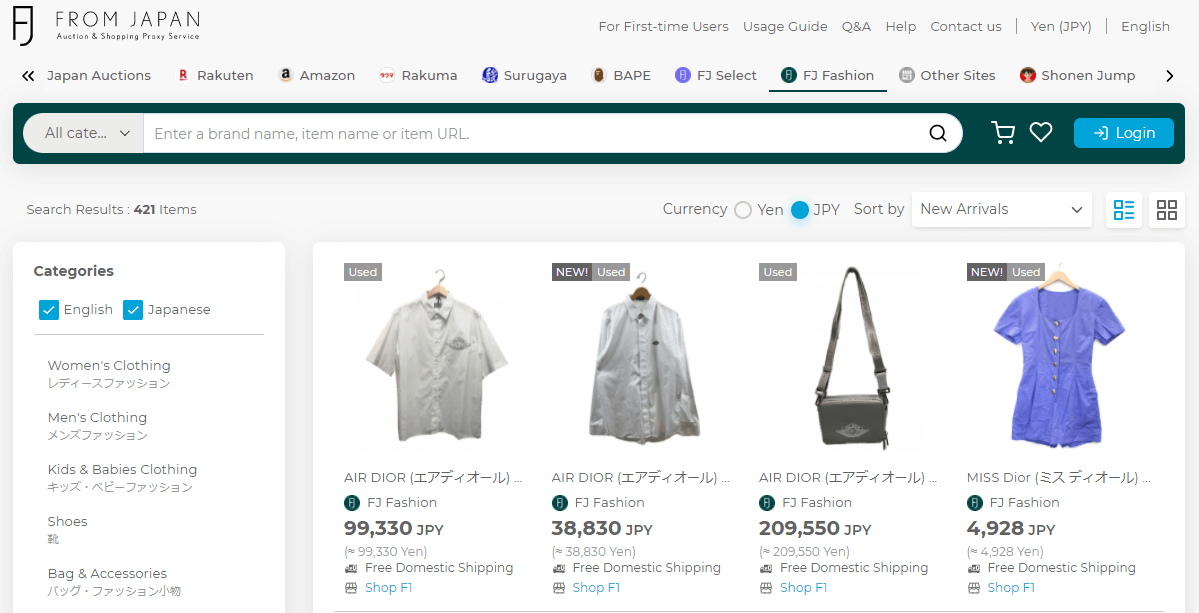 You can start your search for Dior items by either typing "Dior" or "ディオール" (Japanese for "Dior") into the search bar on FROM JAPAN's home page – we recommend you use the Japanese in order to get the most amount of search results possible. If you are struggling to find a particular item, then you can use our Find It For Me service and our staff will find items for you.
We recommend that you use the FJ Fashion part of our website, as the stores featured in this section are from trusted second-hand stores in Japan.
Step 2: Check the Details of Your Item.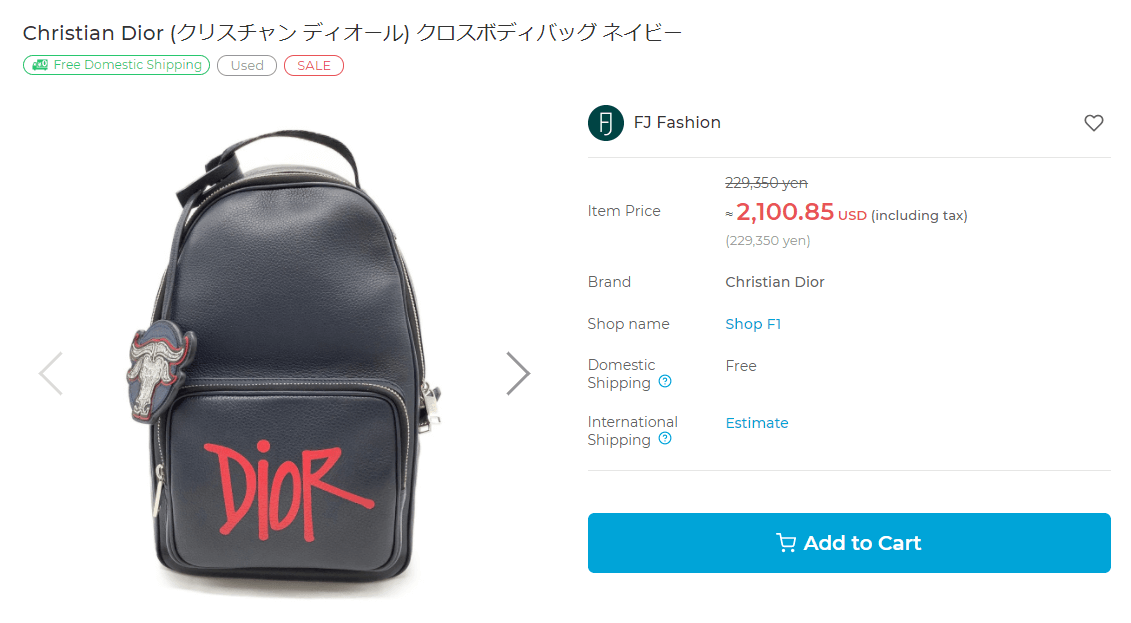 After finding the Dior item you would like to purchase, make sure to check all of the items details before proceeding with your purchase. If you are buying something second hand, make sure to check the description to get a better idea of the condition of the item. You can use the drop-down Google Translate feature to translate the Japanese item description into your preferred language.
Step 3: Add the Items to Your Cart and Pay for Charge 1.
Once you are confident about each item you are about to buy, click on the add to cart button beside the item's image and pay for Charge 1.
Step 4: Items Arrive at Our Distribution Center for Shipment Instructions
Next, when the items get to our distribution center, we will ask you for shipment instructions through our Customer Service team. In cases where you want to purchase multiple items, we can store them in our warehouse for 45 days at zero charges.
Step 5: Pay for Charge 2.
Now that we've received all your shipment instructions, we'll send you a Charge 2 invoice which contains domestic and international shipping charges, as well as the fee for our Product Protection Plan.
Step 6: Shipping.
At this point, your items are ready for dispatch. We dispatch all items within two working days to ensure that you receive your items speedily.
Step 7: Arrival.
Finally, we will ensure that your quality Dior Items get to your doorstep. Now you can start planning the best ways to style the outfits and stand out among the rest on your next occasion! These items will definitely be a great addition to your closet.
If you have more questions about Dior second-hand items from Japan, feel free to reach out to us. We will be glad to assist you in placing your Dior order or any other item on our platform.
Also, in case you need to learn more about FROM JAPAN, visit our Guide to First Time Users for more detailed information. We hope you'll enjoy using this platform and make more purchases from various categories. We can guarantee that we'll offer you the best shopping experience.