Guide to Vivienne Westwood
If you follow fashion trends on social media like TikTok or Instagram, you might have noticed a trend amongst influencers and models professing their love for Vivienne Westwood. But long before social media was even a thing, this punk fashion brand and the trailblazing woman behind it have been inspiring thousands of fashion-savvy people around the world.
With that in mind, let's take a look at how Vivienne Westwood and her brand all started!
The history of Vivienne Westwood and her origins in punk
Born in a small English village with a population of less than 2,000, Vivienne Westwood came from ordinary beginnings before becoming an international fashion icon. She was working as a primary school teacher when she created her first dress — a wedding dress that she wore when she married her first husband in 1961.
After the birth of her first son and going through a divorce, Westwood later met her new partner, Malcolm McLaren, who opened up her creations through new models: the punk band Sex Pistols. Just like that, Westwood's designs found a new home in the underground punk world and made her an essential part of London's punk scene in the 1970s.
A few years later in 1978, Sex Pistols disbanded and so, Westwood and McLaren started turning their attention towards a different part of the London fashion scene. They debuted their first catwalk show with the historically inspired Pirate Collection of 1981.
Vivienne Westwood's continued influence in fashion
It was also during this time that Vivienne Westwood developed the orb emblem that's become synonymous with the brand. It consists of a Saturn-like planet shape topped by symbols from the British royal crown jewels. The emblem was created as a meeting point for two of Westwood's interests, the history of the British monarchy and astronomy.
From that point on, the Vivienne Westwood orb has appeared in many of the brand's products, spawning fashionable accessories such as the orb necklace, orb earrings, orb beret, and the stunning triple-strand pearl orb necklace that's been popular on TikTok as of late. It also is often featured on Vivienne Westwood storefronts as part of the store's logo.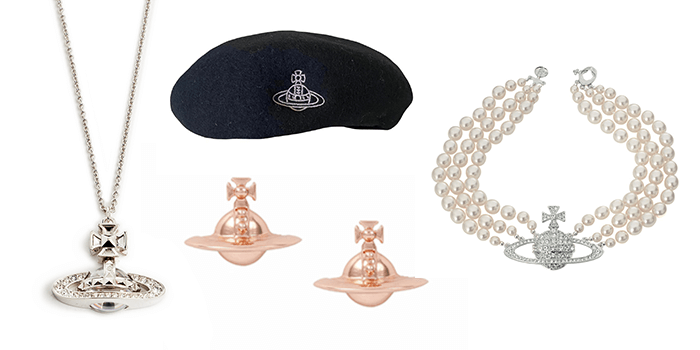 Throughout the 80s and 90s, Westwood continued to grow her brand and inspirations. She released various collections inspired by things like meeting Keith Haring in New York, the original Blade Runner movie, Russian ballet, and traditional cultures such as that from Native Americans and Peru. Her collaboration with Malcolm McLaren also ended during this period but she only continued to expand her brand across the world. As of 2015, there were 63 Vivienne Westwood outlets worldwide, including a handful in Japan.
Why buy secondhand Vivienne Westwood from Japan?
If you're a fan of Vivienne Westwood's style and the uniquely designed products in her brand, you can find secondhand Vivienne Westwood from Japan. We recommend sourcing them from Japan if you'd like to save some money compared to buying brand new, while also being assured you're getting a high quality, authentic product.
This is because Japanese secondhand stores are meticulous with the quality of the products they sell, so you can easily find secondhand items that are unused or look just as good as brand new for a fraction of the price. In the next portion of this article, we'll be discussing how you can do just that.
How to buy secondhand Vivienne Westwood using FROM JAPAN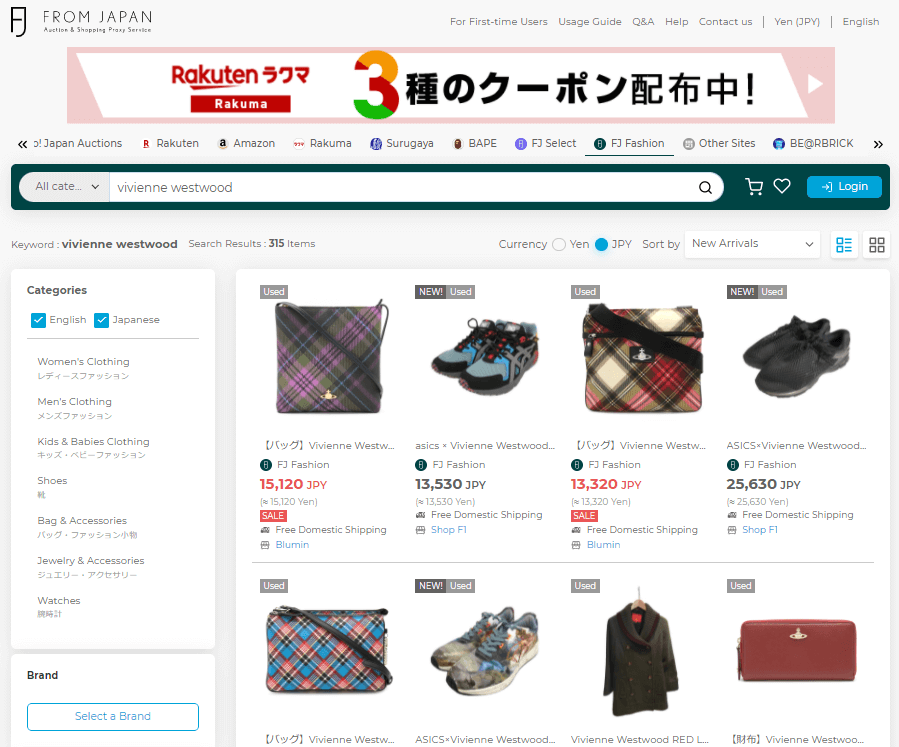 FJ Fashion is the section of our website dedicated to luxury or popular fashion items sourced from trusted secondhand stores in Japan. Once you open the FJ Fashion page, you can get a clearer idea of the brands you can get products from.
If you're new to the site and want to learn how FROM JAPAN works, our Usage Guide has all the information you need to know. But if you already have a FROM JAPAN account and are ready to dive in, we've included a handy button below to get you started on your search for Vivienne Westwood items.
Step 2. Check the item's details.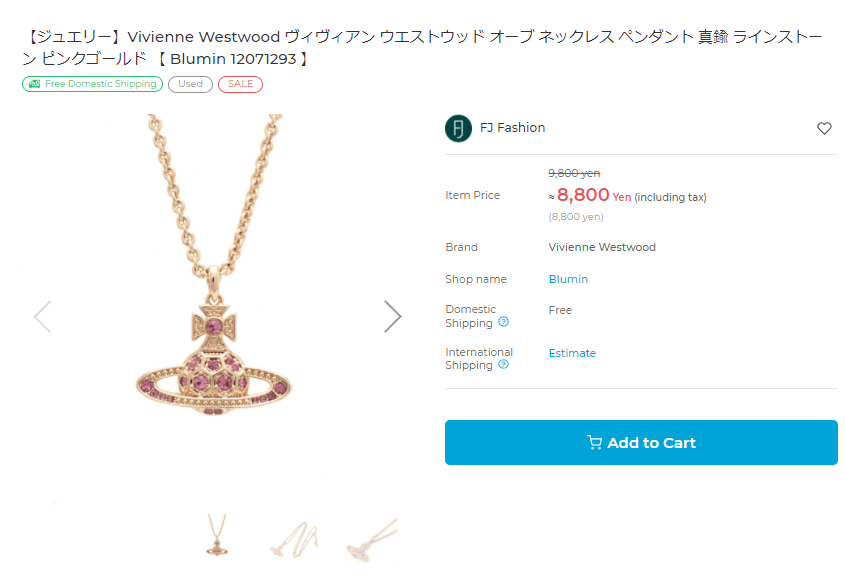 Since we talked about the famous orb jewelry, let's use this beautiful Vivienne Westwood pink gold orb necklace as an example for this step. Once you find an item you're interested in buying, clicking on the product listing will take you to a page that looks like this.
In addition to the product price, this page will show the item's description with a drop down button where you can choose 英語 to automatically translate the description into English. This portion usually mentions if it's unused (or if used, what condition it's in) along with a brief description of what it is. This way, you can go through the item details yourself so you can become confident in your purchase.
Step 3. Add items to your cart and pay for Charge 1.
Once you've checked the item's details and are happy to proceed with your purchase, simply add the item to your cart and proceed with your order. You will be prompted to pay for the Charge 1 payment at this point.
Step 4. Products arrive at our distribution center, ready for shipment instructions
When your items have arrived at our distribution center, you will be asked by our Customer Service team to provide shipment instructions on how you want to receive your items. Items can be stored for free in our warehouse for up to 45 days, which can save you some money if you're ordering multiple items from us!
Step 5. Pay for Charge 2.
After receiving your shipment instructions, we will send the Charge 2 invoice which includes the cost of domestic and international shipping, as well as our Product Protection Plan, which serves as insurance for added safety to your items.
Step 6. Shipping.
Once you pay for Charge 2, we dispatch your item within two business days. This excludes holidays and peak seasons.
Step 7. Arrival of your orders.
Lastly, all that's left is the arrival of your orders. We hope you enjoy your shopping experience with us and have fun adding your new Vivienne Westwood items to your wardrobe!
Why use FROM JAPAN?
FROM JAPAN combines years of experience with our powerful search engine and trusted sources to provide a wealth of incredible vintage fashion, bags and accessories. We open up your shopping experience to make items that would otherwise have only been exclusive to Japan available to you from anywhere in the world.