In only three decades, Casio's G-Shock watches have become the standard all durable watches are measured against. Considered by many to be the "ultimate tough watch," G-Shocks are known to be able to handle some of the world's most extreme conditions. This durability paired with an ever-growing lineup of limited-edition designs have turned many models into highly sought-after collector's items. So, what are the top 10 most popular limited-edition G-Shock from Japan? Keep reading to find out! And if any of them catches your eye, you might just be able to find them offered by sellers in Japan.
G-Shock Frogman Series
Designed to meet the international standard for diver's watches (ISO 6425), G-Shock's rugged Frogman series is an essential accessory for any water activity, from recreational sports like snorkeling, surfing, and boating to intense underwater professions like search and recovery, and military combat missions. Additionally, almost all Frogman models are water resistant to a depth of 200 meters (approximately 650 feet).
G-Shock DW-6300-1A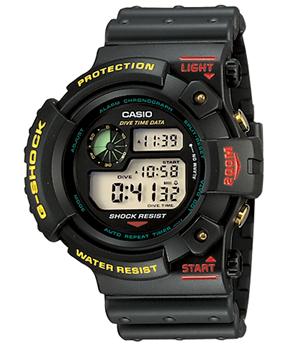 Released: August 1993
The G-Shock DW-6300-1A is designed to be the ultimate timepiece for professional divers. Not only is it the first model in the Frogman series to feature a 200-meter depth rating, but in addition to the standard features included with all G-Shock watches, it includes a diving function that allows the wearer to record the diving session's start time as well as log the dive duration. Other features include three customizable alarms, allowing you to individually set the date and time that each alarm sounds, and an optional hourly time signal.
G-Shock GF-8230E-9JR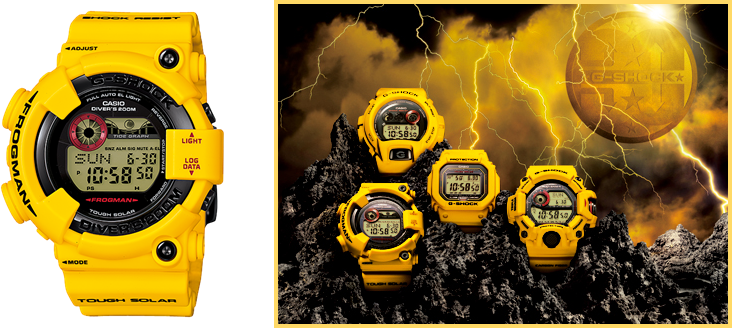 Released: November 2013
G-Shock GF-8230E-9JR is a limited-edition Frogman released in celebration of the brand's 30th anniversary. Beyond its striking yellow case and band with complimentary black and red accents, the watch's most popular features include Tough Solar Technology that can charge even in dim lighting, a 200-meter depth rating, and moon and tide charts.
G-Shock GWF-D1000K-7JR
Released: July 2016
The G-Shock GWF-D1000K-7JR is one of three matching G-Shock models released last year in collaboration with Japan's International Cetacean Education Research Centre (I.C.E.R.C.). In honor of the aquatic organization's 25-year commitment to whale and dolphin research, the watch features two simple-but-powerful ecological statements on the band—"All as One" and "Love the Sea and the Earth"—along with a silhouette of a whale.
Additional features include a diving log that records up to 20 entries (start time, dive time, maximum depth, and lowest water temperature), and moon and tide charts. With only 1,500 watches made, this G-Shock x I.C.E.R.C. collaboration model would make a treasured addition for anyone with a passion for marine conservation.
G-Shock Dolphin & Whale Eco-Research Network Series
This G-Shock series is the result of an ongoing collaboration with the non-profit I.C.E.R.C. Japan and its international outreach program known as the Dolphin & Whale Eco-Research Network. The models are known for their distinctive semi-transparent bands and watch cases, symbolizing the need for clear waters and continued ocean preservation; and for each watch sold, a portion of the proceeds are donated to help fund I.C.E.R.C Japan activities.
G-Shock DW-6900K-8BT & DW-6900K-8BJF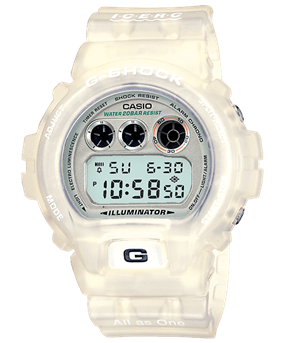 Released: March 1996 and May 2007
Drawing inspiration from the awe-inspiring beauty of majestic whales and playful dolphins, the designers behind the G-Shock DW-6900K-8BT chose to incorporate a softer, more natural look that would become a common feature in later models in the series. Even though this model was released over 20 years ago to commemorate the 5th anniversary of the Dolphin and Whale Eco-Research organization, its timeless, understated design was so popular with G-Shock collectors that it was re-released in 2007 to symbolize the brand's continued commitment to supporting and raising awareness about the importance of environmental protection.
G-Shock Mudman Series
The G-Shock Mudman series focuses on building watches that can be worn in even the most extreme outdoor conditions. As the series' name indicates, the watches are especially built to keep out mud and dust. Many Mudman models are compatible with the Multiband 6 radio-controlled atomic timekeeping system that utilizes radio frequencies broadcast from six global transmission stations located in Japan (2 stations), China, the United States, the United Kingdom, and Germany.
G-Shock GW-9000-1JF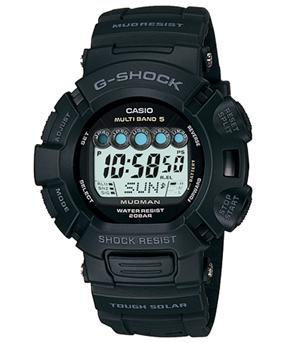 Released: June 2006
The G-Shock GW-9000-1JF offers all the durable features of the Mudman series as well as Tough Solar Technology that can charge the watch using only dim indoor lighting. And with finely tuned stopwatch and timer functions and a classic all-black case and band, it's no wonder this model continues to be a popular choice among collectors.
G-Shock G-9000MC-8JF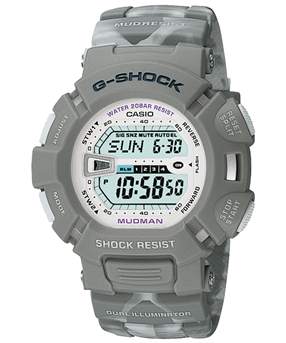 Released: October 2006
What makes the G-Shock G-9000MC-8JF stand out from other models in the Mudman series is its two-tone grey camouflage band that is designed to look great whether wearing it out on the town or in the woods. The Mudman mole mascot etched on the back case features the character riding tires through the mud, suggesting that this model would make an excellent addition to your motocross or BMX gear.
France World Cup 1998 Series: DW-6900WF-4T & DW-6900WF-2T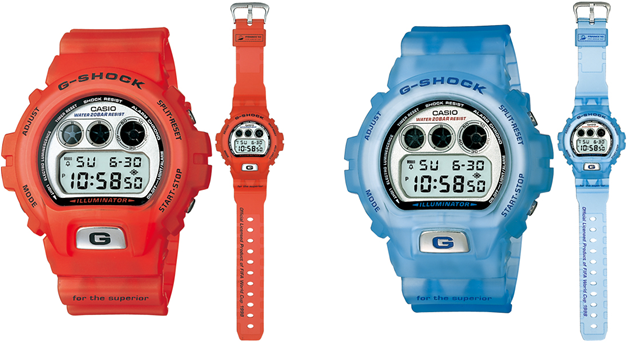 Released: May 1998
G-Shock partnered with FIFA to make a series of five DW-6900 World Cup models, which were released a month prior to the tournament's kickoff in June 1998. The customized band includes the official France World Cup 1998 logo (which can also be found engraved on the back) as well as the phrase "Official Licensed Product of FIFA World Cup 1998" inscribed along the full length of the bottom strap. Lastly, the official mascot of the 1998 World Cup, the rooster Footix, is hidden behind the digital display and can be seen throwing a ball into play when the backlight is activated.
While the G-Shock x France World Cup 1998 collaboration includes five colors to choose from, the two that have proven most popular are DW-6900WF-4T (red) and DW-6900WF-2T (blue).
 G-Shock Lover's Collection
Following the success of Casio's Baby-G line of women's watches, the G-Shock Lover's Collection was launched in 1996 with the concept of pairing complementary G-Shock and Baby-G watches together and packaging them as high-end "his and her" timepiece sets. This series spans over two decades, so you're likely to find a pair that fits the personality and style of you and your significant other.
Where to Buy Limited Edition G-Shocks from Japan
Over the decades, G-shock's durable, unique, and colorful designs have redefined what people look for in a high-end watch. From the deep-sea diver's Frogman to the "His and Her" Lovers Collection, there's a perfect G-Shock out there for every person's wrist. With FROM JAPAN, you can search thousands of popular and limited-edition G-Shock listings from Japan's biggest online shops and have your order shipped direct to your door!