You've seen them at Cons and Japanese specialty stores; maybe you already own a sizeable collection. But if this is your first time hearing about Iwako erasers, then this little rundown is sure to make you a fast fan. In fact, after learning about these cute cars, critters and more, you'll definitely want to get some—you just may not want to use them as intended!
Iwako Erasers Began with Passion & Imagination
Founded almost fifty years ago, Iwako believes there's no price tag on passion. Their erasers are designed to ignite the imagination, bring a smile to your face, and recapture the purity and innocence of childlike wonder. Part plaything and part stationery, Iwako's cute and cool designs can be pulled apart and rebuilt like 3D puzzles, but function like real erasers. Soft and rubbery to the touch, Iwako caters to even the pickiest of preferences—from dinosaurs to dental tools. Whether as niche stationery or adorable decorations, Iwako brings a special charm to your daily life.
Japanese-Theme Iwako Erasers

This special line of Japanese-theme erasers stirs up nostalgic memories of youth and wonder for those who grew up in Japan, and feelings of longing for those who didn't but actually wish they had! Tiny toys and t-shirts are included alongside important cultural pieces like charms, Kokeshi dolls, and lucky cats. If Japanese culture inspires you, Iwako erasers are a perfect way to add a touch of Japan (and perhaps a bit of good fortune) to your home.
Cute Iwako Erasers

Whether you prefer fins, fur, or feathers, Iwako has an oh-so-adorable eraser in your favorite species and color. Enhance your aquatic-themed bedroom with a few whale sharks, turtles, dolphins, or manta rays. Or, if you prefer something a bit cuddlier, pick up a couple panda bears. From mythical unicorns to playful puppies, Iwako's cute erasers comprise only the most kawaii of critters. Chibi proportions, bead-like eyes, and enlarged heads will guarantee that you will "squee" each time you look at them. They're almost too cute to use as erasers, so consider setting them alongside your stationery like watchful little guardians instead!
Cool Iwako Erasers

If you prefer something more shonen to connect with your inner child, Iwako also caters to your high-action, sporty needs with this collection of blocky firetrucks, helicopters, police cars, and motorcycles. These cool erasers will bring back memories of your favorite toy cars and trucks and remind you of what you may have wanted to be someday when you "grew up." Pick a soccer ball in your favorite color, or grab your favorite childhood dinosaur—stegosauruses, triceratops, tyrannosaurs, and more—for a trip down nostalgia lane.
"Tasteful" Iwako Erasers
There are cute erasers, there are cool erasers, and there are erasers for every taste. Like Japan's famous fake food displays, these culinary confections may look good enough to eat, but you'll be in for a rubbery surprise if you try to snack on one! Whether you've got a serious sweet tooth, prefer vegetarian, or can't say no to nigiri, there is an Iwako eraser for each of your favorite foods—from ikayaki to taiyaki, macaroons to mushrooms. Each synthetic dish contains all the details and textures of the real thing; everything from the dimples in a strawberry to a swirl of whipped cream is replicated with mouth-watering accuracy. You can decorate your desk with the perfect sweet delights, guaranteed to help you work up an appetite.
Unique Iwako Erasers

Childhood is full of new and strange things—sometimes even things that seemed a little scary at first. Iwako's unique brand encompasses these little moments with optimism—from a first day of school, to a first dentist's appointment and maybe even a first cavity! Remember the first time you ever played Rock, Scissors, Paper with a friend? So does Iwako, and they've got a set of cute pencil-toppers to help you carry these precious memories along with you.
Fun, Safe & Eco-Friendly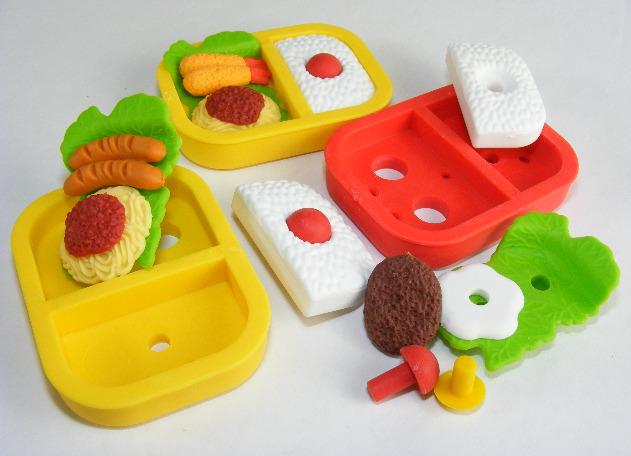 At Iwako, the beauty and wonder of childhood are first and foremost in all product decisions. To ensure that all Iwako erasers are as child-safe and pure as possible, the company uses an eco-friendly process to mold and color their erasers. All materials are PVC free. To minimize waste, all excess scraps are recycled or reused to make more erasers. Each eraser is assembled by hand with loving care, usually from the home of an Iwako employee, and then re-inspected to ensure quality in each product.
Iwako Erasers Are for Everyone
While Iwako erasers are made to be child-friendly, they certainly aren't just for children! If you're searching for some cool erasers to place around your desk or dresser, you're in luck; if you're looking to decorate your sacred space with cute erasers, you're equally touched by good fortune! All that really matters is that you're a child at heart. And if you actually have a special child or children in your life, an Iwako eraser might be the perfect way to brighten their smiles. Part toy and part eraser, Iwako offers the perfect balance between work and play… and makes both of them a bit more fun.
Going, Going, Gone!
The artists at Iwako continue to brainstorm and create new designs, which means some erasers are retired, never to be made again! In fact, Iwako has a famed "secret shelf" where they store all of their discontinued products, custom-designs, and company secrets. If you're an Iwako collector, or find a retired design that you simply can't live without, then there's still hope. Search for hard-to-find Iwako erasers through FROM JAPAN, the online proxy and auction service that ships rare Japanese merchandise straight to your door. Iwako erasers are considered popular collector's items, both inside and outside Japan, so be sure to purchase all the designs you need before they're erased forever!