What's the secret to Japan's world-famous cuisine: is it the indescribable umami of dashi, the delicately sticky texture of Japanese rice, or the subtle, clean flavor of fresh ingredients? Each of these culinary characteristics has a unique place in Japanese cuisine, but there is one category of ingredients that can take even the finest dish to new flavorful depths—Japanese condiments. Although Japan offers an extensive list of condiments, ranging from tangy and sweet to spicy, we're highlighting eight of the country's must-try seasonings and sauces that will expand your Japanese epicurean experience beyond simple soy sauce.
Japanese Dry Seasonings
Powdered Soy Sauce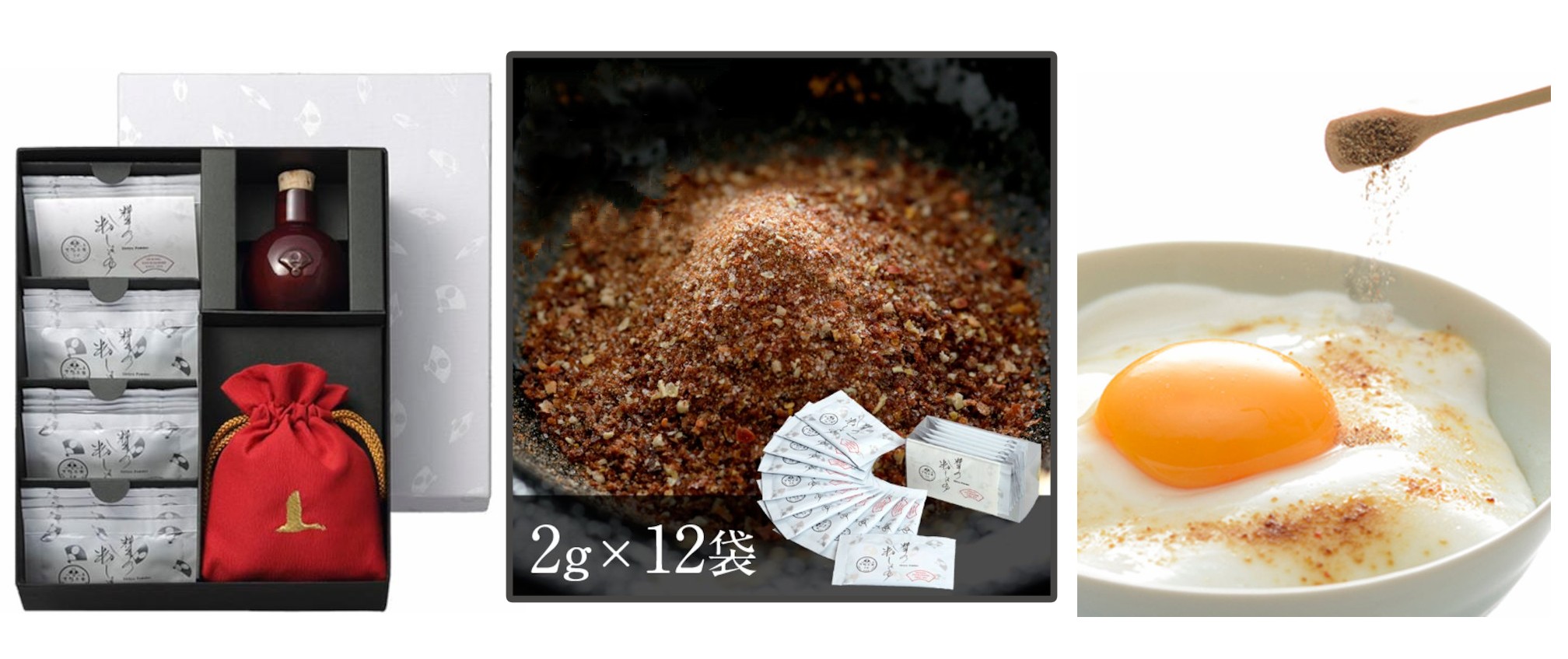 The only flaw to soy sauce is that it can be easily overused, causing your favorite Japanese dishes to become unpalatably salty. Not to be confused with the dark liquid gold held within Kikkoman's iconic bottle, powdered soy sauce aims to solve this dilemma by endowing Japan's all-purpose seasoning with an innovative dry blend of subtle, mouth-watering soy, yuzu (citrus fruit), and ichimi (ground chili pepper) that perfectly imitates the flavor of traditional soy sauce while adding additional depth and character.
Matcha Salt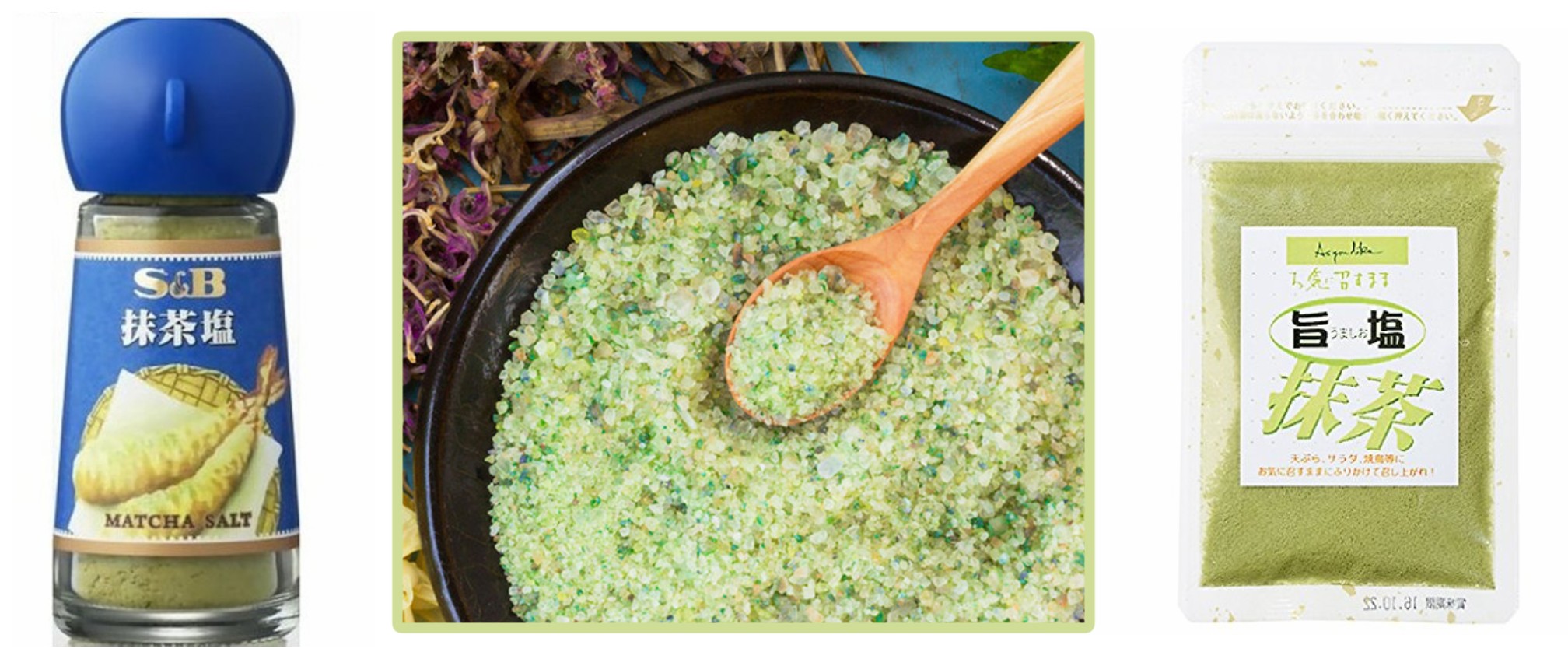 Matcha salt, a mixture of ground salt intermingled with powdered green tea, is traditionally used to season deep-fried dishes like tempura. Unlike sauces commonly associated with Japanese fried food, matcha salt keeps the texture crisp while adding an herbal, earthy flavor that harmonizes with a variety of savory-sweet entrees. Since this flavored salt is such a versatile seasoning, it's also ideal for Western eats like french fries, roasted vegetables, and popcorn.
Shichimi Togarashi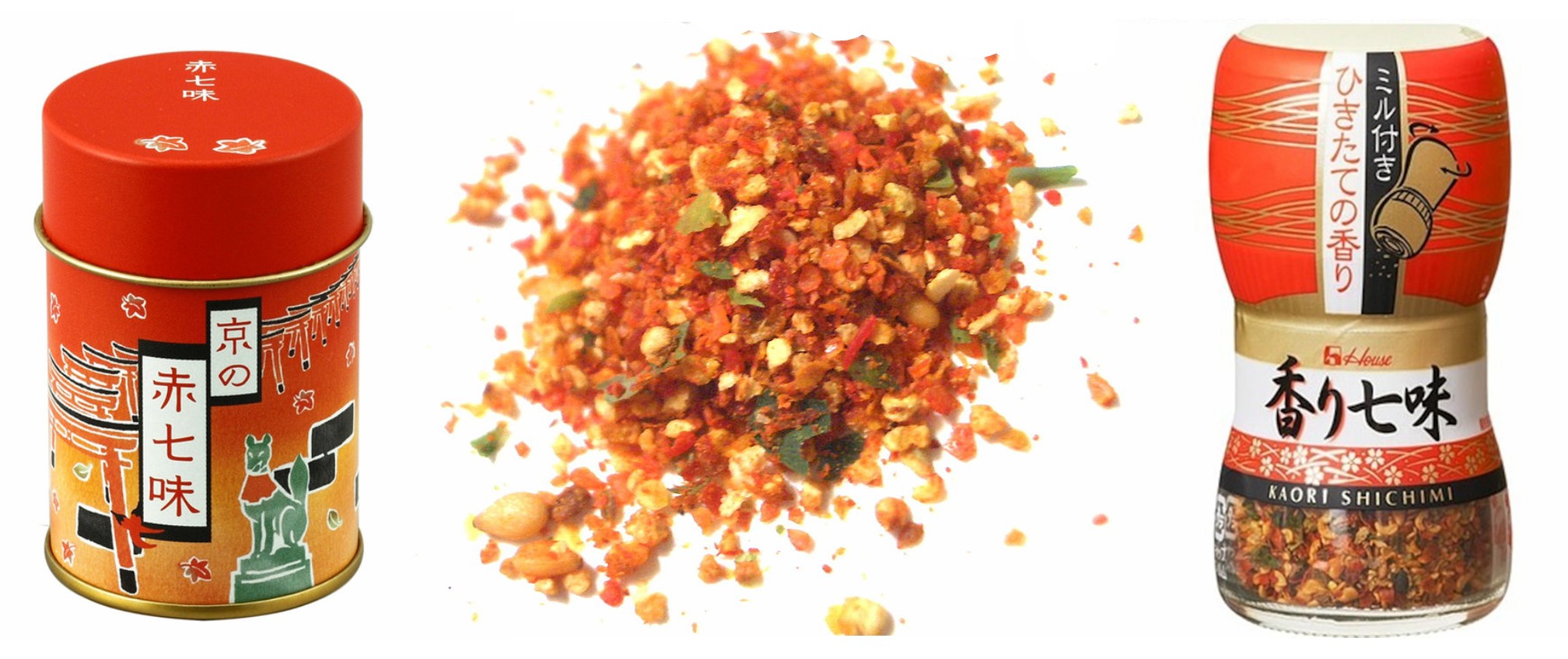 With a savory 400-year history, shichimi togarashi, also known in the West as "Japanese 7 Spice," features a mixture of vibrant spices, medicinal herbs, and flavorful seeds. While a variety of blends exist, most commercially produced shichimi use chili pepper as the primary ingredient, along with sesame, poppy and hemp seeds, orange peel, ground ginger, seaweed, and Japanese sansho pepper. This complex seasoning is traditionally sprinkled over soba and udon noodle dishes but also brings out the underlying flavor in gyudon (Japanese rice bowl topped with beef), grilled chicken, stews, and even Japanese-style pasta.
Kitchenware Spotlight: Herb Mortar with Wooden Roller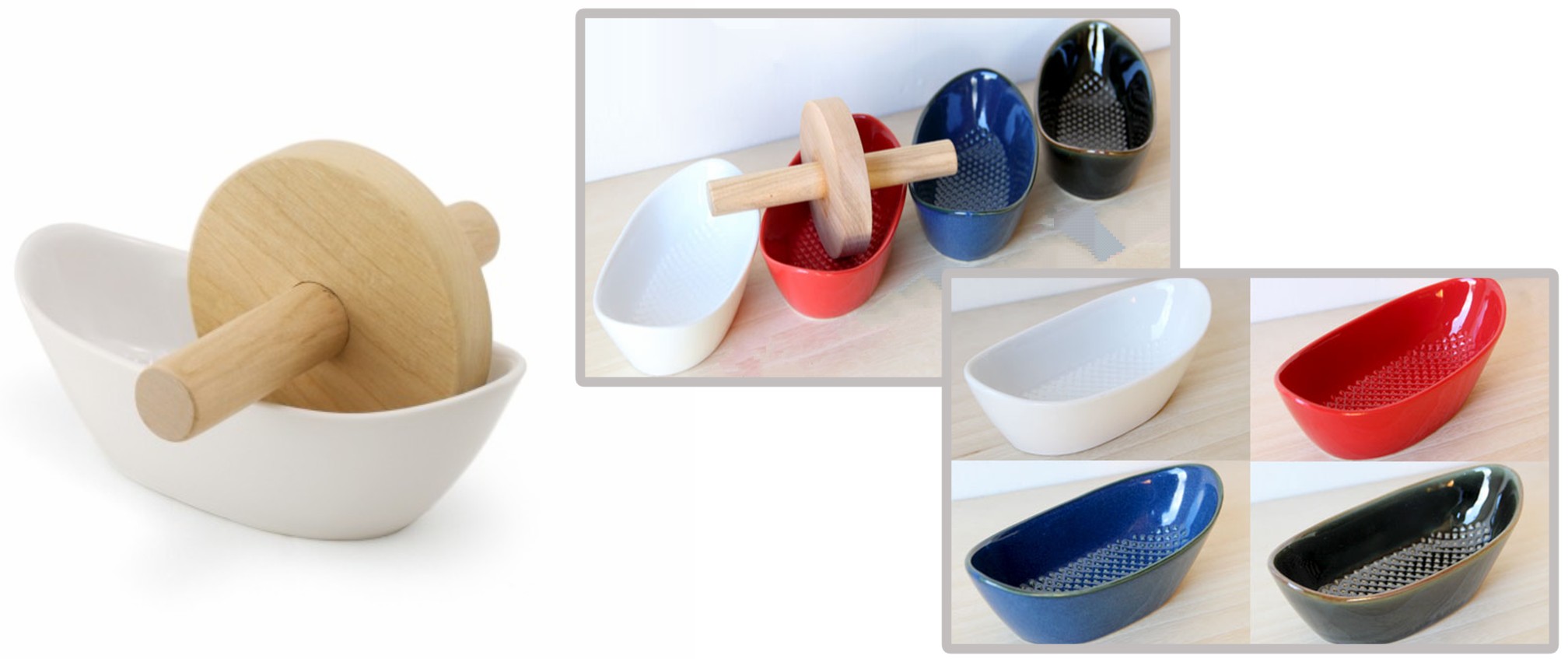 This Japanese-made Herb Mortar with Wooden Roller will provide a calming epicurean experience for cooking connoisseurs who enjoy hand-grinding their own seasonings. Reinventing the wheel of the traditional pestle, this wooden roller is inspired by the time-honored tea grinders that originated in China over 1,000 years ago. Creating your own specialty blend of seasoning is as simple as rolling the sturdy wheel over the ridged mortar to grind dried seasonings into a fine powder—perfect for drawing out the oils and aromas hidden within your favorite herbs and spices.
Japanese Culinary Pastes
Wasabi Paste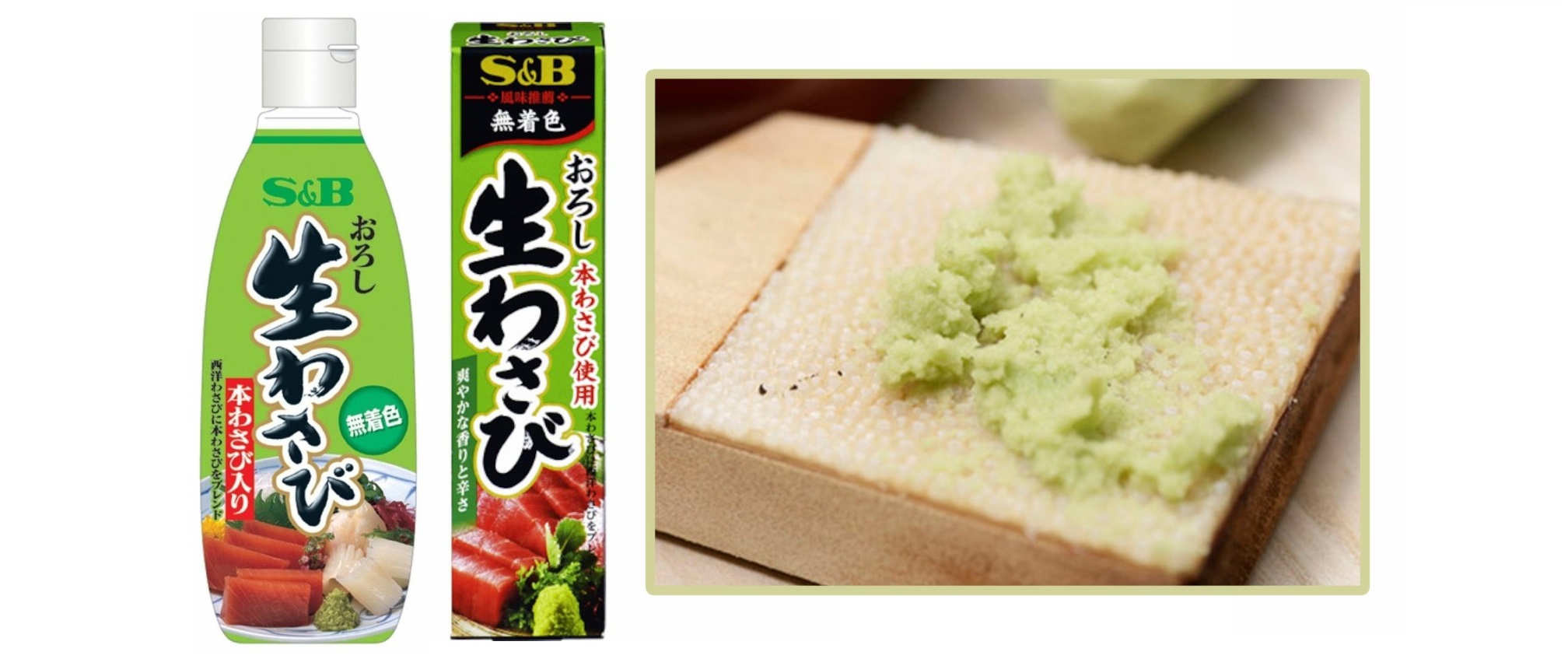 Sushi aficionados will undoubtedly recognize the avocado-green of a dollop of wasabi. And while nothing can compare to the sensory excitement of freshly grated wasabi root, the root's scarcity makes it a real treat even for Japanese diners. As a substitute, many sushi restaurants and home chefs use premade wasabi paste or mix up a small batch using ground wasabi powder. Since wasabi also goes great with roasted nuts, soybeans, and peas, you can use it to punch up your favorite crunchy snacks when your fridge isn't stocked with fresh raw fish.
Karashi Paste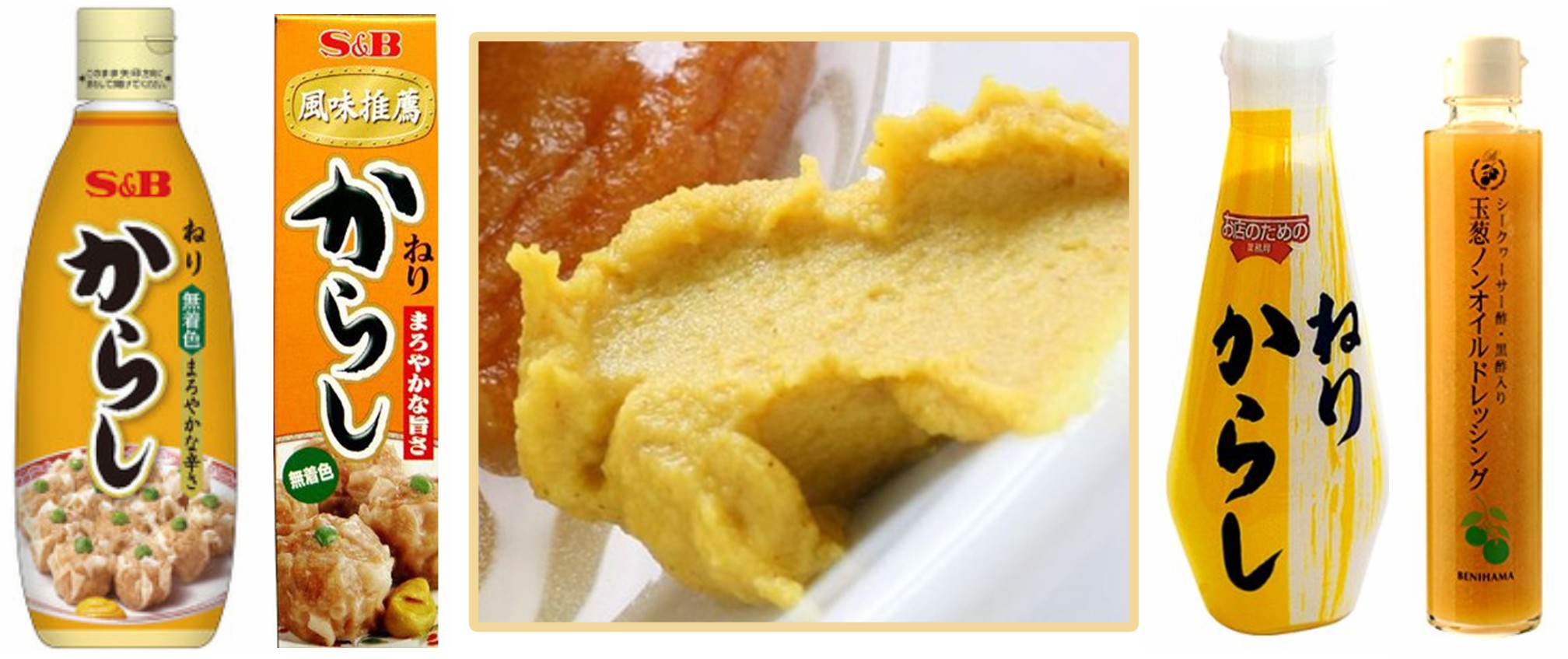 A zingy sister spice to wasabi, karashi is a staple condiment for several classic Japanese dishes, including oden, tonkatsu, and natto. This spicy Japanese yellow mustard is sold both as a ready-to-use paste (ideal for mixing with miso or mayonnaise to create distinctive dipping sauces) and a powder for complementing made-from-scratch recipes.
Ginger Paste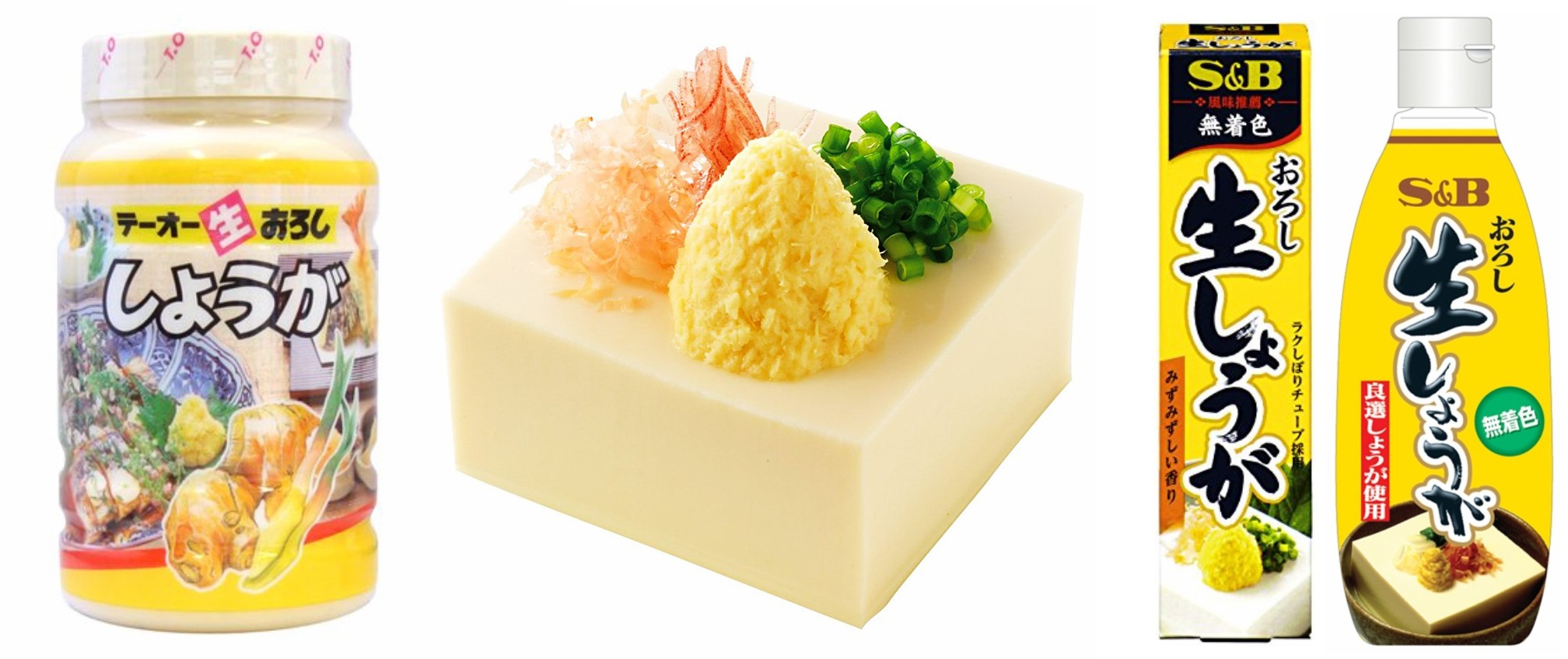 Pickled ginger is a popular palate cleanser often paired with servings of sushi and sashimi, but did you know that grated ginger also makes an incredible all-purpose paste for Japanese cuisine? Delicious atop tofu, grilled eggplant, mackerel sashimi, and more, ginger has as many culinary uses in Japanese cooking as it does potential health benefits.
Kitchenware Spotlight: Japanese Oroshigane Graters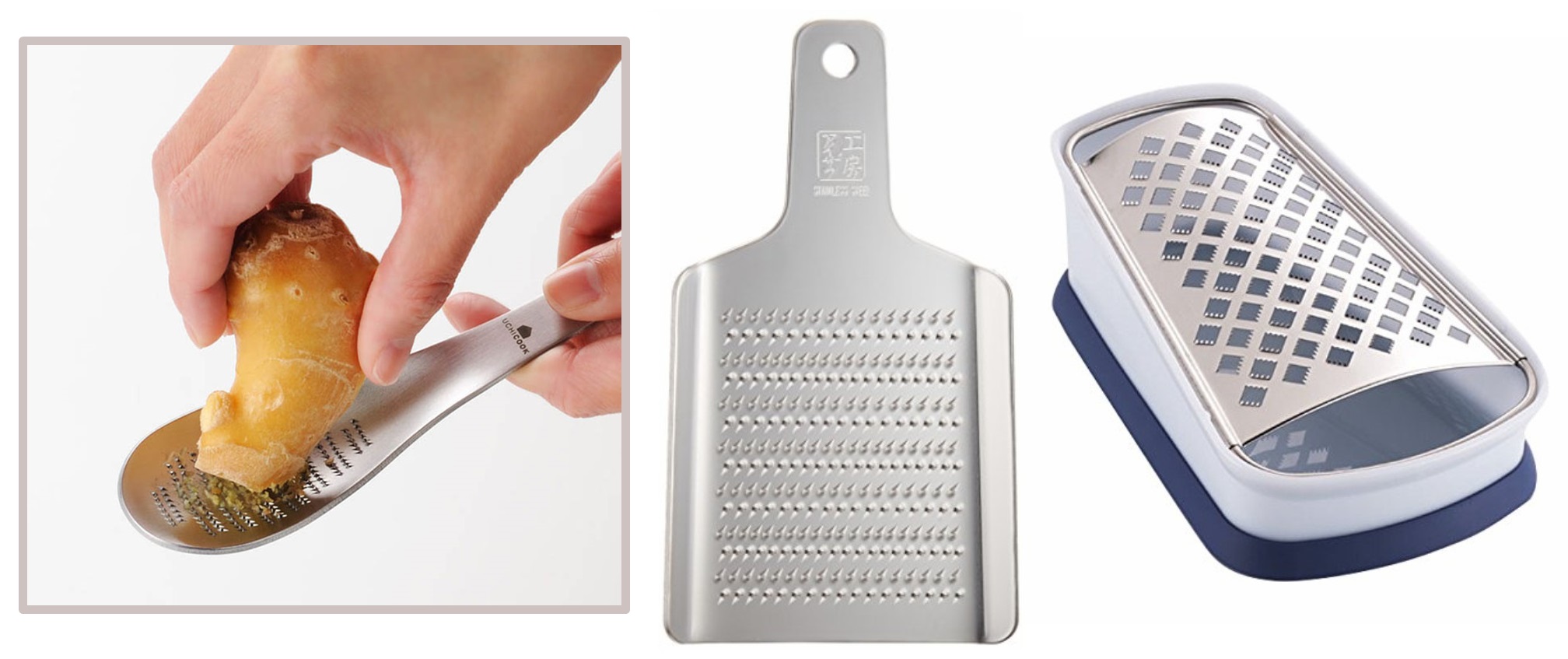 What sets Japanese graters, known as oroshigane, apart from their Western variants is their fine, sharp teeth, which are more suited to the task of serrating fibrous fresh ingredients like ginger, daikon, and especially wasabi. In fact, many Japanese chefs prefer metal graters without perforations for the best results.
Japanese Sauces
Kewpie Mayonnaise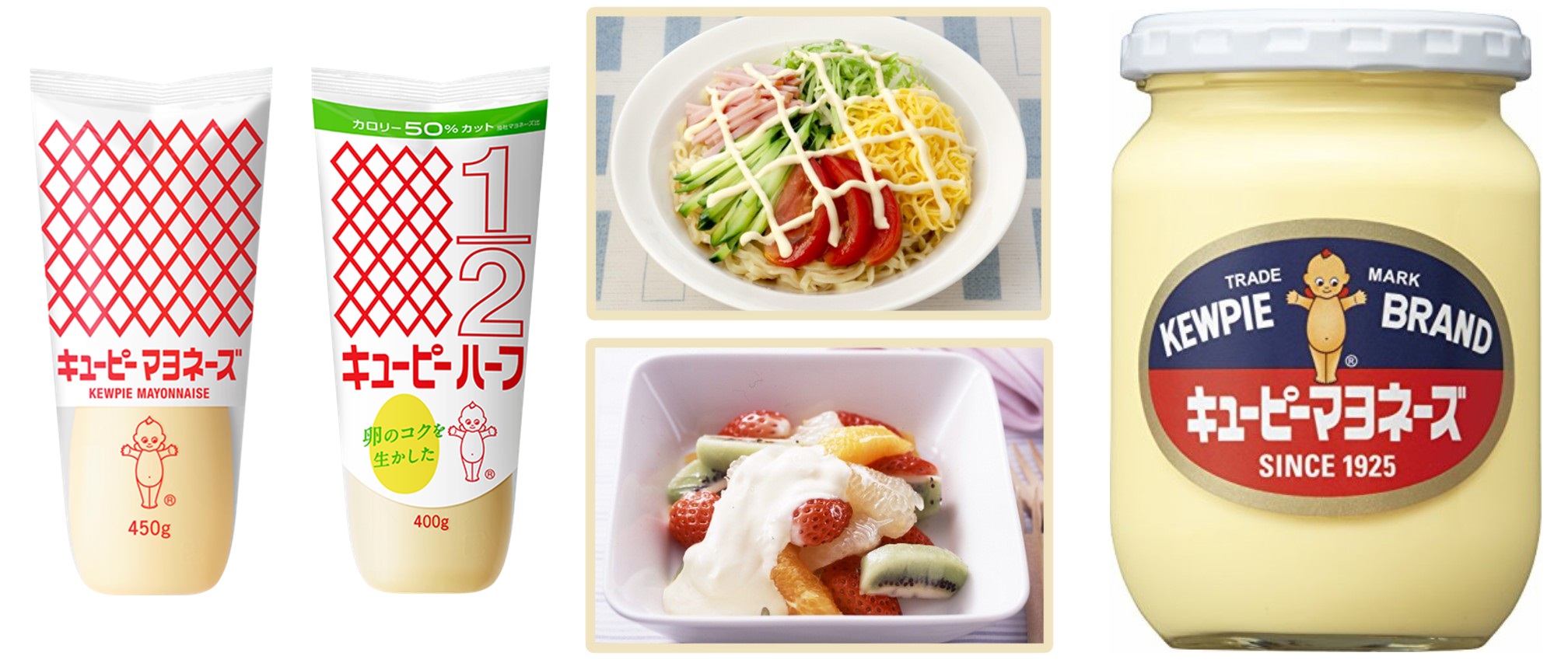 As Japan's most famous mayonnaise brand for over 90 years and a go-to favorite of professional chefs around the world, Kewpie mayonnaise is internationally recognized for its rich, slightly sweet flavor—the result of pure egg yolks and zesty rice vinegar. Available in extra sweet, half-calorie, and standard versions, Kewpie mayonnaise makes the perfect topping for sandwiches, salads, pizza, okonomiyaki and just about everything in between—even fruit!
Japanese Bull-Dog Sauces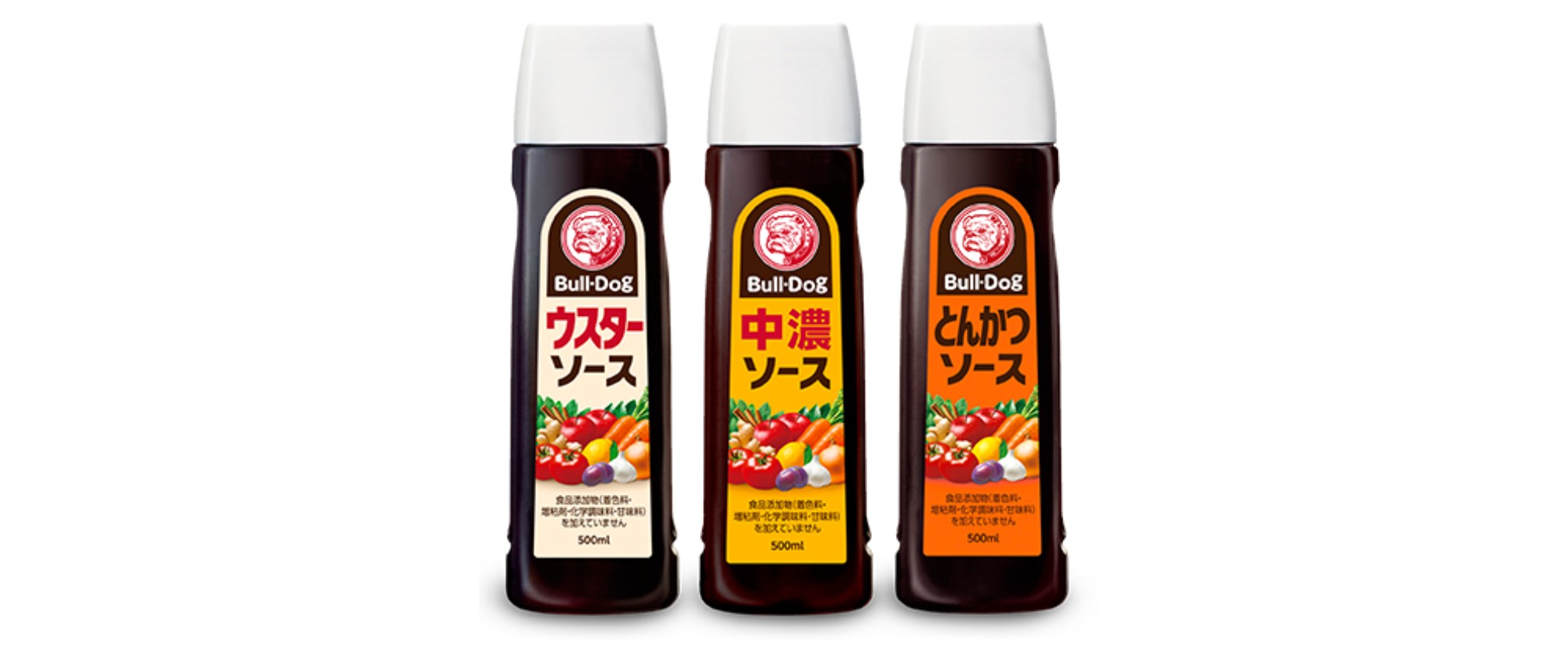 Japanese Worcestershire sauce is distinguished from its Western namesake through its fruit and vegetable base, which results in a sweeter, denser, and more versatile condiment. The most popular brand called Bull-Dog (easily identified by the canine on the container) offers up a variety of sauces that let you decide just how thick you like it, from easy-to-pour Worcestershire Sauce, to medium-thick Chuno Sauce often paired with okonomiyaki and even thicker Tonkatsu Sauce ideal for panko-breaded delectables.
Kitchenware Spotlight: Magic 5 Sauce Dispenser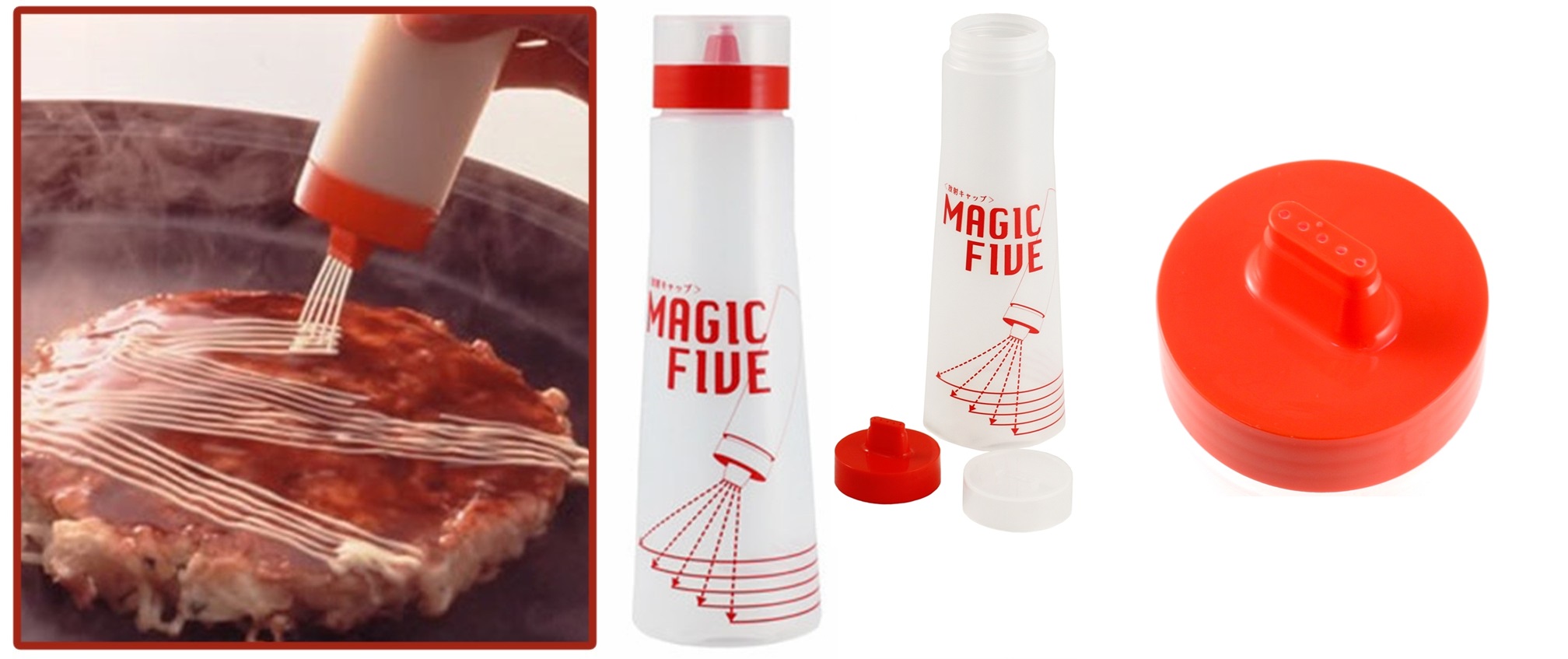 For Japanese chefs, flavor and presentation go hand in hand. The Magic 5 Sauce Dispenser uncaps the ultimate artistic potential of your favorite squeezable sauces, letting you control the flow and create delectable lattice patterns at the same time. The dispenser's simple design features five narrow spouts that make it an effective kitchen tool for a variety of uses from topping Japanese savory pancakes, to icing cakes, and even drizzling fruit syrup on your summer shaved ice.
Where to Buy Japanese Condiments
Ready to top off your latest culinary creations with time-tested Japanese condiments? Put the finishing touches on your favorite recipes with a helping hand from proxy service FROM JAPAN, and easily have these classic ingredients and cutting-edge kitchenware delivered from Japan to your doorstep.
And for more Japanese cooking must-haves for at-home chefs, be sure to check out these other great Japanese kitchen articles!