One cloth… endless possibilities. There is no other country quite as innovative as Japan, and this can best be illustrated with just one word—furoshiki. While Western countries might look at this wrapping cloth as merely an oversized napkin or handkerchief, Japan has found a way to utilize furoshiki by matching functionality with style. Keep reading to find out all of the ways you can bring furoshiki into your life!
How to Use Furoshiki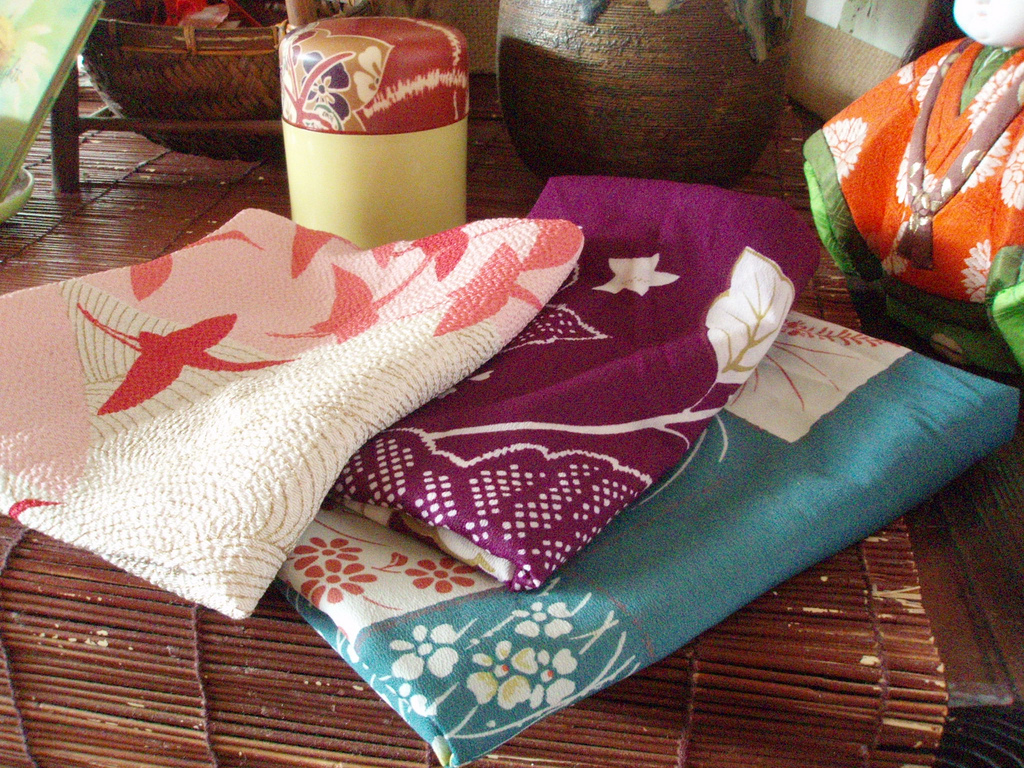 Once used in public bathhouses as a way for patrons to bundle and keep track of clothing, furoshiki have since evolved into a multi-purpose fabric used by young and old alike. Whether looking for a chic gift bag, an impromptu picnic basket, or a decorative fashion accessory, with proper know-how furoshiki can come to the rescue when you need it.
Furoshiki Gift Wrapping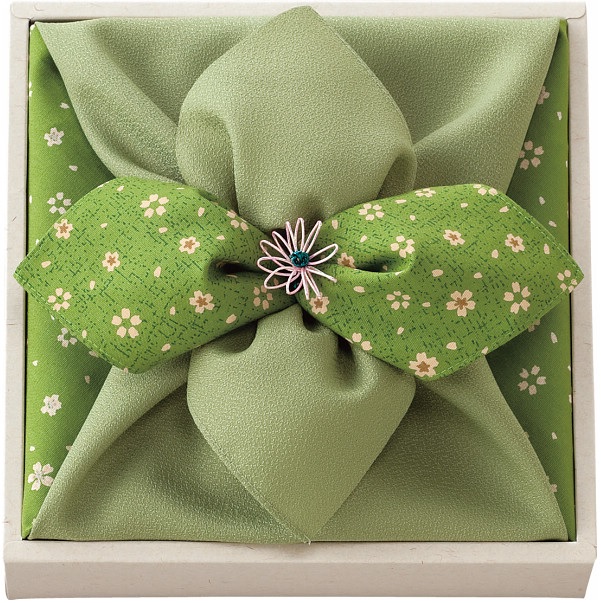 End the endless waste of wrapping paper and paper gift bags by replacing them with elegant furoshiki. These reusable pieces of Japanese fabric are great for the environment, and they add a special uniqueness to your gift presentation that can only be created with furoshiki gift wrapping.
Furthermore, not only is a furoshiki-wrapped item like a 2-for-1 gift, you get to introduce a new Japanese tradition to the recipient who may just pass along their furoshiki to someone else!
Use furoshiki to wrap a gift.
Impromptu Furoshiki Picnic Baskets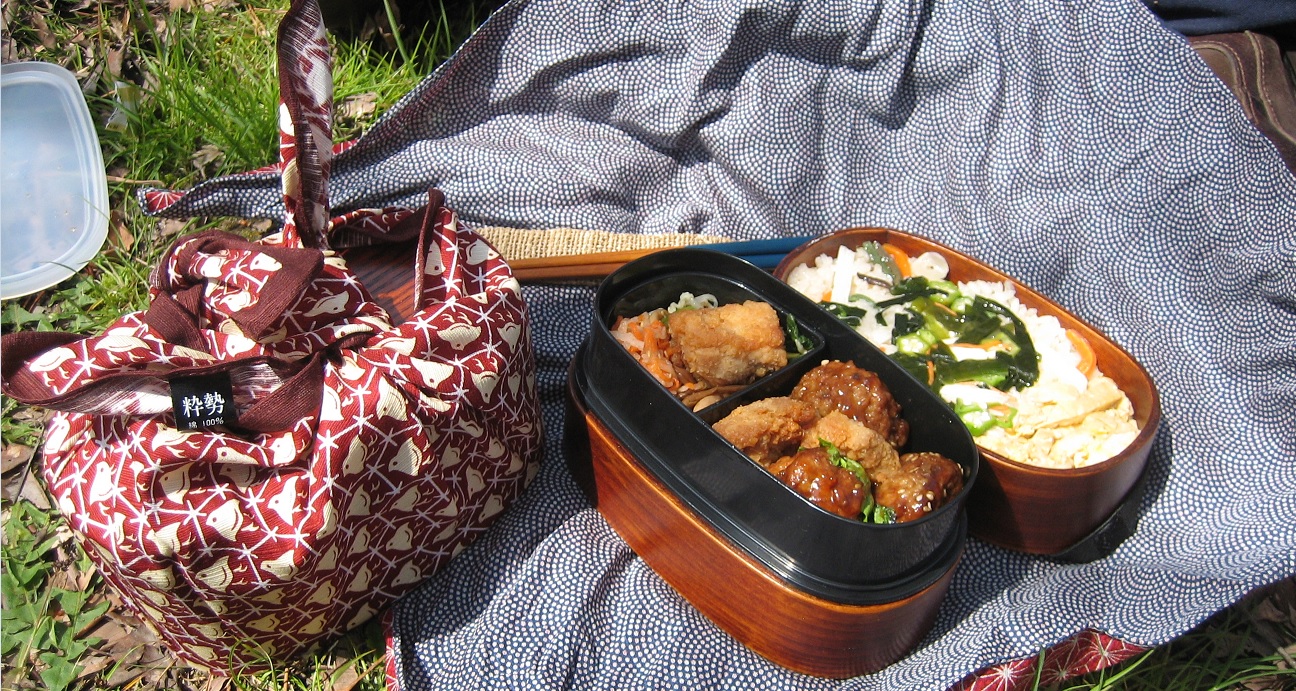 Not all furoshiki need to be given away (be sure to keep some on hand for when you need them). In particular, larger furoshiki lend well to use as a lightweight picnic basket—perfect for an afternoon viewing of cherry blossoms. Whether toting wine for two or a stack of bento boxes and chopsticks for a family gathering, furoshiki add an easy touch of flair that can turn a moment into a memory. They also help reduce the bulkiness of carrying food as the fabric tightly hugs the shape of whatever is being wrapped. Convenient, elegant, essential.
Speaking of bento boxes, the furoshiki is a tried and true assistant for the Japanese businessperson who brings lunch to work each day. With this simple wrapping cloth you can say no to unsightly paper and plastic bags, replacing them with the washable kind. And if you're someone who likes to attract attention, with just one cloth you can strike curiosity among coworkers throughout the company—furoshiki makes a most tasteful statement in the breakroom.
Use furoshiki to create an impromptu handbag.
Furoshiki Becomes Art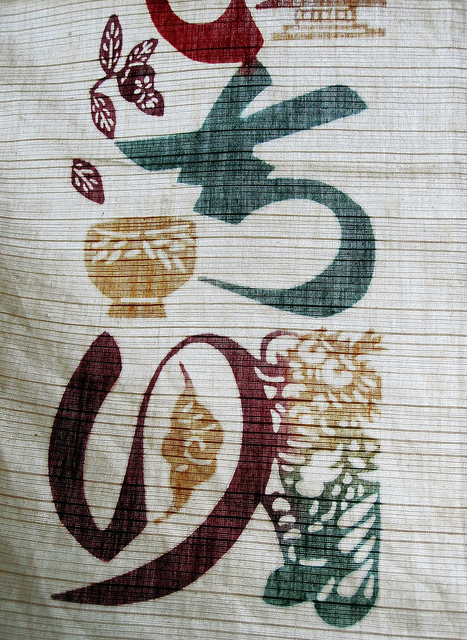 Japanese furoshiki go beyond functionality; they are a form of art. If you like the Japanese traditional aesthetic, these pieces of cloth—available in a variety of sizes, colors and designs—are the perfect accent for your home décor. Popular as souvenirs for Japanese people and tourists alike, it is fun to frame these beautiful textiles, which come in a variety of materials from cotton and linen to the finest silk. Express your appreciation for Japanese culture with framed furoshiki displayed on your walls or better yet, use them as elegant curtains or window art, especially on the side of your home where the sun shines through the brightest.
Furoshiki Fashion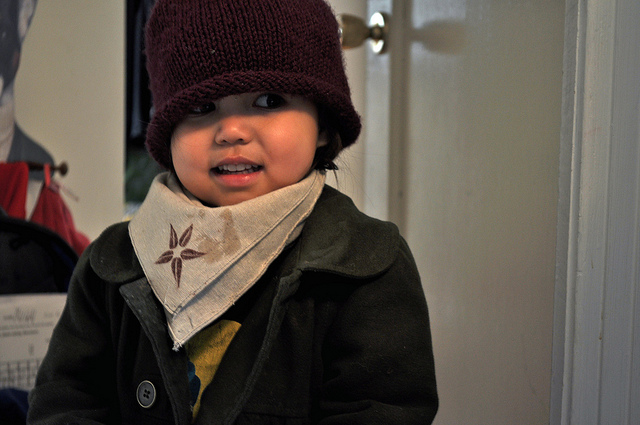 With a cloth so versatile, it was only a matter of time before furoshiki became a fashion accessory. Quite often made of high-quality materials, furoshiki make for a chic autumn scarf or a vibrant summer belt. Much like the sarong of Southeast Asia, the largest size furoshiki can be folded and tied into a beautiful skirt or dress.
You can also complement your day's wardrobe by wrapping a matching color furoshiki around the handle of your handbag or suitcase.
What Else Can You Do with Japanese Furoshiki?
The many ideas mentioned above are only the beginning of what you can do with your furoshiki. Here are a few more practical ways that only require a little imagination to create.
Add the character of old Japan to your sleeping space or living room by hanging a garland of furoshiki from wall to wall along a string.
When traveling, use furoshiki to separate items in luggage for easier packing and hassle-free travel.
If you enjoy open-air markets, or any other venue where you're not prepared to carry goods, conceal neatly folded furoshiki in your purse or pocket so that you can quickly make an impromptu bag when it becomes too difficult to carry multiple items.
If you have tried all the ideas listed in this article, you may just find you are the proud owner of some well-worn furoshiki. If you find that one or two cloths have a small stain, hole or frayed edge, do not throw them out; simply conceal the unsightly blemish by folding it into quarters and use as a pot holder when serving food.
(

Note:

 Please take caution when using this cloth for hot items as furoshiki material is often thin, allowing heat to transfer much quicker.)
There isn't much that this wonderful cloth can't do!
Use furoshiki to wrap a bottle of wine.
Decorate Your Life with Furoshiki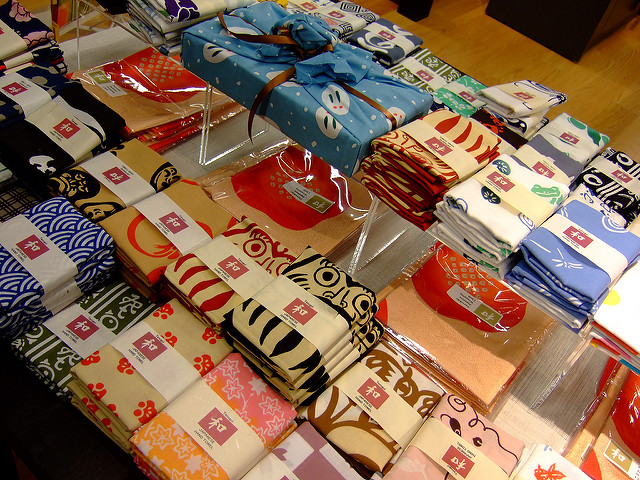 From what we've shown you, furoshiki can be very helpful in so many ways, it's eco-friendly, and you can change them every day to match your mood. Find the perfect Japanese furoshiki that fits your taste by shopping on FROM JAPAN. So go out and enjoy your new, stylish and creative fabric that will serve you well for many years to come!