Fukubukuro Season in Japan is basically the equivalent of Black Friday in the United States. Starting from the day after New Years and usually lasting until January 5, stores try to get rid of products left over from the previous year, by packaging them into bags called fukubukuro and selling them at ridiculously discounted prices. Usually, the fukubukuro is sealed to prevent you from looking inside, basically making it a mystery shopping event; however, in an effort to draw more customers recently some stores have departed from the surprise aspect and now post fliers showing what's inside. That way, the customers don't feel like they got a raw deal. Interestingly, it seems to be working for the stores as fukubukuro are as popular as ever.
People expect to get at least a mandatory 30–50% discount though sometimes the discount is even higher. Depending on your tastes what can be found inside a bag runs the gamut: clothes for men, women or children, sporting goods, cosmetics, jewelry, and food are all popular items. These days the average price for adult clothing is between 5,000–20,000 yen while the average price for children's clothes and sporting goods bags is between 3,000–10,000 yen. Cosmetics typically start at 2,000 yen and jewelry and snacks as low as 1,000 yen. Of course, even at heavily discounted prices you get what you pay for.
7 Tips for Buying a Japanese Lucky Bag
Don't open the bag! When a fukubukuro doesn't list what's inside, it may be tempting to take just the smallest peek. While the store's staff would probably do no more than scold you for peeking, it's still not considered a very polite.
Consider pricing. Each fukubukuro usually has at least five items inside with at least one prize item –  what makes the bag such a great deal. The more expensive a fukubukuro you buy, the higher the chance that you will get more than one expensive item.
For snacks, search Ginza. While Ginza makes for a great shopping spree no matter what type of fukubukuro you're looking to buy, the posh Tokyo district is the best location to get your hands on high-end okashi.
High budget = Brand-name clothing. If you need to shop for business suits, this is the time of year you can buy cheap attire from Hugo Boss, Armani and the like at deeply discounted prices ranging from 10,000–50,000 yen a bag.
Watch for sizing. Clothing sizes tend to run a size smaller than sizes in many Western countries, so it is important to pay attention since you can't do returns. If you don't know what size you are in Japanese clothing, try going one size up from normal. (i.e. Small becomes Medium, Large becomes Extra Large).
Go early. Fukubukuro really is a big event in Japan and once people learn what's inside the bags they sell out quickly. If you have a special brand or product in mind, and you know where you can get the lucky bag, don't procrastinate.
Look around the store. This event usually includes deep discount sales between 30–70% on other items in store, so if you like what's in the bag, take a look around to see what other big savings you can find.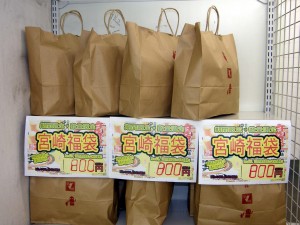 Anime Fukubukuro
Now that you're a pro at buying fukubukuro, let's take a look at some recent lucky bags sold in 2015 to give you an idea of what's out there.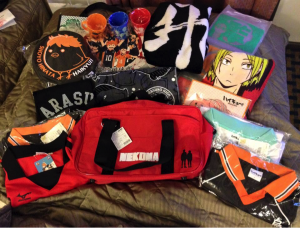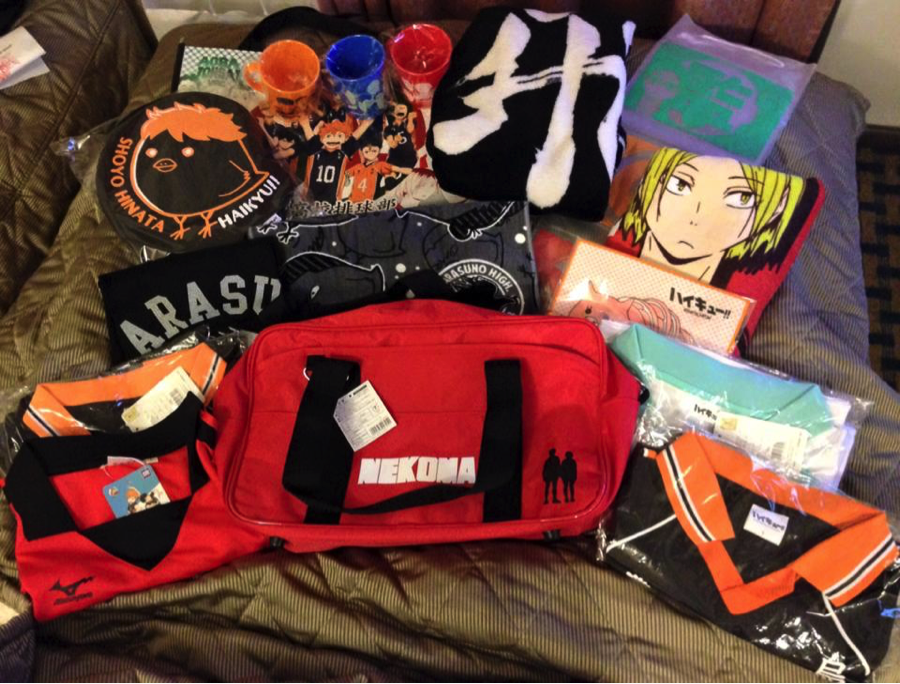 First up – the Shonen Jump fukubukuro! The one pictured above is the Haikyu!! Lucky Bag. At around 3,000 yen the bag included t-shirts, a cushion, plastic cups, towels, and a blanket.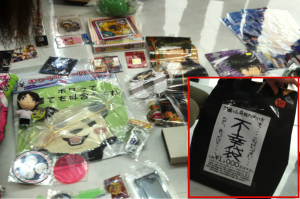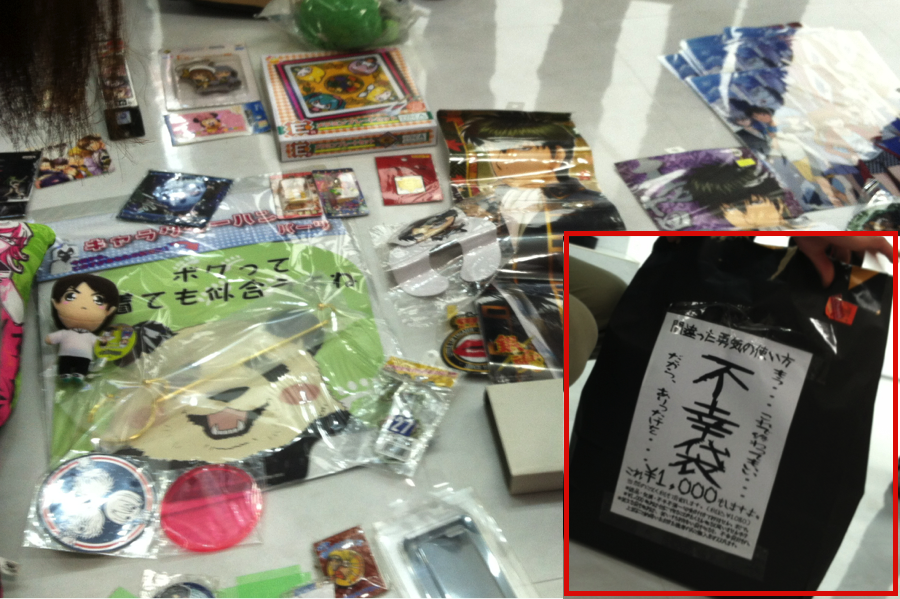 Another good find was the Unlucky Bag coming out of Akihabara. Yes, that's right, unlucky bags exist! While you might wonder why it's called the "unlucky bag," you might also be curious about why anyone would actually buy one. These unlucky bags are a trend that started due to the stigma about fukubukuro containing more useless and unwanted items than genuine bargains. As for this unlucky bag, we found it to be surprisingly full of luck! Among the loot was merchandise from Shirokuma Café, Tiger & Bunny, Noragami, Evangelion, Prince of Tennis, and many other similar Japanese brands.
Have You Heard of the Apple Lucky Bag?
The Apple Lucky Bag is probably the most talked about fukubukuro in Japan—period. With the possibility of a MacBook Air being contained in only one pack, it's no wonder why people form long lines and camp out each year just to get their hands on one. Although we weren't able to snag a pack for review, items from the Apple fukubukuro will often appear on FROM JAPAN, since sellers are looking to makes some money for items they don't want. For example, all of the 2015 Apple Lucky Bags contained Dr. Dre PowerBeats2.
Yodobashi Fukubukuro & Liz Lisa Fukubukuro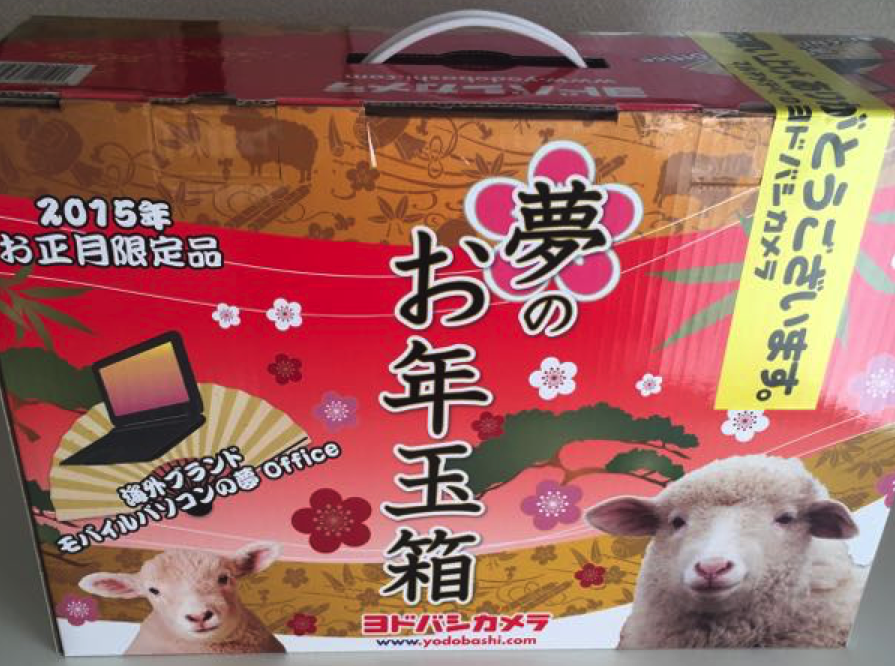 Another great electronics company selling lucky bags in Japan is the well-known Yodobashi Camera. While not as popular as the Apple fukubukuro, Yodobashi still provides high-quality lucky bags ranging from computer equipment, like the picture above, to kitchenware; definitely a great find. Check out FROM JAPAN's listings to look for one of Yodobashi's many lucky bag themes. (Tip: When searching at the link, be sure to look closely at the image to see which themed lucky bag your ordering.)
If you still can't get enough of Japan's lucky bag craze and love j-fashion, stay tuned for our next article on unboxing a 2015 Liz Lisa fukubukuro!