From spinning tops to building blocks, wooden toys are nostalgic timestamps for parents with fond memories of playtimes past. Recognizing the eco-friendly, soothing properties of wood, many Japanese toy manufacturers are aiming to get contemporary children back in touch with nature through finely crafted toys that are fun to play with. Keep reading to learn more about some of Japan's many unique wooden toys for kids that can help your child's imagination and motor skills take root, branch out, and blossom!
11 Japanese Wooden Toys for Tots to Teens
Anomatopée First Toy Series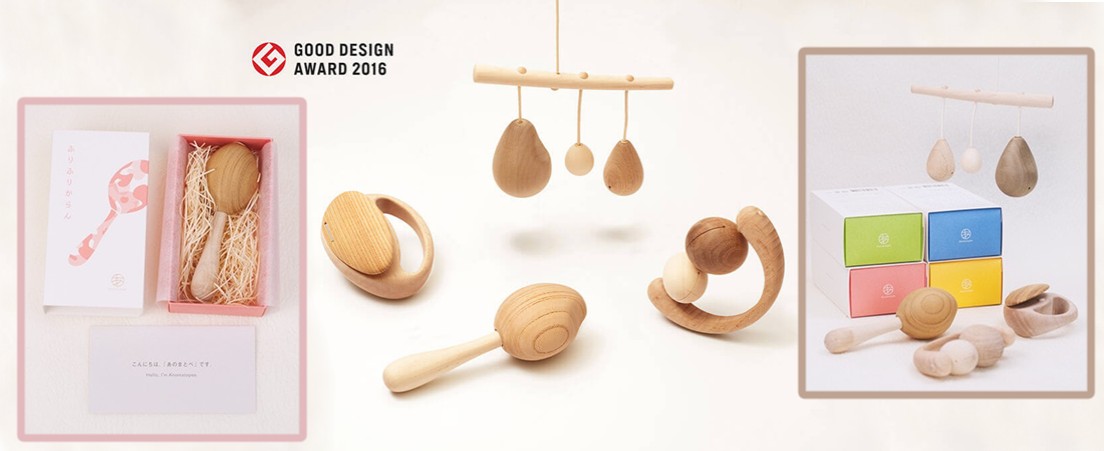 The Anomatopée First Toy Series rattles, rolls, and clacks to make your little bundle of joy's first six months a delight. Each interactive plaything is delicately crafted from domestic Japanese wood, allowing your infant to explore each of the five senses. The material's natural ability to adapt to surrounding humidity and temperatures offers a welcoming tactile feel to a baby's sensitive skin, while the gentle contoured shapes help lay the building blocks of imagination through intuitive play. With a Good Design Award designation, these toys are perfect for passing down with each generation.
Donguri Kororo Walking Acorns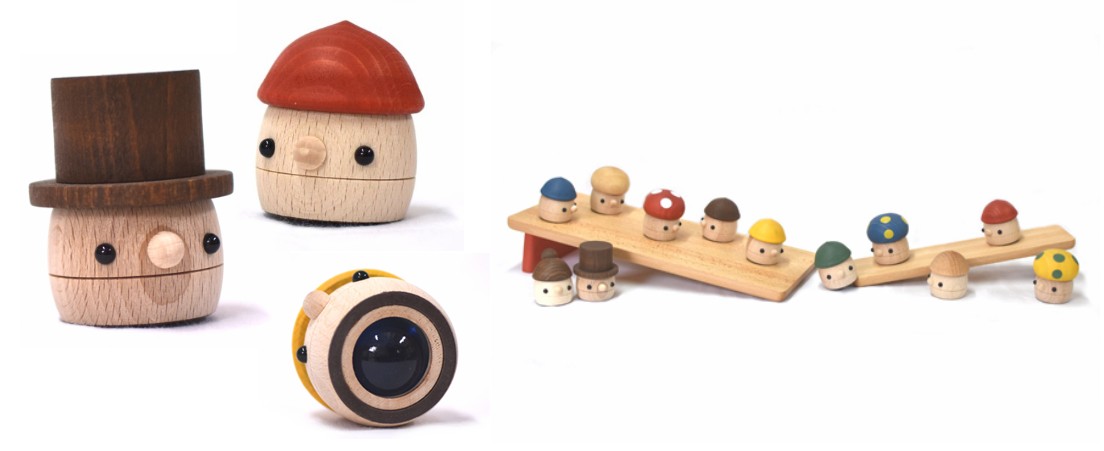 Donguri is the Japanese word for "acorn" and kororo is the sound a lightweight object makes when it rolls around. These adorable Walking Acorns bring the classic Japanese children's song "Donguri Korokoro" to life as each unique acorn character bobbles down the sloped wooden plank while making cute pitter-patter sounds. Toddlers are sure to love watching the little nut family's colorful "caps" pass by—especially once they learn to give the acorns a gentle nudge without mom or dad's help.
Comaam Dress-up Dolls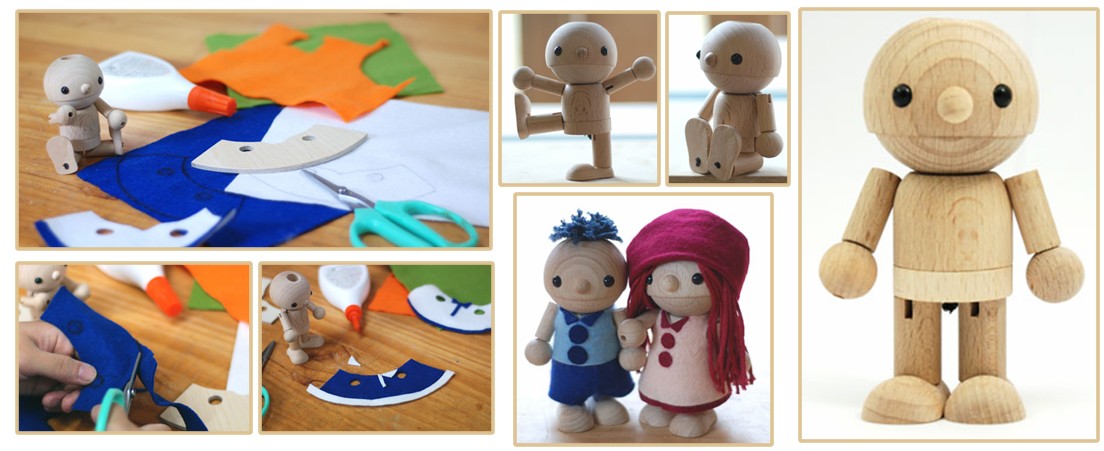 These Comaam Dolls are a daydream-come-true for creative kids who love to play dress-up. Smooth beech wood ensures a simple, yet sturdy build that won't break during intense playtimes, and easily repairable articulated joints connected with simple hair ties allow for lifelike poses to fuel your child's imagination. What truly makes these dolls special, though, is that kids can dress them up with simple yarn hair instructions and DIY felt clothing using Comaam's free online pattern, which can be modified for a variety of wardrobe options.
Wooden Buriki Robot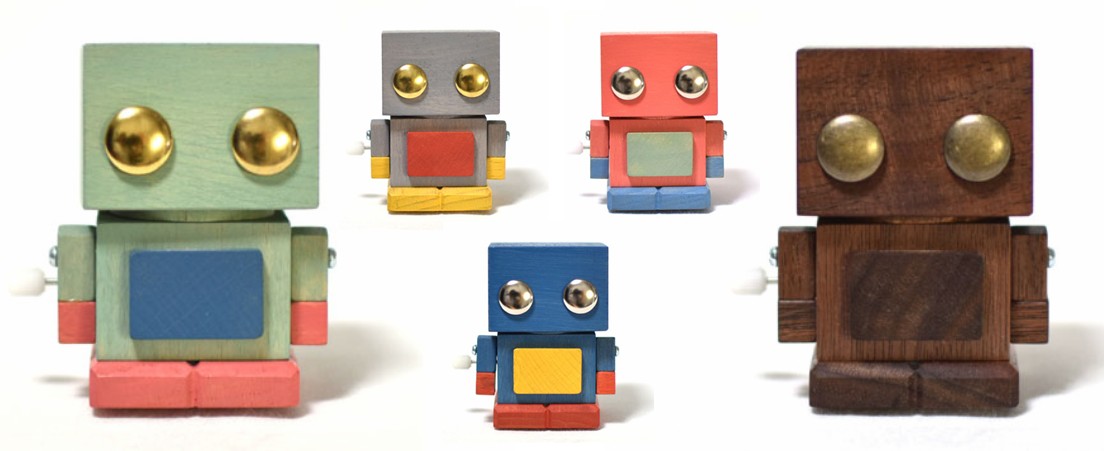 The Wooden Buriki Robot is a wind-up toy that's sure to fascinate children with its stocky marching action, and satisfy any parent's penchant for playthings from the past. Waddling away to the mechanical "whir" of the mainspring, these blocky bots also feature a swiveling neck joint that shakes slightly with every step and adds personality to each button-eyed design.
Mokuseiderz Wooden Action Figures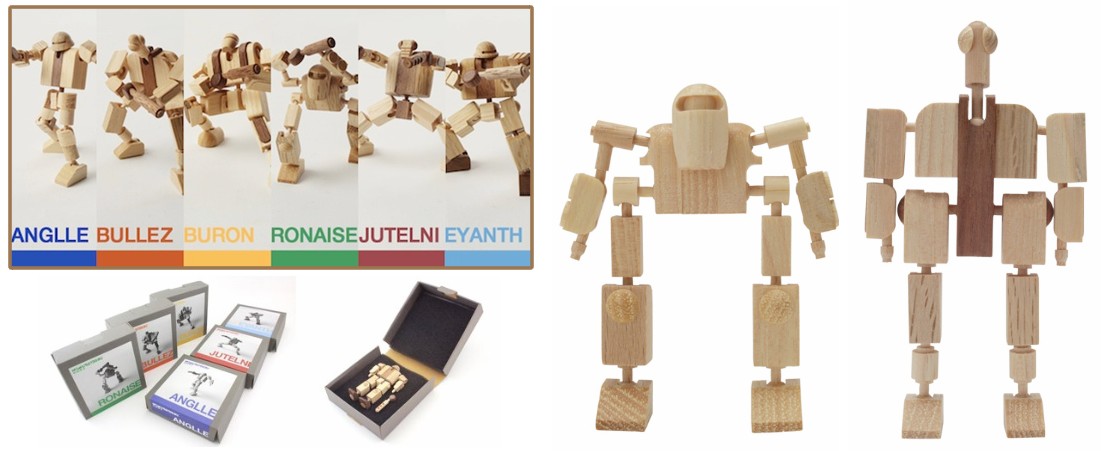 These mechanized forest warriors are said to be the eco-friendly defenders of humanity against a polluted future. Originally created as a clever way for music studios to recycle broken drum sticks, the Mokuseiderz Wooden Action Figures series is a rewarding, user-assembled line of articulated robots that kids will enjoy building and battling alongside their parents. Each of the six designs features unique weapons, armor, and helmets.
Wooden Sushi Set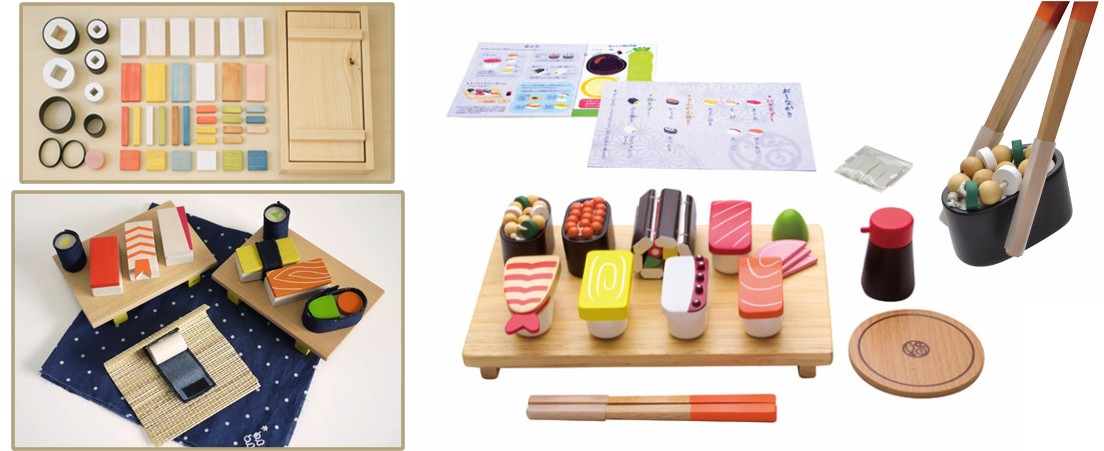 Children who eagerly stand on tiptoes to get a glimpse of their parents' countertop cooking will set their inner culinary artist aflame with a Wooden Sushi Set. While there's an entire menu of eco-friendly Japanese brands to choose from, one thing they all have in common is delicious variety. Chefs-in-training can create their own specialty rolls and nigiri from a selection of flat fish toppings, rice, and Velcro-bound nori seaweed—perfect for learning shapes and colors, mastering chopsticks, and fostering the first savory steps of a future food connoisseur.
Mokulock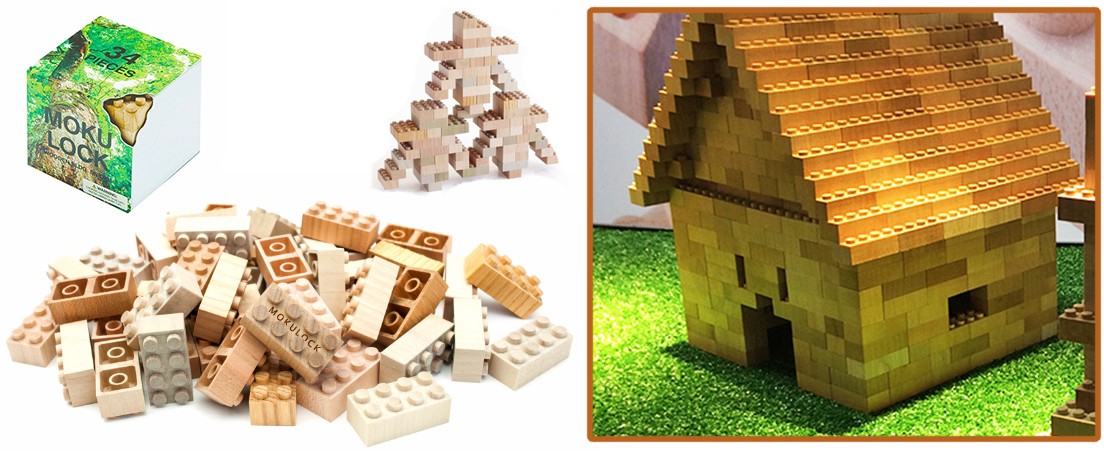 Mokulock grafts nature onto playtime, creating LEGO-like building bricks from six varieties of domestic Japanese wood sourced with sustainable forest conservation practices. This eco-savvy material, paired with the blocks' ability to get children invested in the natural world, earned Mokulock the GREEN Award in 2015. Pleasant, woodsy scents and distinctive grain patterns make this aromatic architecture a soothing, hands-on experience for the senses and imagination alike.
Forest Animal & Marine Life Stacking Woodblocks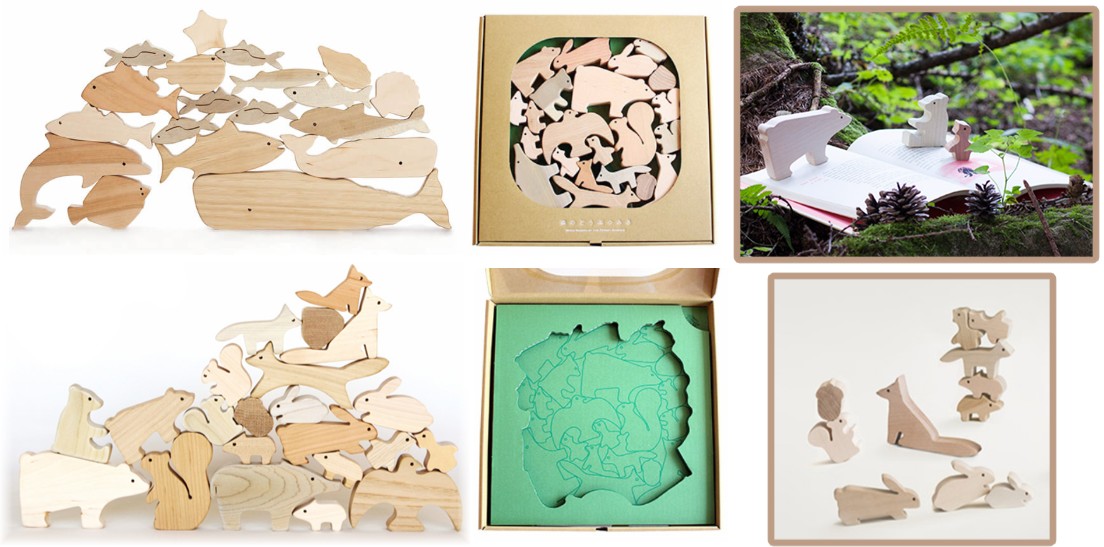 Available in forest animal and marine life shapes, these Stacking Woodblocks are the brainchild of Japanese picture book author Kanayo Sugiyama, and feature various creatures cut from Japanese domestic woods, like white birch, cherry, and chestnut. With plenty of ways to play, this series promotes critical thinking through puzzle-piece piling and artistic arrangement, and a love of nature through the cute critters and tactile material.
Cubicolo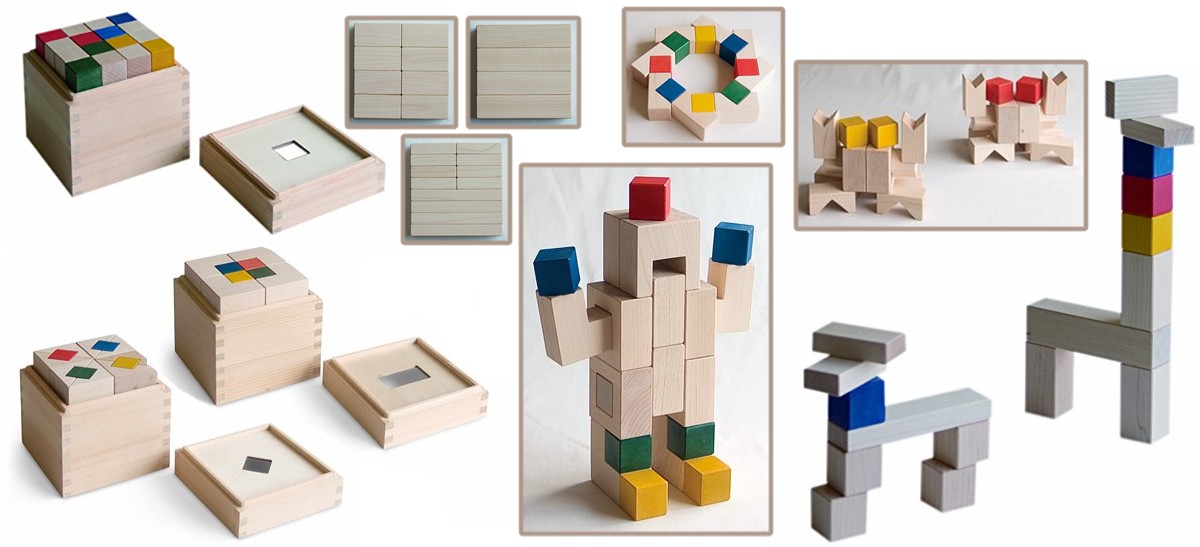 Cubicolo is a graduating series of ergonomic building blocks that evolves alongside your tyke's budding motor skills. Each of the three levels of mastery—Base, Quadro, and Triangolo—challenges children's imaginations and sense of structure as they progress to more complex shapes. From building boxy robots and tippy towers to creating kinetic domino lines, Cubicolo provides plenty of ways to play with 40 bricks per set.
Kendama

With kendama, one of Japan's most traditional toys, "ken" refers to the hilt-like shape while "dama" is the ball attached to the handle. A seemingly simple game, the goal is to land the swinging ball on the handle's three smooth cups or spiked tip, hopefully in succession. However, as anyone who has seen a kendama tournament in action can testify, there are over 1,000 tricks to landing the ball on the handle—and nearly as many color designs for your child to choose from!
Kururin

Somersaulting into the spotlight behind the fidget spinner fad, Kururin might just be the next big thing in creative hand-eye coordination. Shaped like a pudgy, finger-length rolling pin, Kururin is fitted on either rotund end with rubber stoppers for mid-tumble traction. Alternating between the simple action of flipping the Kururin end-over-end on a flat surface and stopping it with practiced skill, your child can create a surprising number of tricks, shapes, and rhythms to entertain themselves or a captivated audience of family and friends.
Best Place to Shop for Japanese Wooden Toys
You don't have to go out on a limb or "lumber" over to Japan to pick up these timber toys. With FROM JAPAN, you can easily browse listings from the country's biggest online shops and auction sites and have these wonderful wooden playthings shipped right to your door.
And for more fun products that can help develop your child's imagination and motor skills, be sure to check out our selection of Japanese Art & Craft Supplies for Kids!