BTS is a K-pop band that took the world by storm and registered an enviable commercial success in Asia. The band, founded in 2010, went international in 2016 and has won several awards to date.
But it is in Japan where the group registered a run-away success, and this is by no means a coincidence. Japan is one of the largest consumers of K-pop, with plenty of CDs and merch flowing from Korean artists made to be sold exclusively in the country.
BTS is one K-pop group that's enjoying massive popularity in Japan currently. One of their most recent releases, "Butter" debuted as No. 1 on the Oricon album charts, reviving their already massive fan base across the country. Young people in Japan enjoy K-pop, and exclusive Japanese albums resonate with this demographic. BTS has released 4 Japanese studio albums, 4 Japanese compilation albums, and 10 Japanese single albums to date.
Why should you buy BTS CDs and merch from Japan?
There are plenty of reasons why you should opt to buy BTS CDs from Japan and not anywhere else. These include guaranteed high quality and low costs — shopping in Japan means you're getting high-quality products without breaking the bank. This is due to Japan's unrivaled technology in manufacturing which results in products with premium features at affordable prices (including low service fees and shipping fees).
Another reason is the huge market for K-pop in Japan. K-pop has been popular Japan for several years now, and because of this, Japan-exclusive CDs and merch items are continuously being made by many mainstream K-pop artists, with BTS being one of them. So if you think about it, Japan has a whole trove of essentials that you as a K-pop fan shouldn't miss out on.
BTS CDs and merch you can get from Japan
Japanese BTS CDs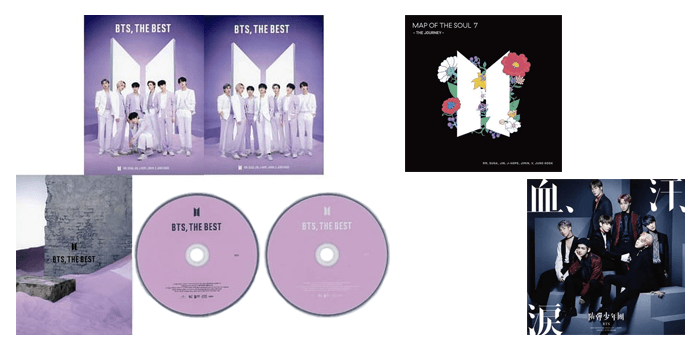 Information accurate as of September 2021
BTS have released a total of 14 albums in Japanese, which you can find a list of below:
BTS Japanese Studio Albums
Wake Up (Release date: December 24, 2014)
Youth (Release date: September 7, 2016)
Face Yourself (Release date: April 4, 2018)
Map of the Soul: 7 ~The Journey~ (Release date: July 15, 2020)
BTS Japanese Compilation Albums
2 Cool 4 Skool / O!RUL8,2? (Release date: May 23, 2014)
THE BEST OF 防弾少年団 -KOREA EDITION- (Release date: January 6, 2017)
THE BEST OF 防弾少年団 -JAPAN EDITION- (Release date: January 6, 2017)
Map of the Soul: 7 ~The Journey~ (Release date: July 15, 2020)
BTS Japanese Single Albums
NO MORE DREAM -Japanese Ver.- (Release date: June 4, 2014)
BOY IN LUV -Japanese Ver.- (Release date: July 16, 2014)
DANGER -Japanese Ver.- (Release date: November 19, 2014)
For You (Release date: June 17, 2015)
I NEED U (Japanese Ver.) (Release date: December 8, 2015)
RUN-Japanese Ver.- (Release date: March 15, 2016)
血、汗、涙 (Blood Sweat & Tears) (Release date: May 10, 2017)
MIC Drop/DNA/Crystal Snow (Release date: December 6, 2017)
FAKE LOVE/Airplane Pt.2 (Release date: November 7, 2018 for physical album)
Lights / Boy With Luv (Release date: July 3, 2019)
You can type "BTS" and paste any of these album names on FROM JAPAN's search bar to find and order CDs for them, or if you don't have a specific album in mind, you can search for BTS albums from Japan using the button below.
BTS Japanese Magazines / Photobooks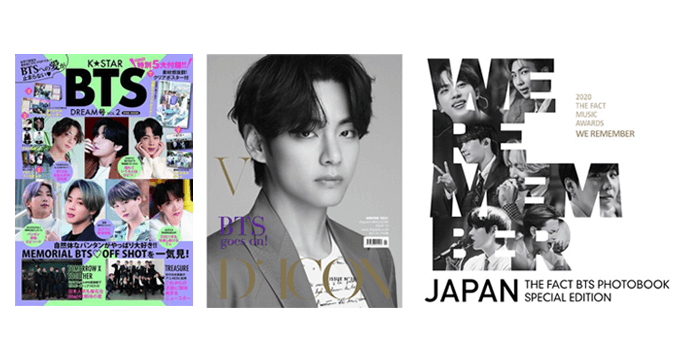 Over the years since BTS has gained a following in Japan, they've been covered by countless Japanese magazines which prominently feature exclusive images of the members during concerts or from photoshoots. So even if you can't read Japanese, there's value in collecting Japanese magazines with issues dedicated to BTS.
While magazines can have the positive of being more affordable and thus also giving you the chance to have a lot more variety when adding them to your collection, on the other hand, there have also been BTS photobooks released in Japan if you're looking for something more comprehensive. There are even special edition photobooks that are dedicated to each member, so you can find the photobook of whoever might be your favorite.
BTS Light Sticks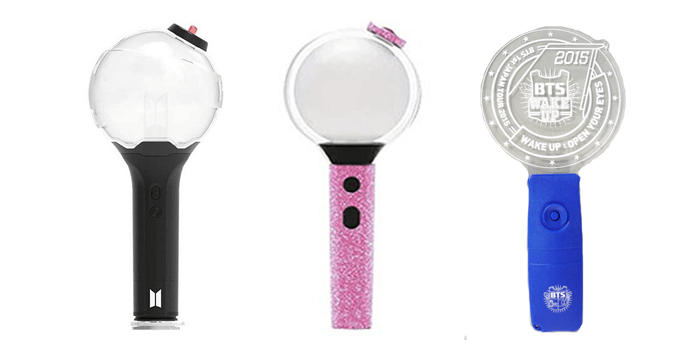 Any true fan of BTS shouldn't be caught without a BTS light stick. Even though you might not have had the chance to go to a BTS concert yet, light sticks can be a great way to show your solidarity with other fans of BTS, and can make for a great addition to your collection.
Aside from being able to get the standard official BTS light sticks, there are also limited edition light sticks that were sold during their Japanese tour dates, which you can only get by buying them from Japan.
BTS Tiny Tan QPosket Figures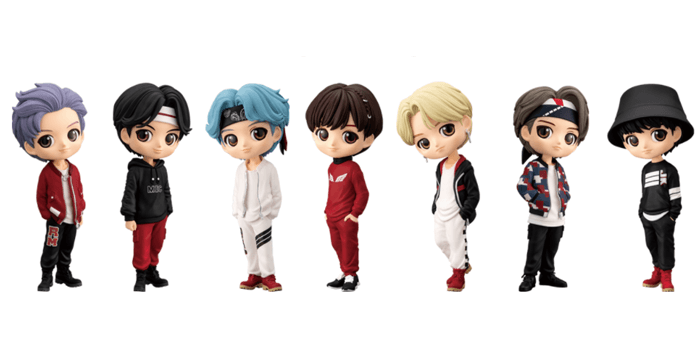 These figures are made by Bandai, a company that's huge in Japan because of their figures and other hobby items. QPosket figures are known for their stylized cute eyes, and for their BTS figures, they accurately followed the outfits worn by the group's Tiny Tan characters too.
BTS Tiny Tan Nesoberi XL Plushies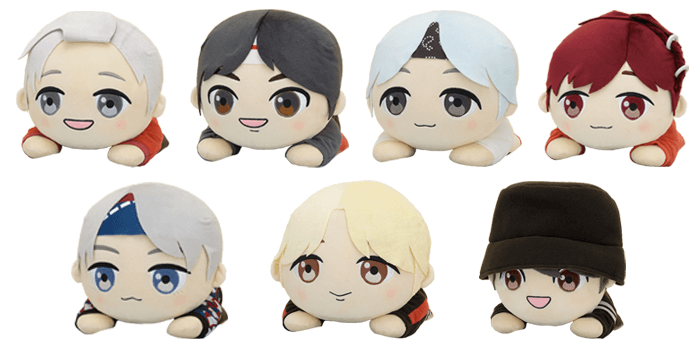 Nesoberi plushies are specifically made in a size that's perfect for hugging, and these BTS Tiny Tan plushies are no exception! Measuring 40 centimeters or 15 inches tall, these plushies are some of the cutest "chibi" versions of the BTS boys you've ever seen!
How to buy BTS items using FROM JAPAN
You can buy BTS CDs and merch from Japan using a proxy service. A proxy service acts as a middleman between you and the Japanese retailers of the BTS CDs. A proxy company like FROM JAPAN provides an excellent and convenient way to buy goods from Japan. Shopping with FROM JAPAN has never been so easy. All it takes is to follow the simple steps outlined below:
Add items to the cart- Add the BTS CDs and merch to your cart from any Japanese online shop and place your order.
Get a quote- Once you get a quote FROM JAPAN will confirm item prices and availability.
Pay for the items- Once prices have been confirmed, go on and pay for the items
FROM JAPAN will then order your items from the shop you selected. We will wait for your goods to be delivered to our warehouse.
Once we receive your items, we will ask you to specify the shipping method and address. You will also pay for international shipping depending on the package weight.
Your package will be delivered within 1 to 2 weeks to your address
At FROM JAPAN, we will order items on your behalf, ship them to a warehouse in Japan, and handle the shipping process to you wherever you are across the globe. FROM JAPAN, proxy/buying service helps customers worldwide buy things of various categories, including exceptional BTS CDS and merch. Happy BTS shopping with FROM JAPAN!