Ready to add a touch of otaku comfort to your everyday routine? Looking for a fun gift for your fellow homebody? Then check out our list of 11 Bibi Lab brainchildren that will keep you kicking back and taking life easy.
Bibi Lab Body Pillows
Twintail Pillows

In Japan, hug pillows called "dakimakura" are a popular item for solo sleepers, and Bibi Lab's line of Twintail Pillows puts a unique twist on the oversized idea by shaping them into a pair of body-length pigtails. The standard Twintail Pillow comes with your choice of a tan or blue cover, while the wavy Royal Twintail Pillow is packaged with a baby blue spandex cover to keep you cool in summer and a black velvet cover for winter warmth. Whether you twist your tails, wrap them, hide behind them, or even share them, these pillows will revolutionize your R&R.
Husband & Wife Pillows

Taking dakimakura to the next level, Bibilab's series of cotton Husband & Wife Pillows will make all your otaku dreams come true. Sewn from skin-colored spandex, these human-shaped cushions simply need attractive anime attire to bring your handsome heartthrob or cute crush to life for a one-of-a-kind companion. And because they range from 140–160 centimeters in length, they have the perfect proportions for snuggling, snoozing, and simulating with your favorite Japanese VR video games.
Wata-bito Small Friend Body Pillows

If the Husband & Wife Pillows are a bit too "grown-up" for your preferences, Bibi Lab's Wata-bito Small Friend Body Pillows are a great way to receive kid-size cuddles when you need them most. The huggable plushies feature three color-coordinated sizes (light blue / 100 cm, pink / 90 cm, and grey / 80 cm); and because they arrive faceless, you can iron on one of three complementary emoji expressions to bring your imaginary pillow pal's personality to life.
Bibi Lab Loungewear
Sera Core School Uniform Collection

Perfect for aspiring anime high school heroines, Bibi Lab's Sera Core School Uniform Collection loungewear puts a comfy cosplay twist on decades of Japanese classroom fashion. These easy-to-slip-on one pieces comfortably double as pajamas, and are designed to simulate the colors, ribbons, pleats, and socks of real school uniforms. Available in annual summer and winter collections, this lightweight loungewear will keep you sleeping like a schoolgirl even during summer break!
Sera Core Wearable Blanket

Giving Japan's sailor suit uniform the winter pajama treatment, Bibi Lab's Sera Core Wearable Blanket is the perfect way to lounge in kawaii comfort. The flared skirt is sure to have you twirling throughout your home schoolgirl-style, but its real appeal hides within the material. Like a personal heater, the fleece fabric traps your body's warmth around your legs keeping them toasty under the draping skirt, whether you're gaming from your sofa or snuggling up with your Twintail Pillow.
Raku Yukata Pajamas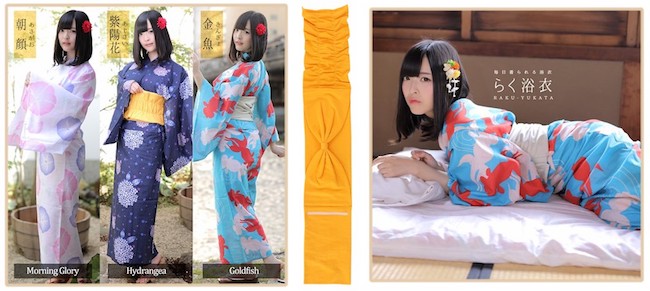 Available in morning glory, hydrangea, and goldfish patterns, Bibi Lab's Raku Yukata Pajamas cater to your cravings for Eastern comfort—turning Japan's traditional summer apparel into luxury loungewear. Beyond looks, the yukata includes two hidden features: a realistic, easy-to-wear obi sash that lets you don the Raku Yukata in less than a minute, and a discreet pocket for your valuables that turns your indoor robe into a stunning outdoor outfit.
Dame Gi Loungewear

If you're looking to master the secret art of the ninja without getting off the couch, Bibi Lab's novel Dame Gi Loungewear may be the most relaxing way to go about it. These less-than-conspicuous onesies amusingly mask your identity from prying passersby while providing you with all the necessary weapons of a shinobi introvert, like an eye mask for ninja naps, soft-lined stretchy fabric for cat-like stealth, and a rear-end zipper that ensure a fast getaway during your next restroom mission. The grey Dame Gi-chan variant — specifically designed for women—provides pigtail openings and extra padding for feminine figures.

Dame Gi Winter Loungewear

Prioritizing crazy comfort over stealth, Bibi Lab's Dame Gi Winter Loungewear inherits the original Dame Gi's fleecy and functional features while bundling in vibrant colors, convertible mittens, and snap-down slippers for literal head-to-toe coverage. This eco-friendly winter wear zips to the nose to keep your body heat up and the thermostat down, making it the ultimate cold-weather outfit for anyone up to 180 centimeters tall.
Innovative Bibi Lab Tech
From rolling umbrellas to pop-up privacy tents, Bibi Lab's innovative tech aims to create mess-free, stress-free products that make life fun and easy.
Bocchi Home Office Tent

Ideal as a portable cubicle, study, gaming lounge, or changing room, the Bocchi Home Office Tent caters to all your pop-up privacy needs. With easy setup in less than a minute, this polyester tent (measuring 1.3 x 1.3 meters) provides plenty of circulation thanks to removable door and roof flaps and built-in mesh windows. A padlock safeguards valuables within, and a compact storage pouch secures your mobile fort for future use.
Bocchi Bath Sauna Tent

Create a self-service spa in the privacy of your tub with the Bocchi Bath Sauna Tent. Available in leisurely lime and peaceful pink, these calm coverings are placed over your head as you soak in the bath—concentrating soothing steam around your face and neck while also allowing the excess heat to escape through the mesh windows. Once your at-home treatment is complete, simply fold and store the tent in the matching pouch until your next sauna session.
Netsmen Mosquito Suit

For when it's time to finally step out of the house, the Netsmen Mosquito Suit offers superior protection to the average mosquito screen, forming a full-body force field that keeps pesky bloodsuckers at bay. Choose between three mystical warrior auras—Heavenly Maiden Robe of Feathers (pink / 165 cm), Summertime Rain from the Pale Blue Sky (blue / 180 cm), and Country Lodgings of the White Tiger (white / 180 cm)—spray on mosquito repellent for double protection, and take the battle to the bugs waiting in ambush outside your hideout.
Best Place to Buy Bibi Lab Products
Whether you're an introvert or self-proclaimed couch potato, Bibi Lab aims to make your alone time so cozy you'll never want to leave the house! And there's no better place to find Bibi Lab products than direct from Japanese retailers. With FROM JAPAN, you can easily browse listings from Japan's biggest online shops and auction sites and have your order shipped to your door. If you see something here that soothes your inner introvert, don't wait to add it to your "home sweet home" collection as Bibi Lab's products are often sold in limited runs.