No matter the time of year, it's never too late for a little spring-cleaning! From a country known for its uncluttered apartments, squeaky-clean schools, and litter-free roads, here are nine Japanese cleaning products that will make your life pika pika (sparkling)!
High-Tech Japanese Dry Mop Gadgets
Mopet Microfiber Mop Robot

With 3 AA batteries and the simple push of a button, the Mopet Microfiber Mop Robot will wander throughout your house—picking up hair, dirt, and dust along the way—for up to six hours at a time. At only 5.6 cm tall, it's flat enough to glide under narrow gaps, which means you'll never again need to move cumbersome furniture or get on your hands and knees to clean hard-to-reach places in your home. It also includes a convenient built-in aroma pad. Simply add a few drops of your favorite essential oil to the pad and the Mopet will act as a mobile aroma diffuser, filling your home with a calming fragrance as it cleans. And need we even mention the cute anthropomorphic stickers? Turn your Mopet into a "mop pet" by giving your little helper its own unique personality.
Mocoro Robot Cleaning Ball

This neon-colored fur ball (rumored to be from outer space) is the kawaii cleaner of the future. Set the Mocoro Robot Cleaning Ball onto its natural habitat (wood or vinyl flooring) and let it roll and romp its way around all those hard-to-reach nooks and crannies, pausing every 15 minutes for a well-earned breather. Once the robot finishes its three-hour sweep of the house, brush out any dust bunnies with its specially designed comb or peel off the mop cover for a quick rinse under the sink. Effective yet effortless, alien yet adorable, this little animated ball of fluff is sure to become a household favorite.
Japanese Fabric Cleaning Gadgets
Aqua Coton Handy Washer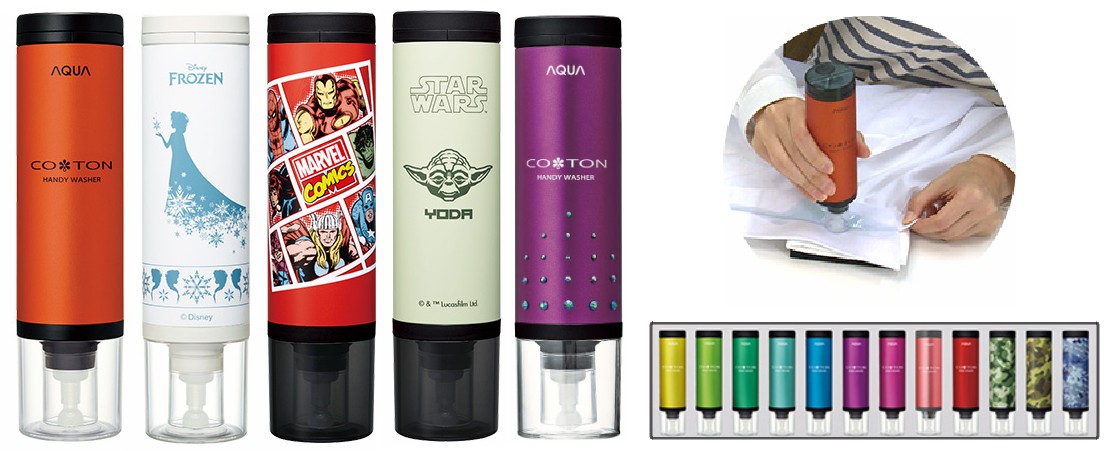 With only a three AAA batteries, the Aqua Coton Handy Washer fits the power of a full-size washing machine in the palm of your hand. Press the button on top and watch as the agitating head attacks stains at 700 pulses a minute while releasing a focused drip of water from a small container hidden within. The Coton Handy Washer's cleaning technology is powerful enough to remove stains from almost any fabric, but is also gentle enough to use on even your most delicate laundry. This compact "washing machine" takes up as much space as a hairspray bottle, making it an essential accessory for dinner dates and road trips.
And take note—with the Coton Handy Washer, fashion doesn't take a back seat to function. Its maker Aqua has collaborated with international brands including Swarovski, Disney, Star Wars, and Marvel to produce several designer series.
Hello Kitty Hand Vacuum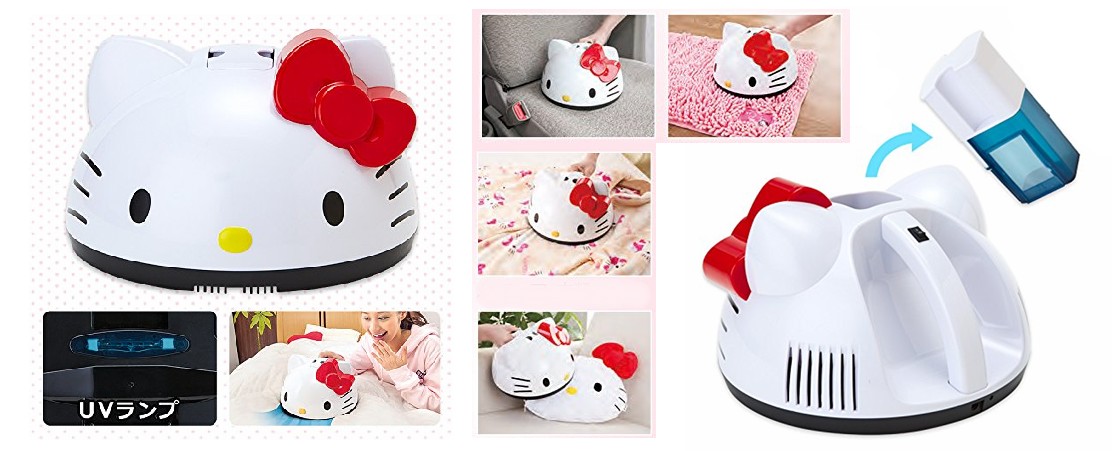 The Hello Kitty Hand Vacuum specializes in cleaning your largest household fabrics—sofas, beds, blankets, futons, and rugs—with a three-pronged approach. A series of grooves and bumps built into the bottom use the vacuum's vibrations to knock loose any crumbs and dirt particles caught in the fabric's fibers, which are then immediately sucked up and deposited into the dust cup. But what truly makes this hand vacuum the "cat's meow" is its specialized UV light designed to sanitize anything crossing the vacuum's cleaning path, including bacteria, allergens, mold, and other unwanted micro-organisms.
Tescom Pill Remover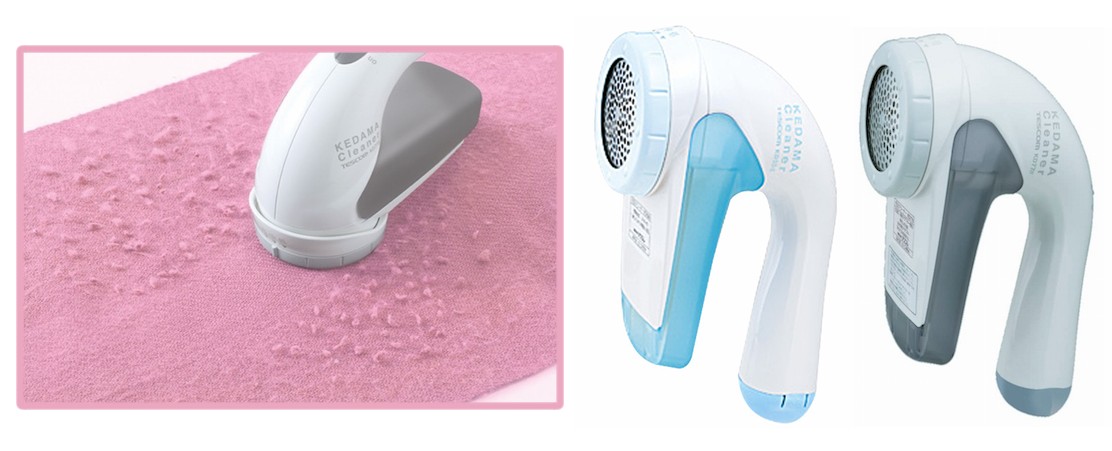 Over time, you may find that your clothes and furniture upholstery start to "grow" fluffy lint, which can be unbearably frustrating to remove by hand. The compact Tescom Pill Remover aims to make your life easier and keep your favorite fabrics looking like new by gently shaving off every speck of lint without damaging the fabric underneath. Unlike many pill removers on the market, Tescom designed theirs to be powered through an AC adapter, which means you'll never need to worry about the batteries running out of power halfway through de-pilling your favorite cashmere sweater right before heading out on a date.
Note: The Tescom Pill Remover is designed for use in Japan. Please purchase an appropriate electrical outlet adapter for the country of intended use.

USB Ultrasonic Handy Stain Remover

Not every stain requires a run through the laundry, and thanks to the Japanese gadget company Thanko you can easily have your clothes looking new again in as little as three minutes with this USB Ultrasonic Cleaner. Just apply a drop of detergent, and then rub away stains with the power of over 50,000 vibrations per second. The portable device can either draw power from a USB port or four AA batteries, making it great both in the office and at home.
Tosaryu Cherry Washboard

Tosaryu's Cherry Washboard may not replace your washing machine full time, but that doesn't mean it's not a worthy addition to your laundry lineup. Available in both small (12 x 26 cm) and medium (14 x 30 cm) sizes, the compact washboard is particularly effective at gently removing tough stains from troublesome areas like the neckline of dress shirts and the bottom of socks. Tosaryu prides itself in producing eco-friendly products for simple-yet-comfortable lifestyles, which can be clearly seen in the washboard's minimal need for water and electricity when washing and its use of all-natural materials—responsibly sourced domestic Japanese cherry wood highly regarded for its water- and warp-resistant properties.
Traditional Japanese Brooms & Brushes
Yamamoto Katsunosuke Brooms

With a history spanning over 135 years, Yamamoto Katsunosuke's highly reputed traditional brooms and dustpans offer the best of Japanese craftsmanship, design, and aesthetics. Not only are they ideal as rustic accents to your home décor, but their natural materials—utilizing a blend of durable wood, fibers, and paper—can provide a tactile enjoyment that modern cleaning tools simply can't match.
Note: Because these brooms and dustpans are made from natural materials, it is best to only use them on dry surfaces and avoid any contact with water.
Kamenoko Tawashi Brush

True to its name "turtle scrubber," the Kamenoko Tawashi Brush is as resilient as a turtle's shell, as waterproof as a turtle's skin, and has a lifespan that rivals a turtle's. Though its bristles are too coarse to use on fabric or Teflon, the scrub brush's stiff palm fibers are the reason it's been Japan's go-to scourer of grit and grime for the past 100 years.
Where to Buy Japanese Cleaning Products
Ready to revolutionize your housekeeping routine? With a proxy service like FROM JAPAN, you can easily purchase these squeaky clean products and more, and have them shipped from Japan to your doorstep just in time for your next scheduled cleaning!