Japan takes its pet products as seriously as you take your dog. From innovative gadgets to fashion, treats and tech, here are nine awesome Japanese dog products to help your pooch stand out from the pack.
Japanese Feeding Products
Nothing gets a dog's tail wagging like a delicious meal. Ensure your pet gets the most out of its diet with these Japanese feeding products—"Bone" appétit!
Oppo Food Ball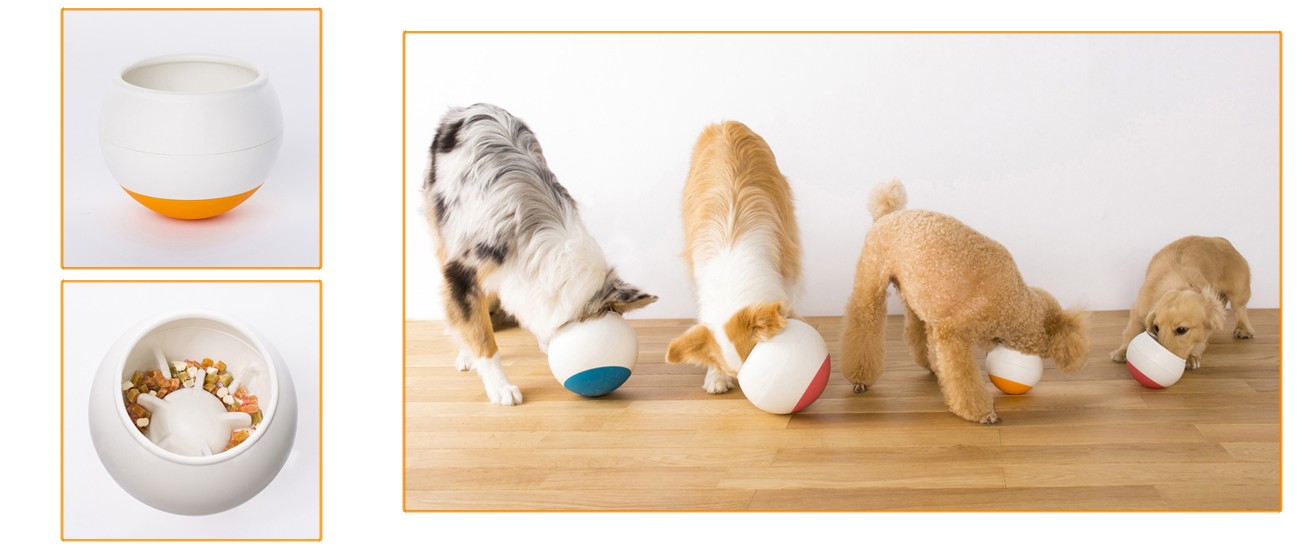 If your dog likes to wolf down its food, it may end up coughing and choking, which could lead to digestive problems or make a huge mess all over your clean floor. The Oppo Food Ball is a spill-free container that wobbles with your doggy as it dines, causing the food to roll around the ball's notched center and forcing your pet to slowly forage for every bite. The bowl comes in two sizes and a variety of colors to suit any breed, and easily disassembles into four pieces for convenient cleaning.
Fish Dog Treats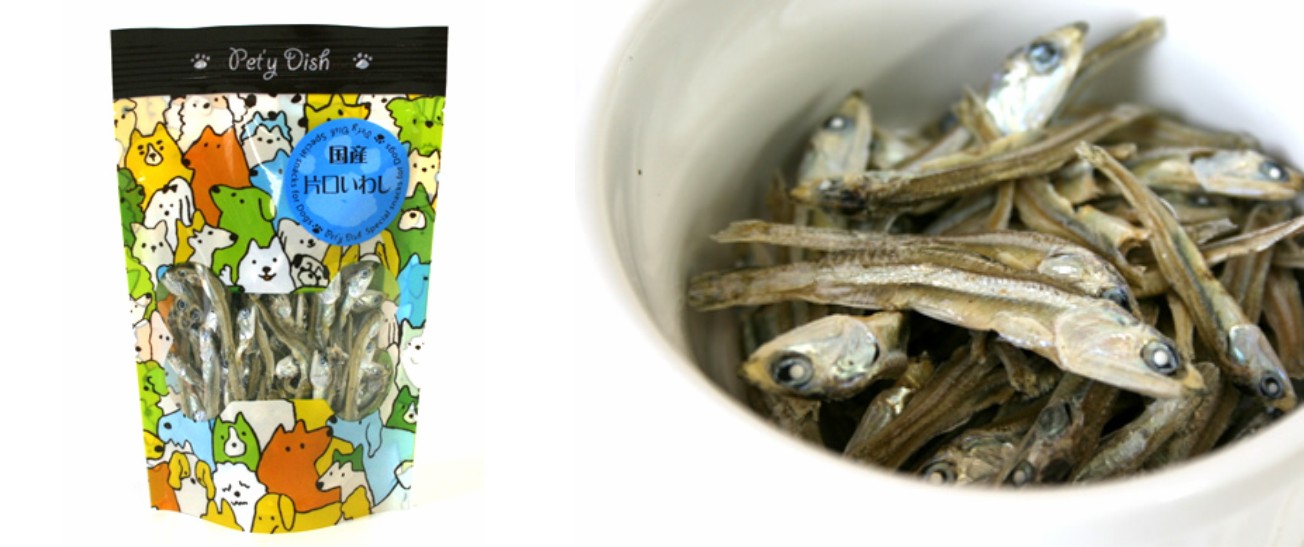 Japanese fish snacks aren't just for humans. In fact, they are possibly one of the healthiest treats you can give your dog. Dried sardines (called iwashi in Japan) are a delicious way to sneak cancer-preventing fatty acids into your dog's diet. In addition, fish may help improve cognitive development in puppies, cater to the sensitive stomachs of older dogs, and prevent dental problems in canines of all ages. These dried sardines are a low-fat, nutritious snack disguised as a tasty treat that your dog will love!

Japanese Dog Walking Accessories
Walking your dog gives both of you the chance to exercise, socialize and explore. Here are two Japanese products to make your walking time together even more enjoyable.
Richell Handy Water Fountain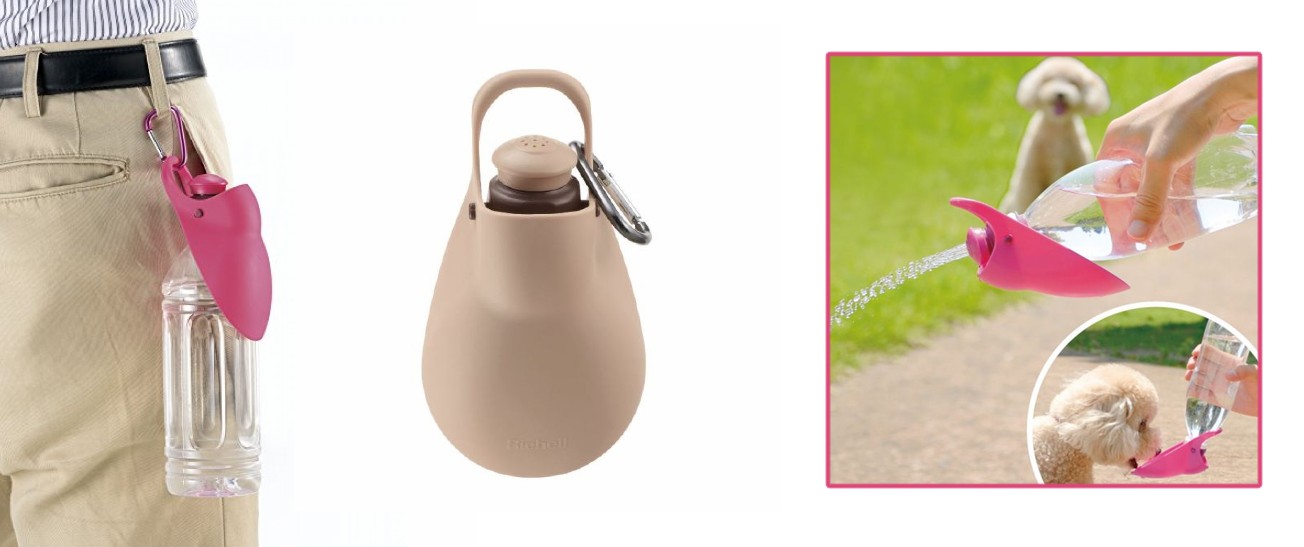 Going for a walk is sure to get your pooch panting. It's also often the time when your dog decides to relieve itself on a public sidewalk or road, much to the owner's chagrin. With the Richell Handy Water Fountain, you can keep your pet hydrated and clean up its messes, all with one handy gadget. Simply screw the water fountain onto any plastic water bottle and squeeze to wash away pee marks, or flip the attached pan over to make an impromptu water dish for your thirsty dog. It's lightweight and easily clips onto any belt loop, bag or leash for convenient traveling.

Oppo Quack Dog Muzzle

A walk outside can be great exercise for your dog, but it can also be an opportunity to scavenge for "junk food" or cause a scene with other pets and owners. Sometimes a muzzle is necessary to keep your overly excited or frightened dog, and other pets around it, safe. The Oppo Quack Dog Muzzle's soft silicon material forms comfortably around your dog's face while also making your canine seem less intimidating than it might appear in a traditional leather muzzle. Perfect for small and medium-size dog breeds, the billed muzzle comes in three colors and two sizes so you can be sure to find the perfect "duck face" for your pooch.
Japanese Dog Clothes
If your dog loves playing dress up, and you have a penchant for Japanese fashion and culture, then you'll both love these popular Japanese dog clothes.
Dog Kimono and Hakama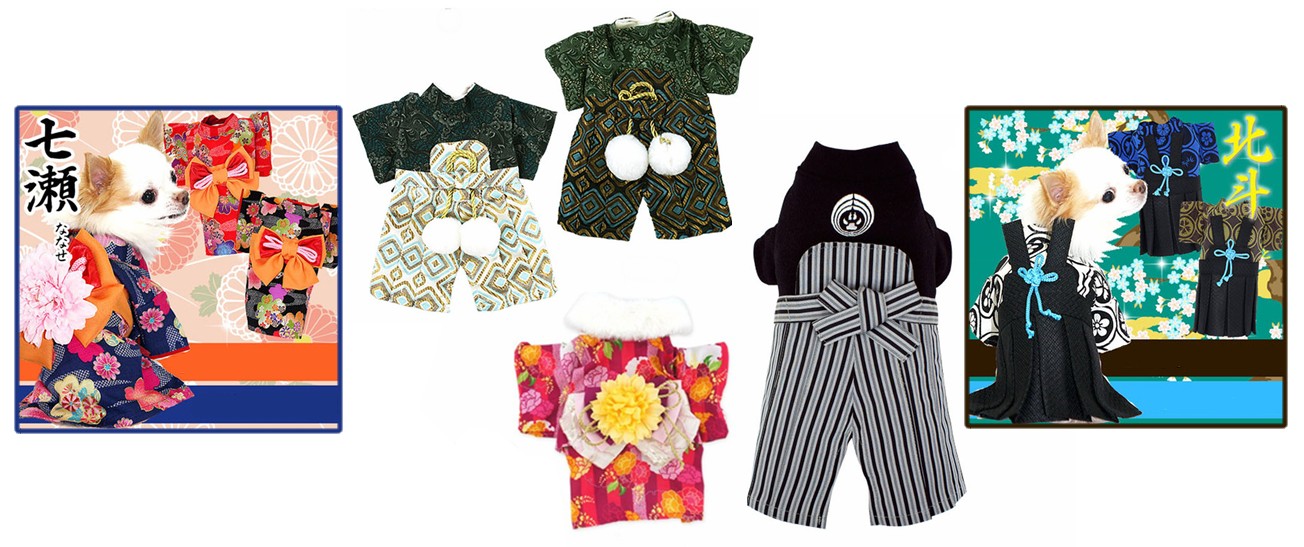 Kimono and hakama have become symbols of Japanese style and aesthetic around the world. If you appreciate the cultural beauty of traditional Japanese clothing, you'll love these miniature dog kimono (for girl pups) and dog hakama (for boy pups) tailor-made for your four-legged friend. Choose from among a variety of traditional floral and solid patterns to reflect your dog's gender, species and personality. Don't forget to wear your own kimono and hakama to make a matching set!
Totoro Dog Costume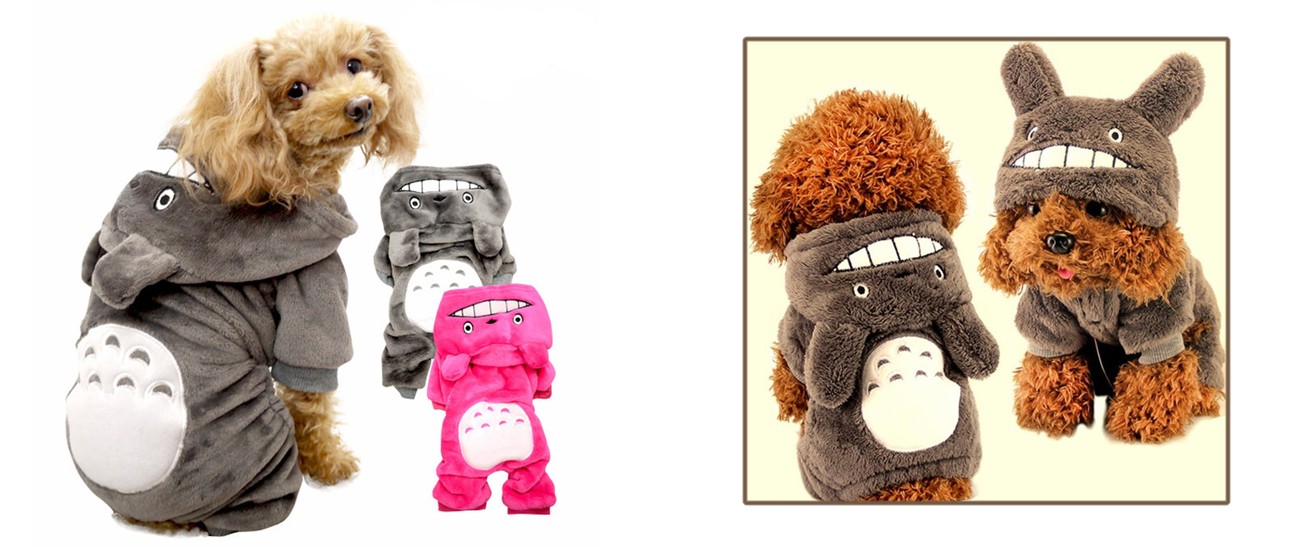 The next time you cosplay Studio Ghibli's most iconic character, take your dog along to complete your look! These popular Totoro dog costumes fit snugly around your pup like a warm sweater and feature a hoodie that can be pulled on like a miniature kigurumi (and don't miss out on becoming twins by getting your own human-size Totoro kigurumi). Perfect for smaller dogs, this is sure to be the most adorable Totoro cosplay you'll ever find—and a big hit at your next Con or costuming event.

Japan Pet Tech
BowLingual Dog Translator


Do you ever wonder what your dog is barking about? The future of interspecies communication might not be so far away thanks to the BowLingual Dog Translator. Named one of the Best Inventions of 2002 by Time Magazine, Takara's BowLingual analyzes your dog's barks and translates them into one of six emotional categories (happy, sad, frustrated, on guard, assertive, or needy), followed by an English phrase that encapsulates the emotion. Simply attach BowLingual's microphone transmitter to your dog's collar, and then watch as it's barks are translated on the BowLingual handheld receiver. In addition, BowLingual can record your dog's barks when it's home alone, provide owners with tips for translating doggy body language, and keep a checklist of your dog's behavior.

Japanese Pet Furniture & Grooming Tools
When your dog is happy, your home is happy. Here are two Japanese pet products no home should be without!
Natural Slow Pet Houses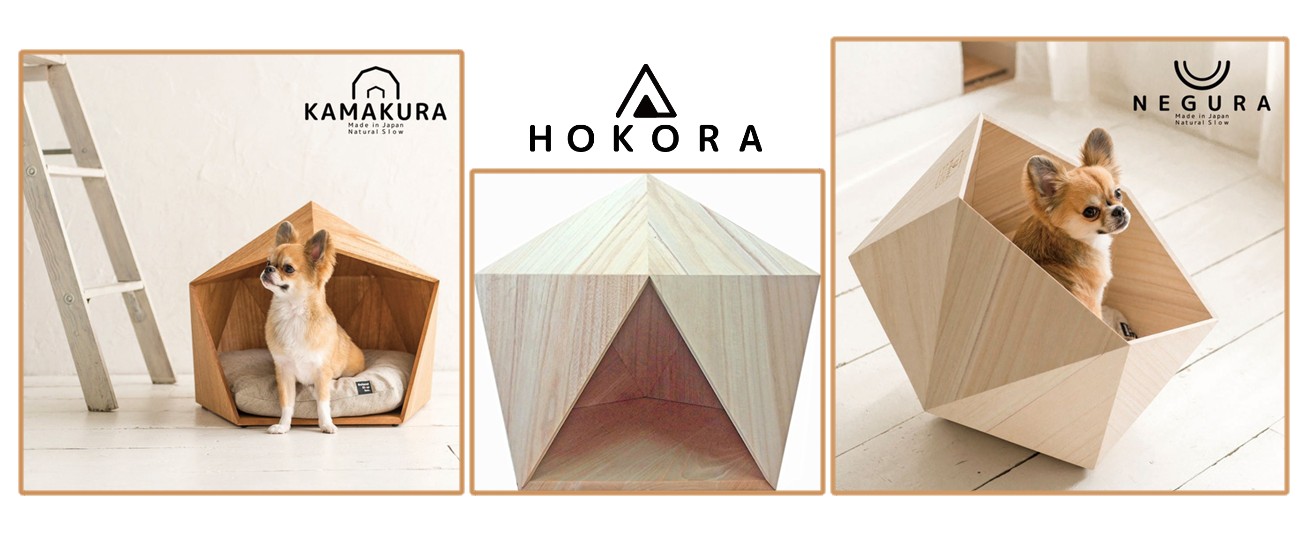 Natural Slow takes pride in making "warm" and "comfortable" sleeping quarters for the furry member of your family. Each of the Japanese company's three designs—
Kamakura, Hokora, and Negura—is made by hand to resemble a trendy, modern piece of origami-like furniture.
Oppo Ketori Hair Cleaner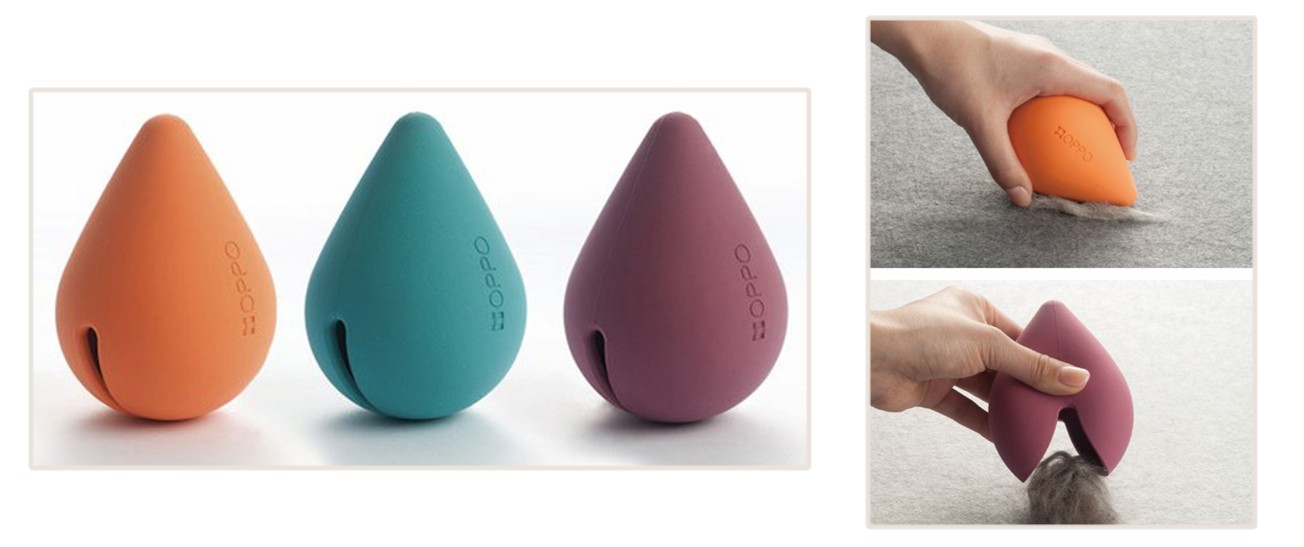 Dog hair has a way of clinging to furniture, carpet and car seats, making it difficult to clean up by hand. That's where the Ketori Hair Cleaner comes in handy! Simply rub the rubber bulb over any fabric to neatly collect the hair into a pile; then flip the gadget over, squeeze it open, and "eat up" the clump of hair for easy disposal. The hair cleaner is specially designed to fit into even the tightest nooks and crannies of your furniture, which means no hair will escape the sweep.
Search FROM JAPAN for More Must-Have Japanese Dog Products
For these paws-itively wonderful Japanese dog products and more, shop at FROM JAPAN—the online proxy and auction service that delivers direct to your doorstep all the way from Japan.