On November 3 1954, Godzilla rose from the sea, leaving a massive radioactive footprint on Japan—and cinematic history. Over the past 63 years, the mythical monster has earned a star on Hollywood's Walk of Fame, become a cultural ambassador for Tokyo, and captured the hearts of fans around the world with its lumbering gait and sympathetic origin story. To celebrate the anniversary of the franchise's first theatrical release, we've put together a list of monstrous merch that takes Japan's favorite kaiju calamity to new heights!
Bandai Godzilla Figures
Bandai – S.H.MonsterArts: Godzilla Limited Edition Figure

In its first-ever CG-animated film Godzilla: Planet of the Monsters, the King of Kaiju returns to the screen in its most massive size yet. S.H.MonsterArts' Godzilla Limited Edition Figure shrinks the uncontrollable creature down to a tamable 17 centimeters (6.7 inches), while keeping every detail of the sinewy bulges and spear-shaped plates along its reptilian spine. Raising the stakes on this figure's retail value is a limited first-production run that includes a prestigious collector's card. Display this figure next to S.H.MonsterArts' epic menagerie of articulated Godzilla incarnations for a colossal collection of prehistoric proportions.
Bandai – Daruma Club: Godzilla Figure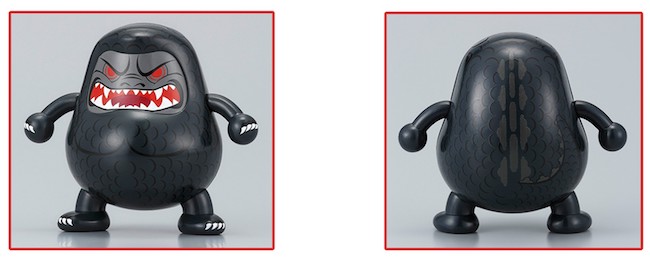 Bandai's Daruma Club Godzilla adapts the alpha predator's demeanor into the pudgy, pear-shaped form of a Japanese daruma doll to create a figure that's equal parts angry and adorable. Baring tiny claws and flaring its nostrils, Godzilla looks ready to stomp away in a tyrannosaurus tantrum; but there's more to this collectible than its pint-size personality. Daruma are traditionally associated with goals and good luck, and in much the same way that Godzilla occasionally defends humanity from formidable foes, perhaps this baleful bearer of benevolence will help ward away any monstrous misfortune headed your way.
Bandai – Toho 30cm Series: Godzilla vs. Evangelion Figures

Did you know that the 2016 film Shin Godzilla was co-directed by Evangelion's Hideaki Anno? Bandai's Godzilla vs. Evangelion Figure Series pays tribute to this fact by injecting Godzilla cells into Eva Units, giving birth to new mechanized monstrosities ready to terrorize the modern world. Originally exclusive to the Premium Bandai store in highly limited numbers, these towering 38-centimeter (15-inch) creatures can still be found through online auction services, along with an array of other Evangelion-meets-Godzilla crossover collectibles.
Godzilla Collaboration Merch
Gudetama x Godzilla

Godzilla's recent Japanese and international reboots seem to have left it too tuckered out for more rampaging, so who better to team up with the lethargic lizard than the world's laziest egg Gudetama. The aptly named Gudetama x Godzilla collab scrambles the drowsy duo into all manner of merch—t-shirts, button badges, bags, key rings, and even plushies—for precious power naps of epic proportions.
G-Shock x Godzilla DW-6900 Watch

The "G" in G-Shock may as well stand for Godzilla in this collaboration between two of Japan's most renowned symbols of "ultimate toughness." The G-Shock x Godzilla DW-6900 Watch features nigh-invulnerability to shock and water resistance of depths up to 200 meters (because what good is a Godzilla-themed watch if it can't rise from the sea to do battle with nature's most brutal elements). Additional features include the King of Monster's iconic tail spikes printed on the wristband and a backlight revealing a pair of sinister eyes peering from behind the digital display—truly an evolutionary timepiece that can keep pace with Godzilla's colossal strides.
Reebok Classic x MegaHouse InstaPump Fury Road Godzilla Shoes

Walk in the steps of the saurian God of Destruction with a pair of Reebok Classic x MegaHouse Godzilla Shoes. Available in two versions based on Reebok's InstaPump Fury Road model, each colorway embodies a different incarnation of Godzilla—the original primordial beast and the 2016 Shin Godzilla redesign. The black and red scheme recreates the 1954 Godzilla's coarse skin and roaring red maw, while the acid-green variant glows in the dark in homage to its radioactive origins.
Even More Monstrous Godzilla Merch from Japan
Godzilla Humidifier

Perfectly imitating Godzilla's blue atomic breath, this chibified Godzilla Humidifier seems nonetheless determined to be taken seriously as it decimates dry air with each exhale while roaring and screeching dramatically with sound clips from Godzilla vs. Mothra. Whether you choose to activate Godzilla's continuous or intermittent mist settings, this nature-friendly compact humidifier powers itself off when it (literally) runs out of steam.
Godzilla Crocodile Dentist

Ideal for adrenaline junkies and thrill seekers, Godzilla Crocodile Dentist escalates the game of chance by daring players to reach into the kaiju's mandibles to press down its teeth. Choose the wrong chomper, and your intense concentration will be shattered as Godzilla snaps down on your finger, costing you the game. With 13 fangs and a random trigger-tooth reset feature, it's the perfect waiting room entertainment—but just remember: you're dealing with the world's angriest dental patient!
Godzilla Itazura Coin Bank

Putting a terrifying twist on the popular Japanese cat-in-box bank, the Godzilla Itazura Coin Bank roars ominously before glowing red eyes and a massive claw erupt from beneath the tranquil sea only to vanish into the depths along with your most-prized treasure. Aficionados of Japanese cinema will appreciate the vintage film sound effects, as well as decorative box art by Godzilla designer Shinji Nishikawa.
Godzilla Ukiyo-e Art Merch


Godzilla Ukiyo-e Art Merch presents a variety of monolithic mash-ups spanning 300 years of Japanese artistry. Inserting
Godzilla into ukiyo-e-inspired woodblock prints, like Hokusai's "The Great Wave," gives each timeless illustration a playful yet traditional appeal that's sure to have fans reflecting on Japan's classic art form like never before.
Where to Buy Japanese Godzilla Merchandise
If these Japanese collectibles have you roaring for more, you don't have to rise from the Sea of Japan (or your couch) to get a hold of them! With the help of a proxy service like FROM JAPAN, you can easily have this Godzilla merchandise and more shipped from Japan to your doorstep!