"Sie Sind Das Essen Und Wir Sind Die Jäger!"
In 2013, otaku around the world echoed Attack on Titan's fearless, Germanic catchphrase. Like a hungry titan, the series quickly rose to colossal heights and devoured its competition, becoming one of the most critically acclaimed anime franchises of all time.
Considered one of the few "crossover" anime series, equally popular with Eastern and Western audiences, Attack on Titan has inspired spin-offs, an official parody, a Universal Studios attraction, and a long-in-coming second season. While waiting for Eren's anime adventures to continue next spring, be sure to sink your titanic teeth into these 10 mouth-watering Attack on Titan merchandises from Japan.
10 Epic Attack on Titan Merch You'll Want to Devour
The rarest and most authentic Attack on Titan merchandise comes straight from Japan, and with a proxy and shipping service like FROM JAPAN, you can buy even limited-edition memorabilia of your favorite series with ease. If you're looking for something more "abnormal" than mainstream PVC figure lines and wall scrolls, then you're in luck. From decking your car out itasha-style to giving yourself a beauty treatment (courtesy of your favorite titan) with a Japanese face pack, Attack on Titan goes to colossal lengths to provide you with all the must-have merch you had no idea you needed.
Attack on Titan Cosplay Tights

With its titanic popularity, Attack on Titan cosplay can be seen at every Con, and it's only going to attract more cosplayers when its second season airs early next year. If you're looking to jump on the hype, but want to wear something guaranteed to make you stand out amid all the Scout uniforms, then this Colossal Titan skintight bodysuit is the way to go. As a bonus, if you're the shy type (like the Colossal Titan, according to fanon), then this cosplay will "mask" your identity completely. Nobody will know who you really are beneath all those muscles and teeth.
Attack on Titan Scouts Car Sun Shade

Do you admire itasha from afar, but aren't sure you're ready to plaster decals of your favorite characters all over your car? Whether you're looking to add the finishing touch to your itasha masterpiece, or simply wanting to hype up your car with Attack on Titan flair, a car sun shade of your favorite Scouts is sure to do the trick. Eren, Mikasa, Armin, and Levi wield their parrying blades, as though ready to defend your dashboard from sunlight (and perhaps a titan or two).
Attack on Titan Universal Studios Japan Souvenirs

If you can't travel to Universal Studios Japan (USJ) to experience the Attack on Titan: THE REAL attraction, then the next best thing to watching YouTube walkthroughs (and crying) is getting a limited-edition souvenir, imported from the park. For example, this park-exclusive canteen, inspired by the Scout's trusty survival equipment, uses a leathery texture and zig-zag stitch to capture the rugged feel of the anime, and clips easily onto any belt loop, backpack, or 3DMG harness. You can find this and other limited edition USJ gear by clicking the link below!
Attack on Titan Ice Cube Trays

Being a Scout is thirsty work, so don't forget to refresh with a cold beverage, courtesy of these chibi-fied Attack on Titan ice cube characters. Perfect for themed parties, these ice trays are one of the most unique pieces of Attack on Titan merchandise available and sure to be a hit—whether you're an over-heated Titan Shifter or a battle-weary member of the Survey Corps.
Attack on Titan 3DMG USB Memory Stick

Just as the Scouts trust their 3DMG to get them through dangerous titan battles, you can trust this 3DMG-themed USB stick to protect all of your precious documents, pictures, playlists, and projects from computer crashes and invasive viruses. Crafted from PVC, the stick captures the look and texture of the original gear.
Attack on Titan Colossal Titan Lunch Bag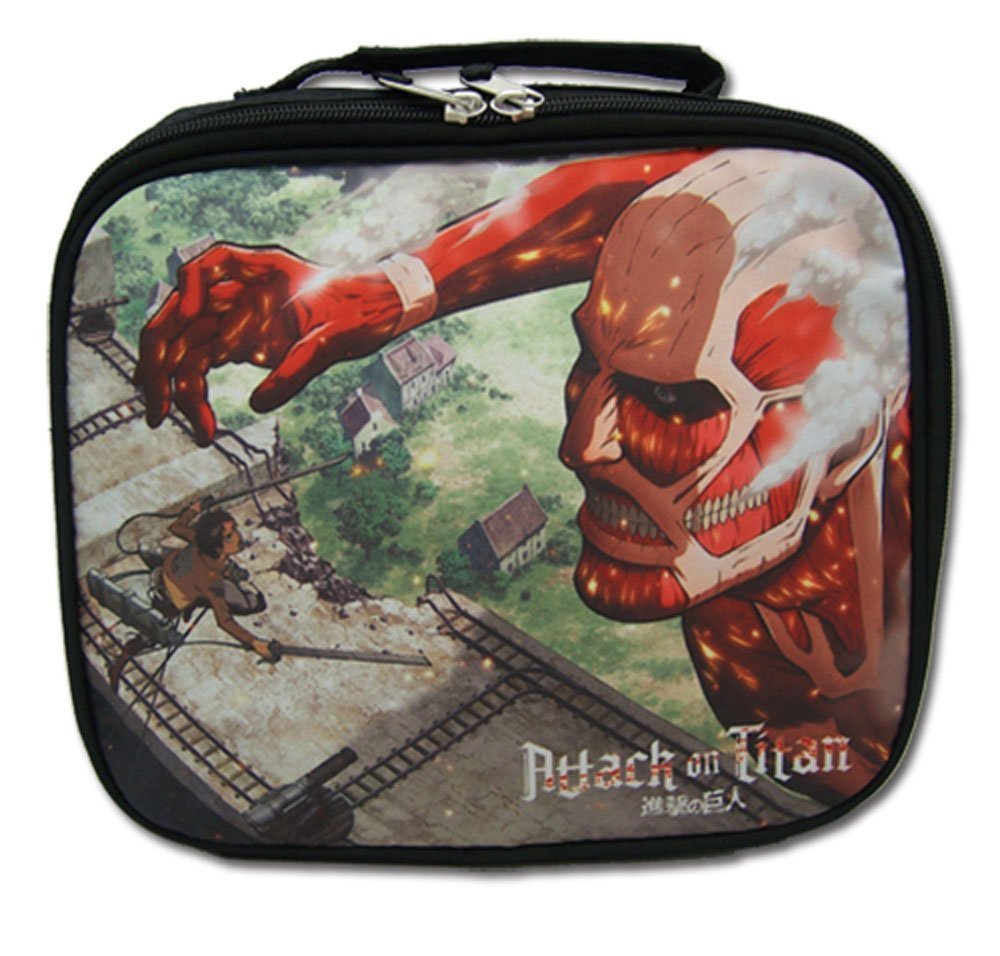 The 104th Cadet Squad might survive on potatoes and bread, but that doesn't mean you have to pack your Attack on Titan lunch bag with only soldier's rations! With plenty of room for your bento box or sandwich baggie, you can create a meal that Sasha Braus would drool over, and then devour it like a titan. Featuring official artwork of Eren Yeager fearlessly challenging the Colossal Titan, this lunch bag is sure to remind your classmates and coworkers of your Attack on Titan obsession, every single lunch break.
Attack on Titan Key Rings

You know you want one—with your keys, on your backpack, or on your belt loop. Take your favorite Attack on Titan characters on all your adventures like chibi-sized squad mates. Choose your four-person team wisely, then add on all their questing essentials—regiment insignias, parrying blades, even the key to that mysterious basement.
Attack on Titan Ink Stamps

Personalize your next letter or document with a stamp of your favorite Attack on Titan character. This collection merges the anime's official artwork with iconic quotes from the series. Ideal for adding a touch of otaku to your mail and messages.
Attack on Titan Mouse Pads

Whether you stream anime, shop for figures, write fanfiction, or doodle fanart (and maybe some not-so-geeky things, too), your computer is one gadget you can't afford to be without. Make your creative space shine with an Attack on Titan mouse pad so you always have a memento of your favorite series right under your fingertips. While you're at it, don't forget to purchase a 3DMG USB stick to complete your PC's look!
 Attack on Titan Survey Corps Messenger Bags

If there's one thing Attack on Titan has taught us, it's that you should never be unprepared. With a Survey Corps-style messenger bag, you can keep all those items you can't live without close at hand. With sleek designs and multiple compartments to store all your valuables, these bags are perfect for any occasion and ideal for your next convention experience.
Where to Buy Attack on Titan Merchandise
Just as Attack on Titan fans can expect an epic second season to their favorite anime series, you can expect to get great deals on a variety of rare Attack on Titan merchandise and figures at FROMJAPAN—the proxy and auction service that delivers products all the way from Japan, straight to your doorstep. But don't wait around too long, Attack on Titan Season 2 is coming spring 2017, and merchandise is sure to sell out. So purchase your must-have memorabilia now, before other fans devour it, titan-style.