(Image Source: weekly.ascii.jp)
G-Shock is undeniably one of the biggest names today when it comes to highly fashionable watches. What makes it a popular choice is the fact that apart from its uniquely stylish aesthetics, it is also very durable and a timepiece that any gender and any age can use. The brand's owner, Casio, keeps the G-Shock name interesting by continually coming up with editions that mirror the interests and cultures of today's generation in a way that blends seamlessly with the watch's cutting edge advancements in technology. The G-Shock x Gundam GD-100 Model happens to be one of the company's great Japanese pop culture creations.
Origins of the G-Shock Gundam: Mobile Suit Gundam 35th anniversary watch
Of the Casio G-Shock collaboration watches, FROMJAPAN has a particular warm spot for the 2014 Gundam edition, which came about as a joint effort between Mobile Suit Gundam, the extremely popular robot anime series produced by Sunrise, and Casio. This collaboration first transpired in 2009, when a collaboration whas created in honor of the Japanese anime's 30th anniversary. Five years later, a second collaboration was released in a limited quantity as part of Gundam's 35-year celebration; and though it was originally sold at a retail price of around $190 USD, its popularity among Gundam collectors has caused it to triple to a current value of over $600 USD!
A closer look at the Gundam themed design
The Gundam G-Shock offers a stylish solution for those wanting to sport a timekeeper that is both dashing and durable and features designs that pay homage to the XXXG-0W00 Wing Gundam Zero. Taking a color queue from the legendary Wing Gundam Zero, the watch is branded with a solid white casing and red, blue, and yellow highlights to create a G-Shock that makes wearers look like their prepared for deployment for outer space combat. Also featured on the display screen is the Earth Federation Space Forces acronym EFSF.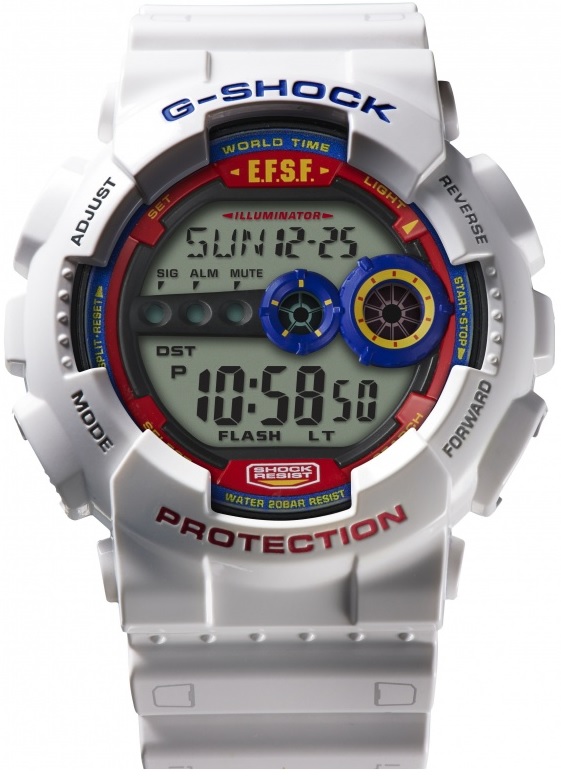 Features of G-Shock GD-100 Model
Beyond the awesome design is powerful technology almost as cool as Gundam. Its broad face and large dimension signify strength and make reading the display in high-intensity situations quick and easy. It is equipped with first-class LED, making it more visible even in dark circumstances. And with all G-Shock GD-100 models, you get one of the most rugged, durable watches available on the market—shock resistant with a toughness that laughs in the face of harsh impacts and shaking, as well as 200-meter water resistance, so that you can submerge without worry as you defend the planet's oceans.
Other essential details about the watch include a flash alert, 7-year battery life, multi-time covering four cities, hourly time signal, 1/100 stop watch, full auto calendar, countdown timer, 5 independent alarms, and many others.
It is beyond doubt that this is the best G-shock watch of 2014. While it was released in September, there are still plenty of chances to get your hands on one. Check out our G-Shock collaboration page to see this model, One Piece, Evangelion, and more, available at FROMJAPAN, or continue reading more G-Shock articles here.