With the promise of a new year comes the promise of new, must-have figurines from Japan. Amidst the slew of upcoming releases, we've highlighted ten of the most anticipated figurines of 2015. Read on for our top picks, and ready your mouse to click the "pre-order" button.
Attack on Titan Good Smile Company 1/8 Figures – Eren, Mikasa, and Levi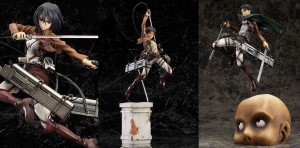 Based on the best-selling manga-turned anime, these upcoming Attack on Titan figurines are among the largest and most detailed to ever be released. Modeled after their appearances on the official Japanese DVD covers, Eren, Mikasa, and Levi soar from their 3D Maneuver Gear while suspended in mid-air. Each figure is scheduled to release two months apart, with Mikasa coming in February, Eren in April, and Levi in June, giving you plenty of time to save up your money in-between. Ranging from roughly $90-$110 each, these figurines may be wallet breakers, but those with an insatiable love for the Survey Corps. will no doubt gladly pay the price.
Haikyuu!! Nendoroid Figures – Shoyo Hinata and Tobio Kageyama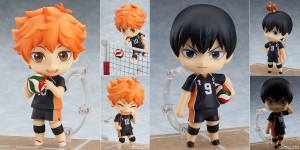 Thanks to Nendoroid, you can now own two of the most popular members of the Karasuno High School Volleyball Club—"ultimate decoy," Shoyo Hinata (releasing in late January), and "Natural Setter," Tobio Kageyama (releasing in May). Each figure comes packaged with three alternative faces, a volleyball, a court-inspired base, net segments, and other assorted accessories. These characters have never looked so "kawaii." Be sure to purchase them together to create the ultimate volleyball duo!
Sailor Moon Figures – Sailor Moon and Sailor Venus Tamashii Buddies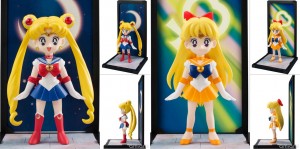 Those seeking the best in affordable, adorable Sailor Moon figures need look no further than these upcoming Tamashii Buddies releases. Both Sailor Moon and Sailor Venus stand around three inches tall, backed by a display screen portraying their emblems. Ideal for a dresser, office desk, or table-top display piece, look for these figures to arrive in March 2015.
Free! Iwatobi Swim Club Figma Figure – Makoto Tachibana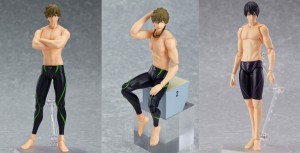 Scheduled to be released to North American home video in 2015, Free! is one of the most anticipated English dubs of the year. In commemoration of the series' popularity, Figma has announced the release of Makoto Tachibana (coming in April)—the second figure to be released in their Free! lineup. The perfect follow-up to Figma's Haruka Nanase (put on sale last November), Makoto comes with multiple faces, swimming gear, and water effects, allowing for a wide variety of posing possibilities. If you consider yourself a member of the Iwatobi Swimming Team, then this is one figure you can't afford to pass up.
Fire Emblem: Awakening Figma Figure – Lucina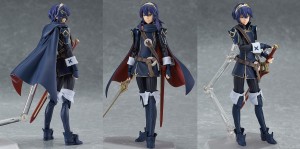 As both the first articulated Fire Emblem figure and first Fire Emblem Figma, it's really no wonder that Lucina is one of the most-viewed, most pre-ordered figurines of 2015. Standing at about six inches tall, Lucina's cape and hair parts are removable, allowing her to don her disguise as the legendary hero, Marth, and wield his Falchion blade. Don't wait until her official release in April. Be sure to put her on pre-order now, as she's selling out fast!
Naruto Megahouse G.E.M. Figures – Itachi, Hokage Kakashi, and Adult Naruto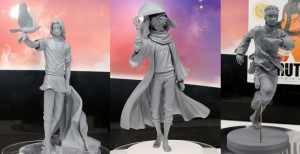 Those familiar with the Naruto G.E.M. Series figures know that they mark the ultimate in high-quality, PVC collector's pieces. In commemoration of the manga's conclusion, Megahouse has announced three new figures, inspired by its final chapters—Kakashi in the Hokage's garb, Itachi unshouldering his Akatsuki's cloak, and Naruto as he appears at age eighteen. While no official release dates has been given yet, these figures are set to release in 2015 so keep an eye on your favorite Naruto news site for updates in the near future!
Final Fantasy: Advent Children Play Arts Kai – Cloud, Tifa, Barrett, and Red XIII

Based on the best-selling Japanese RPG and Playstation classic, Final Fantasy VII, these articulated figures portray some of the game's most iconic characters as they appear in the CGI-film spinoff, Final Fantasy: Advent Children. Featuring full-body articulation, a plethora of parts, larger sculpts, and more detail than their Play Arts predecessors, these Advent Children figures none-the-less come with hefty price tags, ranging from $70-$90. With Red XIII already released in late December 2014, look for Barrett (never before released) and Tifa to arrive in January, with Cloud making his advent (no pun intended) in May.
Black Butler: Book of Circus ARTFX J Figures – Ciel Phantomhive and Sebastian Michaelis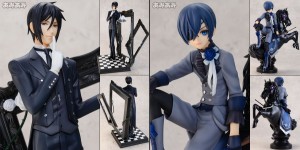 Inspired by the most recent season of the Black Butler anime, these highly-detailed figures are sculpted at a 1/8 scale, making them among the largest figurines ever created for the series. Ciel releases in March and Sebastian in April, so be sure to save up in advance. The "chessman" and "horseman" must be kept together, after all.
Sword Art Online Figma Figures – Asuna, Kirito, and Sinon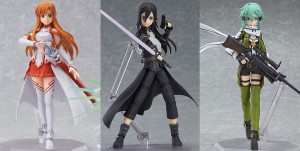 Celebrate the conclusion of Sword Art Online II with these upcoming Figma figures. As one of the most-watched anime series of the year, Sword Art Online II features several high-quality figures competing with almost equal demand. Asuna, as modeled after her appearance in the original Sword Art Online, is scheduled for release in May—the ideal complement for the Kirito Figma released in December last year. Kirito and Sinon, as they appear in Sword Art Online II, will ship out in June and February, respectively. As is expected of the Figma brand, each figure comes with unique, exchangeable faces, special "effect" parts, and their respective weapons, among other things. Be sure to put them on pre-order before they're gone for good!
One Piece Excellent Model MILD Portrait of Pirates Figures – Luffy, Robin, and Sanji

Megahouse kicks off 2015 with this all-new line of cutesy, kiddy One Piece figures. Consisting so far of Luffy, Robin, and Sanji (all releasing in early March), these fun-sized characters make the perfect, unique addition to any anime collection, particularly alongside their 1/8-scale, adult counterparts (also developed by Megahouse). At about $25 a piece, any one of these figures provides an affordable alternative to more expensive, full-sized figurines in the One Piece line.
Whatever your must-have figurine picks for 2015 are, be sure to press the pre-order button while supplies last. Our list contains some of the most in-demand figurines currently available for sale this year, and stock is limited. While you're decided on which figures you want to purchase.