From traditional to innovative, Japan definitely knows how to design baby products that combine everything that a parent is looking for—quality, safety, comfort, usefulness, and convenience. If you have a little one in your life, be sure to check out these 11 recommended Japan baby products to help keep your child healthy and happy!
Grooming & Health
Japanese Cotton Swabs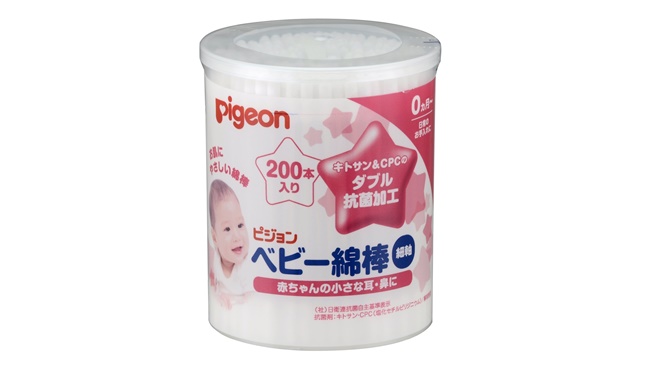 From your baby's nose to your baby's toes, cleaning can be stressful for both you and your child, especially when the cotton swabs you're using are meant for adults. Japanese cotton swabs for babies are much smaller and more flexible so that you can gently clean your child. You can order packs from Japan containing 100–200 swabs depending on the brand, and there are even individually packaged cotton swabs for traveling and swabs with oiled tips.
Japanese Fingernail Clippers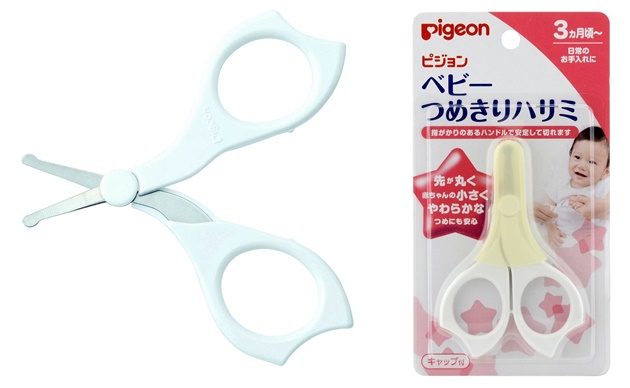 One thing that most parents can agree on is that clipping a newborn baby's fingernails and toenails is scary. In Japan, it's quite popular to use scissor-style fingernail clippers, which makes this grooming routine much easier. The thin blades are perfect for clipping a newborn's soft nails, and the rounded blade tips prevent the chance of you accidentally poking your child's sensitive skin. Because the handle is straight, you can use it with either hand.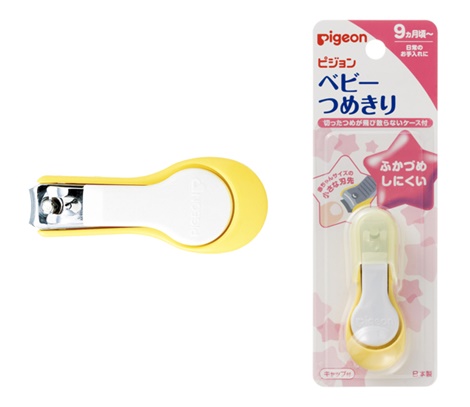 For babies who are 9 months and older, you can also try Japanese fingernail clippers that are designed like traditional nail clippers but with smaller cutting blades. The tips of the blades are flat while the sides are rounded, preventing you from cutting the baby's nails too short.
Japanese Nasal Aspirators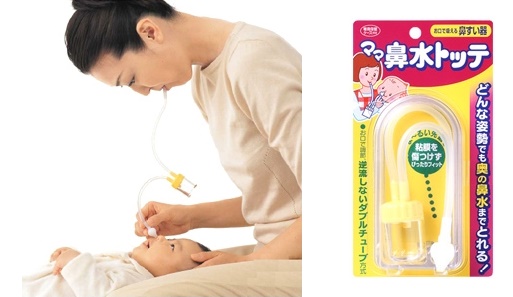 Babies who are congested or have runny noses are never happy babies. To help clear an infant's nose, try this extremely popular Japanese nasal aspirator, which was designed by a Japanese Ear, Nose and Throat (ENT) doctor. The aspirator can be used with babies (even newborn) while being held in any position.
Though the design may initially be surprising to Westerners, the aspirator allows the parent to use his or her own suction to remove unwanted mucus from the baby's nose. Simply place the rounded tip into the opening of the baby's nose and suck air through the mouth piece. Because of the aspirator's innovative design, the mucus is drawn from the baby's nose and stored in a small see-through container while preventing any mucus from entering the suction tube that the parent is using. The best feature of this aspirator is that you can easily control the strength of the suction.
Snacks & Drinks
Pigeon Rice Crackers for Babies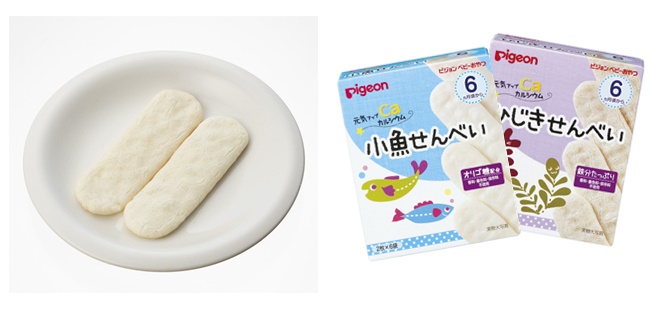 A love for traditional Japanese snacks can begin as early as 6 months old. One of Japan's most popular baby brands, Pigeon, offers rice crackers for babies with no artificial coloring, flavors, or preservatives. The snacks, called "senbei" in Japanese, are baked rice crackers that can easily dissolve in a baby's mouth and are soft enough for babies to chew on. Japanese parents like these snacks because they are nutritious and easy to pack, since they are usually individually wrapped. Rice crackers for babies come in a variety of flavors, including mixed vegetables (pumpkin, spinach, carrot, etc.), seaweed (wakame and hijiki), and baby fish (shirasu).
Barley Tea for Babies (Mugicha)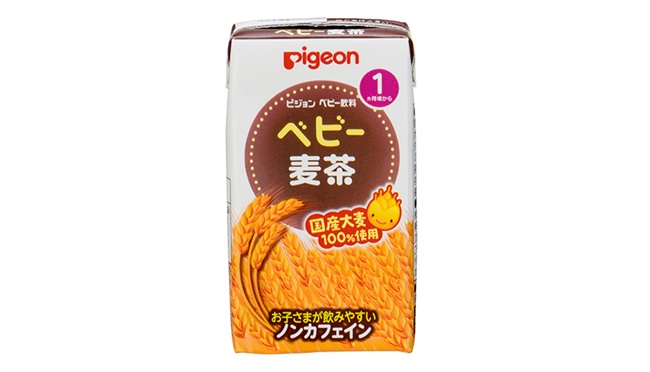 It's quite common for Japanese parents to give barley tea, called "mugicha" in Japanese, to their babies instead of water. Since barley tea is widely consumed by young and old alike in Japan, the tea is quite easy to find in stores. However, it is highly recommended that parents buy barley tea especially made for babies to make sure that the tea does not contain any caffeine or tannins.
Teteo Combi Sippy Cups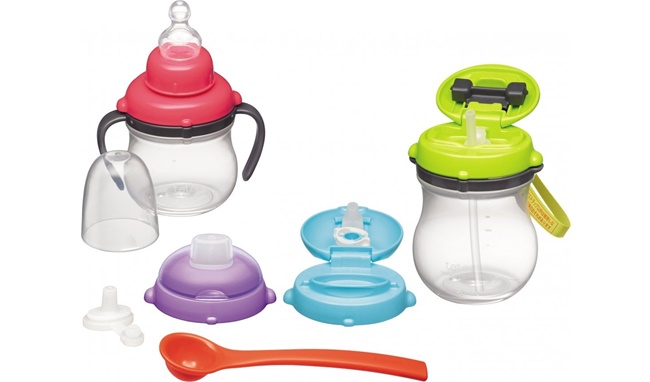 Now that you know which tea to give your baby, it's time to get the right sippy cup. The leak-proof Teteo Combi sippy cups are an innovative set of interchangeable cups and lids designed to meet the needs of ever-growing babies and toddlers.
The cups comes in two sizes, 200ml and 300ml, but the key to Teteo Combi's convenience is that you can change the style of lid depending on the size and development of your child. Four types of lid spouts are available, starting from a nipple and gradually advancing to a straw. The handles are designed to create the perfect angle for sipping without needing to tilt the cup or the child's head.
Baby Clothes
Japanese Cloth Diapers & Wool Diaper Covers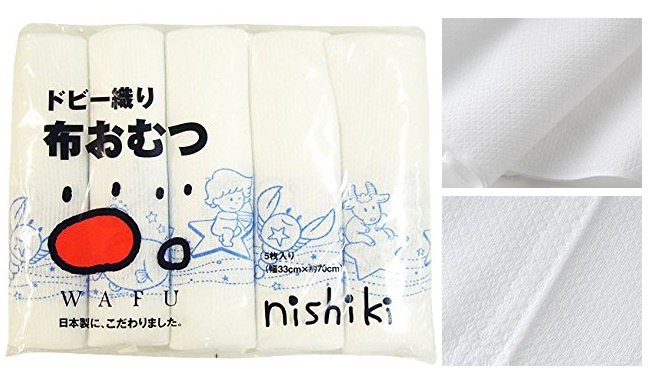 Japanese cloth diapers and wool diaper covers made by Nishiki are a great option if you're looking for comfort and durability. The cloth diapers are made from 100% high-quality cotton that is soft to the touch and comfortable for the baby because of the diaper's ability to absorb and retain moisture. The unique ring shape design makes it possible to fold the diaper in a variety of ways so that you can continue to use them as your baby grows.
Nishiki wool diaper covers are made with 100% wool flannel, which provides felted softness against the baby's skin as well as the ability to naturally adapt to the season, providing coolness during summer and warmth in winter. Japanese innovation also comes into play as the diaper covers are carefully designed to prevent leaking.
Newborn Baby Wraps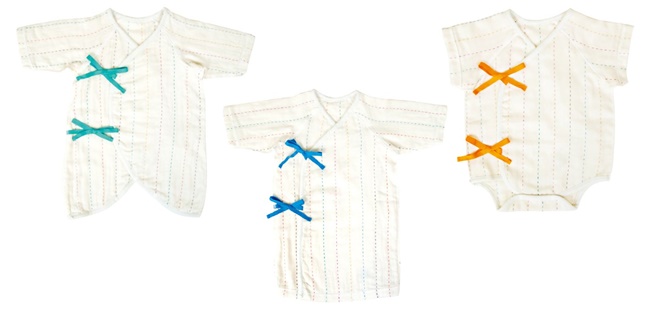 Traditional wrapping-style underwear worn by Japanese babies are becoming very popular overseas. The simple design makes changing your child easier because you don't have to worry about trying to pull the clothing over the newborn baby's head and neck, which are still quite fragile. Simply spread out the garment, gently place the baby on top, wrap the baby, tie the strings and you're done! Wraps come in a variety of styles for sleeves and leggings as well as materials (gauze, flannel, knit, quilted) to meet the needs of the season.
Haramaki for Babies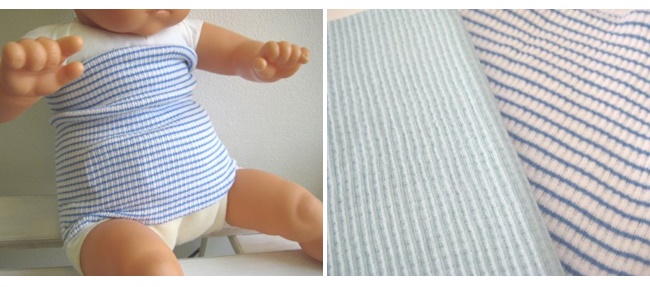 The Japanese haramaki is a stretchy tube-shaped cloth traditionally worn around the tummy to keep it warm during colder seasons. While the haramaki is popular for adults in Japan, there are infant and toddler-sized haramaki, too. Not only is it ideal for adding an extra layer of insulation, but many Japanese parents find it useful especially at night, since toddlers tend to kick the blankets off while sleeping.
Bedding & Carriers
Baby Futons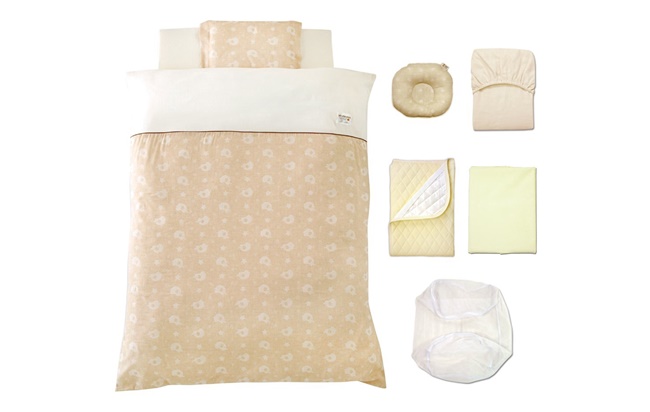 Japanese baby futons offer a variety of benefits, both for the baby and the parents. The mattress can be folded for easy storage, and its size and weight make it simple to hang up in the sun, helping kill unwanted germs. While it's not normally recommended to wash a full-size adult futon, some baby futons can even be placed in the washing machine.
Onbuhimo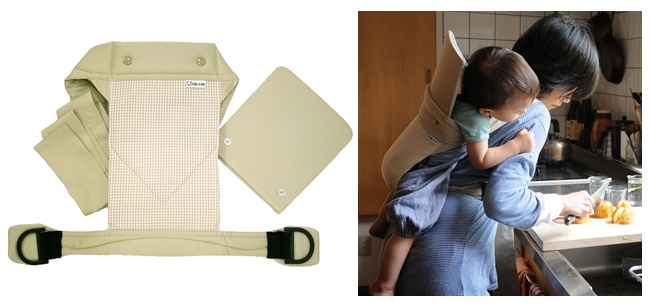 In Japanese, "onbu" means to carry a person on one's back and "himo" means a piece of string. Onbuhimo is a traditional Japanese baby carrier that has been used by parents since well before carriers became popular in Western countries. And while the hugging position of front-facing carriers is thought to be very comfortable for babies, in Japan, it's said that by being on the back of the mother, children are able to observe everything that the mother sees and does, which is how they learn and grow.
Make Parenting Easier with Japan Baby Products
While parenting is rewarding, it can also be a difficult and nerve-racking experience. Quality baby products can offer conveniences and practicalities of design that you may not even notice, but make all the difference in the midst of a busy or stressful day. Japanese baby products offer innovation, convenience, and safety for the ones you cherish most. You can buy these and more baby products by searching FROM JAPAN for the best in Japanese goods.