Four years ago, the Attack on Titan anime devoured its competition like a hungry titan and gained colossal acclaim from its critics. Otaku quickly joined the ranks of AoT's "army" of fans, waiting for the day that season two would once again break down the walls of animated entertainment. In celebration of the anime's highly anticipated second season premiere in April, we're showcasing 9 Attack on Titan figures that every fan will want to recruit for the good of humanity.
BRAVE-ACT – Levi Ackerman (February 2014)

Levi has been the AoT fandom's favorite character since the series' first popularity poll, and BRAVE-ACT's 1/8-scale figure is the perfect homage to the ultimate titan-slaying Scout. This Levi figure carries an understated sense of drama as he stands among the rubble while a light breeze passes by. His cape, gear, and blades are all removable, allowing you to display him on guard or stoically taking in his surroundings. Furthermore, his masterfully captured facial expression appears to reflect a slightly different emotion depending on the direction he's facing. Fans of "humanity's strongest soldier" absolutely shouldn't miss this figure!
Nendoroid – Eren Yeager (April 2014)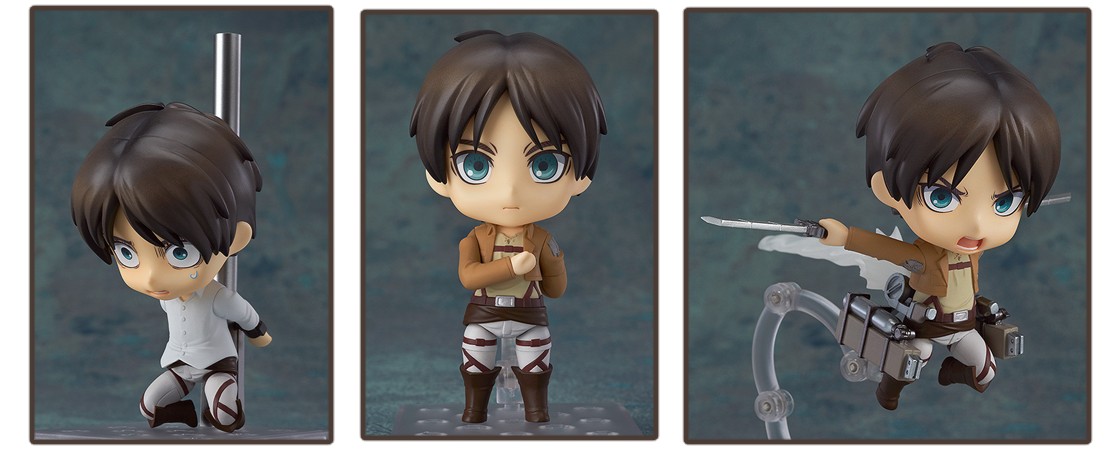 This bite-sized Nendoroid Eren Yeager lets you pose Eren in every stage of his adventure with interchangeable faces, arms, legs, attire, and figure stand that cleverly helps him "fly" with his gear. Whether on trial or pledging his heart to humanity, Eren has never looked so kawaii. Don't forget to surround this little titan slayer with the other Nendoroid members of his squad — Levi, Armin, and Mikasa — and throw them all into battle against the Colossus Titan Nendoroid.
Figma – Mikasa Ackerman (April 2014)

In 2014, Mikasa outsold every other Attack on Titan Figma figure, becoming Good Smile Company's second most popular model of the year. The Mikasa figma makes full use of the translucent stand, allowing sturdy support for midair action poses and giving the illusion that she's soaring with her 3DMG. Removable gear, optional exhaust effects, and exchangeable expressions and hands give you all the customization you need to bring Eren's childhood friend to life.
Medicom: REAL ACTION HEROES – Annie Leonhart (July 2014)
Attack on Titan currently has seven characters in the REAL ACTION HEROES ranks, and Annie Leonhart is the rarest of them all with only 600 ever made. Like other Attack on Titan Medicom figures, Annie is braced for battle with her gas-powered gear and blades, but unlike the others, she wears a unique Military Police uniform. The figure comes with two expressions that hint at her mysterious and aggressive personality, along with her spiked ring—be extra careful about sliding it on her finger!
Immortality of Soul x DOLKSTATION – Levi Ackerman (October 2014)

This Levi doll, the result of a collaboration between Immortality of Soul (I.O.S) and DOLKSTATION, is one of the most expensive and coveted Attack on Titan figures ever created, selling out in less than two hours after preorders opened! Today, DOLK's Levi is still as highly sought after on Japanese auction sites as the secret in Eren's basement. Sculpted from resin, this masterpiece of a figure stands 60 centimeters (approx. 2 feet) tall, contains over 60 movable joints, and is available in one of three outfits—Survey Corps uniform, cleaning attire, or formal wear.
mensHdge Technical Statue – Levi Ackerman (November 2014)

This mensHdge Technical Statue figure fully brings to life Kyoji Asano's original illustration of Levi, capturing his brooding attitude, classy rebelliousness, confidence, and even the unique way he holds his favorite cup of black tea. Levi is sculpted to securely sit in the leather armchair without fastening, which means you can recline him elsewhere for creative Attack on Titan photo shoots and displays.
KAIYODO – Attack on Titan Gashapon Figures (February 2015)

Are titans gobbling up your paycheck? KAIYODO's Attack on Titan gashapon are the perfect way to satisfy your colossal cravings for AoT figures without breaking your budget. These pocket-sized collectibles are rendered with subtle details often reserved for much larger scale models. With two series currently available—Capsule One and Capsule Q—you have the choice between collecting posed characters and kinetic action scenes.
Wonderful Hobby Selection – Colossus Titan (April 2015)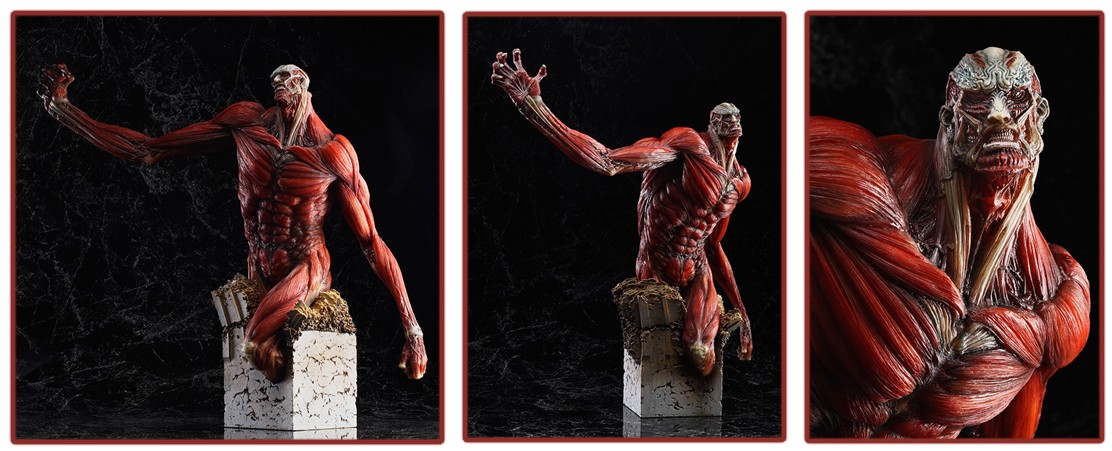 Good Smile Company kicked off its Wonderful Hobby Selection line in monstrous style! Towering at 49 centimeters (approx. 19 inches) tall and limited to only 500 pieces, this Colossus Titan truly lives up to its epic name and continues to be one of the most realistic looking Attack on Titan figures ever created, taking inspiration from the titan's appearance in the live-action film. Made of polystone, the sculpture chisels out each sinewy muscle in microscopic detail, making the Colossal Titan a breathtaking feast for the eyes that is sure to satisfy even the most titanic appetites.
Good Smile Company – Mikasa Ackerman DX Ver. (May 2015)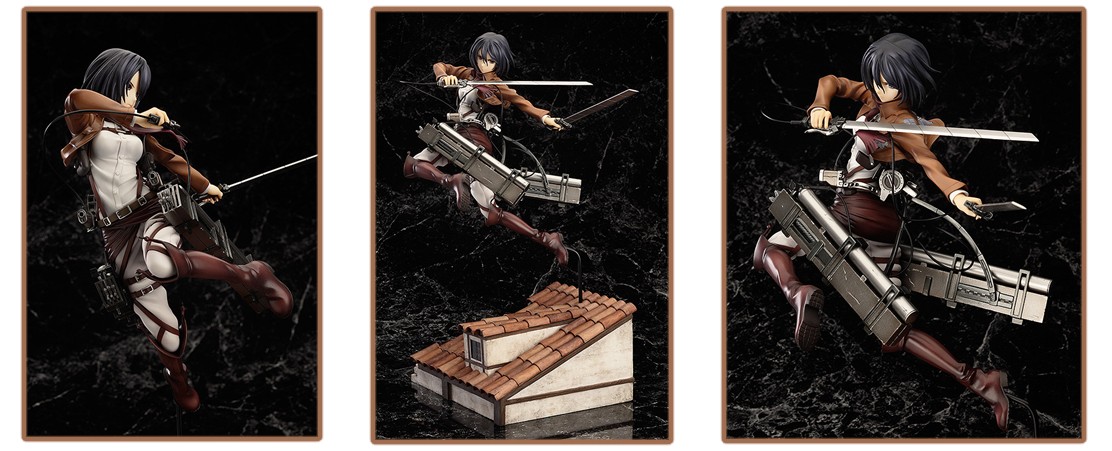 Good Smile Company has released several 1/8-scale Attack on Titan figures, but Mikasa is still the most popular. While she comes in a Standard Version, we highly recommend the DX Version, which includes a rooftop base that further displays the intense atmosphere and action of the series. Even in the midst of bloody battle, Mikasa carries a sense of grace and control as she poses in mid-leap with her grappling gear and blades—a figure that is certain to draw admiration from any AoT fan.
Where to Buy Attack on Titan Figures
If our list of Attack on Titan figures has you yelling "Sie sind das Essen und wir sind die Jäger," then check out more AoT figures at FROM JAPAN. And be sure to be sure to sink your titanic teeth into our selection of 10 mouth-watering Attack on Titan merchandise that no otaku should be without.