Over three decades ago, Akira transcended its genre with breathtaking artistry and a daring exploration of darker social-political themes. The manga's success was instrumental in spreading otaku culture beyond Japan, and today both the original manga and its cinematic adaptation are considered iconic masterpieces. This year marks the 30th anniversary of the anime release, so in commemoration of this monumental milestone we've put together a list of hard-to-find Japanese merchandise and limited-edition collaborations for fans of Akira creator Katsuhiro Otomo's most explosive work.
Akira Apparel & Accessories
Akira Kaneda Jackets

The famous 1988 aerial illustration of Kaneda walking toward his motorcycle set against an all-white background put the protagonist's iconic red jacket on full display, cementing its place in the ranks of anime's most recognizable attire. Whether for cosplay, streetwear, or proclaiming your Akira pride to the world, you can get your hands on a genuine leather replica of Kaneda's jacket in both its traditional blazing red and alternate black and red colorways. No matter which style you choose, the defiant Capsule Gang logo imprinted on the back will leave onlookers in no doubt about where your loyalties lie.
Supreme x Akira Apparel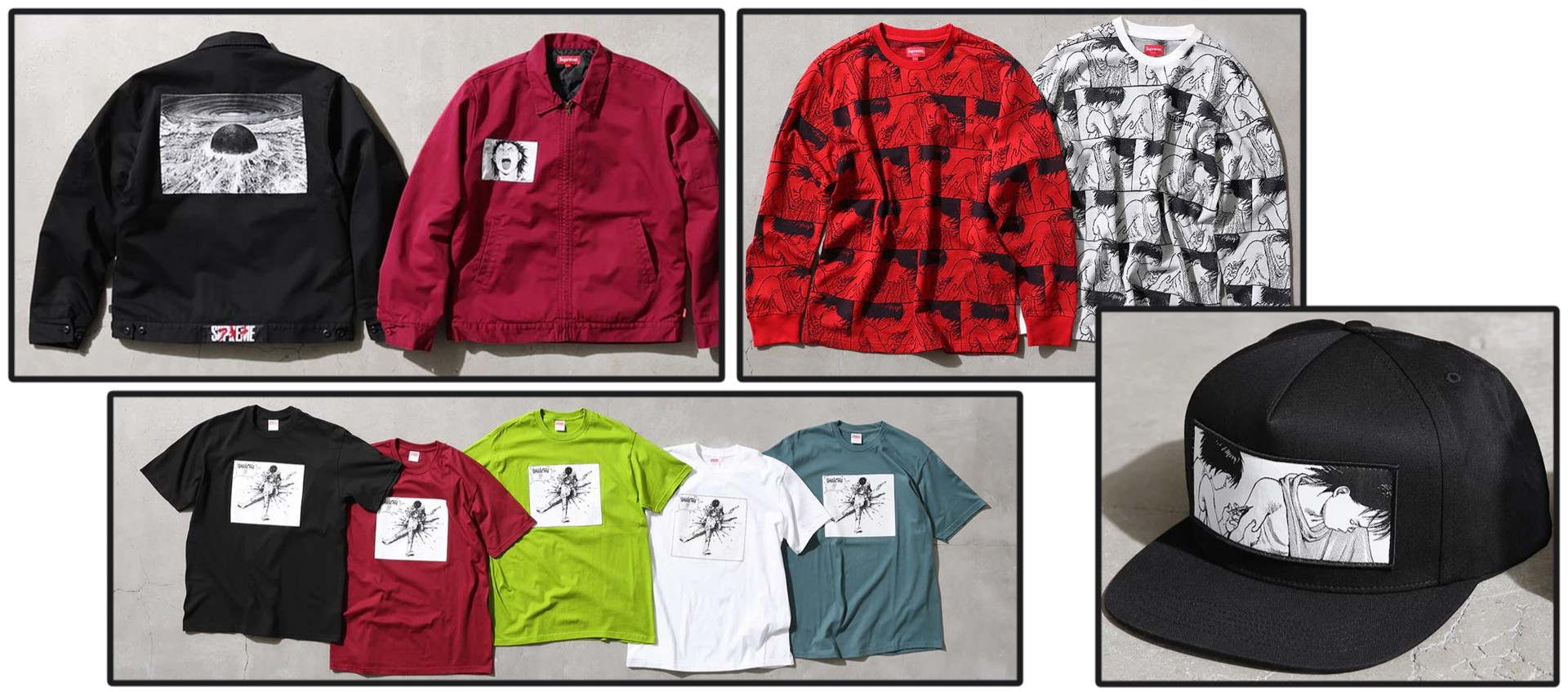 With its focus on "downtown lifestyle," Supreme fuels counterculture's movers and shakers—skaters, punks, hip-hop heads, and rock artists. Boasting a brand name synonymous with the same convention-defying attitudes as Akira's protagonists, it was only a matter of time before Supreme collaborated with Katsuhiro Otomo to create a line of limited-edition hoodies, tees, and jackets featuring the manga's most defining panels.
Supreme x Akira Accessories

Supreme's Akira collaboration accessories, featuring skateboard decks and stickers, take the brand name back to its roots as a hub for New York skate culture and deviant street art. Since these limited-edition accessories are available in many of the same graphics as their clothing counterparts, you can deck out your laptop, windshield, skateboard, or perhaps even a fiery-red motorcycle of your own in Akira's edgy artwork.
G-Shock x Akira Watches

Over the years, the "ultimate tough watch" G-Shock has ganged up with a variety of popular anime, including a collaboration with Akira's cyberpunk dystopia style in 2012 to commemorate the manga's 30th anniversary with two envied timepieces limited to 1,000 units each.
The Kaneda DW-6900 is inspired by Akira's brash protagonist and his biker gang The Capsules with its red, blue, and white coloration and signature pill symbol revealed by activating the watch's backlight. Graphics on the watchband include the bar code of Kaneda's license and The Capsule motto "Good for Health. Bad for Education."
The Neo-Tokyo DW-5600, with its white bezel and watchband, encapsulates several of the manga's more ominous themes. The backlight reveals the anime's title, which is also custom etched onto the case back alongside Akira's experimentation number "28." The watchband bears the Japanese Kanji 大東京帝国 translated as "Great Tokyo Empire," in reference to the story's authoritarian government, as well as the ominous opening line "July 1998 – World War III breaks loose. Then, in 2019, in Metropolis Tokyo…".
Akira Figures
Although very few official Akira figures have been released in Japan, these three series of collectibles are worth their weight in capsules!
Medicom x Bandai: Soul of Popynica – Kaneda Bike & Figure Set

Like Tetsuo, many Akira fans find themselves envious of Kaneda's futuristic racing bike. Perhaps the next best thing to riding the real deal is owning a 1/12th-scale replica of the anime's most technologically advanced motorcycle, complete with a miniature Kaneda relaxing in the saddle. Although this Medicom x Bandai Kaneda bike and figure set was released in 2004, it's still considered one of the series' most enticing collectibles—featuring functional rubber tires, removable fairings (to reveal the die-cast frame beneath), anime-accurate brand-name stickers, and an articulated front fork with spring-loaded suspension.
Medicom x Bandai: Project BM! Series – Shima Tetsuo, Shotaro Kaneda, and Kaneda's Bike Figures

In 2010, Medicom and Bandai released 12-inch fully articulated figures of Kaneda and his cohort-turned-rival Tetsuo (in his post-awakened state) as depicted in the anime's cataclysmic climax. Both collectibles feature alternate head pieces, fabric clothing, and display stands; Tetsuo's cape even includes malleable wires to recreate the billowing drama of his final moments. Best of all, Kaneda's covetable motorcycle returns in an impressive 1/6th scale to match the companion figure's bigger size. With all the perks of the 2004 figure release, this variant of the iconic bike is also tricked out with light-up effects on the console and wheel rims, along with sound effects sampled from the anime.
Akira Gashapon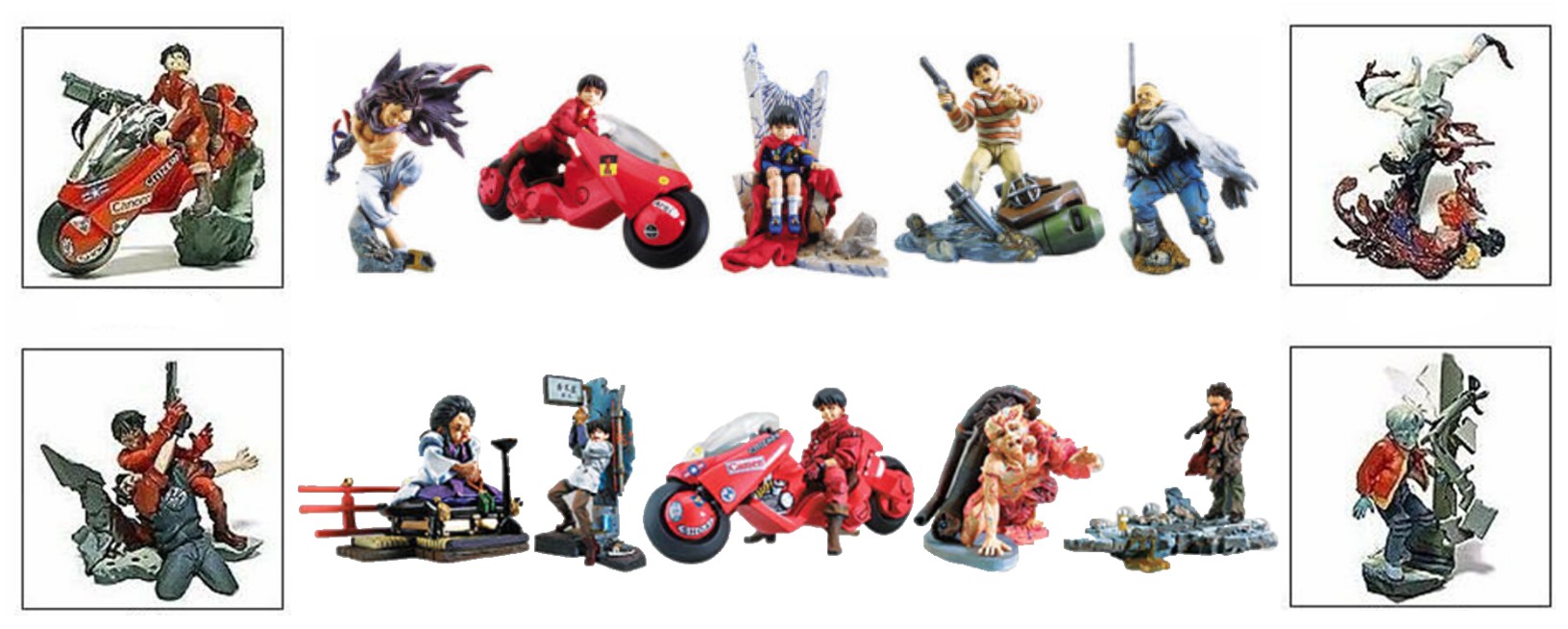 Gashapon are the easiest Akira figures to find in Japan, and their micro scale makes them a great addition to collections of any size. Packed with insane detail, each gashapon captures an octane-fueled moment or sci-fi set piece that violently brings the bizarre world to life. Some figures connect together to form diminutive dioramas, and each is also available in either a rare crystal-clear or bronze-paint edition for die-hard figurine fans to chase down.
Other Akira Collectibles from Japan
30th Anniversary Limited-Edition Blu-ray

This 30th anniversary limited-edition Akira Blu-ray box set comes locked and loaded with bonus extras for hardcore fans. Special features include an interview with Katsuhiro Otomo and Shoji Yamashiro, English and Japanese audio/subtitles, the bonus disc from the 2001 special-edition DVD box set, a collector's booklet, illustrated postcards, and an all-new key visual by Otomo to commemorate this high-ticket release of one of anime's timeless classics.
Katsuhiro Otomo Art Books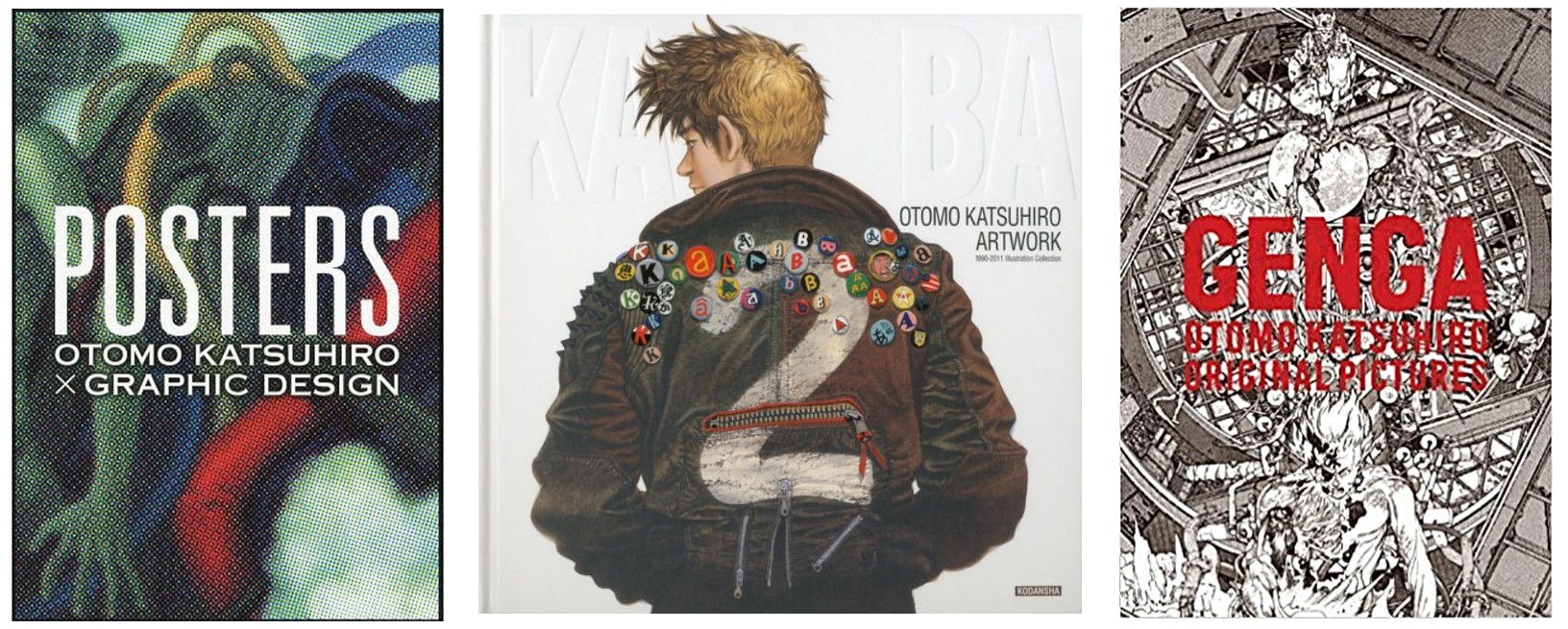 Akira's creator Katsuhiro Otomo introduced an unprecedented style of realistic fantasy storytelling that spread manga beyond Japan to readers not yet receptive to bishojo eyes and comedic distortions. In tribute to Katsuhiro's pioneering work and illustrative mastery, his legacy has been honored over the years with several Japanese art books filled with his most compelling characters and architecturally complex designs. Whether you first admired Otomo's detailed Akira drawings in their original black-and-white manga format or in the fully animated world, these collectible art books represent the best of his convention-defying oeuvre.
Where to Buy Limited-Edition Akira Merchandise
If you're revved up for this Akira gear and more, you can peel into a proxy service like FROM JAPAN and easily have this limited-edition merch dropped off at your door—no psychic abilities required!