Starting to feel that winter chill? Why not ward it off with Japanese anime figures! As the autumn leaves fall away, the otaku of the world are reminded that new anime seasons and manga chapters are just around the corner… so are the holidays! Given all that, it's definitely time for another awesome anime figure review.
It's hard to beat receiving a new figure in the mail, so whether you want to treat yourself this Christmas, giftwrap a special character for a friend, or simply add the most in-demand and anticipated releases of winter 2015 to your ever-expanding anime figure collection, these are 10 collector's pieces you won't want the winter winds to blow away!
Nendoroid – Touken Ranbu Online: Mikazuki Munechika (December)
Looking at this anime figure collection, it's clear that Winter 2015 belongs to Nendoroid… and Touken Ranbu Online. Starting with Kashu Kiyomitsu in September, there's a long line of humanized historical swords, releasing all the way into May 2016 (and possibly beyond!). In December, we get Mikazuki Munechika and Tsurumaru Kuninaga, though it's the most beautiful of Japan's five great swords who is understandably drawing fandom attention… and purchases. Mikazuki comes with all his gear—sword, scabbard, teacup, and uchiko—and multiple facial expressions. Everything, from tassels to armor, is replicated in loving detail as gorgeous as he is.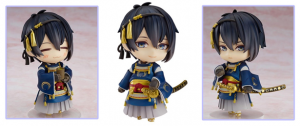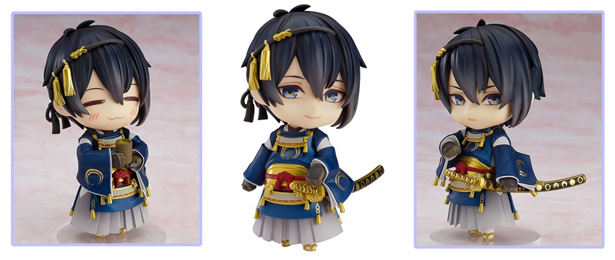 MAX Factory – Touken Ranbu Online – Kogitsunemaru 1/8 Complete Figure (December)
Even if the more kawaii chibi-variants of the Touken Ranbu Online cast don't excite you, the 1/8-scale sculpts by MAX Factory will easily leave your jaw hanging. Kogitsunemaru kicks off the new anime figure collection lineup with his December release. Each sculpture captures the official artwork found in the original Touken Ranbu –ONLINE browser game, bringing it to life in 3D form. Though his name may mean "small fox," this impressive figurine is anything but tiny. Look for three more swordsmen to arrive in the spring and summer of 2016!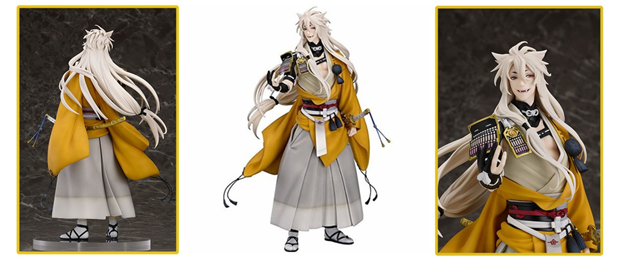 Nendoroid – Himouto! Umaru-chan: Umaru (January)
Nothing beats a cold cola—even in the middle of winter—and nobody loves a good cola like Umaru, the lazy couch potato and junk food queen of Himouto! Umaru-chan. The Nendoroid's classic chibi look complements her adorable "in-doors" appearance, complete with her bear hoodie, hand-held videogame console, and favorite foods. With five different faces to choose from, this is one of Nendoroid's most expressive figurines yet, allowing you to re-create Umaru's hilarious and energetic personality.
ASCII MEDIA WORKS – Tenshi 1/8 Scale Figure (Reissue Edition) | Angel Beats! (Late December)
So we're cheating a bit here—this is technically a re-release of a figurine from 2013—but if anyone deserves to be included in this anime figure review, it's her! Based off of Katsuzo Hirata's stunning illustration, this Tenshi statue commemorates the releases of both the Angel Beats Blu-ray BOX and the PC video game Angel Beats: 1st Beat. The re-release comes with new packaging, but the figurine is unchanged from its original version, which depicts Tenshi with flowing, airy (and removable!) wings and an innocent, mysterious expression. Remember, this is a rare re-release, so be sure to snatch her up before she flies away!


Good Smile Company – Your Lie in April – Kaori Miyazono 1/8 Complete Figure (January)
One of the most poetic and dramatic anime of fall 2014, Your Lie in April, comes to life in a poignant sculpture of violinist extraordinaire, Kaori Miyazono. Capturing Kaori's modest smile, this figurine features impressive texturizing of clothes, shoes, and Kaori's own realistic violin. Even the buttons on her sleeve are replicated in fine detail. Now if only Good Smile Company would release a figurine of Kousei Arima to go alongside her, then Your Lie in April devotees could finally consider their anime figure collection at least somewhat complete!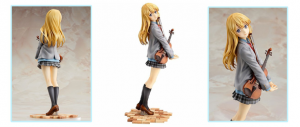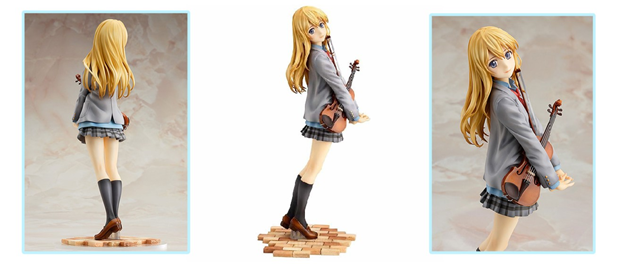 S.H. Figuarts – Super Saiyan Son Gokou Super Warrior Awakening Ver. "Dragon Ball Z" (late November/early December)
Technically, Goku releases at the very end of fall, but he's so cool and in-demand that we couldn't leave him off of our list! The Super Saiyan form comes ripped in battle-torn clothing with flexible articulation and multiple hand-parts for re-creating Goku's most powerful stances. Don't forget to purchase Tamashii EFFECT's Yellow Energy Aura (also releasing late November) alongside him to take your Super Saiyan strength to the next level.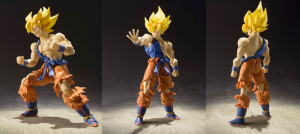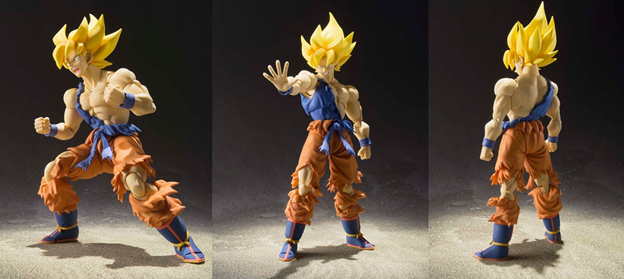 Nendoroid – Love Live!: Maki Nishikino Training Outfit Ver. (February)
Song-composer and μ's member, Maki Nishikino, now comes in her Training Outfit, courtesy of Nendoroid. If you snatched up Maki's "Bokura wa Ima no Naka de" version released last August, then this February-release is the perfect complement. Cool, confident, or embarrassed—pose her however you like. She comes with her cellphone and cold drink—everything she needs to refresh during breaks between training sessions. Maki takes the retail stage in February 2016—just in time for Valentine's Day!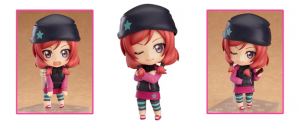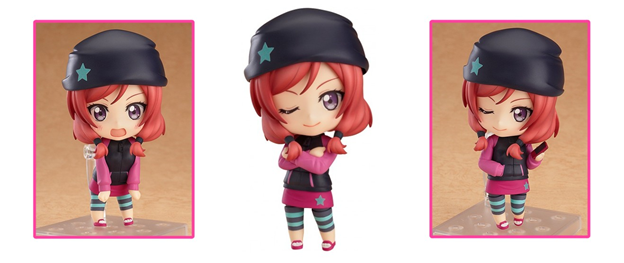 Nendoroid – Link: Majora's Mask 3D (January)
Zelda may be a gaming franchise, but Link is too iconic not to be included in this anime figure review; besides, he can protect you even when you feel like "It's too dangerous to go alone!" Snatch up Hyrule's Chosen Hero and you'll never "meet with a terrible fate." Based on one of the most dramatic and darkest titles in the Zelda franchise, Link comes with all his adventuring essentials—Tatl the Fairy, Red Potion, Bunny Hood, sword, shield, and four masks, including the cursed mask of Majora! Set him alongside your Wind Waker Link, also by Nendoroid, to create the ultimate legendary duo. Go questing for him in January 2016.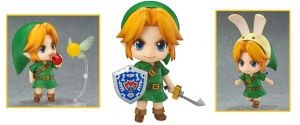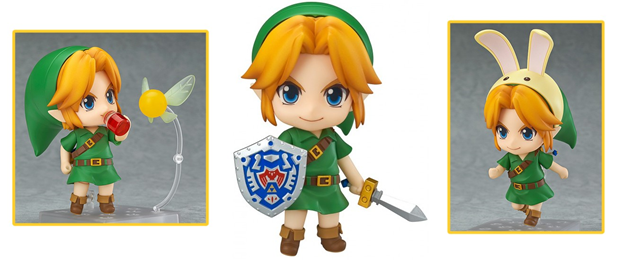 Phat – Shiro 1/7 Scale Figure (January)
Yuu Kamiya's beautiful art comes to life in this all-encompassing statuette, featuring Shiro lording over Sora, Izuna, Jibril, Steph, and the Imanity throne. At a 1/7th scale, it's a highly-detailed collector's piece that tells the story of No Game, No Life in one complex sculpture. Shiro's delicate, multi-hued hair wisps give her a fluid, feminine allure, but the miniature earth in her hands shows that she means business.


Play Arts Kai – Kingdom Hearts 2: Riku & Halloween Town Sora (February)
If you're a Kingdom Hearts fan, you're undoubtedly waiting (im)patiently for the release of the promised Kingdom Hearts III. Perhaps that wait can be made a little easier with these much-anticipated figurines from Play Arts Kai. In his very first articulated figurine release, Kingdom Hearts II Riku will find his way to collector's shelves in February. Joining him is Play Arts Kai's first-ever release of Halloween Town Sora, who's larger and more detailed than his previous Play Arts variant. Wielding their iconic Keyblades, Sora and Riku will look fantastic alongside their Dream Drop Distance and Tron Legacy versions, also by Play Arts Kai. Snatch them up in anticipation for Kingdom Hearts III!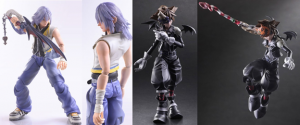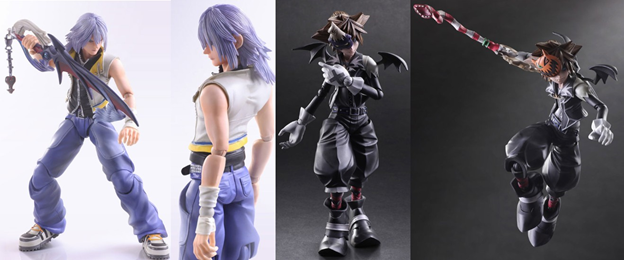 Remember: these are some of the best-selling, most anticipated Japanese anime figures of winter 2015, so put them on pre-order before they're sold out for good! For even more fabulous figures to warm you up this holiday season, check out our top picks for Christmas/winter-themed exclusive figurines releasing this year. Whether you're treating yourself to an early Christmas present, or shopping for that special otaku in your life, don't forget to shop at FROMJAPAN for all your exclusive Japanese merchandise!