One of the most popular shonen series of all time, Fullmetal Alchemist has conjured a legion of fans worldwide with video game spin-offs, anime adaptations, light novels, and more trailing in the wake of its original 2001 manga release. With a live-action film coming out December 2017, now is a great time to begin building your transmutation circles to summon FMA merchandise and figures into your collection. Hook on your automail arm and prepare your pyro-powered snap, because our list of collectibles is fit for a State Alchemist!
Fullmetal Alchemist Figures
Back in summer 2017, we highlighted Kotobukiya's Edward Elric and Roy Mustang ARTFX J figures as two of the season's hottest releases, but there's so much more to collect. Be sure to check out these other figures full of alchemic awesomeness.
Square Enix – Play Arts Kai: Fullmetal Alchemist Figures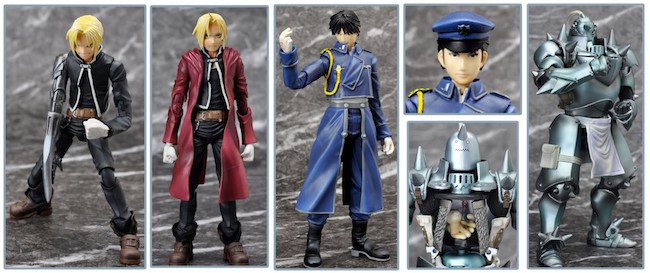 Full articulation and flexible attire make the Play Arts Kai Fullmetal Alchemist series the perfect formula for action figure fans. Optional expressions, hands, and props offer the chance to recreate a range of scenes, and each of the three fan-favorite characters are meticulously crafted with painted textures and defined angles to replicate their anime appearances. Because these figures are non-scaled, Edward stands nearly as tall as his superior officer—a fact he's sure to appreciate!
Search for Play Arts Kai Fullmetal Alchemist Figures
Kotobukiya – Sculpture Arts: Edward and Alphonse Complete Statue

If you're prepared to pay an arm and a leg in your quest for a complete Fullmetal Alchemist figure collection, the Kotobukiya Edward and Alphonse statue may very well be the pinnacle of your pursuit. Standing nearly 28 centimeters (11 inches) tall, the battle-worn brothers rise from the wreckage in an emotional effort to grasp the elusive Philosopher's Stone. Nearly as sought after as the Fifth Element, this highly texturized polystone recreation of one of Fullmetal Alchemist's most memorable moments was originally released in 2008 as part of Kotobukiya's prestigious Sculpture Arts line—and the passage of time has only added to its market value.
Search for Kotobukiya Edward and Alphonse Complete Statue
Good Smile Company – Nendoroid: Fullmetal Alchemist Figures

Releasing January through April 2018, Nendoroid's Fullmetal Alchemist figures shrink Alphonse, Roy, and (perhaps needlessly) Edward down to adorable chibi-scale proportions. Capitalizing on the comedy of the original series, both alchemists feature facial expressions to reenact Roy's belittling remarks toward a belligerent Ed, and Alphonse's armor includes a hollow chest compartment for storing his favorite felines. Special transmutation and fire effects capture the characters' cool powers as well as the charm of the smash-hit series.
Search for Nendoroid Fullmetal Alchemist Figures
Bandai – Fullmetal Alchemist Gashapon Figures

If the Law of Equivalent Exchange limits your ability to acquire more FMA figures, Bandai's Fullmetal Alchemist Gashapon are the perfect way to satisfy your search for collectibles without breaking your budget. These palm-sized purchases are packed with personality and diminutive details—making them impressive additions to your display, even when standing shoulder to knee with larger figures.
Search for Fullmetal Alchemist Gashapon Figures
Fullmetal Alchemist Ita Bag Accessories
If you want to flaunt your fervor for Fullmetal Alchemist to all you meet, showcase your fandom obsession with your own version of Japan's famous anime ita bag trend—the "painful bag" so weighted down by merchandise that it can't help but convince onlookers that you're the ultimate fan. Fortunately, you don't need a transmutation circle to make an ita bag of your own. Here are some must-have collectibles to help get you started.
FMA Key Chains & Charms

Key chains and charms are perfect for clustering together by characters, rivalries, or ships. While most dangling Fullmetal Alchemist collectibles are rendered in 2D with rubber, metallic, or acrylic material, a few 3D key chains resembling miniature figurines can occasionally be found on Japanese auction sites.
Search for FMA Key Chains & Charms
FMA Button Badges

Because button badges come in every imaginable size, they're perfect for filling in any empty spaces between your other decorations. Fullmetal Alchemist button badges feature a wider range of characters than the other collectibles on this list, and offer unique key chain x button badge "crossovers" uncommon to most other anime merchandise lines. This, coupled with the availability of one-of-a-kind fan art button badges, guarantees that your FMA ita bag will truly stand out from the rest.
FMA Plushies

Fullmetal Alchemist plushies prominently portray each character's kawaii side—from chibified key chains to delightfully stackable mochimochi-style mascots. Though they're often more difficult to find than button badges and key chains, the trade-off is that plushies are among the largest and most prized decorations you'll display on your bag.
Edward Elric Pocket Watch

Edward Elric's Pocket Watch, proof of his licensure as a State Alchemist, shines as one of FMA's most recognized symbols—and it's sure to promote your ita bag to Major status. While many watch variants exist, all prominently feature the Amestrian Dragon circumscribed over a polygram, along with the memorable inscription "Don't forget 3 Oct. 11"; the date that Ed literally left the ashes of his old life behind.
Search for Edward Elric Pocket Watch
2017 Fullmetal Alchemist Limited-Edition Collectibles
Fullmetal Alchemist x Princess Café Merch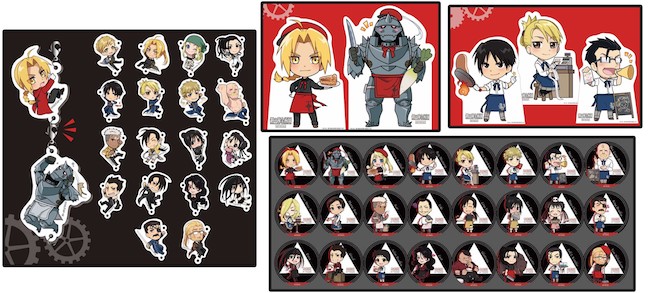 While the usual atmosphere of Japan's famous Princess Cafés is clearly aimed at shojo diners, the chain of otaku eateries frequently collaborates with anime series of wider appeal, offering character-inspired drinks and dishes alongside limited-edition merchandise. The Fullmetal Alchemist x Princess Café crossover features two kinds of collectibles: a series of 20 connectable character charms with illustrations that appear to cling to one another in midair, and a broader line of chibi button badges, key chains, standees, and coasters that puts the colorful cast to work running a café of their own.
Search for Fullmetal Alchemist x Princess Café Merch
Fullmetal Alchemist x Sanrio Merch

An adorable combination of kawaii and cool, the Fullmetal Alchemist x Sanrio collaboration splits its merchandise into two distinct lines made up of stationery, apparel, and collectibles. The "cute" line transmutes the beloved characters into Hello Kitty's charmingly simplistic style, while the "stylish" line features minimalistic character portraits for a more fashionable look.
Search for Fullmetal Alchemist x Sanrio Merch
Fullmetal Alchemist Art Exhibition Merch

As part of the lead-up to the live-action film, Tokyo and Osaka hosted a temporary Fullmetal Alchemist Art Exhibition from September to November that not only included over 100 original storyboards and artwork, as well as displays of the official film costumes, but also a wide selection of exclusive merch. These ultimate collector's pieces include autographed prints, clothing and cosplay, and even specially packaged milk candies (in homage to Edward's abhorrence of dairy).
Search for Fullmetal Alchemist Art Exhibition Merch
Where to Buy Fullmetal Alchemist Merchandise
You don't have to travel to Japan (or Amestris) to pick up these fantastic Fullmetal Alchemist collectibles. With FROM JAPAN, you can easily browse listings from the country's biggest online shops and auction sites and have the best of FMA shipped right to your door—no Philosopher's Stone required!